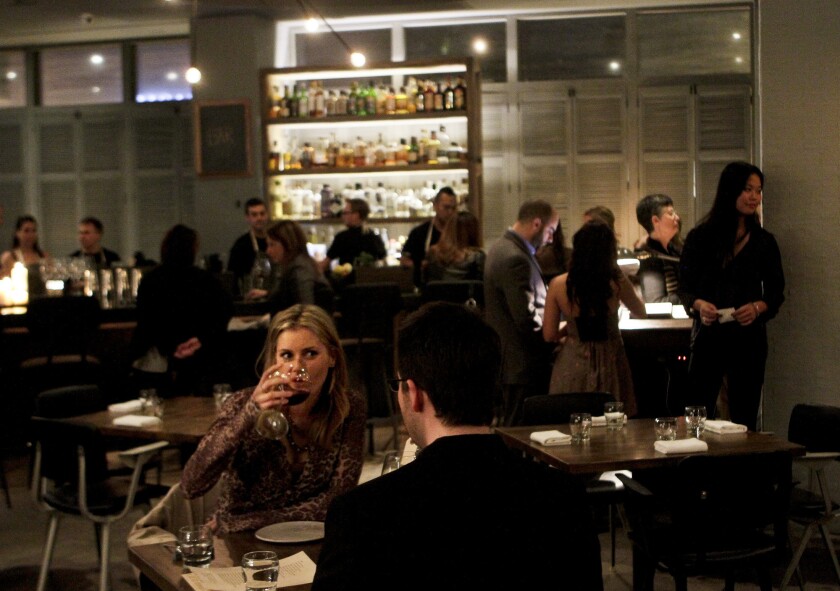 In the five months Will Mountford has been the sommelier and wine director at Ink, he's retooled the wine list to reflect his passion for natural wines. Building a list to parallel chef Michael Voltaggio's highly experimental cuisine is quite a different exercise than it was at Mountford's previous positions, with the Michael Mina Group in Glendale and at Spago in Las Vegas.
At Ink, Mountford says that he wants to have "the best wines from under-appreciated or obscure regions like Georgia, like Croatia, like Ribeira Sacra." He's a big fan of Beaujolais, too, because it has so many talented natural winemakers and because the wines pair so beautifully with a wide range of cuisines.
So on his list, you'll find a wine from the island of Krk, in Croatia, grand cru Riesling from Alsace in France, wines from Château Musar from Lebanon, Chenin Blanc from South Africa — and wines from the Santa Cruz mountains, from El Dorado, from the Sierra foothills. He's even got a couple of well known Bordeaux in there.
Explaining his preference for natural wines, Montford says, "The grape has everything on it that it needs to be made into wine, so there's no need for additions or modifications. I find that wines made as naturally as possible, with as little intervention in the cellar as possible, have a way of establishing balance."
And balance is just what's needed for a wine to pair well with Voltaggio's bold and intricate cooking.
At Ink, Mountford generally doesn't do wine pairings. "The reason we organized the list by flavor profiles is to give guests the chance to make their own pairings," he says. For example, the salt/mineral category is an allusion to the sea, so the suggestion is that these wines are going to pair with seafood and shellfish.
Since we're in for a long summer, he recommends trying some of the 10 rosés on the list, a diverse bunch with a wide spectrum of flavors, structure and style. Right now he's fascinated by the wines from Georgia in the former Soviet Republic, which offer some of the best value on the list. One bottle even goes for $40. That's a plus, since he says some of their guests come in several times a week and he's made it his mission to find delicious wines for them at affordable prices.
Focus of the list: Natural wines
Author: Wine director and sommelier Will Mountford
How many selections by the bottle: About 150, from $40 to $520. That most expensive bottle is a 2005 Champagne Roederer "Cristal." On a high-end restaurant wine list, it can be difficult to find many bottles or sometimes anything at all under $60. Here there are, in fact, more than a dozen choices — including two whites from Greece, a trio of rosés, a Beaujolais and a Ribeira Sacra from Spain.
How it's organized: By wines' characteristics, such as salt/mineral ("refreshing saline and/or tart mineral flavors and aromas: sparkling and lighter-bodied white wines"), earth/leaf ("earthy and/or herbaceous flavors and aromas: medium to full-bodied whites, light to medium-bodied reds, orange, and pink wines"), smoke/meat ("meaty and/or smoky flavors and aromas; fuller-bodied red wines") and nectar (dessert wines).
How helpful is it anyway: Quite. Organizing the wines around their characteristics is helpful in choosing wines with little-known and hard-to-find labels. Of course a better idea is to talk to the sommelier after you've decided on the food. That's his job to know which wines go with which dishes.
Wines by the glass program: The list has about 25 wines by the glass, ranging from $11 for a Greek white, a Saviatiano from Mylonas, to $28 for a glass of Champagne Delamotte brut.
Best wine by the glass: 2012 Chateau Musar "Musar Jeune" from Bekaa Valley, Lebanon, $16. Also Donkey and Goat Chardonnay "Improbable" from Eldorado, Calif., $17.
Best red wine value: 2013 Château Cambon Beaujolais from vines planted in 1914, $56.
Best white wine value: 2013 Schuchmann Rkatsiteli, Kakheti, Georgian Republic, $40. Also NV Lustau Fino "Almacenista: Fino del Puerto," Jerez, Spain (500ml), $42.
Red wine worth a splurge: 2012 Terre Nere Etna Rosso "Santo Spirito," Mt. Etna, Sicily, $128.
White wine worth a splurge: 2011 René Rostaing Viognier "Les Lézardes," Rhone Valley, $92. Or 2012 Scholium Project "The Prince in His Caves," Sonoma Mountain, $99.
Corkage policy: $20 per 750ml bottle, maximum two bottles. Buy a bottle, waive a corkage.
Ink, 8360 Melrose Ave., Los Angeles, (323)651.5866, mvink.com/.
Follow @sirenevirbila for more on food and wine.
SEE ALSO:
How to order wine like a pro at Factory Kitchen
Navigating the wine list at the Arthur J
Navigating the wine list at Love & Salt
---