Navigating the wine list: Pizzeria Mozza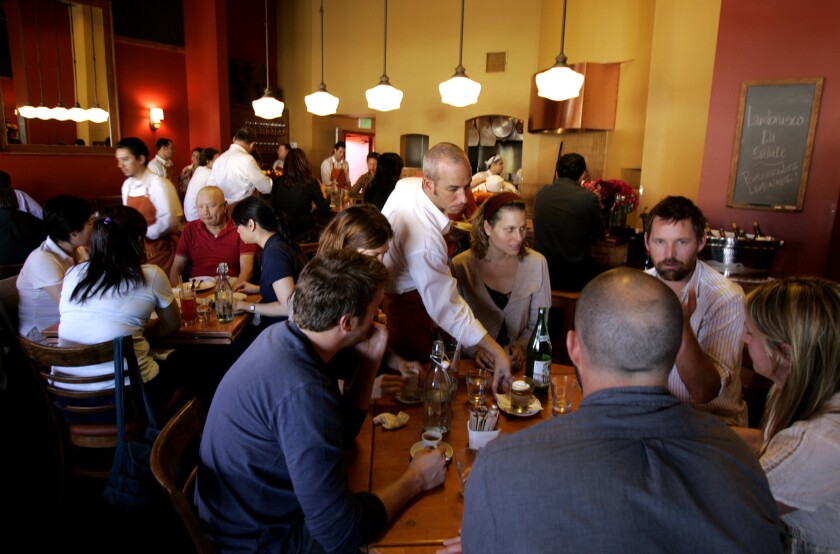 When Pizzeria Mozza opened just under 10 years ago, the wine list mantra was 50 wines under $50 — and all of them Italian. As sommeliers have come and gone, that policy has softened a bit. The current list, which is 37 entries at the moment, features bottles from $38 to $87 — and one of the bottles at that high end is co-owner Joe Bastianch's "Vespa Bianco," a Chardonnay and Sauvignon Blanc from Friuli.
Today, just nine — or about a quarter — of the wines on the all-Italian list are $50 or under, and markups are fairly high. The Pizzeria list is just a baby compared with the 70-page list at the Osteria next door, which goes deep into reds from Piedmont, the Veneto, Tuscany, Campania and more.
At the bottom of the Pizzeria's one-page bottle list is an asterisk and the words "Please inquire about the Riserva list." That's a list of five specially chosen high-end wines, including the 2012 Marisa Cuomo "Furore" from the Amalfi Coast ($140) and the 2008 Fontodi "Vigna del Sorbo" from Tuscany ($250).
Wine list's motto: Save water, drink wine
Focus of the list: Italian
Authors: Mozza Group beverage director Sarah Clarke and Pizzeria sommeliers Kyle Billings and Alena Truong
Number of selections: 37 wines by the bottle, plus two dozen more by the "quartino" or quarter liter.
How it's organized: By vini spumanti e frizzanti (sparkling wines), vini bianchi (white wines), vino rosato (rosé) and vini rossi (red wines)
How helpful is the list: It offers only the most basic information: vintage, producer, name of the wine, region. If you want advice, there's always a sommelier, if not two or three, on hand, to answer any questions.
Wines by the glass program: Here, it's actually a wine by the "quartino" or quarter liter, i.e. 250 ml, which is basically a third of a bottle. The wine comes in a small carafe so you can pour it yourself. The 23 current selections are priced from $11 to $22 and include five vini dolci or sweet wines. They're a good deal if you consider that you're getting the equivalent of two pours.
Best wine by the quartino: 2013 La Mozza Morellino di Scansano "I Perazzi" from Tuscany (and the Bastianich family). Or the slightly fizzy Rinaldini Lambrusco "Pronto" from Emilia-Romagna, which is great with pizza topped with sausage or salumi.
Best red wine value: 2011 Bocale Montefalco Rosso from Umbria, $55
Best white wine value: 2013 Brovia Roero Arneis from Piemonte, $58
Red wine worth a splurge: 2011 La Spinetta Nebbiolo "Campe della Spinetta" from Piedmont, $80
White wine worth a splurge: Di Prisco Greco di Tufo "Pietra Rosa" from Campania, $68
Corkage policy: $30 per bottle, with a maximum of two 750 ml bottles. If you happen to have a bottle of 2001 Luciano Sandrone Barolo in your cellar, bring it and pay the $30 corkage.
Pizzeria Mozza, 641 N. Highland Ave., Los Angeles, (323) 297-0101, la.pizzeriamozza.com.
Follow @sirenevirbila for more on food and wine.
---
Get our weekly Tasting Notes newsletter for reviews, news and more.
You may occasionally receive promotional content from the Los Angeles Times.