Wine & Spirits compiles the 25th annual list of top selling restaurant wines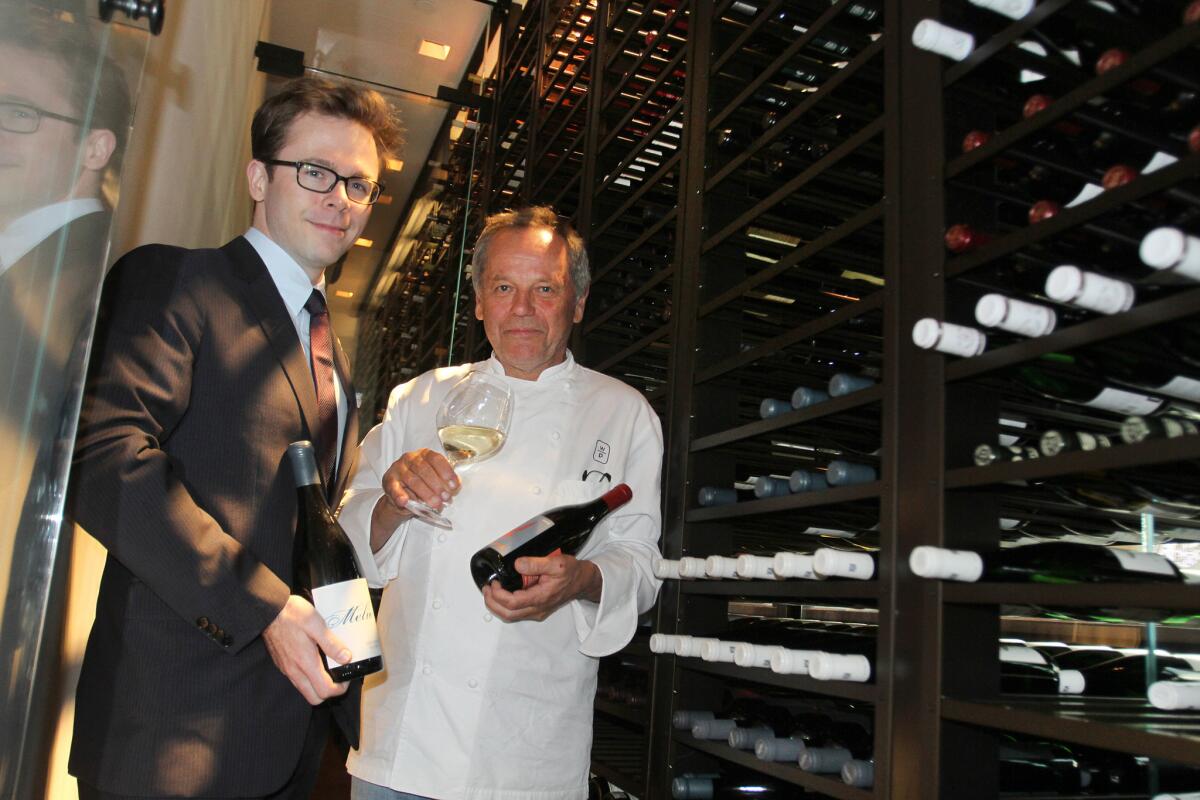 What do you think are the top-selling wines in restaurants? Wine & Spirits magazine ushers in April with its 25th Anniversary Restaurant Poll, an issue they've published since 1989. And it's got some surprises.
Editor Joshua Greene asked wine directors at restaurants all over the country to name their 10 best-selling wines in the final quarter of 2013. And from that, the editors compile the Restaurant Top 50 list.
Leading the list is Cakebread Cellars with an average price of $86.48 for all of its wines at all of the restaurants. Next is Jordan Vineyard & Winery ($101.57), followed by Duckhorn Vineyards ($90.29), Sonoma-Cutrer ($49.20), Silver Oak Wine Cellars ($134.93), Frank Family ($80.79), La Crema ($48.67), Stag's Leap Wine Cellars ($94), Decoy ($60) and Franciscan Oakville Estate ($67.10).
Though it's listed as 10th, it got exactly the same score as The Prisoner ($83.30), Caymus Vineyards ($137), and Justin ($80), the sole representative from the Central Coast.
I'm not surprised that the labels are so familiar, weighted more toward Napa Valley, and with Sonoma showing in three out of the 10 top wines. But I never expected that the prices for the top-selling wines would be so high. Only two hover around $50, and the rest leap towards $100 and in some cases sprint right past the mark.
Maybe the less expensive wines are further down the list. But scrolling through the rest of the listing of 50, I find only Simi (No. 18) at $50, Chateau St Michelle (No. 20) at $40, Catena from Argentina (No. 26) at $44.29, Kendall-Jackson (No. 34) at $35.86, Banfi from Tuscany (No. 43) at $48.20. That means that out of 50 brands only seven have average prices of $50 or less.
I find that astonishing, given the economy and the more casual dining experience that's the rule these days. I also find it astonishing that there are only 14 non-California brands, three of them from Oregon (Cristom at No. 15, Domaine Serene at No. 23 and Domaine Drouhin at No. 36) on the list. Just one wine from Washington (Chateau Ste. Michelle) and nothing from New York state or anywhere else in the country. And of those non-California wines, two are from Greece, a country that only recently is making inroads onto wine lists.
Poor France, the entire country's output of distinguished wine is represented by two Champagne houses: Veuve Clicquot and Billecart Salmon. Italy does just about as badly with four brands clustered at the bottom of the list (Banfi at No. 43 and Ruffino at No. 43 from Tuscany, Zenato from Lombardy at No. 49 and Santa Margherita tied for last place with Schramsberg Vineyards. No Barolo? No Barbaresco? Spain merits just one place on the list, No. 28 for La Rioja Alta.
Could this mean that when that extremely knowledgeable and passionate sommelier comes over to a table and talks up that Silvaner, Txakolina or Bourgogne Aligoté, hardly anybody is going for it? Or maybe they're not asking for a sommelier's advice at all?
Wine lists are more diverse than they've ever been, with wine directors seeking out tantalizing wines from small producers and less-known wine regions, ever ready to pour an orange wine or a foot-stomped red or a Georgian wine made in an urn. Or if not that exotic, a juicy Beaujolais cru, a Mt. Etna red from Sicily or a Grüner Veltliner from Austria?.
Wine & Spirits contends the Top 50 list "provides a clue to contemporary trends. Four of the top five brands have a significant stake in Cabernet, and the sommeliers we talked to indicated that Cabernet's popularity surged this year. Veuve Clicquot breaking into the top 20? Somms reported that bubbles were more popular than ever."
Much more to be gleaned from this fascinating issue.
ALSO:
Garagiste Festival features some hidden treasures
Instacart grocery delivery service rolls out in Los Angeles
Another coup for Alma's Ari Taymor: Food & Wine's best new chefs list
Twitter.com/sirenevirbila
Get our L.A. Goes Out newsletter, with the week's best events, to help you explore and experience our city.
You may occasionally receive promotional content from the Los Angeles Times.