The Hearth & Hound alert: April Bloomfield and Ken Friedman are (finally) opening the doors to their first L.A. restaurant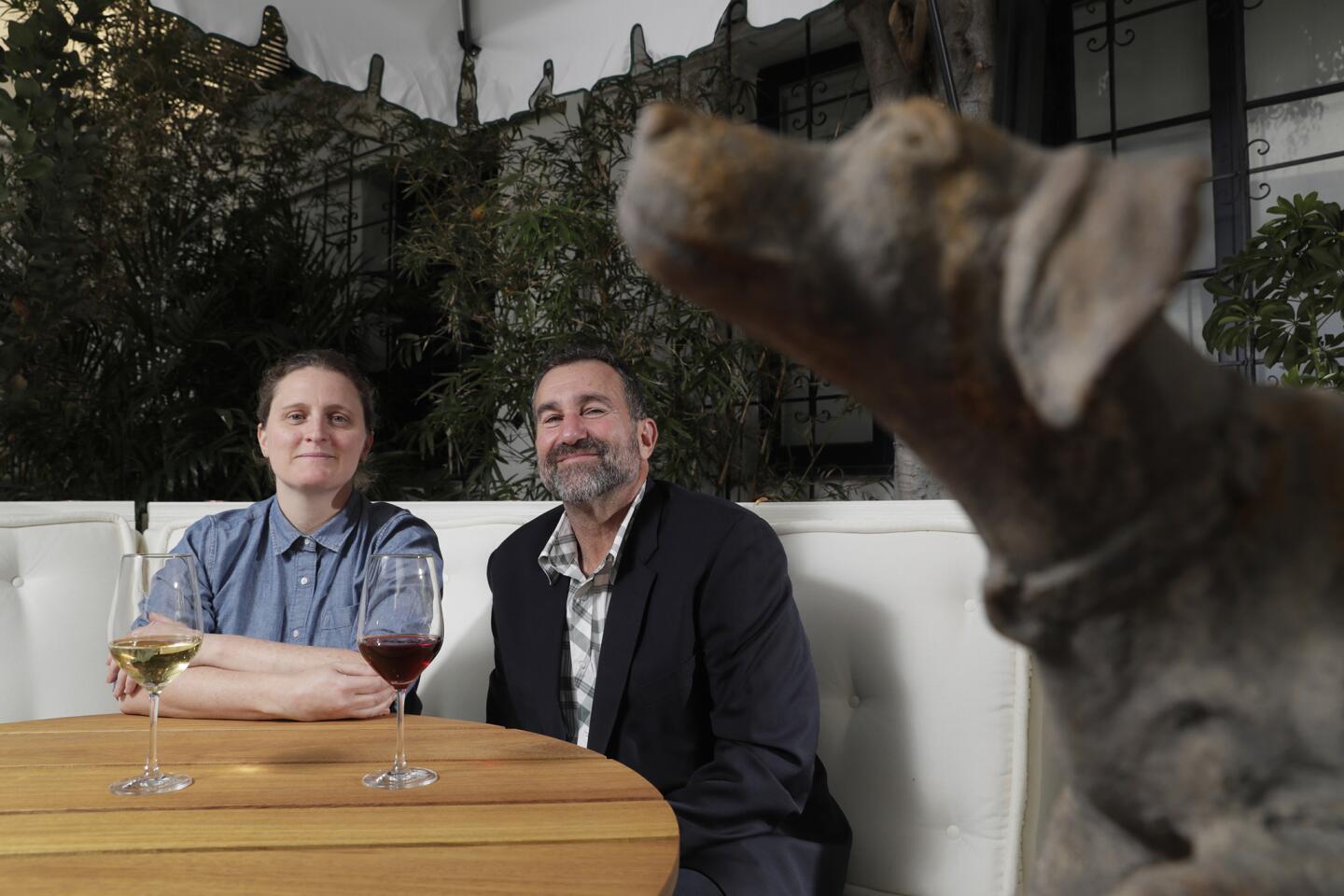 The Hearth & Hound partners chef April Bloomfield and Ken Friedman.
(Robert Gauthier / Los Angeles Times )
Crispy confit potato with kefir, Swiss chard and lamb fat by The Hearth & Hound chef April Bloomfield.
(Robert Gauthier / Los Angeles Times)
Five spice aged duck with orange and fennel puree by The Hearth & Hound chef April Bloomfield.
(Robert Gauthier / Los Angeles Times)
A dish of grilled carrots, roasted poblanos, citrus-spice vinaigrette, black lime and carrot tops by chef April Bloomfield at The Hearth & Hound.
(Robert Gauthier / Los Angeles Times)
West Coast oysters with apple, sorrel juice, cucumber and borage by chef April Bloomfield at The Hearth & Hound.
(Robert Gauthier / Los Angeles Times)
The Hearth & Hound chef April Bloomfield makes beef tartare with kamut, fermented harissa, horseradish and sprouted onion seed.
(Robert Gauthier / Los Angeles Times)
Grilled fermented cabbage with oyster and meat drippings and dried apple powder by The Hearth & Hound chef April Bloomfield.
(Robert Gauthier / Los Angeles Times)
It sometimes seems as if the food-minded folks of Los Angeles and beyond have been stalking Spotted Pig chef April Bloomfield and her business partner Ken Friedman for years now, not unlike the paparazzi for which this town has long been known. British invasion! Mike D from the Beastie Boys as wine guy! You'd think the duo was one of the rock bands Friedman once managed — rather than an English chef and a restaurateur who decided to open a restaurant in L.A. Sure, the restaurant is on Hollywood's Sunset Boulevard in a famous old watering hole, Bloomfield has been credited with "kicking off the haute burger craze" and Jay-Z is likely an investor, but still.
Yet the nearly three years of hype since the rumors started can be forgiven, or at least contextualized, especially now that their restaurant, the Hearth & Hound, will finally open next Friday night. Yes, you can now make reservations on OpenTable and Resy. Within days, you'll be able to eat from Bloomfield's new Southern California produce-driven menu. And drink from the wine list that former Beastie Boys member Mike Diamond helped curate, with consulting sommelier Taylor Parsons and wine director Maxfield Schnee.
Back to the context: Because Bloomfield and Friedman are indeed rock stars in their field, having opened not only New York City's essential gastropub the Spotted Pig but also the Breslin Bar & Dining Room, the John Dory Oyster Bar, White Gold Butchers, Salvation Taco and San Francisco's Tosca Cafe. Friedman, who once managed the Smiths and was for years a high-profile music promoter, won the James Beard Outstanding Restaurateur Award in 2016. Bloomfield, two of whose restaurants hold Michelin stars, is an alum of the River Café and Bibendum. And the prospect of having them open here and then waiting as that opening experienced the long delays that are seemingly inevitable in the restaurant industry, was like ordering Bloomfield's famous Roquefort-topped burger and then watching as your server whisked it back to the kitchen.
Now that it's here, two of the more important things to know about the Hearth & Hound are helpfully noted in the name of the restaurant, which is a neighborly hat tip to the previous tenant, the Cat & Fiddle. First, it's a live-fire restaurant, so Bloomfield will be putting her spin on open-flame vegetable cooking. Second, the quaintly pub-ish name is not only ironic — unlike many of the new genre of ampersand restaurants — but personal, a kind of West Coast version of the Spotted Pig.
I'm not saying I can't crush a burger ...

— Chef April Bloomfield
"I'm going through a different phase of my life; I'm trying to eat more consciously instead of mindlessly," Bloomfield said recently, taking a break from dish-tweaking in the Hearth & Hound's kitchen. "Some of the food is going to reflect that — though it's not going to be all nuts and seeds." Bloomfield's menu is positioned toward the produce that pulls so many chefs to Los Angeles: plates of grilled carrots matched with roast poblanos, black lime, a spiced vinaigrette and a filigree of carrot tops; grilled fermented cabbage with oyster and meat drippings, and dried apple powder; crispy confit potatoes paired with Swiss chard, kefir and lamb fat. "Not a big hunk of meat, but like an essence of meat," is how Bloomfield describes both her L.A. cooking and her local diet, now that she lives in Silver Lake.
"I'm not saying I can't crush a burger," she added, as if having a sudden flashback. "I might put a burger on a cheeky, late-night menu, maybe, but not yet."
Outside on the patio under a recently transplanted 100-year-old olive tree, Bloomfield and Friedman survey the landscape: glasses filled with evidence of their "killer wine list," the painstakingly restored Malibu tile fountain, the citrus trees and culinary herbs and native flowers that are casual decoration in this town.
"This was a famous bar, and what we do best is bars with great food," Friedman said, identifying some of the figurines of dogs — and a few nostalgic pigs — that he and Bloomfield installed around the place like Easter eggs. "It's a glorious outdoor courtyard on the most famous street in the world — with a fountain — why wouldn't you want to sit out there at night? This was ours to … up."
This was a famous bar, and what we do best is bars with great food.

— Restaurateur Ken Friedman
The 100-seat patio and the dining room, which seats another 100, are both downright bucolic. This isn't your grandfather's dive bar but something that looks more like a Country Living spread or, more fittingly, Jimmy Page's manor in "It Might Get Loud." Inside, the wooden beams and skylights have been restored, as has a private dining room called the Casablanca Room ("People got shot in there," cheerfully noted Friedman, a native Angeleno and Berkeley dropout who likes to note how many hours he logged, or vaguely remembers logging, at the Cat & Fiddle in his music days).
The enormous, marble-countered open kitchen is built around the 13-foot-long hearth in question, a wood oven fueled by red oak, almond, applewood and the cuttings of old grape vines, next to a rotisserie from France that looks like it came from the Middle Ages. There's more marble, in the form of a pastry kitchen, and a meat-aging room with ducks and chickens hanging like chandeliers.
"We'll have Boddingtons on tap," Bloomfield said, as if to balance the fancy bits. "We'll do some whole animals, for sure — we're having a little bandsaw put in."
What's noticeable about both the Hearth & Hound, now that it's actual rather than theoretical, and Bloomfield and Friedman themselves, is a certain mindfulness, even an amused serenity. "We're a bit older," Friedman said. "I can't have three martinis anymore, but I can have a few glasses of wine. I should be eating healthier, which is maybe how L.A. people tend to eat, as opposed to maybe New Yorkers." And Bloomfield's food, he continued, "lends itself to wine and California ingredients."
Indeed, the Hearth & Hound is deceptively on point with Bloomfield's menu, a natural evolution of her "A Girl and Her Greens" repertoire, with all our wines and vegetables now at her doorstep. Just add fire and vinyl and some '20s-era California architecture. Both restaurateur and chef, of course, have spent the last three years watching us watch them.
"When a chef like April comes to L.A., a town where not that many out-of-town chefs come and make it, creating more hype is the last thing you need," said Friedman. "There's already enough hype. The expectation is already so high."
So maybe just pull up a chair, order Bloomfield's beef tartare with kamut and fermented harissa, and a bottle of what's recommended. If it's chilly and you're outside, they say they'll have blankets. Maybe you can bring your actual dog. Imagine.
ALSO:
Why are all these famous chefs coming to L.A.?
Our epic L.A. burger crawl with chef April Bloomfield, and all the spots we hit
---
UPDATES:
2:33 p.m.: This article was updated with more information on how to make reservations.
This article was originally published on Dec. 1, 2017 at 11 a.m.
Get our L.A. Goes Out newsletter, with the week's best events, to help you explore and experience our city.
You may occasionally receive promotional content from the Los Angeles Times.