How the California Grain Campaign is working to get local whole grain bread to your table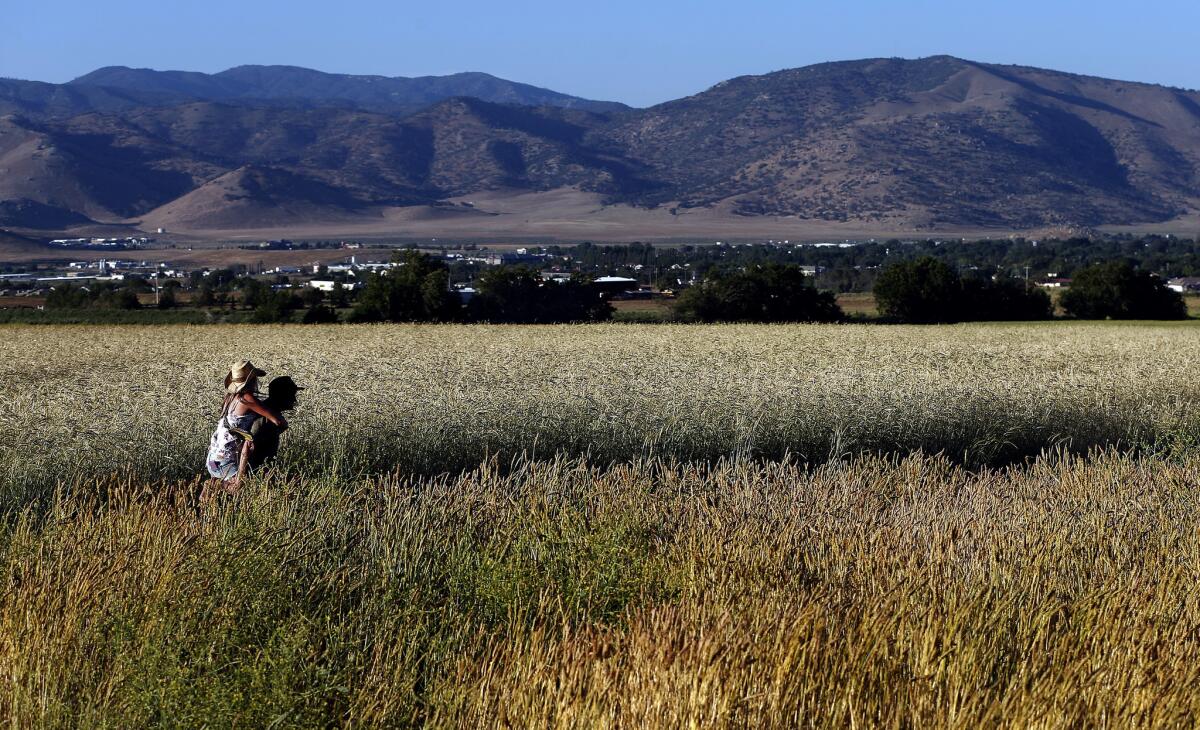 California has the largest milling capacity of any state, but little of what is grown and processed follows a traceable path from field to loaf. A group of farmers, millers and bakers wants to change that. The California Grain Campaign, which launched Oct. 12, asks that all farmers market bakers use 20% locally grown whole grain flour in their products by 2020. This would apply to all foods made with flour, including pasta, cookies and pastries.
"If New York can do this, California can do this," said Dave Miller, of Millers Bake House, near Chico. For 20 years, he has been sourcing grain in and out of state to make flour for the bread he sells at farmers markets. He and farmer Mai Nguyen, fellow designer of the 20 x 20 campaign, heard about a similar effort to rebuild regional grain systems at a meeting in March. It was that meeting eight months ago, that inspired the new campaign.
"We set the target for bakers at 15% in 2010 and hoped it would work," Greenmarket/GrowNYC's June Russell told the group of grain growers, millers and bakers who came to the Paicines Ranch in San Benito County to discuss their work.
Greenmarket/GrowNYC runs farmers markets in New York City. The groundwork for the local flour requirement began more than a decade ago. In order to establish a successful rule, and help align their bakers with the mission to support regional agriculture, the organization couldn't only say "use local flour"; they had to investigate, and help invent the supply.
"There's so much development work to do when it comes to grains because the infrastructure was dismantled. The knowledge base disappeared, and seed varieties for the area vanished," Russell said. Because grain needs intermediate handling facilities for storage, cleaning and milling before a baker can touch the stuff, reinventing the wheel of regional grains and flour is a complicated task.
For Greenmarket and Russell, this meant her work in farm inspections branched into inquiries for grain sources and establishing relationships with mills and potential growers. Greenmarket's investment stretched into partnerships with other food and farm advocacy groups and spurred multiple grant projects and other legwork to help build the Northeast Grainshed. The octopus of grains affiliations even includes a beer, launched by Brooklyn Brewery: Brooklyn Greenmarket Wheat, which uses wheat and barley grown and malted nearby.
This success inspired Nguyen, Miller and other champions of regional grains, such as Nan Kohler of Grist & Toll, a mill in Pasadena, to shape a parallel lever for farmers markets in California.
"Most grain farmers are used to a wholesale relationship. That's how the grain economy has been structured for a long time," said Nguyen, who is working to make this a very grass-roots, participatory movement, and reaching out to farm and food advocacy groups for maximum engagement.
Nguyen grows grains and vegetables and also works for the California Center for Cooperative Development. These undertakings give her a broad perspective on how to foster change for growers and consumers.
In the process of building grain hubs, she said, "Farmers markets play a great role, offering opportunities for education that other sales sites can't capture and engaging producers, artisans and customers in a regional grain economy."
Monica Spiller will be helping create educational material, which will be tailored to suit an individual market's needs. Spiller is an under-celebrated steward of heritage grains. She began cultivating old styles of wheat in the 1990s, growing out seed samples from the USDA long before there was any interest in non-contemporary grains. The founder of the Whole Grain Connection in Mountain View, in Northern California, Spiller also is a strong voice for the flavors and nutrition of whole grain baking.
Kohler is gathering other voices to help speak up for fresh flour, the ingredient that led her to start that rarest of enterprises, an urban flour mill. The miller, a former wine-seller, is excited because the campaign sets another stage for people to discover the flavors of fresh flour.
"This generates needed exposure and creates a direct dialogue about what we're doing," Kohler said. "It's wonderful when others are escorted into these flavors."
Kohler has been seeking out bakers to enlist them as potential educators for the public and advisers to help guide farmers market bakers when they need help. These flours, whole grain and usually stone-milled, differ vastly from standard refined flour. Los Angeles bakers Roxana Jullapat, Mike Zakowski and Rose Lawrence are signed up to help, as is Clemence Gossett.
"People are starting to shop at the farmers market in place of the grocery store, and the addition of grains is the perfect entry," said Gossett, whose Gourmandise School in Santa Monica offers classes in grains and flour. Need for this information is so strong among culinary professionals and the general public that the school recently hosted a one-day grains conference.
Diana Rodgers, manager of the Mar Vista farmers market, found out about the 20 x 20 campaign from almond and grain grower Nate Siemens of Fat Uncle Farms and was an immediate supporter.
"Our job as managers is to support farmers, and grain farmers are few and far between at markets," Rodgers said. As a board member of the Assn. of Certified Farmers Markets, she's been able to draw several other Southern California farmers markets on board with the campaign.
Rodgers knows the power of markets and market rules. Some California farmers markets are certified by the California Department of Food and Agriculture. There were 300 certified markets in 1999; there are now over 800. With the proliferation of farmers markets, rules ensure integrity and keep the system focused on California growers. Individual farmers markets set their own rules, too, and some of them further encourage local buying.
"We give preference to food vendors that source food from farmers in the market," Rodgers said.
The cheapness and accessibility of other ingredients makes it necessary to spell out a seemingly logical principle in the markets' rules. Since flour is readily available as a cheap commodity, making a rule to give bakers a reason to choose the alternative makes sense. "If I have five bakers in my market of 90 vendors, this seems like an appropriate thing to ask."
Right now, lawyers are vetting language for proposed rules to support the California Grain Campaign at a handful of markets. These, Rodgers said, should be in place in early 2017.
Amy Halloran is the author of "The New Bread Basket."
ALSO:
Near the Tehachapi Mountains, a family farm looks to a future without GMOs
Culver City's Lodge Bread Co. bakery gets a bread truck, plans a pizza joint next door
Rye is finally having a moment. Taste why in these brownie, cookie and hand pie recipes.
Get our L.A. Goes Out newsletter, with the week's best events, to help you explore and experience our city.
You may occasionally receive promotional content from the Los Angeles Times.