Near the Tehachapi Mountains, a family farm looks to a future without GMOs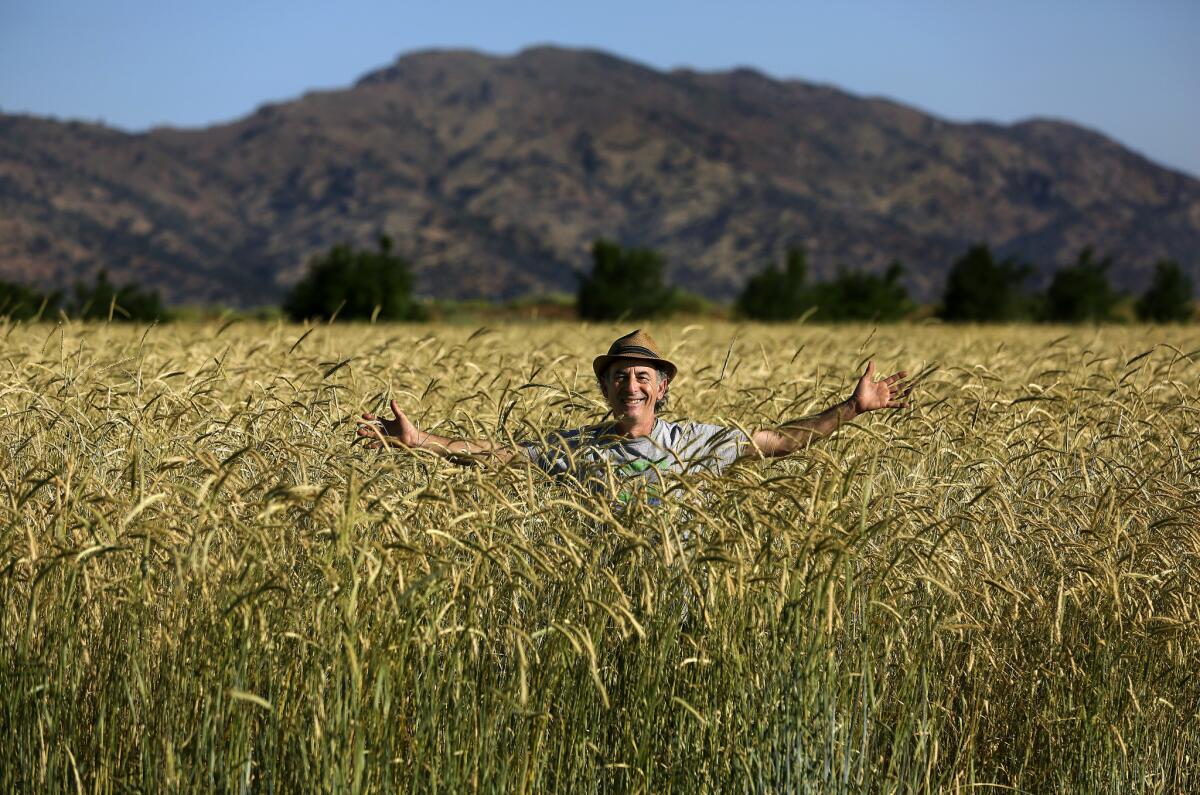 Stand in a field of wheat — amid the undulating stalks of grain, the blue dome of the sky overhead — and it's hard not to be moved by the landscape, like you've stumbled into a patriotic song, which of course you have. When you're the farmer, the stanza runs a little differently. You still have the beauty and the mountains, but the equation is also the very basic one of bread and water. And if that sounds more like a survivalist's manual than the national anthem, it probably should.
At Weiser Family Farms in Tehachapi, about 100 miles north of Los Angeles, Alex Weiser is harvesting his fields of Sonora and Red Fife wheat, as well as those of Abruzzi rye and French Black oats, as part of what he and others have named the Tehachapi Heritage Grain Project. The farm, which Weiser owns with his parents, brother and sister, is a mainstay at Los Angeles-area farmers markets, where Weiser is often manning the tables of fingerling potatoes, French melons and Bloomsdale spinach — until three years ago, grain was just a cover crop. Since then, Weiser and a small collective of farmers and friends have been working to bring back landrace grains, a traditional, drought-tolerant crop, as a way of meeting the resurgent interests of local bakers and brewers, as well as a recalibrated climate. If you spend time in Los Angeles' dining culture, you've likely heard of the grain project through a restaurant fundraiser, a bakery class or one of the loaves of bread that have traveled around the city like breadcrumbs embedded in a narrative.
"We're trying to create our own non-GMO grain belt," Weiser said recently on the 83-acre farm his family has owned and worked since 1982, in a bowl valley surrounded by the Tehachapi Mountains. Weiser is in his third year of growing heritage grains that he was seeded, literally, by Glenn Roberts, the founder of South Carolina-based Anson Mills, who gave four tons of seeds to local farmers to start a Southern California grain hub. The first year Weiser grew two acres, the second 20; this year, he's got about 35 acres. "We're getting some momentum," said Weiser, gesturing from his vantage point in a field of rye to another of Atlas barley.
The sun rises above a field of Abruzzi rye at Weiser Family Farms in Tehachapi.
(Mel Melcon / Los Angeles Times)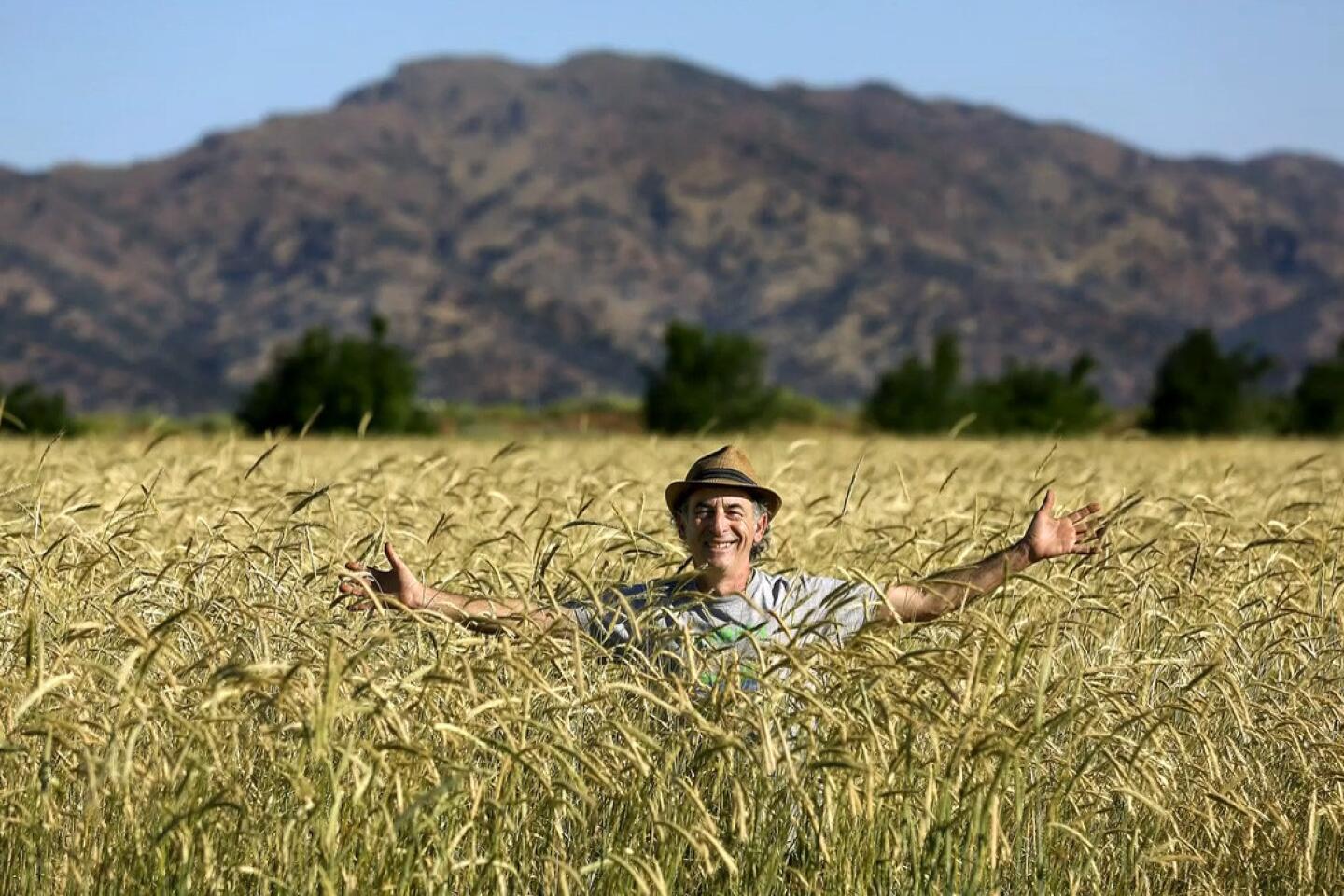 Alex Weiser stands in a field of Abruzzi rye at Weiser Family Farms in Tehachapi. Weiser is co-founder of the Tehachapi Heritage Grain Project.
(Mel Melcon / Los Angeles Times)
Alex Weiser, left, Kim Durham and her boyfriend Jon Hammond in a field of Sonora wheat at Weiser Family Farms in Tehachapi.
(Mel Melcon / Los Angeles Times)
The sun sets above a field of Sonora wheat at Weiser Family Farms in Tehachapi.
(Mel Melcon / Los Angeles Times)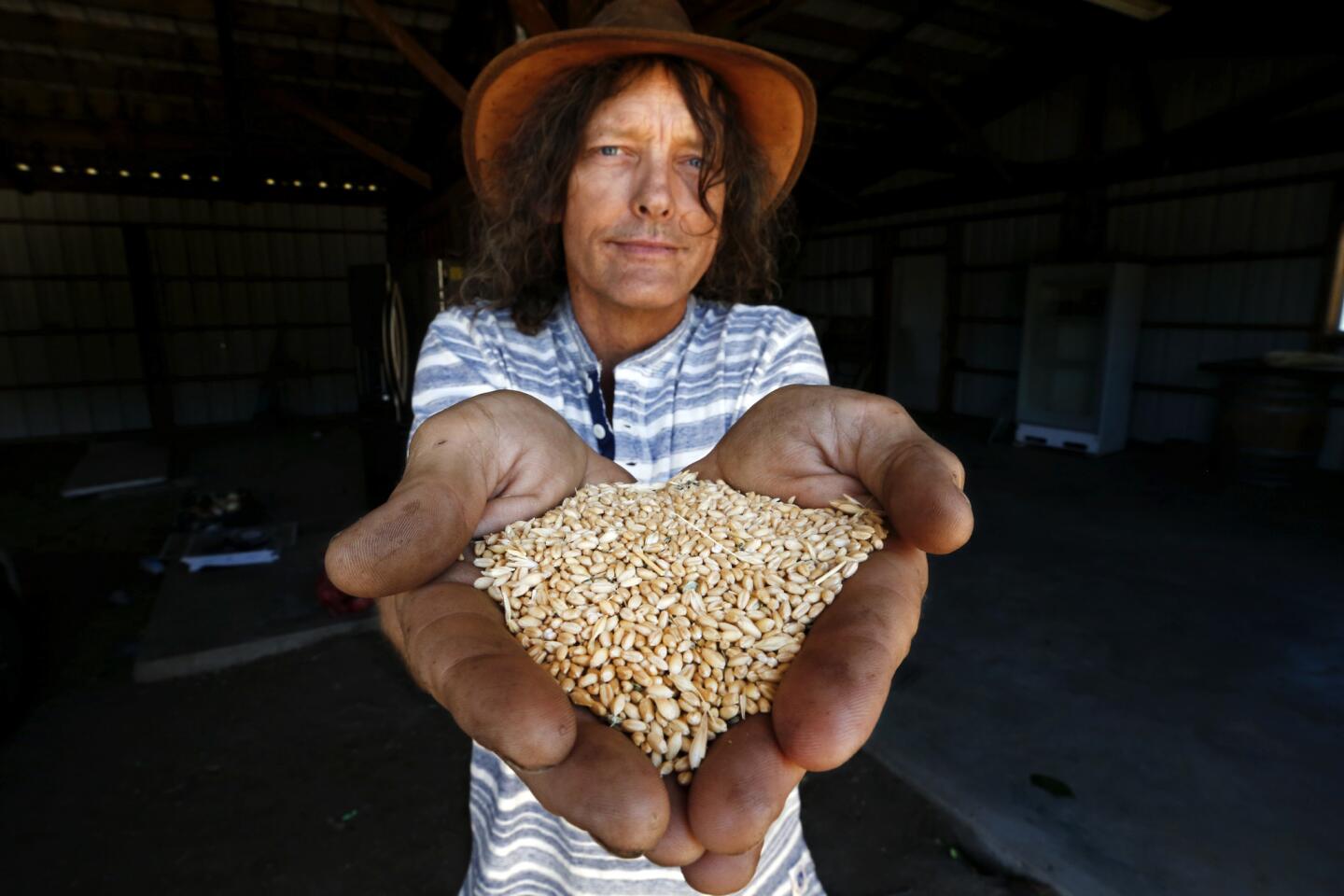 Jon Hammond shows Sonora wheat berries grown in Tehachapi that are part of the Tehachapi Heritage Grain Project.
(Mel Melcon / Los Angeles Times )
Alex Weiser, left, Jon Hammond and his girlfriend Kim Durham walk through a field of Sonora wheat at Weiser Family Farms, with the Tehachapi Mountains behind them.
(Mel Melcon / Los Angeles Times)
Alex Weiser co-founded the Tehachapi Heritage Grain Project with Jon Hammond.
(Mel Melcon / Los Angeles Times)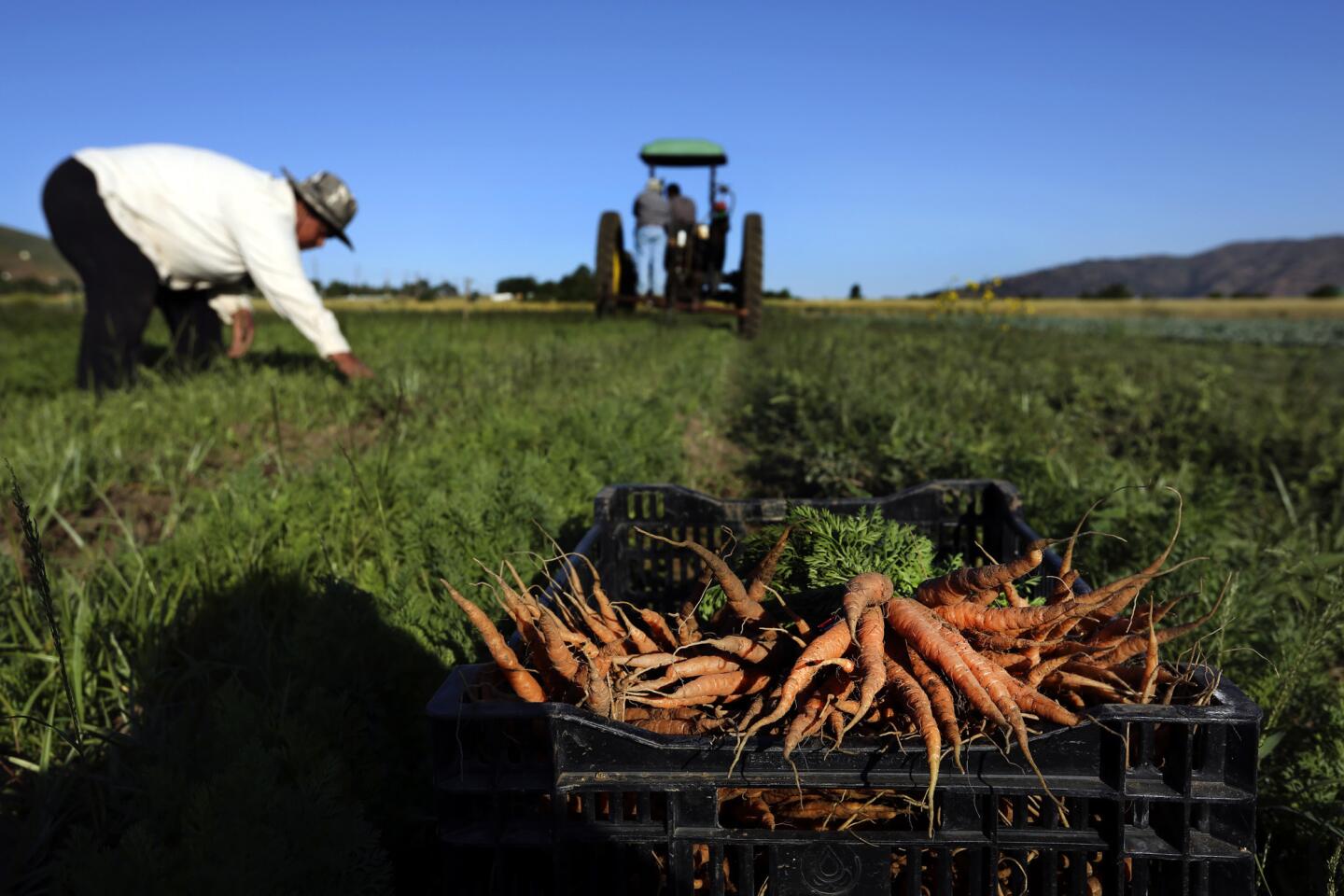 Carrots are harvested at Weiser Family Farms in Tehachapi.
(Mel Melcon / Los Angeles Times)
Alex Weiser is photographed in front of an old freight car on the grounds of Weiser Family Farms in Tehachapi.
(Mel Melcon / Los Angeles Times)
That momentum, however, depends a lot on that equation of bread and water. What will next year's crop look like, given the ongoing drought? What kind of market is there for small batches of heritage grain, the flour that's milled from it, and the bread that's baked from it, given the economics of, well, everything? When you kick the dirt on the ground in triple-digit July heat, a bakery filled with boules of whole wheat bread may seem an unlikely dream.
Weiser and Jon Hammond, a fourth-generation farmer whose Linda Vista Ranch is adjacent to Weiser Family Farms, have been working with other nearby farmers, including Nate Siemens of Fat Uncle Farm, not only to grow and harvest successive seasons of grain, but to build an infrastructure for it. It's a jigsaw puzzle with various pieces, if you consider that the road from grain to table includes a combine and a thresher, as well as a mill, then a bakery — and a knowledgeable, hungry public. And those are just the obvious parts of the equation.
While Weiser's farm has been in the family only since his father Sid, a former East L.A. high school teacher, bought an apple farm for a second career, Hammond's grandfather came to Tehachapi in 1898 — as a shepherd. Linda Vista Ranch still looks as much like a Smithsonian art installation as it does a working farm. There's a blacksmith shop and an old Ford tractor with metal wheels. The pigs and sheep doze in a barn that's a century old. And outside the grainery, there's a 75-year-old Montgomery Ward antique hammer mill.
"All the arable land here was once grain," said Hammond of the area, which was covered by thousands of acres of wheat, when California was one of the major grain producers in the country at the end of the 1800s. "For centuries, they'd cut it by hand, hit it with a stick to thresh it." Then came mechanization and gradually grain production shifted from human to animal production, then in many places stopped completely. And then came the drought. But, said Hammond, "it never stopped being a great place to grow grain."
There is a certain irony to the Tehachapi grain project, and the wider project that is a natural extension of it. Twenty-first century farmers are planting wild rye and heritage Sonora — a type of white wheat that grew in Sonora, Mexico, hundreds of years ago and was once the main commercial wheat crop in California's Central Valley — and raising money to buy basic farm equipment. (Weiser and Hammond are renting a combine for harvesting.) The reverse engineering is because farmers are adopting old methods — farming without chemicals, using landrace seeds, thinking about issues of sustainability and seed security — and trying to either dry-farm or farm with very little irrigation.
If a lot of this sounds like going backward, it is. What Weiser and Hammond, as well as the other farmers growing heritage grain and similar crops are doing, is not unlike what farmers three generations ago were doing, in some cases almost exactly.
"When you try and take modern parameters and apply them to any of this, it just blows up in your face," said Glenn Roberts recently by phone from Decorah, Iowa, where he'd gone to visit the Seed Savers Exchange, a nonprofit seed bank dedicated to saving and sharing seeds. "You're re-creating something," Roberts said of the gap between the new cycle of grain farmers and the farmers who came two generations before them. "Having to implement this is extremely difficult; it's counterintuitive." Roberts, who says he's helped establish 15 grain hubs over about as many years, found Weiser through Sonoko Sakai, a local Japanese American food writer with her own grain project, Common Grains.
"There's a certain kind of universality in cereals that doesn't apply to any other crop sector," said Roberts. "Alex knows how to marry all that highfalutin talk with getting people fed, and that's really rare."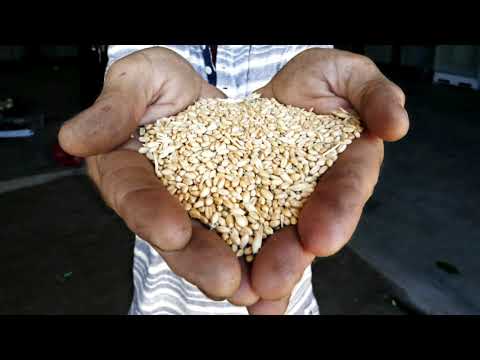 The group of local farmers—including Alex Weiser from Weiser Family Farms — are starting to plant and harvest heirloom grains in and around Tehachapi, a little more than 100 miles north of Los Angeles.
Weiser and Hammond aren't, of course, the only ones doing this. On about 150 acres in San Luis Obispo County, John DeRosier grows between 20 and 40 acres of oats, heirloom wheat, barley and rye, depending on the rainfall — or lack thereof. And on fields in Hollister and Imperial, Andrea Crawford and her husband Robert Dedlow of Kenter Canyon Farms recently harvested about 75 acres of emmer and wheat that also traces back to the original grant of seeds from Roberts. These and other farmers are part of a patchwork quilt of individual fields knitted together — a kind of cereal mosaic that connects them to other fields, in Northern California and Arizona, where other farmers have been growing heritage grains.
The country near Weiser's fields in Tehachapi can look like the landscape of the moon. But there's a symmetry to jump-starting a grain hub there, amid the wind farms, apple orchards and desert chapels, like walking backward to get where you're going.
ALSO
Spend some quiet time with giant redwoods in Felton, Calif.
Meet the Peaches' country fried steak sandwich, a.k.a. your new food crush
Why antibiotic use on farms helps fuel antibiotic-resistant diseases
Get our L.A. Goes Out newsletter, with the week's best events, to help you explore and experience our city.
You may occasionally receive promotional content from the Los Angeles Times.