Land and sea ceviches from Peru and Ecuador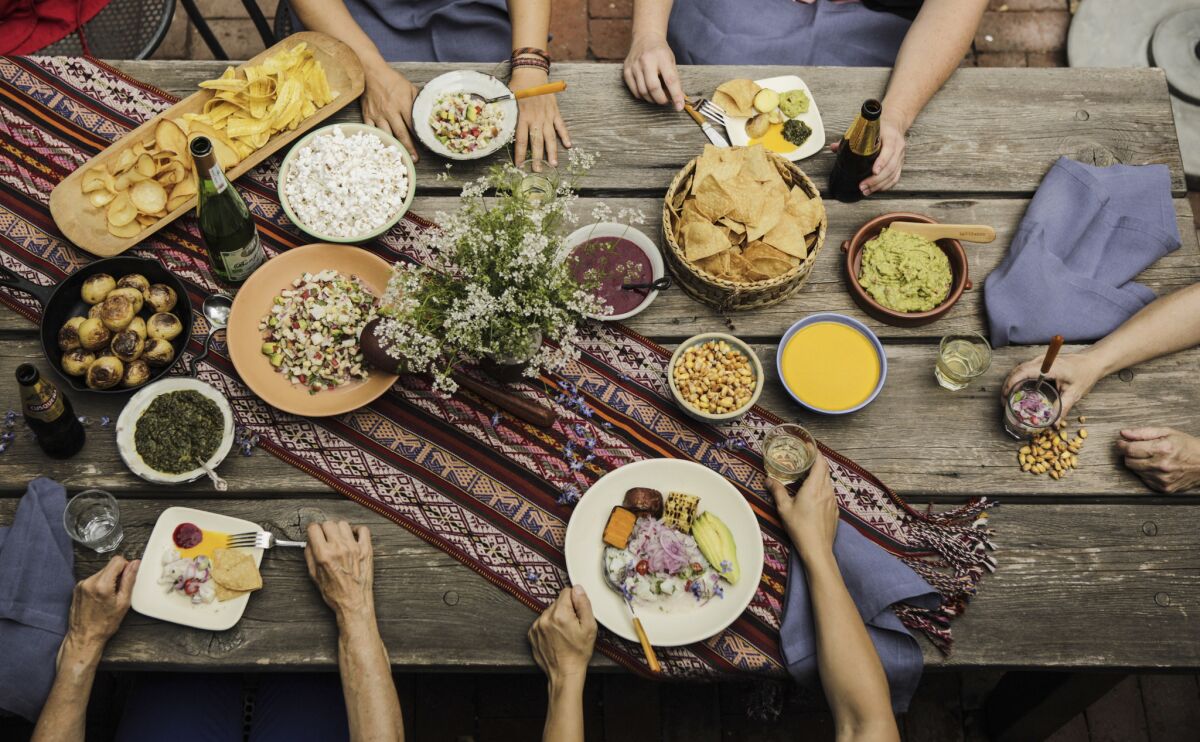 As it turns out, the whole roasted guinea pig was not the most memorable dish from a recent trip to Peru and Ecuador. And it wasn't the tree tomatoes or polka-dotted potatoes either. Of all the new foods I experienced during my recent travels, it's the ceviches that stand out. Familiar, yet so unlike the more common "long-cooked" Baja-beach-style ceviche, the dish became a gateway to cuisines that are predominantly a blend of indigenous (notably Quechuan) and Spanish colonial culinary traditions with a noticeable Japanese influence.
Peru is known for its sashimi-like ceviches and crudo-style tiraditos, and Lima is the epicenter. At cevicherias and restaurants, you'll find both simple and complex versions. In ceviche's most basic form, cubes of fresh local fish, red onion, and thin rings of aji (Arawak for chile) are tossed with leche de tigre, a briny emulsion of lime, spices and fish, moments before it is served. It is traditionally accompanied by chunks of boiled sweet potato or yuca and indigenous large-kernel corn nestled in the juices and by aji amarillo, the vivid yellow-orange table salsa made from the Andean pepper of the same name, and toasted dried corn, the inspiration for our "corn nuts."
By contrast, Ecuadorean fish ceviches are milder, more fully cooked in lime and sometimes served with white rice. But most surprising was the Ecuadorean ceviche vegetariano, an umami-laden bowlful of mushrooms, lupin beans, avocado, bits of tomato and fresh hearts of palm in a refreshing lime broth. It was accompanied, as are all Ecuadorean ceviches, by plantain and yuca chips and, best of all, popcorn. This may be popcorn's true calling: salty, crunchy, chewy, yet permeable enough to absorb ceviche's zesty juices.
I returned home inspired by how the ancient Quechuan attention to provenance — foods from Mamaqucha, the Incan goddess of the waters, and Pachamama, goddess of the land — influenced contemporary cooking, and I couldn't wait to host a fish- and plant-based ceviche party.
Which ingredients would be available at nearby farmers markets and stores, and which would remain a taste memory?Romeo Coleman of Coleman Family Farms grows huacatay, Peru's national herb (in the aster family but also called black mint), and Weiser Family Farms' Alex Weiser's first crop of yellow chiles is due in fall. Peruvian chef Ricardo Zarate of Rosaliné in West Hollywood directed me to El Camaguey market near Culver City, where I found frozen and dried aji amarillo, rocoto and panco peppers; Andean corn; and superior canned hearts of palm (fresh are an air-shipped luxury here).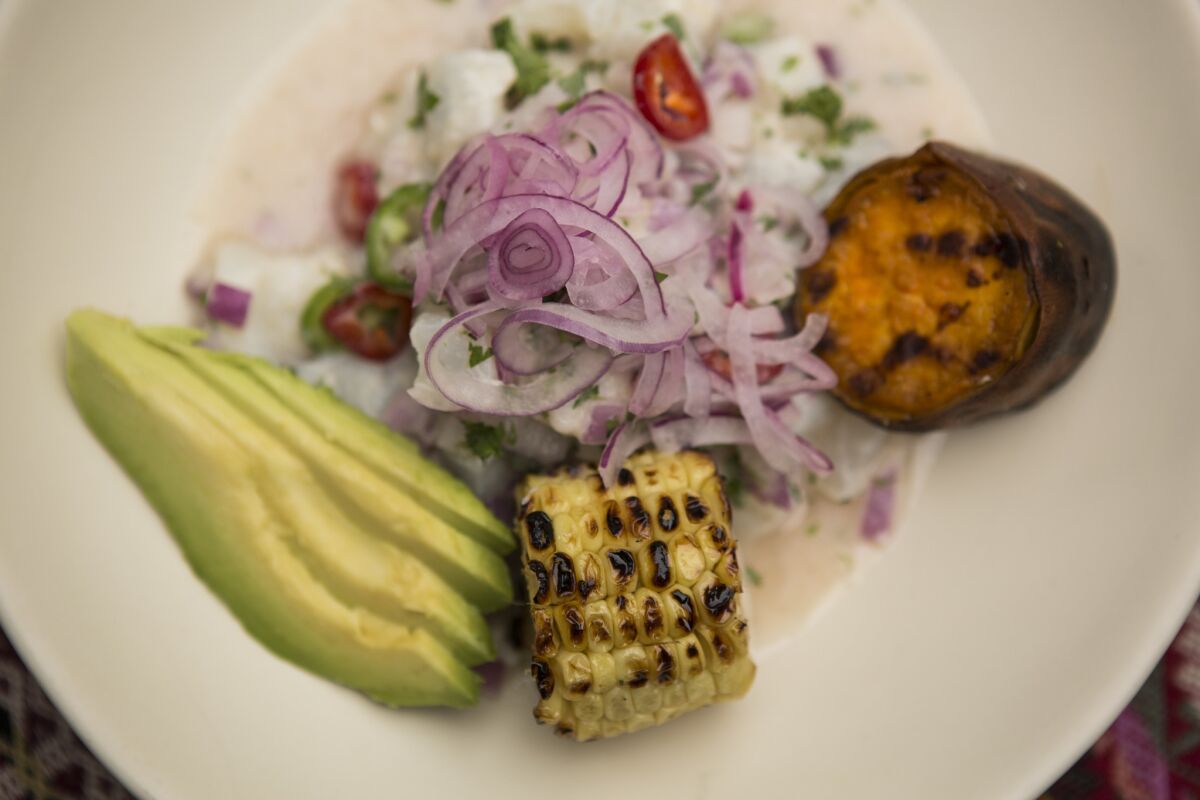 Finding quality seafood for sashimi-style ceviche will be the hardest part, says sustainable-seafood expert Michael Cimarusti, chef-owner of Providence, Cape Seafood and Il Pesce Cucina. "Stay as local as possible; it's your best hope of getting fresh enough fish." Look for bright-eyed, glistening whole fish or translucent fillets with bright red, not oxidized, bloodlines and a fresh smell. Always keep it well-chilled. "Fresh" is actually one to two days post-catch, according to Cape Seafood fishmonger Ehder Dominguez, to allow the fish to "settle into its flavor" and texture.
Choose a firm-fleshed fish that isn't too assertive. Rockfish (vermilion, ocean whitefish, tilefish), white seabass and yellowtail are good West Coast seasonal choices, says Sarah Rathbone, Los Angeles co-founder of the Dock to Dish network of sustainable seafood advocates. Alaskan halibut and cod are fine but not those from California, she cautions; they turn mushy in acid. For an East Coast ceviche, Cimarusti suggests black bass or flat fish (sole, sea bream, tai snapper, fluke) and recommends salting the fish to plump it before using, an optional but worthwhile step.
Leche de tigre does more than "cook" the fish once it's brought to the table. The protein-rich blend heightens ceviche's savoriness. It's blended with ice cubes to make it colder and creamier and to calm the lime's acidity.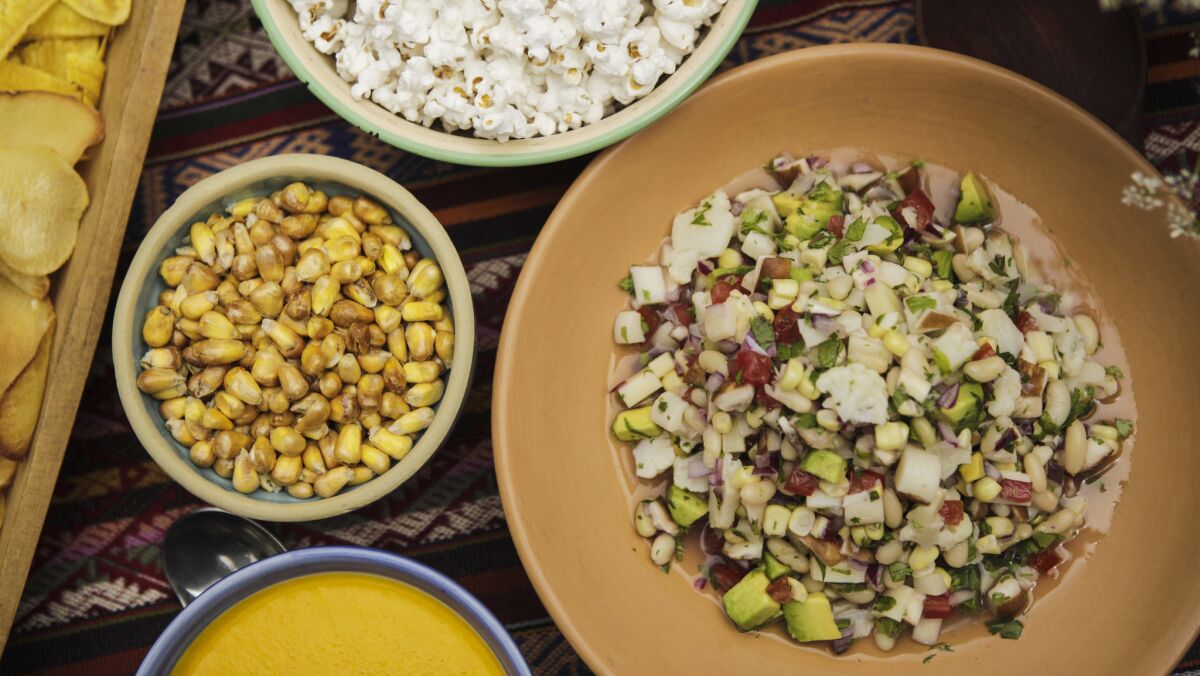 To translate Pachamama ceviche to North American crops, use local ingredients that offer a mix of textures and hold their color and shape in acidic juices: firm-ripe Fuerte or Pinkerton avocados, fresh shiitake caps (avoid portobellos), dense vegetables such as cauliflower or carrots, and bean varieties such as flageolet, navy, white tepary and Tarbais (cassoulet), as well as edamame or young favas.
For my ceviche party, I made three Peruvian salsas: sweet-spicy pluot-chile; one-ingredient aji amarillo (or other mild to moderately hot chiles); and huacatay (or amaranth or nettles), the nutty earthiness of which goes perfectly with summer new potatoes and guacamole. I stocked up on Andean snack foods and popped some corn. I grilled, instead of boiled, the sweet potato and summer corn for the fish ceviche and chilled beer and bone-dry gruner Grüner Veltliner and Basque txakoli wines.
I didn't nearly replicate a Lima moment or Andean afternoon. But I believe I had Peruvian chef Virgilio Martinez's blessing for my Cal-Peru-Ecuador olio. When Martinez, who is chef-owner of Central Restaurante in Lima, visited Weiser Family Farms in Tehachapi last May, I asked him what SoCal cooks could substitute for hard-to-find South American ingredients. "Use that," the chef said, gesturing to the surrounding fields and nearby hills. "Use what you have in your own ecosystems." He was right. The best way to translate a culinary adventure is to keep it local.
Where to find the ingredients
Fish markets
Cape Seafood, 801 N. Fairfax Ave., Los Angeles, (323) 556-2525, cape-seafood.com. 10:30 a.m. to 7 p.m. Tuesdays to Saturdays, 11 a.m. to 5 p.m. Sundays; also 8 a.m. to 1 p.m. Saturdays at Santa Monica farmers market, Arizona at 3rd Street.
Dory Fleet Fish Market, 2111 W. Oceanfront, Newport Beach, doryfleet.com. 6:30 A.M. to noon Wednesdays to Fridays, 5:30 a.m. to noon Saturdays and Sundays.
Eataly, 10250 Santa Monica Blvd., Los Angeles, (213) 310.-8000, www.eataly.com. 9 a.m. to 11 p.m. daily.
Fish King Seafood, 722 N. Glendale Ave., Glendale, (818) 244-2161, www.fishkingseafood.com. 9 a.m. to 7:30 p.m. Mondays to Saturdays, 11 a.m. to 6 p.m. Sundays.
Santa Monica Seafood, 1000 Wilshire Blvd., Santa Monica, (310) 393-5244, hwww.smseafoodmarket.com. 9 a.m. to 9 p.m. Mondays to Saturdays and 9 a.m. to 8 p.m. Sundays. Also at 154 E. 17th St., Costa Mesa,, (949) 574-0274. 9 a.m. to 8 p.m. Sundays to Thursdays, 9 a.m. to 9 p.m. Fridays and Saturdays.
Latin markets
El Camaguey Meat Market, 10925 Venice Blvd, Los Angeles, (310) 839-4037. 8 a.m. to 9 p.m. Mondays to Saturdays, 8 a.m. to 8 p.m. Sundays.
Numero Uno Markets, www.facebook.com/NumeroUnoMarkets. Multiple locations.
Superior Grocers, superiorgrocers.com. Multiple locations.
Vallarta Supermarkets, www.vallartasupermarkets.com. Multiple locations.
---
Get our L.A. Goes Out newsletter, with the week's best events, to help you explore and experience our city.
You may occasionally receive promotional content from the Los Angeles Times.