Farmers market report: Fresh or dried, tips for using shelling beans, in season now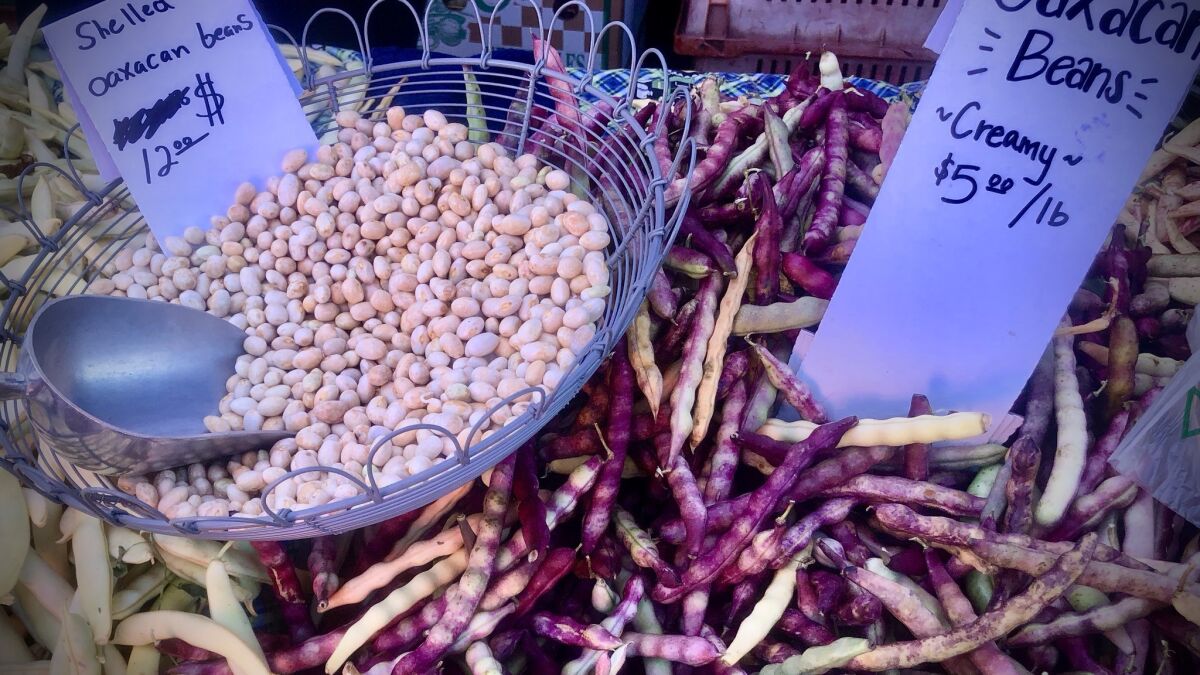 For a short time straddling the hottest weeks between the end of summer and the beginning of fall, fresh shelling beans can be found by the mound at various farmers markets.
At 2 Peas in a Pod, you'll find Oaxacan shelling beans in husks that range from faintly green to vibrantly purple, each containing several plump white beans. "Oaxacan shelling beans are one of the most unique varieties," according to Everett Hurd, who works at the farm. "You have to string it, but can cook it in the pod," he said, though most shelling beans are shucked, and their pods discarded.
2 Peas farmer Lori Heal recommends cooking the beans with chiles, such as Ortega or jalapeño, and a dash of fresh cayenne. Combine the beans and flavorings along with liquid (water or chicken or vegetable broth to cover and keep moist) in a slow cooker until the beans are tender, generally around four hours. The husks may fall off during cooking, but the beans and husks should be silky and tender. "The beans have a flavor similar to black-eyed peas," Heal said. Serve them alongside a thick steak, chop or rack of ribs.
Salads, stews, sides and more: 12 great recipes for beans >>
Hurd recommends that when shopping for shelling beans, skip the colorful, younger beans for the older, "ugly" ones. "Everyone wants to buy the pretty ones," he said, laughing, "but the ugly ones are easier to shuck. It's also a trick of the trade because the older ones are lighter. They don't weigh as much."
After bringing the beans home, keep them in the pods until they're ready to use, up to several days. "The husk may get a little mildew, but don't worry about that," Hurd said. Keeping the beans in the pods helps them to retain moisture and also helps to prevent the beans inside from sprouting.
One other trick Hurd recommends is to shuck the beans and store them in sealable freezer bags. "This seals in the moisture," he said "They'll keep for a good year frozen."
Although the flavor of fresh shelling beans might not be wildly different than the bags of dry beans of the same varieties you find on a store shelf, the texture can be dramatically different — silkier, creamier, more opulent.
Freshly shelled beans also require less moisture and cooking time than dried beans.
2 Peas in a Pod sells several kinds of shelling beans, including Scarlett Runner, a customer favorite, to Cranberry and Christmas Lima, two favorites of chefs. The grower can be found at farmers markets including Santa Monica (Wednesdays), Hollywood, Santa Barbara, San Luis Obispo, Arroyo Grande and Montecito.
Twitter: @noellecarter
---
Get our L.A. Goes Out newsletter, with the week's best events, to help you explore and experience our city.
You may occasionally receive promotional content from the Los Angeles Times.