Hanukkah: How to make oversize potato and root vegetable latkes for the holiday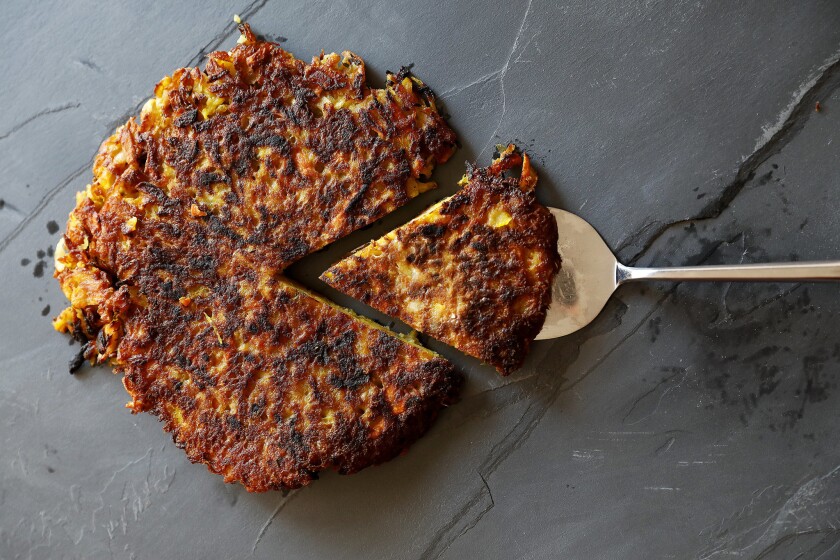 This Sunday night — unusually early due to a leap year in the Jewish lunar calendar — marks the beginning of Hanukkah, the Festival of Lights, which commemorates an age-old miracle. According to legend, a tiny amount of oil used by the Hasmoneans to light the menorah in the temple lasted for eight days.
So Jews make traditional fried foods like sufganiyot (jelly doughnuts), bimuelos (sweet dough balls similar to Argentinian buñuelos) and sfinge (Moroccan fritters) to honor the history. But the undisputed alpha dish of this holiday is the latke, or potato pancake.
Latkes are delicious — and a royal pain for the person making them. In fact it was last year, mopping my brow frying for friends as they drank cocktails within earshot, that I decided I'd officially had my last canola-oil-steam facial.
Recipe: Oversize russet and root vegetable latkes »
This year I'm transitioning latkes from their more expected role as à la minute party fare to the centerpiece of a low-key meal any time during Hanukkah (and beyond). By increasing the size of each pancake and using two skillets, you can make a latke dinner for four with precisely two flips of a spatula, and serve them fresh from the frying pan with minimal attention.
Even if I'm going for mixed-media latkes such as in this recipe, I always begin with at least some standard russet potatoes, usually no less than half the total volume. Potatoes bind the other ingredients and provide an unbeatable baseline crunch.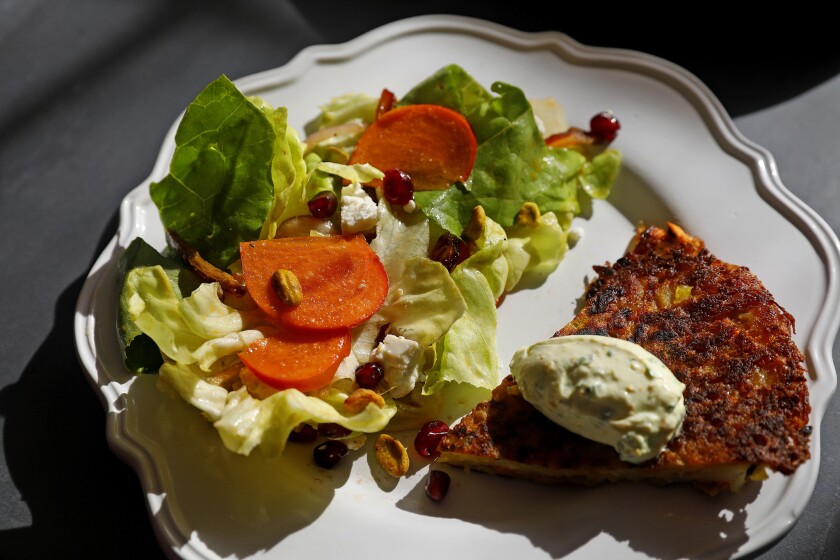 After grating them with an onion (and here, an apple), I soak the potatoes in water. That way, everything remains snowy white until you're ready to squeeze it out. And squeeze you should: More than anything else, eliminating as much liquid as possible before you fry optimizes the interplay of moist-to-crunchy that, to my mind, defines latke nirvana. The added step of encasing the shreds in a towel and applying some elbow grease, a method I learned from L.A. jewelry designer and chef Samantha Rifkin Garelick, really makes a difference.
Potato starch (and an extra egg yolk) help glue the pancakes together without the dense glueyness of all-purpose flour, and I add the salt last, which gives it less time to leach liquid into the mix.
Finally, I divide the batter into two larger, relatively loose cakes, spreading the mixture atop the hot oil without packing it down, which allows the latkes to cook and release steam (read: moisture). Think of these as wannabe röstis, minus the clarified butter and plus added sweetness thanks to the right amount of apples, sweet potatoes and beets.
Of the many things I learned cooking alongside Chrissy Teigen and her mother, Vilailuck, over the course of two "Cravings" cookbooks, choosing peanut oil for frying was one of the most life-changing. Things fried in peanut oil crisp and brown with less burning; taste lighter and less greasy than foods fried in other oils; and acquire a subtle toasty flavor. I always default to it now, though canola or safflower work well if peanut allergies are an issue. Heat your oil to medium and not much higher; you want the insides to cook along with the outsides.
As the latkes fry, you can make a sexy little salad whose tart dressing and pomegranate seeds — nature's Pop Rocks, as far as I'm concerned — are the perfect foil for the latkes' richness.
---
Get our weekly Tasting Notes newsletter for reviews, news and more.
You may occasionally receive promotional content from the Los Angeles Times.