Thanksgiving just got a lot easier: Roast the meal on sheet pans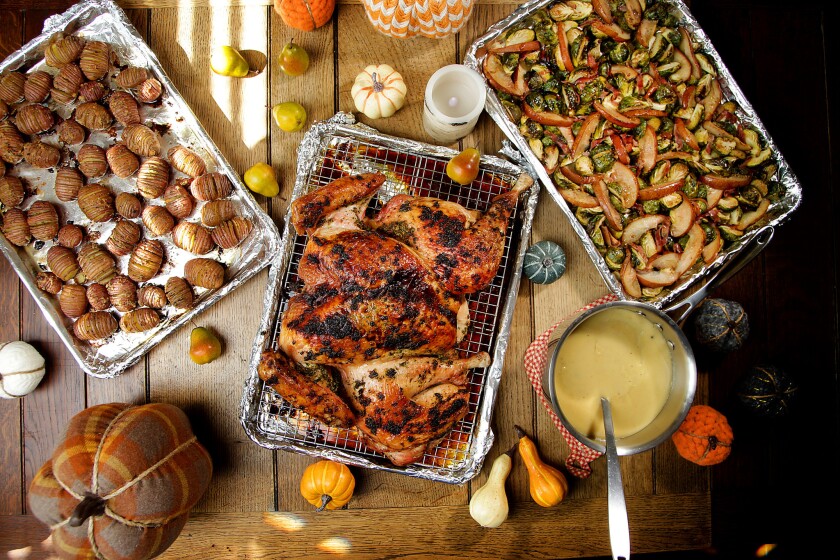 Cooking Thanksgiving dinner is stressful, even if you're a professional. So this year I set out to chart an easier path to a traditional dinner, something with fewer variables but the same reward.
Over the last couple of weeks, I experimented with the idea of doing a sheet pan Thanksgiving. The approach, where everything is cooked on sheet pans in the oven, has caught on because it's easy to do and easy to understand, and from a culinary point of view, because high heat roasting is in general something that makes food we like.
After a couple of trial runs, I've come to a couple of conclusions: It works for Thanksgiving. And although I had misgivings that it might be too basic an approach for a holiday meal, I can unreservedly say: I love it.
Using three sheet pans and one saucepan (can't forget the gravy), I can put out a meal serving eight to 12 guests in just under four hours, start to finish. It's a simple meal, but it covers the traditional bases: Instagram-worthy herb-roasted turkey, roasted Brussels sprouts with pears and ham, garlic and rosemary Hasselback potatoes, and enough gravy to dose everything with extra love.
I use baking sheets made for commercial kitchens, the rimmed ones measuring 18 by 13 inches, which are technically called half-sheet pans because there is a size twice as large too. You can find half-sheet pans in most restaurant and cooking supply stores, as well as online. The size is versatile: big enough for the bird, wide enough to give your vegetables a chance to roast and not just steam, and the rimmed edges are great for catching any rolling potatoes or sprouts and collecting turkey drippings.
The trick to making the turkey work on a sheet pan is to spatchcock it — to use heavy-duty kitchen shears to remove its backbone. Although it won't look like a bird from a Norman Rockwell painting, it has many advantages over that classic version: It will cook in half the time as a whole turkey; the legs and breast meat — because they are all now about the same thickness, cooking on the same level — will cook at the same time, so you don't have to dry out the white meat to fully cook the dark; brining is not necessary, as it would be for a whole bird, because of the improved cooking time; and in this configuration, you have a much better chance of getting skin that is not just browned but also crisp.
Sheet pan dinners are built for charring root vegetables; here they shine: The Brussels sprouts and potatoes roast at the same temperature, so you can cook them together. And as everything roasts away, you can make the gravy.
You'll even have time to work on more important diplomatic matters, like where you're going to seat crazy Uncle Phil and how to keep Grandma away from the bar.
Sheet pan Thanksgiving game plan:
Remove the turkey from the refrigerator an hour before cooking. Line your sheet pans with heavy duty foil (this will save you some cleanup later).
Gather all your ingredients for each of the dishes.
Preheat the oven.
Prepare the herb butter for the turkey.
Begin the bird: Spatchcock, butter and place it on a rack on a sheet pan.
Place the bird in the oven. (Set a timer and lower the temperature after 20 minutes.)
Get the turkey stock going.
When the stock begins to simmer, prepare the potatoes and Brussels sprouts and arrange them on sheet pans. (Cut the pears just before putting the tray in the oven to avoid them browning.)
Continue roasting the turkey, rotating it every half hour or so for even coloring
After an hour of simmering, strain the stock and start the gravy.
Cut up the pears, tuck them among the Brussels sprouts.
When the turkey is done, put the sides in.
Finish roasting the vegetables, toss the roasted Brussels sprouts with the dressing.
Carve the turkey.
Arrange the dishes on serving platters and call everyone to the table.
Pat yourself on the back. You did it.
Please consider subscribing today to support stories like this one. Get full access to our signature journalism for just 99 cents for the first four weeks. Already a subscriber? Your support makes our work possible. Thank you.
---
Get our weekly Tasting Notes newsletter for reviews, news and more from critics Bill Addison and Patricia Escárcega.
You may occasionally receive promotional content from the Los Angeles Times.