Newsletter: Counter: Hollywood and wine
Hello again,
Can the proprietor of a nose-to-tail gastropub find true happiness at a twee small-plates restaurant? In the case of Brendan Collins, who we all thought would stay forever at his beery Waterloo & City in Culver City, it's hard to tell. Because while his new Birch has all the attributes of a sleek modernist restaurant, from numbered cocktails, to the organic-leaning wine list, to the appetizers arranged to resemble terrariums, you can tell that his heart is really in the bowling pin-sized glazed pork shank and the massive bowl of fried sweetbreads with truffle oil and gnocchi. I mean, there's a ramp everywhere you could possibly put a ramp, but the guy has his story, and he's sticking to it.
Elsewhere in the section, Jenn Harris eats all the fried chicken and somehow is still around to tell us what she's found; Russ Parsons explores the dilemmas of tipping in the era of the $15 minimum wage; and our old friend Ilan Hall shows up again with a vegan noodle shop at the Grand Central Market. It's all enough to make a fellow yearn for a drink — perhaps even at a Taco Bell.
And be on the lookout for Wednesday's In the Kitchen newsletter, with cooking tips and news, including new recipes from the L.A. Times Test Kitchen.
Where to eat in Hollywood
Jonathan visits Birch, chef Brendan Collins' new restaurant in Hollywood. Named for the trees that populate the chef's northern English home, Birch is Collins' follow-up to Waterloo & City, which closed a few months ago. Shared plates, good beer, an open kitchen, all just a few blocks south of Hollywood Boulevard.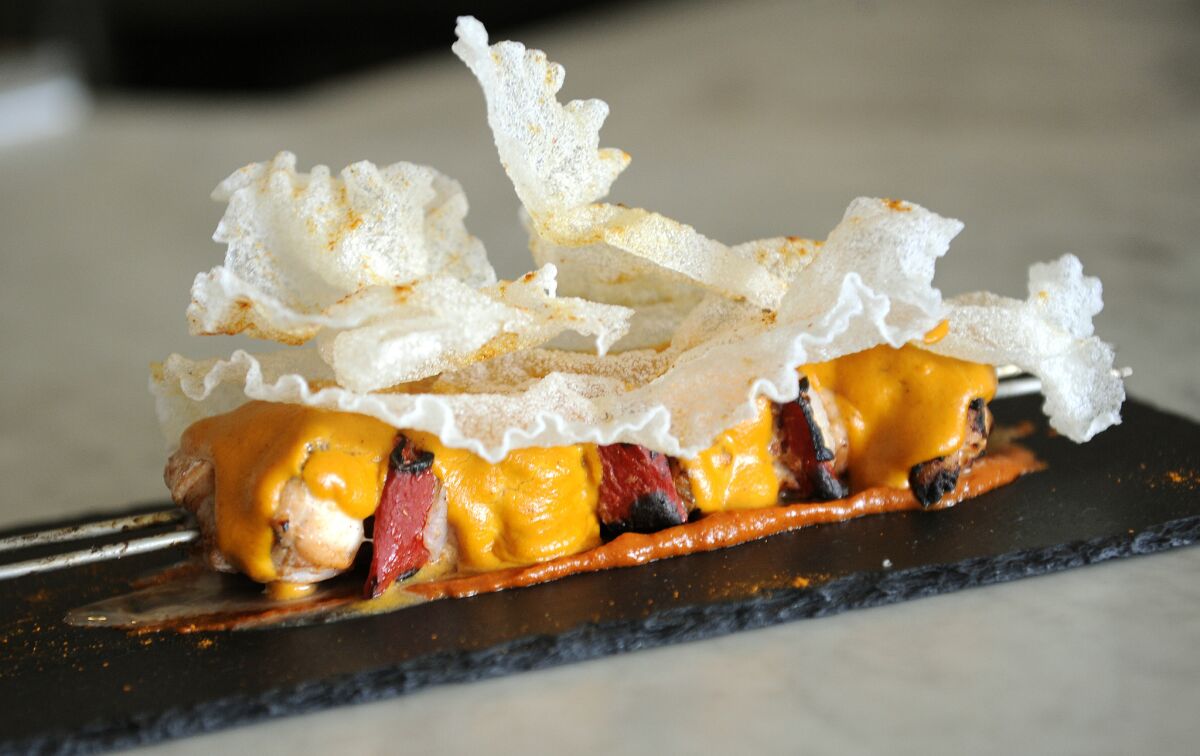 More fried chicken for us all
Jenn Harris really likes fried chicken — so much so she did a roundup of 10 of her favorite places to get the addictive stuff. There's Hawaiian-style beer can chicken, courtesy of Roy Choi and A-Frame. Spicy fried chicken topped with fried lemongrass at Jitlada. All-you-can-eat fried chicken at Ledlow. Japanese fried chicken, with rice and spicy ponzu honey bears at Tokyo Fried Chicken. Whoa.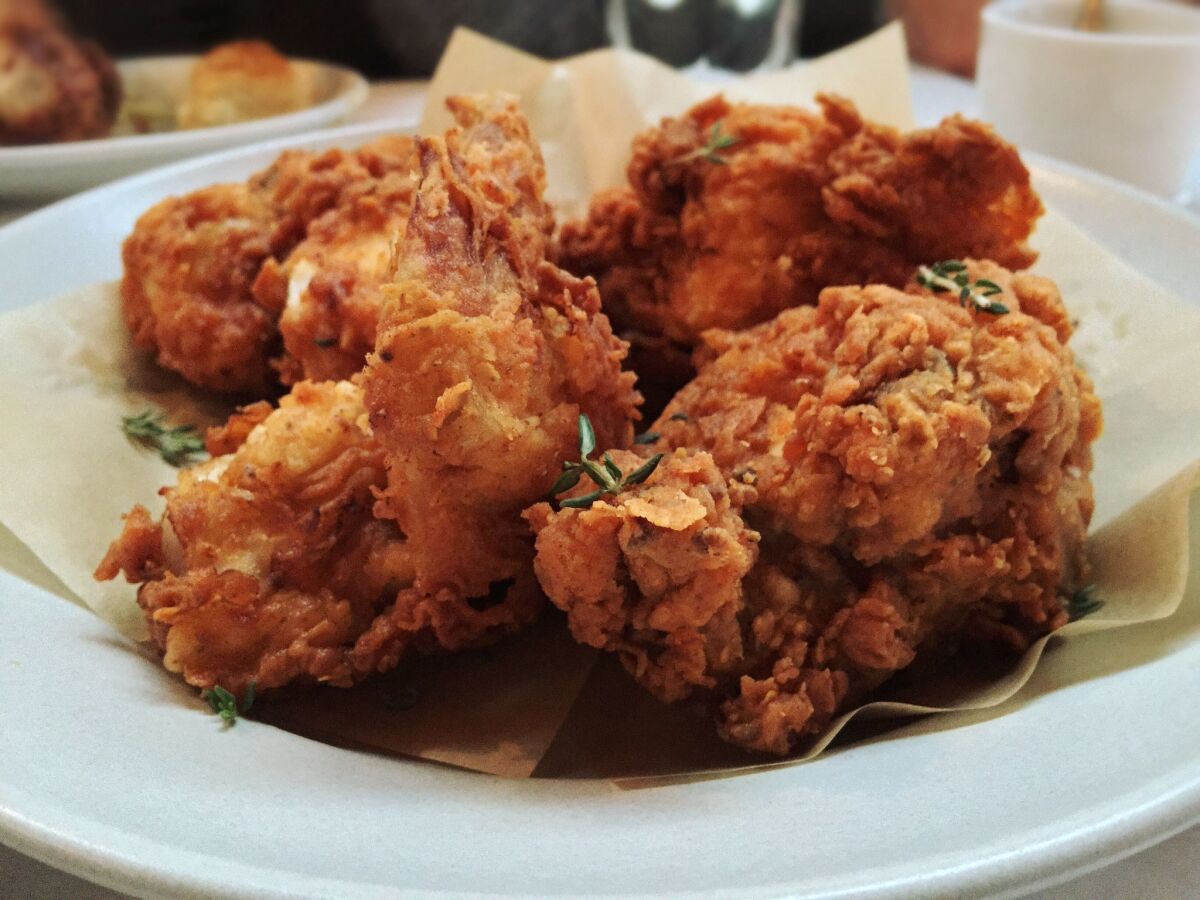 Restaurant tipping
Russ Parsons explores what restaurants may be thinking about in the wake of the proposed minimum wage hike and the problem of tipping. There's the service charge option (see: Trois Mec), or the all-inclusive pricing, as is done in Europe, which would mean rising restaurant tabs. It's not a simple or easy issue.
Ramen alert
If you were among the many mourning the ramen-ya-shaped hole at Grand Central Market when Eggslut's Alvin Cailan opened his ramen shop not there but in Chinatown, chef Ilan Hall (The Gorbals, "Top Chef") is here to help you out. Jenn reports that Hall is opening a vegan ramen and pho shop in GCM soon. You're welcome.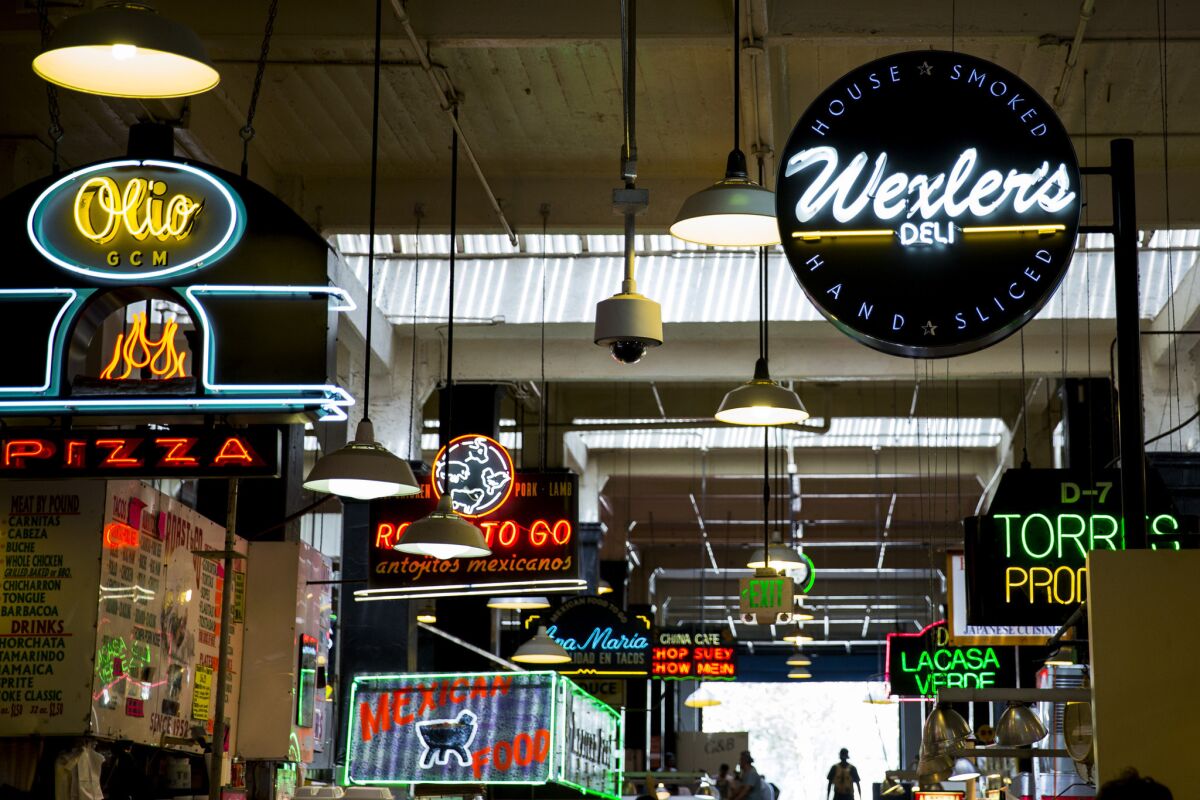 Notes from the food and drink underworld
Taco Bell is testing booze options. A glass of wine with your Sriracha Quesarito? Right.
Bar 107 in downtown L.A. has decided not to close — despite being asked to leave by the owner of the building. Instead they're starting what they're calling #OccupyBar107.
Counter Intelligence: Sign up for Jonathan Gold's weekly newsletter
Feedback?
We'd love to hear from you. Email us at food@latimes.com.
Get our L.A. Goes Out newsletter, with the week's best events, to help you explore and experience our city.
You may occasionally receive promotional content from the Los Angeles Times.