Happy Chinese New Year: Restaurants for noodles, dumplings, chicken, fish and more
Happy Chinese New Year! Red envelopes and lion dances for all! If you want to celebrate at a Chinese restaurant, and I can't see why you wouldn't, here are a few places to ring in the Year of the Rooster.
Ask Jonathan Goldbot where to eat on Facebook Messenger »
Chengdu Taste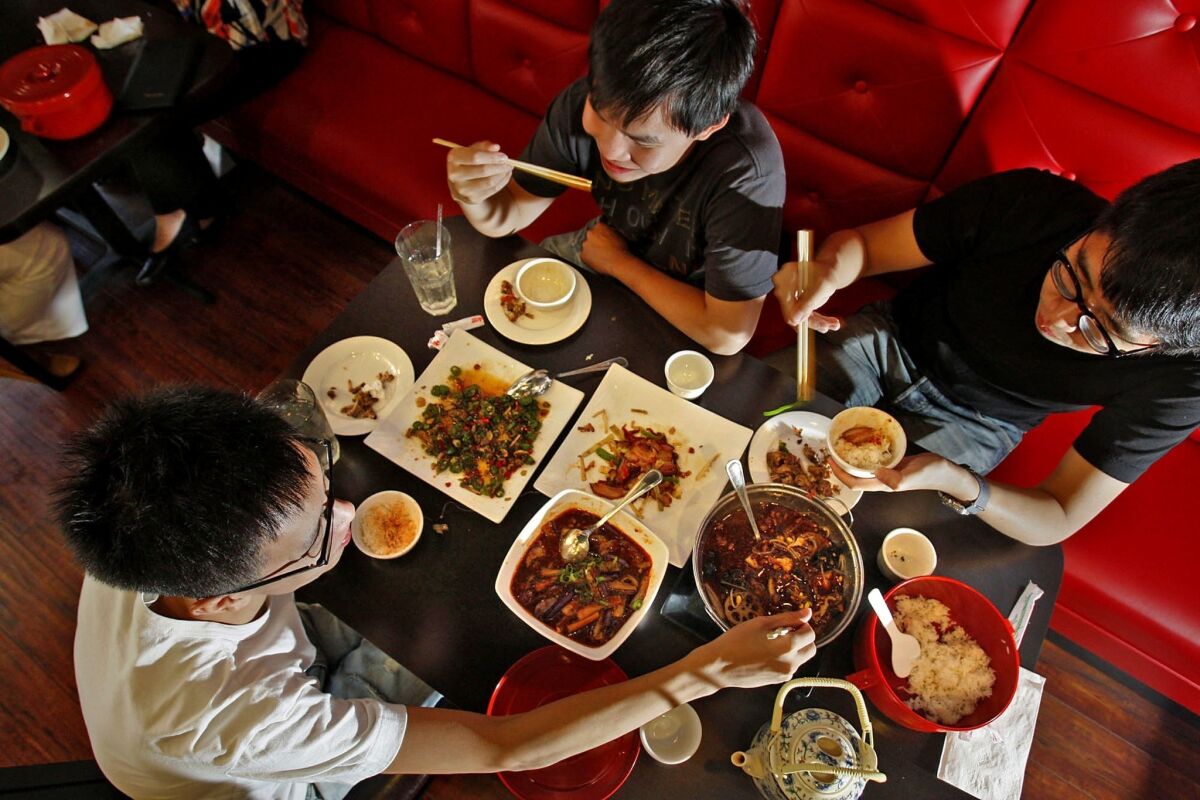 The last time we wandered into Chengdu Taste, we ran across a new menu item whose English translation, intriguingly enough, was Guess the Shrimp. No matter how many times we had been to the restaurant, we probably wouldn't have guessed that the dish would turn out to be more or less the Sichuan equivalent of carne asada fries — a lovely, aggressively seasoned mess of French fries, chopped chiles and big shell-on shrimp, a dish designed to get all over your shirt and splash into the hair of the person across the table from you. Is Guess the Shrimp traditional in Sichuan? I'm guessing not, although its form is not far removed from the ubiquitous Sichuan dry pot. But it is just one of the great dishes at Chengdu Taste, the first of the new wave of Sichuan restaurants in the San Gabriel Valley. If you order both numb-taste wonton and boiled fish with green pepper sauce, the waiter may object, because he believes that the sauce on the dumplings will obliterate your ability to taste the subtleties in the fish. Get them both anyway, and the tea-smoked duck and the garlic leeks sautéed with house-cured bacon. The food is flavored with a vast array of fresh, dried, pickled and ground chiles, but the vivid scent of Sichuan peppercorn comes to the front, and the sensation is of numbness rather than pain.
828 W. Valley Blvd., Alhambra. (626) 588-2284
18406 Colima Road, Rowland Heights. (909) 675-8888
8526 Valley Blvd., Rosemead. (626) 899-8886
China Tasty
China Tasty may be the only place in the west San Gabriel Valley to serve real Lanzhou-style noodles — chewy, elastic things hand-thrown to order by chefs whose talents are displayed in a glassed-in kitchen — which you can get stir-fried with meat and vegetables or served in an intense broth of beef or lamb. Even the "big plate chicken" comes with dense hand-shaved noodles. This is more than anyone has a right to expect from a bowling-alley restaurant, even one in the San Gabriel Valley. And it is a reliable source of scallion pancakes, dumplings and passable beef rolls when the lines at 101 Noodle Express in the same complex are too long.
1308 E. Valley Blvd., Alhambra. (626) 457-8483
Duck House
Is Duck House the grand Beijing duck palace Los Angeles sorely needs? Not quite — it's a Taiwanese restaurant that just happens to specialize in Beijing duck, but is just as happy to see you eat eel with sticky rice, pork belly with garlic, and the slithery fiber-rich jelly called konjac. But the duck is pretty celebratory: crisp slivers of duck skin arranged on a platter, ready for you to fold into tissue-thin wheat pancakes with shredded scallion and a dab of sweet bean jam. Yes — you get sliced meat too; for a few dollars extra there is a bland, milky-white soup made with duck bones or scraps stir-fried with bean sprouts. Veterans of the local Chinese-food wars still yearn for Quanjude, the short-lived Rosemead outlet of the Beijing-duck restaurant Richard Nixon made famous, but Duck House will do. Note: You must call and reserve a duck one hour in advance. Otherwise, no duck for you.
501 S. Atlantic Blvd., Monterey Park, (626) 284-3227.
Hai Di Lao
Hai Di Lao is a glittery China-based chain specializing in hot pot, the spicy Sichuan equivalent of shabu-shabu. In the Chinese branches of the chain, there are free manicures while you wait, neck massages, shoe shines and free fruit salad. In the Arcadia restaurant — there are magazines to browse through. But you still assemble your dipping sauce from an infinite bank of possibilities, swish your bits of meat and fish through your own pot of seasoned broth, and glug endless pitchers of watermelon juice. Is it possible for glossy Chinese pop to be played any more loudly? Do you need to tip the dancer who pulls your noodles to order? You will be steered toward one of the combination plates, thinly sliced beef or lamb to swish through your individual pot of broth, plus tofu, sturdy nappa cabbage leaves, lettuce, sweet potato and a fistful of noodles. You can negotiate your way to a seafood platter, which will include mussels, clams and scallops in their shells, a few fillets of whitefish, and some squid and octopus cut up in interesting ways, but really — the fluffy shrimp balls are enough. And don't forget the Spam.
400 S. Baldwin Ave., Arcadia (in the Westfield Santa Anita mall). (626) 445-7232
Hui Tou Xiang Noodles House
Hui tou is an invented name for the house specialty, dumpling skins burrito-wrapped around thumb-sized lozenges of pork minced with onions, flattened into oblongs, and pan-fried tawny brown. You will also find good soup dumplings in this tiny San Gabriel mini-mall restaurant. You will scarcely see a table without a bowl or two of bouncy, beautiful noodles, which are hand-kneaded and sent through a machine in back, served hot in broth with braised meatballs or big chunks of slow-cooked pork rib. They are served, too, with shredded cucumber and a dense, fragrant sesame paste.
704 W. Las Tunas Drive, San Gabriel. (626) 281-9888
Hunan Mao
The steamed fish head is pretty splendid at Hunan Mao. The fish head will be large, probably from an enormous carp or similar freshwater species, thus comical, and it will be frosted with the chopped blend of dried, fresh and fermented chiles that give Hunanese cooking its reputation for head-snapping heat. We're fans of the luscious cucumber stir-fried with shiso, the toss-fried mutton and the chewy, spicy lamb ribs fried with garlic and lots of Sichuan peppercorn. If your tastes extend more toward gooey strips of pigskin tossed with chopped chiles, magma-thick Hunan hot pots or the fearsome dish called Hot Over Spicy, basically a stir-fry of chiles flavored with chiles, seasoned with yet other chiles and dosed with a bit of ground pork, you will find them here too. You'll want at least one dish made with the house-smoked Hunan ham, which has the punch of first-rate barbecue.
8728 Valley Blvd. No. 101, Rosemead. (626) 280-0588
J. Zhou Oriental Cuisine
The swankest Chinese restaurant in town at the moment may well be in a Tustin shopping mall, a glittering, cavernous space with a specialty in sea cucumber, air-dried abalone and other luxuries of the Hong Kong table; herb-infused soups that seem less simmered than distilled; and crackly skinned suckling pig. The cost of the highest-end banquet menu would serve as a solid down payment on a Porsche. But unless your tastes run toward bird's nests, spaniel-size Australian lobsters and rare fish netted on distant tropical reefs, J. Zhou may fit into your special-occasion budget too, with lovely roast duck, steamed scallops and big steamed crabs, as well as what is probably the solidest dim sum south of Rowland Heights.
2601 Park Ave., Tustin, (714) 258-8833
Mian
There are other Sichuan noodle shops in the San Gabriel Valley, but there is nothing quite like the Chongqing-style noodle house Mian, from the chef behind Chengdu Taste. The flavors are bright and clean, informed as much by the tart funkiness of Sichuan pickles as by pure chile heat, and the handmade noodles have an integrity and chew you might associate with good Italian pasta. The spicy beef noodle soup is excellent, as good in their way as the renowned versions at No. 1 Noodle House in Rowland Heights or Dai Ho in Temple City, but the draw here is probably the zhajiangmian: noodles with a mean streak, a potent lashing of hot chile and oil, and laced with just enough numbing Sichuan peppercorn. The difference between the Chengdu zhajiangmian and the Chongqing zhajiangmian at Mian? The latter includes soft peas imported from Chongqing. Who wouldn't want a handful of Chongqing peas?
301 W. Valley Blvd. No. 114, San Gabriel. (626) 693-6888
New Port Seafood
In the whirlwind of restaurant fads that have at one time or another saturated the San Gabriel Valley with porridge, hot pot, soup dumplings and spicy crawfish, the latest craze seems to be Chiu Chow seafood — or rather, the specific, spicy brand of Southeast Asian-tinged seafood made popular at New Port Seafood. If the lines are too long at the converted Marie Callender's in San Gabriel, you can find pretty much the same menu at nearby Boston Lobster or 626 Seafood, or at the sister New Ports in Rowland Heights and Beverly Hills. Because if there is a more festive Chinese dish than the house special lobster, it is hard to imagine what it might be. The fearsome beasts, 5 pounds and up, fried with fistfuls of chopped chiles, scallions and garlic, are more than a match for any tableful of ravenous, nutcracker-armed souls, although we can all but guarantee that there will not be a smidgen to take home. The menu may seem like a document of formidable length, but the waiter standing patiently by your side already knows that you are going to end up ordering the sweet-spicy Vietnamese-style "shaking beef," the pea leaves sautéed with garlic and maybe the clams sautéed with basil. But it is the lobster that will set you free. Pro tip: The extra few bucks they charge to put noodles underneath the lobster, where they soak up the chiles, the chopped garlic and the schmutz, is worth at least twice what they'll charge.
518 W. Las Tunas Drive, San Gabriel, (626) 289-5998
18441 Colima Road, Rowland Heights, (626) 839-1239
50 N. La Cienega Blvd. No. 130, Beverly Hills, (310) 855-0088
Sea Harbour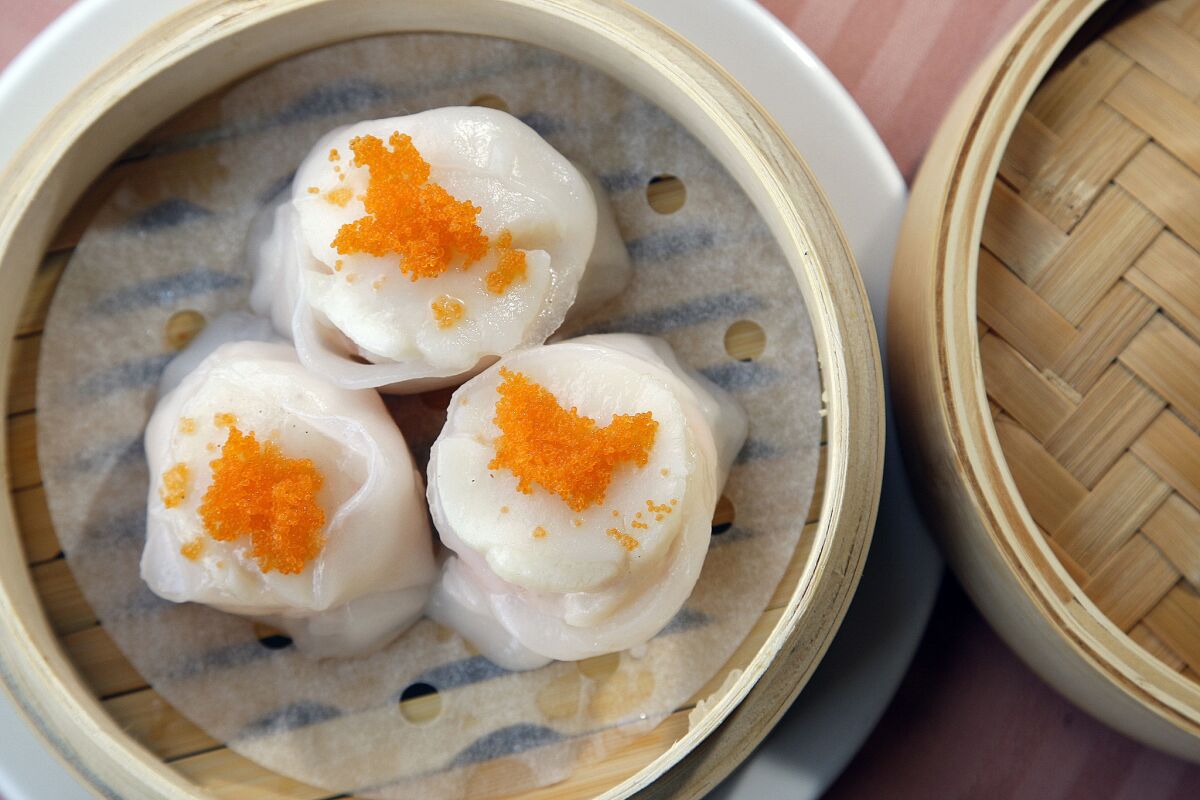 Sea Harbour is one of the two or three best Hong Kong-style restaurants in the Los Angeles area, a comfortable dining room with impeccable live seafood and deft interpretations of Chinese luxury dishes. If you were looking for bird's nest, braised sea cucumber or sun-dried abalone preparations, this is the place — and it can be pretty expensive. Its kitchen has long been considered the most serious in the San Gabriel Valley; the Hong Kong-American equivalent of a place like Spago. In the mornings, the dim sum is pretty much still the best in town, especially if you are open to things like fried chicken knees and scallop dumplings with fish roe alongside your barbecue pork buns and rice noodle rolls.
3939 Rosemead Blvd., Rosemead. (626) 288-3939
Seafood Palace
Seafood Palace is known for its excellent Chiu Chow seafood, in particular for what the menu calls house-special fried crab, a version of the Hong Kong dish sometimes known as "typhoon shelter crab" because of its onetime ubiquity as unsanctioned harborside street food. Seafood Village's fried crab is especially good, hacked into chunks, dipped in a gauzy batter, deep-fried and showered with chopped scallions and handfuls of fried garlic — a dish as impossible to stop eating as almost anything in town. You will find lots of fresh vegetables cooked with little oil, complex braises and an occasional level of spice that rarely makes it into the food of southern China. One of the restaurant's best preparations is a simple dish of whole, seeded jalapeño peppers stir-fried with salty crumbles of pork. You can try clams with basil; fried, garlic-glazed snowfish that is as juicy as any piece of miso cod that has ever made it out of the kitchen at Nobu; and a casserole of ong choy, Chinese water spinach, cooked with tender, freeform fish balls that resemble top-rate gefilte fish.
9669 E. Las Tunas Ave., Temple City, (626) 286-2299
Shanghai No. 1 Seafood Village
The walls are covered with red velvet, and the black velvet of the banquettes is punctuated with rhinestones. The chairs are overstuffed. The chandeliers are blinding. If you want to be accurate about it, Shanghai No. 1 Seafood is less a Shanghai-style restaurant than it is an actual Shanghai restaurant, one of an upscale Shanghai-based chain plunked down in San Gabriel. And the restaurant's menu, a thick, glossy document stuffed with glistening pictures of spiked sea cucumber, is the Chinese menu equivalent of a September Town & Country, except instead of estates, there are red-cooked squid and live fish and fried prawns, reproduced in excruciating detail. The cooking is not altered to suit the Western palate, and many of its most stunning effects may whiz straight over the heads of diners not actually raised in eastern China. So skip the shark-lip casserole and go straight for the crabs fried with chile and garlic; the crocks of candy-rich Old Alley Pork; the smoked fish; the stone-pot fried rice; or the pan-fried pork buns called sheng jian bao. Cantonese dim sum, prepared by an entirely different crew, is served afternoons.
250 W. Valley Blvd., San Gabriel. (626) 282-1777
Tasty Noodle House
Tasty Noodle House specializes in the clean, subtle seafood preparations of the northern port city Dalian, which sometimes means that you will find sea cucumber where you don't expect to find sea cucumber, and both the vinegar-marinated pork and the braised jellyfish head are really fine. You would not be unhappy with slow-cooked whole fish with tofu or with the snappy fresh-oyster soup. But if you want to treat Tasty Noodle House as a great strip-mall noodleshop, nobody there will stop you, and the pan-fried pork buns, the super-crisp scallion pancakes and the beef stew noodles are all kind of great.
827 W. Las Tunas Ave., San Gabriel. (626) 284-8898
The Legendary Restaurant
Nobody can accuse the Legendary Restaurant, the newest of the San Gabriel Valley's Sichuan palaces, of a lack of ambition. Because while it is possible to order a meal made up solely of the standard mapo tofu, boiled fish with green chile and lots of Sichuan pepper, and flash-fried string beans, it is trying to make its reputation on spectaculars — cured pork hung from tabletop racks, enormous platters of fried chicken buried with dried red chiles, and peppery strips of pork belly crimped into stepped Maya pyramids. Ever heard of "trick eggplant?" Garlicky slabs served in a ridged clay mortar, of the sort we have always associated with the grinding of grinding sesame seeds, are strewn with black, glistening wedges of thousand-year egg — you are supposed to grind it all into a paste with a wooden pestle. The trick, I think, is that you will sorely wish for a beer. The house smoked plum juice will almost do.
2718 W. Valley Blvd., Alhambra, (626) 427-2236.
ALSO
Foods for a Chinese New Year feast
Shopping for Chinese New Year? Here's where to look
East meets West as Las Vegas celebrates Chinese New Year
Get our L.A. Goes Out newsletter, with the week's best events, to help you explore and experience our city.
You may occasionally receive promotional content from the Los Angeles Times.