Dorie Greenspan talks about a world of nothing but cookies
What must it have been like to be Dorie Greenspan's neighbor in Paris' leafy 6th arrondissement while she worked on her latest cookbook, "Dorie's Cookies"? For months and months, the scent-clouds of butter, sugar, flour, eggs and vanilla floated out her window as Greenspan, a veteran baker and author of multi James Beard Award-winning cookbooks — "Baking With Julia," "Baking Chez Moi," "Around My French Table" — challenged herself to compile an all-star collection of 170 cookies, both sweet and savory.
Colorful, packed with tips and clocking in at 517 pages, "Dorie's Cookies" seems also to have become Greenspan's way of democratizing the warm act of cookie baking. Greenspan, who swears by high-fat cultured butter but tests her recipes with unsalted Land O'Lakes, says cheerily, "I'd much rather have people use whatever ingredients they have in their house than not bake."
After writing 12 cookbooks, what made you think, "My next one will be just about cookies"?
I hit a bump — a mountain, not a bump — when I was writing "Around My French Table." I couldn't see my way to the end of the project. I called my editor and said, "You know what? You don't want 'Around my French Table.' I'll write a cookie book!'" And she said, [sweetly] "A cookie book is a very good idea, but I think you should finish 'Around My French Table' first." And after that? The work became great. In fact, I enjoyed it so much, I went on to write "Baking Chez Moi." And as I was making French cookies, I thought, 'OK, it's really time to do a cookie book.'"
More cookbooks: 27 of our favorites | Anthony Bourdain on dad food | Cookbook industry | Silk Road cookbooks
Describe your descent into a world of nothing but cookies.
I found that the more you think about something, the more ideas come to you. The more creative you become. If I could, I'd have given my husband nothing but cookies for dinner. They were that much on my mind. I was so in love with them. I must have been really boring to be around — everything was cookie-ized in my mind.
Give an example.
I went out for a drink in the Village with a food stylist friend of mine and she ordered a Bee's Sneeze. And I looked at some of the ingredients that were in the cocktail — lemon, honey, ginger, black pepper — and thought, "It's a cookie!"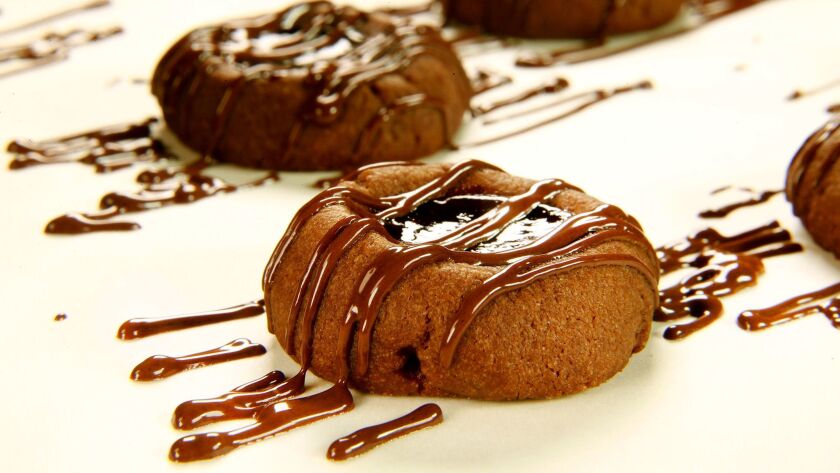 Recipe: Chocolate-raspberry thumbprints »
In "Cookies," you write about how often you are given the gift of treasured family recipes. Do you feel under pressure to like them?
It makes me feel terrible when somebody is kind enough to give me a recipe and I don't like it. I always secretly hope when someone gives me a recipe that it'll be great, that I'll be able to use it and then thank them for it. A friend of mine gave me a recipe for a delicious ginger molasses cookie. She said, "I'm sure you're going to want to put it in your book," and I thought, "What if I don't?" You make the dough, roll it into a ball and then when it bakes, it flattens and crackles. I loved the flavor of the cookie, but I wanted more of it. I ended up making these cookies in muffin tins so they're really thick. They're almost like little ginger-molasses cakelets. She was a little surprised, but I think she's OK with it, to take her recipe and play with it.
I'd much rather have people use whatever ingredients they have in their house than not bake.
Talk about why cookies are the perfect party gift.
Cookies are a great thing to bring to a party because we bake them in batches. A guy recently told me that when he goes to someone's home, he brings a bag of baked World Peace cookies — the cookie that's on the cover of the book — and an unbaked log to freeze. For all the years that I've been baking, that never occurred to me. Just before you called, I was taking chocolate chip dough, rolling it into balls and putting them in the freezer. I could bring someone a sack of frozen cookie balls and they could bake them later right from the freezer. I also leave sheets of rolled dough in the freezer, and then I just pull it out and cut the cookies. Sometimes I forget to label them. It's always a surprise.
Share some words of wisdom to nervous first-time bakers.
Baking in general is a step-by-step process. It's very visual as well. You can see when the butter and sugar are mixed together nicely; you can see when the flour disappears. I know I'm in the minority on this, but I feel like it's almost easier to learn to bake than it is to learn to cook. Because, for the most part, there's less guesswork with baking recipes. With cooking you're "seasoning to taste" or putting your finger on a steak and deciding if it feels like the fat part of your palm. With baking, if you have a good recipe, I really think you can be successful more times, more easily, than with cooking. Just read the recipe through twice. Do a mise en place. Don't answer the phone while you're baking. And things will be good.
---
Get our weekly Tasting Notes newsletter for reviews, news and more.
You may occasionally receive promotional content from the Los Angeles Times.