Curtis Stone's restaurant Maude reboots with a focus on wine
Maude, Curtis Stone's Beverly Hills restaurant known for its themed multi-course dinners, quietly ended its run of ingredient-inspired menus at the end of 2017. After a short hiatus, it reopened in late January with a new concept, and a new inspiration: wine. Stone and his executive chef, Justin Hilbert, are planning quarterly seasonal menus around the cuisine and the wines of a single wine region. Through the end of March, that region is Rioja, in Spain.
We'll come back in a moment to this remarkable place and the many good reasons for choosing it. But for starters let's breathe, with chefs Stone and Hilbert, a massive collective sigh of relief over a job that's instantly become less stressful — the job, that is, of developing an entirely new, one-of-a-kind nine-course menu invoking a single ingredient every 30 days.
"Ha, yes, you could say this is a little less hectic," said Hilbert recently, with a laugh. "Since we opened, I'd guess we've put together about 900 recipes, perhaps as many as a chef does in a lifetime." Going forward, Hilbert's annual recipe count will move down to a more manageable 50.
Stone, too, was keen on stepping off the single ingredient treadmill, but he still wanted a menu — and a motivation — that was regional, seasonal and subject to change. It was his idea to use wine regions as a quarterly catalyst. "Four years in, it was getting hard to keep it fresh," said Stone, "It was like doing the same workout every day." As he and his team brainstormed alternatives, he hit upon doing the menu around a wine region, and even traveling there for inspiration. "When I mentioned this, everyone sat up in their chair, and I thought, 'holy … what have I gotten myself in for?' "
In November, Stone, Hilbert and Ben Aviram, the restaurant group's director of operations and principal wine director, traveled to Spain to tour, taste, and gain inspiration.
Aviram is 34, and worked as a sommelier in such noted restaurants as Napa Valley's the French Laundry and Chicago's Alinea, before joining the team at Maude. He loves the cuisine and the wines of Spain, of which Rioja is perhaps the most famous. Aviram set up meetings with some of the region's great wine houses, including the classic wine bodegas of Haro — La Rioja Alta, Bilbainas, CVNE Lopez de Heredia and others — as well as newer, cutting-edge producers more given to international styles.
As a region, Rioja is awash in contradictions. It's traditional and modern at once, with culinary traditions originating on the slopes and in the bramble of this mountainous, high desert landscape, though it's not at all far from the ocean, and from the more verdant Basque country, just to the north of the Sierra Cantabria range. It's home to three-star restaurants and some of the most marvelous traditional tapas food in the world — in short, a multifarious culinary backdrop, plenty for Stone and Hilbert to draw from.
As a wine region too, Rioja is a pastiche of modern and traditional; you need go no further than the architecture. In Haro, for example, the wineries known as the Centenarians built stately bodegas near the rail lines in the 19th century, so their wines could be transported across the continent — including to Bordeaux, which bottled Spanish wine as their vineyards recovered from the phylloxera epidemic. But it's also home to some of the most wildly modern winery structures on earth, with architectural contributions from Frank Gehry, Santiago Calatrava and Jesus Marino Pascual.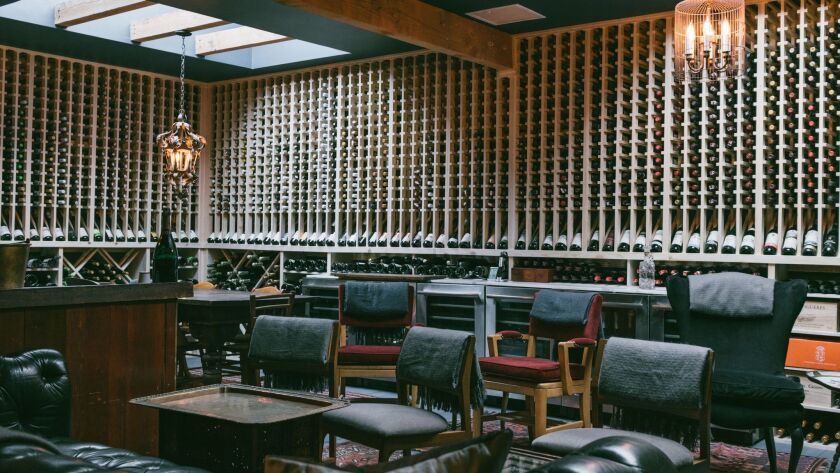 Aviram discovered a fairly wide palette of wines to play with. The varieties used are relatively limited, dominated by Viura among the white wines and Tempranillo among the reds. But the finished product in Rioja is always the result of an elaborate system of barrel and bottle maturity, codified by different aging requirements; Crianza (the most youthful) Reserva and Gran Reserva for wines aged longer, resulting in a considerable range of flavors.
Somehow all of this is shoehorned into Maude's exploded Riojan menu. Aviram has added more than 50 new Spanish wines to the list, while many of the dishes have been derived directly from experiences they had while there.
As wine is the theme, the evening begins in the wine room, upstairs, which has been fashioned into a comfortable lounge, furnished with leather armchairs and oriental rugs. You can sip a glass of Muga Cava, and nosh tapas style on almonds, olives and morsels of Iberico ham, sliced off a joint at the bar.
When one proceeds downstairs, the menu hews closely to moments from the trip itself, not just the things tasted but the things experienced, like Hilbert's preparation of pig's ear, chorizo and local Caparrón beans that vigneron Juan Carlos Sancha served them one evening at the Bodegas. Hilbert combines these elements in a geleed consommé made with Serrano and Iberico jamon, which Aviram pairs with a delicate 1981 Gran Reserva from CVNE.
And there is a preparation of wild mushrooms, roasted and served in a brass chafing dish surrounded by an aromatic wreath of mosses, juniper and pine. The dish is called "Foraging with Francis Paniego," after a memorable morning Hilbert spent in the hills above the village of Ezcaray, foraging for ceps with the chef from the three-star Michelin restaurant Echaurren. Aviram pairs this dish with two older Rioja Blancas, one from Marqués de Murrieta's Castillo Ygay, and a wine from the great López de Heredia, Viña Tondonia, both of which hint at the earthy, umami core of flavor from the mushrooms.
The menu runs through March, after which, said Stone, they'll be developing a new menu inspired by Burgundy, in France.
Wine director: Ben Aviram, with Andrey Tolmachyov
Number of new wines on the list: 52
Number of whites: 8
Number of reds: 32
Least expensive: $35
Most expensive: $1,050
Median bottle price: $130
Number of wines by the glass: 12
212 S. Beverly Drive, Beverly Hills, (310) 859-3418, mauderestaurant.com.
---
Get our weekly Tasting Notes newsletter for reviews, news and more.
You may occasionally receive promotional content from the Los Angeles Times.