Farmers market report: Pomegranates are in season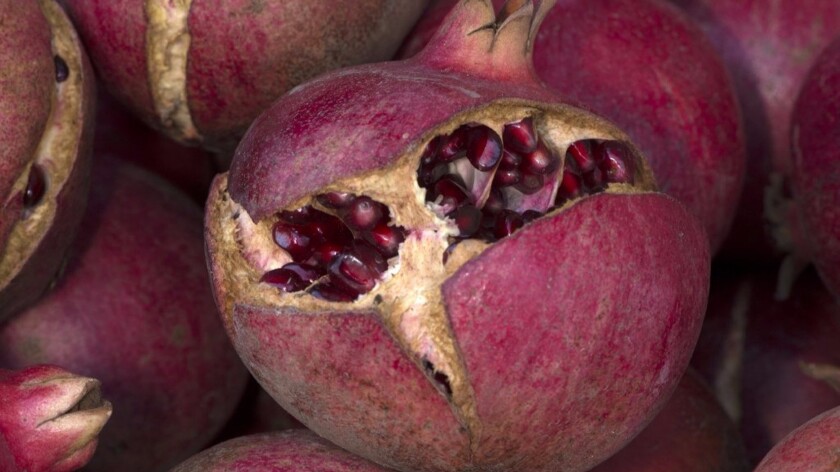 What's in season: Anyone who has ever dealt with a fresh pomegranate, generally in season from late September through December, can appreciate the project that comes with extracting the juicy arils — the juicy fruit-like covering around the seeds — from the leathery flesh and pulp. But the results are well worth it for the sweet-tart flavor they provide. Look for heirloom varieties, such as light-skinned Spanish Sweet pomegranates, or newer varieties, such as flavorful Angel Red fruits.
What to cook: Fresh pomegranate arils are usually served as a garnish, adding color and bright notes to salads, fall stuffings, dips and soups. So what's the best way to tackle a pomegranate? Simply halve or quarter the fruits and submerge them under water. Slowly peel away the arils; they will sink to the bottom of the bowl as the skin and pulp float to the top.
What's on the horizon: Related to apples and pears, quince can be grown almost year-round but is typically found during fall and winter months, and we recently spotted varieties including pineapple and Cooke's jumbo.
Click on the photo gallery for some of our favorite pomegranate recipes:
POMEGRANATE-GLAZED ORANGE CHEESECAKE
Total time: 1 1/2 hours, plus 4 hours chilling | Serves 10-12
Note: This pretty cheesecake is from Mayi Brady of The Times' Test Kitchen. To toast almonds, heat a dry skillet and add the nuts, shaking the skillet often, for about 5 minutes. Look for pomegranate juice with the refrigerated juices in well-stocked supermarkets.
CRUST
1 cup vanilla wafer crumbs
1/4 cup ground toasted almonds
2 tablespoons sugar
5 tablespoons butter, melted
1. Heat the oven to 350 degrees.
2. Combine the vanilla wafers, almonds, sugar and melted butter in a bowl. Press the mixture onto the bottom of a 9-inch springform pan.
3. Bake the crust until just very lightly golden, about 10 minutes. Remove from the oven and let come to room temperature.
CAKE
2 (8-ounce) packages cream cheese, softened
1 (8-ounce) tub mascarpone
1/2 cup sugar
1/2 cup whipping cream
4 eggs
Grated zest of 1 orange
1. Beat the cream cheese, mascarpone and sugar in a mixing bowl on medium-high speed until smooth, about 2 minutes. Beat in the cream and then the eggs, one at a time, scraping down the sides of the bowl between each egg. Stir in the zest. Pour into the cooled crust.
2. Place the springform pan inside a larger pan filled with about 1 inch of water. Bake the cake until the center is still a little soft but the edges are set and the top is lightly browned, 60 to 70 minutes. Let the cake cool to room temperature, then chill at least 4 hours.
GLAZE
2 teaspoons cornstarch
2 cups pomegranate juice, divided
1 tablespoon sugar
2 tablespoons pomegranate seeds
1. Stir the cornstarch into 2 tablespoons of the pomegranate juice and set aside.
2. Bring the remaining pomegranate juice and sugar to a boil in a saucepan over medium-high heat. Reduce the heat to a simmer and cook until the liquid has reduced to 3/4 cup, about 20 minutes. Stir in the juice-cornstarch mixture and simmer 2 minutes to thicken.
3. Let the glaze come to room temperature, then pour over the chilled cheesecake. Garnish with the pomegranate seeds.
Each of 12 servings 399 calories; 263 mg. sodium; 151 mg. cholesterol; 31 grams fat; 18 grams saturated fat; 24 grams carbohydrates; 7 grams protein; 0.54 gram fiber.
Love cooking as much as I do? Follow me @noellecarter
ALSO
6 of our favorite taco recipes
Make these apple hand pies for breakfast, dessert and more
Bell peppers are in season. Here are some of our favorite recipes
---
Get our weekly Tasting Notes newsletter for reviews, news and more.
You may occasionally receive promotional content from the Los Angeles Times.