6 recipes to celebrate National Taco Day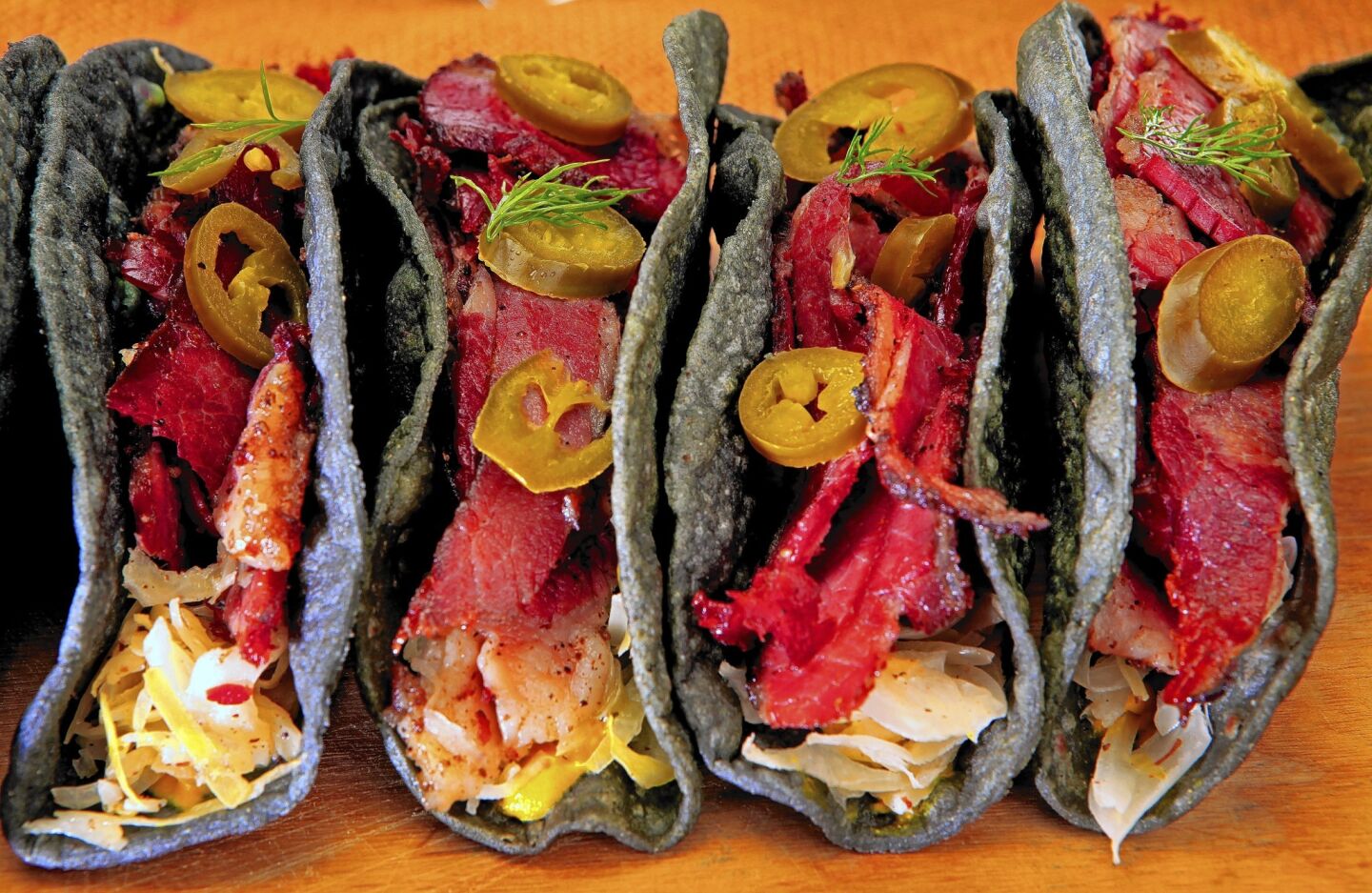 Pastrami tacos made with blue-corn tortillas.
(Francine Orr / Los Angeles Times )
Tacos made with queso fresco, goat cheese, cilantro, cumin seeds, and hibiscus braised in chicken broth and chipotle chili.
(Katie Falkenberg / Los Angeles Times )
If there's one thing Los Angeles does well, it's tacos. Just ask our restaurant critic Jonathan Gold. But what if you're looking to fix some great tacos at home tonight to celebrate National Taco Day.
We've compiled six of our favorite recipes for your evening pleasure.
From achiote-marinated fish tacos to hibiscus and goat cheese tacos, shrimp tacos and sweet potato tacos (from taco guru Wes Avila), we've got you covered. We even have a rather non-traditional but delicious recipe from chef John Sedlar for pastrami tacos (just try them).
Any of these recipes in the gallery above is sure to take you to taco nirvana.
PASTRAMI TACOS
Total time: 40 minutes | Serves 6
Vegetable oil for deep-frying
6 thin 6-inch blue-corn (or yellow-corn) tortillas
2 tablespoons grape seed oil
18 ounces generously fatty pastrami, thinly sliced
1 1/2 cups sauerkraut, rinsed and well drained
6 teaspoons ballpark mustard
18 slices pickled jalapeno chiles, well drained
6 small, delicate sprigs fresh dill
1. In a deep, heavy pot or automatic electric deep-fryer, heat approximately 4 inches of oil to a temperature of 375 degrees. Fry the shells, gently curving them to form a hard taco shape (dip half of the shell in the oil to firm using one set of tongs, then slowly add the remaining half using a second set of tongs, curving the shell as it fries to form the shape). Remove from the oil, carefully shaking off excess oil, and transfer to paper towels to drain.
2. Heat a large nonreactive sauté pan over medium-high heat. Add the oil and swirl it to coat the bottom of the pan. Evenly distribute the pastrami slices and cook them, turning occasionally with tongs, until their fat begins to render and the meat begins to brown slightly, about 2 minutes. Then push the meat to one side of the pan and spread the sauerkraut in the other side, stirring it occasionally until heated through, about 2 minutes longer. Remove from heat.
3. With the back of a teaspoon, smear the mustard inside the taco shells, taking care not to break them.
4. Evenly distribute the sauerkraut among the taco shells. Evenly spread the pastrami on top. Garnish with 3 pickled jalapeño slices per taco, and top each filling with a dill sprig. Serve immediately.
Each serving: Calories 255; Protein 20 grams; Carbohydrates 13 grams; Fiber 3 grams; Fat 13 grams; Saturated fat 3 grams; Cholesterol 58 mg; Sugar 1 gram; Sodium 1,219 mg.
Love cooking as much as I do? Follow me @noellecarter
ALSO
27 recipes to celebrate Rosh Hashana
Try this Panda Express-style orange chicken recipe for dinner
Bell peppers are in season. Here are some of our favorite recipes
---
Get our weekly Tasting Notes newsletter for reviews, news and more.
You may occasionally receive promotional content from the Los Angeles Times.