Review: The restaurant is called Legendary. But is it? Jonathan Gold sits down for showstopping Sichuan
This is the peppery chicken dish at the Legendary Restaurant in Alhambra, and it's very peppery indeed.
(Irfan Khan / Los Angeles Times)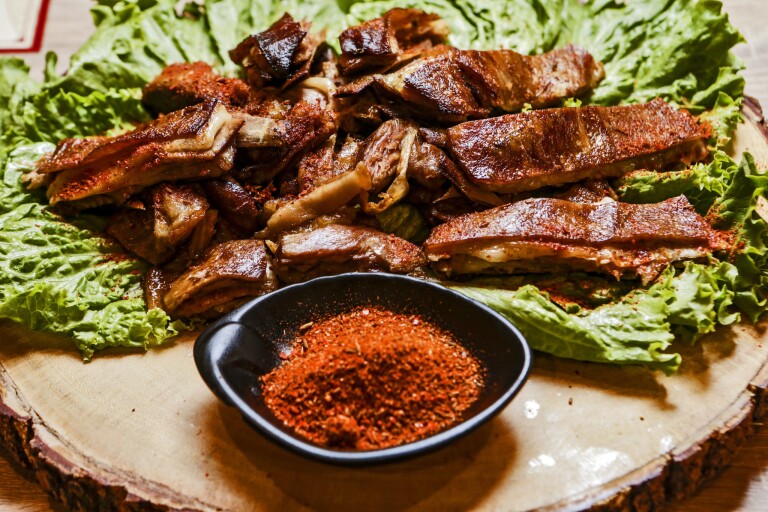 Smoked lamb chops are served with a bowl of spice mix.
(Irfan Khan / Los Angeles Times)
Yao Yao Tian presents smoked lamb chops served the Legendary way.
(Irfan Khan / Los Angeles Times)
For dessert, consider the fried rice cakes with black sugar, served dramatically on the antlers of a bronze deer.
(Irfan Khan / Los Angeles Times )
At a restaurant called Legendary, what's the point in moderation? Behold the plentiful platter of peppery chicken.
(Irfan Khan / Los Angeles Times)
la-jonathan-gold-reviews-legendary-restaurant-004
(Irfan Khan / Los Angeles Times)
The dipping sauce with the garlic shredded pork and cucumber strips is served in a Chinese inkstone.
(Irfan Khan / Los Angeles Times)
Diners have a pot boiled beef in chili sauce and a bowl of "trick" eggplant for lunch.
(Irfan Khan / Los Angeles Times)
Are you going to order the garlic shredded pork the first time you visit the Legendary Restaurant? You are probably going to order the garlic shredded pork. You may be expecting a stir-fry, but what is brought to the table looks like a tie rack you might find in a Hammacher Schlemmer catalog tucked into a first-class seat back, thick slices of cured pork belly draped across the dowel at the top like so many silk cravats.
A transparent curl of cucumber arcs over each slice of pork. At the rack's base is a Chinese inkstone holding a shallow puddle of dark, spicy sauce. And if you are more graceful than I am with chopsticks, you will be able to pluck the meat and cucumber from the rack, form it into a tight coil and plunge it into the chile in a quick, easy motion. I am here to say that the garlic shredded pork tastes just as good as an unwieldy wad, although you may have to endure a bit of snickering from the people at the next table.
We have arrived at the mannerist stage of San Gabriel Valley Sichuan cooking, a time where the ideal of well-executed classical cuisine has begun to be supplemented by dishes of exaggerated heat, size and form.
This phase may have begun with the toothpick lamb at Chengdu Taste, an innovation that may have done nothing for the cuminy taste of the meat although it turned it into a diverting finger food, and then continued with the bobo chicken at Szechuan Impression — skewered gizzard and sliced lotus root that you plucked from a broth-filled hat. The Sichuan noodles at Mian may have been pretty traditional but were served in jet-black bowls that made them look irresistible on Instagram.