Review: Jonathan Gold reviews P.Y.T., a vegetable-centered nirvana in L.A.
Chef's salad with LALA farm lettuces, daily vegetable selection and walnut marigold dressing at P.Y.T. in downtown Los Angeles.
(Gary Coronado / Los Angeles Times)
Potato chipati bread at P.Y.T.
(Gary Coronado / Los Angeles Times)
Salt-baked turnip wrapped in hoja santa with shiso chimichurri.
(Gary Coronado / Los Angeles Times )
P.Y.T. is carved out of the southern end of Ledlow, also a Josef Centeno restaurant.
(Gary Coronado / Los Angeles Times)
The bar at P.Y.T.
(Gary Coronado / Los Angeles Times)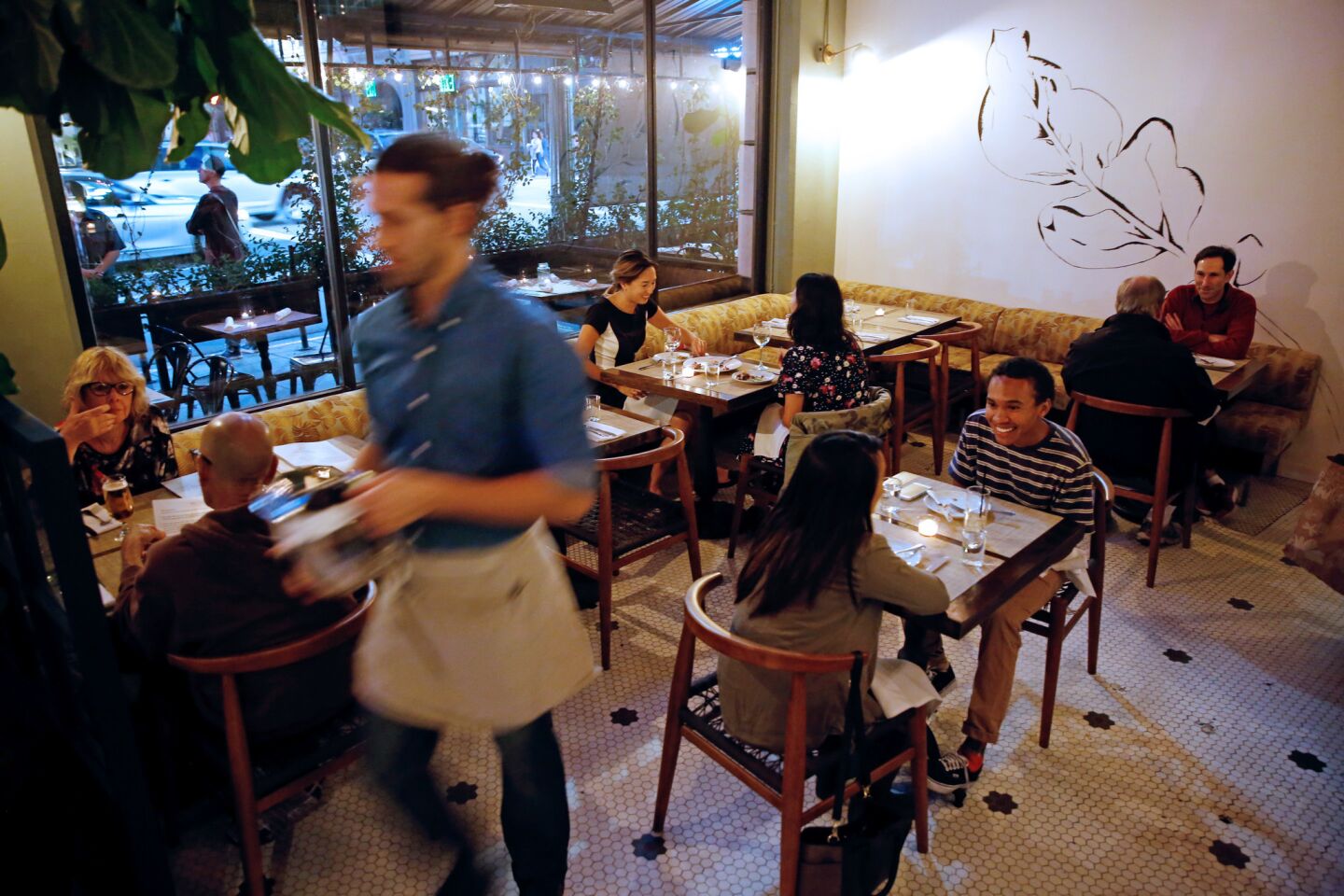 P.Y.T. has a worn mosaic-tile floor and high ceilings.
(Gary Coronado / Los Angeles Times)
One of the best things I had to eat this summer was a whole celeriac cooked by Daniel Berlin, of the restaurant that bears his name in southern Sweden. The unlovely root, probably his most famous dish, had been roasted for nine or 10 hours in the embers of a slow wood fire, and when it came to the table it looked like a smoldering baseball plucked out of a stadium pyre.
The chef himself appeared, and carved the vegetable with the ceremony you might expect he might take with a goose. I reached in to take a piece, and he shooed my hand away. He directed me to scoop out the interior and put it into a small bowl, where he moistened it with a thin, umami-rich broth. And when I tasted it, the effect was less that of the tart, crunchy celeriac I knew from salads and pan roasts than of a dense, pulpy mass, sweet as fruit, that seemed to have concentrated the essence of all vegetables everywhere into a single, slightly smoky spoonful. It was spectacular.
And I was thinking of that celeriac the other day when I first encountered the roast turnip at P.Y.T., Josef Centeno's new restaurant downtown – a peeled turnip wrapped in a big, anisey hoja santa leaf, encased in a salt-dough crust, and also baked for hours, until the turnip flavors condense into an essence that hits your tongue like syrup. It is also a spectacular dish.
If you've been to Centeno's Ledlow, you know this P.Y.T., which was carved out of that restaurant's southern end. There are high ceilings, a worn mosaic-tile floor, and a few tables on a narrow patio facing Main Street; an inadvertent vantage point onto the recent protest parades. Centeno's restaurants have always treated vegetables well, and you are as likely to see things like greengage plums and amaranth at his Orsa & Winston and Bäco Mercat as you are anywhere else in town. (If you haven't experienced the crudites board at Ledlow, you are missing out.) He was as much a part of last winter's charred cabbage fad as anybody. But P.Y.T., which Centeno jokes may as well stand for Pretty Young Turnip as anything else, is his first vegetable-centered restaurant, where the persimmon salads and braised leeks are the stars and the one pork rib dish is cordoned off at the bottom of the menu like the token steamed-vegetable plate used to be at most mainstream places. It's not dairy-free, but more than two-thirds of the menu can be made vegan by request.
He gets a lot of his vegetables from LALA, a student-run organic urban farm based at the Los Angeles Leadership Academy in the Montecito Heights neighborhood of Los Angeles. (The LALA chef's salad, made with the farm's produce, can include as many as a dozen different vegetables.)
So you get a P.Y.T. martini made with tomatillo-infused vodka, or a carrot-kombucha-gin cocktail called Night Vision. You contemplate a bottle of wine, mostly small-producer California country stuff made from Italian or obscurish French varietals. (The vaguely pine-scented Malvasia from Monterey winemaker Birichino is especially good with this food.) You order the rounds of delicate potato chapati bread – more Alice Waters than Gujarat - served with little cups of soft butter infused with coconut or koji mold. And you start to work your way through the menu, which pulls off the neat trick of seeming exotic while simultaneously flowing with the new wave of Los Angeles cuisine. If you can't live without melon salad, beets with horseradish or avocado toast in their various seasons, you may well find versions of them here.
Centeno is a fan of vinaigrettes, feathery herbs and smears of strong cheese – a bit of chevre in a radish salad, Foggy Morning cow cheese under tart French prunes, or a funky stripe of Cremeux de Bourgogne anchoring a salad of shaved romanesco cauliflower, chiles and bright orange Cape gooseberries. He makes pestos out of unlikely foliage: carrot-top pesto on a lovely composition of baby carrots, hazelnuts and runny brie; and snap pea pesto on sweet honeynut squash from farmer Alex Weiser, which are simply roasted and served with a little feta cheese – you eat the little squashes skin and all.
There is a lovely, deep-flavored vegetarian pozole soup with lima beans and lovage – if you've had the Bazole next door at Bäco Mercat, you know how good Centeno's pozole can be. The construction of apples and roasted sweet potatoes is drizzled with seaweed butter, although all you'll pick up is the heightened flavor. I love the tiny, plump butterball potatoes bathed in mushroom-scented cream; the bowls of grits served like polenta with pickled greens and sheep cheese; and the soft pasta whose creamy sauce is spiked with the sharp tang of shishito peppers.
Are you going to find better Georgian khachapuri at Glendale delis? Almost certainly. Is the herb-spiked piri-piri rice a little mushy and bland?
Finally, Centeno cracks open the salt crust of the turnip at the table. He pries off the shards, carefully extricates the vegetable from its fragrant shroud, and cuts the pristine white herb neatly into quarters before he spoons over a bit of bright-green chimichurri sauce in which the chopped parsley is supplemented by the Japanese herb shiso. The first few bites are unmemorable – it's a turnip! – but at the very center there is a bite or two in which the shiso, the licoricey hoja santo and the vegetable sing in reedy harmony, and you realize why he has taken so much trouble with this dish.
You're not here for authentic-ish versions of things you've tasted before, you're here to taste the produce of the season transformed.
::
P.Y.T.
Josef Centeno opens a vegetable-focused restaurant in downtown L.A.
LOCATION
400 S. Main St., Los Angeles, (213) 687-7015, pytlosangeles.com
PRICES
Cold vegetables $10-$16; warm vegetables $11-$14; pasta and pizza $14-$18; meat and fish $26-$39; dessert $12.
DETAILS
Dinner Tues.-Thurs., 5:30 to 10 p.m.; Fri.-Sat., 5:30 to 11 p.m.; brunch Sat.-Sun., 11 a.m. to 2 p.m. Full bar. Valet parking. Credit cards accepted.
RECOMMENDED DISHES
Romanesco with gooseberries and soft cheese; butterball potatoes with mushroom cream; salt-baked turnip; hand-torn pasta with shishito cream; rice pudding with gianduja mousse.
MORE FROM JONATHAN GOLD
Destroyer in Culver City disrupts the idea of fine dining like nowhere else on Earth
Dan Tana's isn't the place for authenticity or innovation, but it treats regulars like celebs
Jonathan Gold: Delicious Food Corner is the most Hong Kong place in the San Gabriel Valley
---
Get our weekly Tasting Notes newsletter for reviews, news and more.
You may occasionally receive promotional content from the Los Angeles Times.