Need a holiday cookie recipe? Our Holiday Cookie Bake-off finalists can help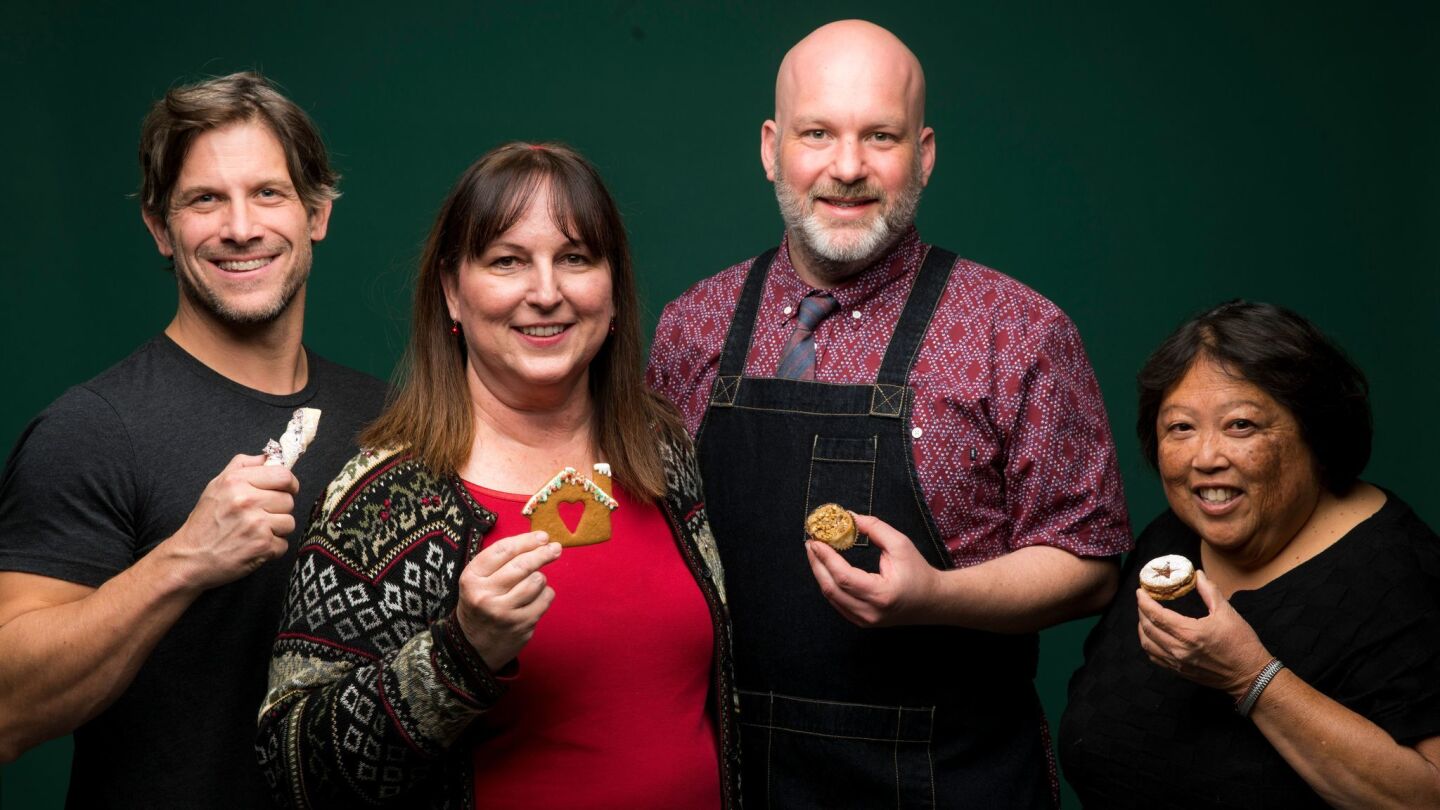 Katie Rodgers, Dan Guerrera, Scott Cronick and Alice Nishimoto, photographed with their creations.
(Kent Nishimura / Los Angeles Times)
The finalists' cookies from the seventh annual Holiday Cookie Bake-off. Clockwise from the top: Linzer cookies with persimmon filling, tahini shortbread cookies, gingerbread heart house cookies, French twists and baklava roulade cookies.
(Calvin B. Alagot / Los Angeles Times)
Gingerbread heart house cookies made in the Los Angeles Times Test Kitchen. Adapted from a recipe by Katie Rodgers.
(Calvin B. Alagot / Los Angeles Times)
Linzer cookies with persimmon filling made in the Los Angeles Times Test Kitchen. Adapted from a recipe by Alice Nishimoto.
(Calvin B. Alagot / Los Angeles Times)
French twist cookies made in the Los Angeles Times Test Kitchen. Adapted from a recipe by Dan Guerrera.
(Calvin B. Alagot / Los Angeles Times)
Baklava roulada cookies made in the Los Angeles Times Test Kitchen. Adapted from a recipe by Scott Cronick.
(Calvin B. Alagot / Los Angeles Times)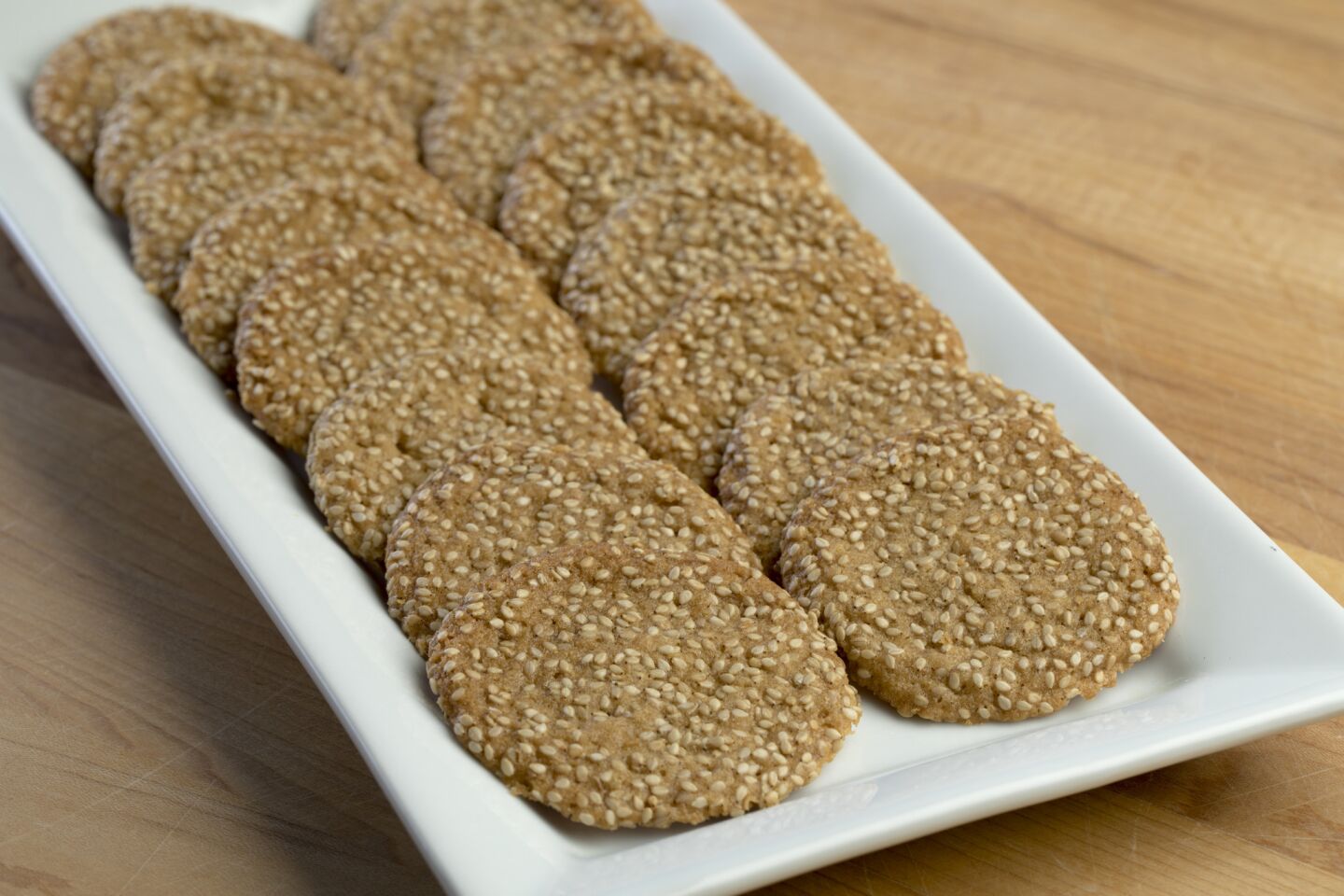 Tahini shortbread cookies made in the Los Angeles Times Test Kitchen. Adapted from a recipe by Deana Kabakibi.
(Calvin B. Alagot / Los Angeles Times)
The holidays can be an especially sweet time of year, particularly for those of us who love to bake. This is the season to have fun in the kitchen as we gather with parents, grandparents, children or friends, sharing memories and passing on traditions while we stock up on festive cookies and family favorites to share with those closest to us. Timeless as these rituals may be — combining butter and sugar with eggs and flour, carefully shaping and baking each creation — there is a powerful magic behind this seemingly simple chemistry. Because even traditions adapt with time as families and friendships expand and grow, our handmade cookies reflecting this evolution as we tweak flavorings, add ingredients and merge customs. If anything, this makes what we do even more important. These handmade gifts are at once crucial and comforting, particularly as times change or — as this year's devastating California wildfires can attest — our routines and very lives are upended. Each cookie is a story, whether sweetened with powdered sugar, punctuated with spice or flourished with colorful decorations. Timeless, perhaps, but equally timely.
This fall, we asked Los Angeles Times readers to share their recipes and stories with us for our seventh Holiday Cookie Bake-Off, and then to vote for their favorites. We received almost 100 submissions, and close to 20,000 votes were cast.
We took the top 20 recipes and judged them to come up with our five favorites. It wasn't easy. There were so many wonderful entries, some classic, some novel, some homey and some ornate, each inspired by family history and memories. Monday, we invited the finalists to The Times' Test Kitchen to celebrate their recipes and stories.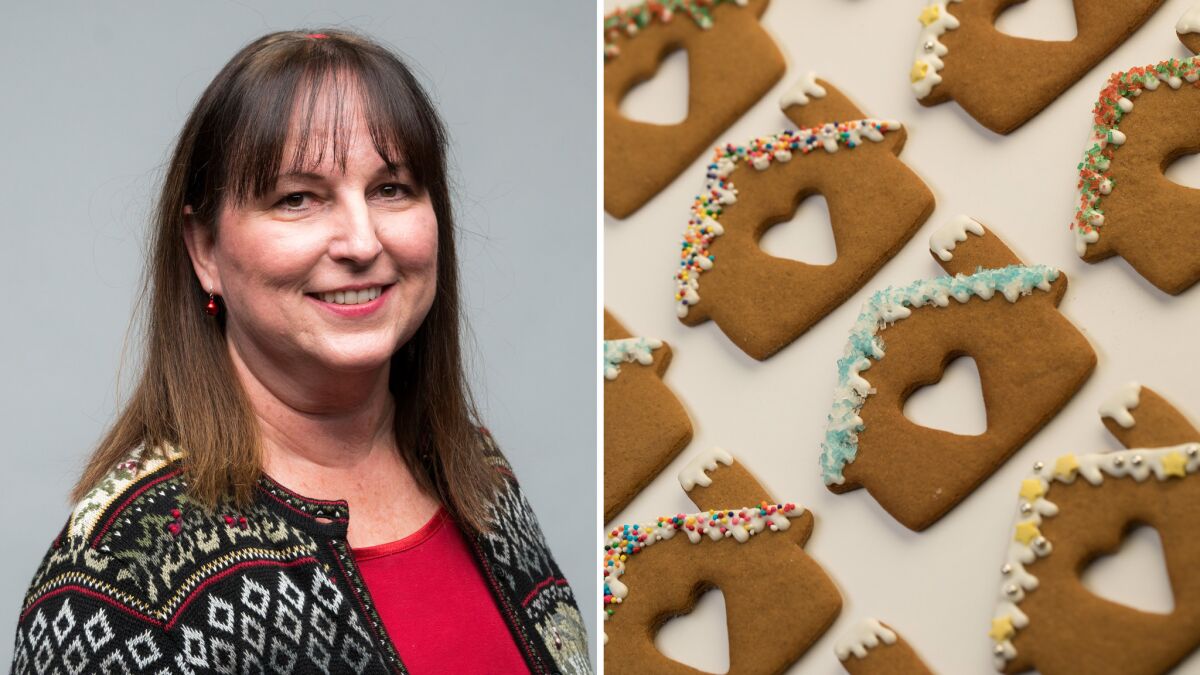 Gingerbread heart houses
Katie Rodgers' fragrant gingerbread heart houses come from a family recipe Rodgers received when she became a first-time mom. "So often, gingerbread has too much spice, particularly for children," says Rodgers. "These have just enough spice and warmth, without being too intense for the kids." Over the years, the cookie shapes changed depending on the cookie cutters her boys preferred. Now, she makes them for her neighborhood's holiday progressive dinner every year, the cookies representing the holiday-themed houses. "I think the neighbors enjoy choosing the cookie that best represents their homes," says Rodgers.
Linzer cookies with persimmon filling
For Alice Nishimoto, Linzer cookies are a creative way to use the abundance of persimmons that family and friends share with her this time of year. "I've always made persimmon bread, but this year, I decided to experiment a little and I decided to make a persimmon jam," she says. "I thought, why not use it in my favorite cookie, the Linzer cookie?"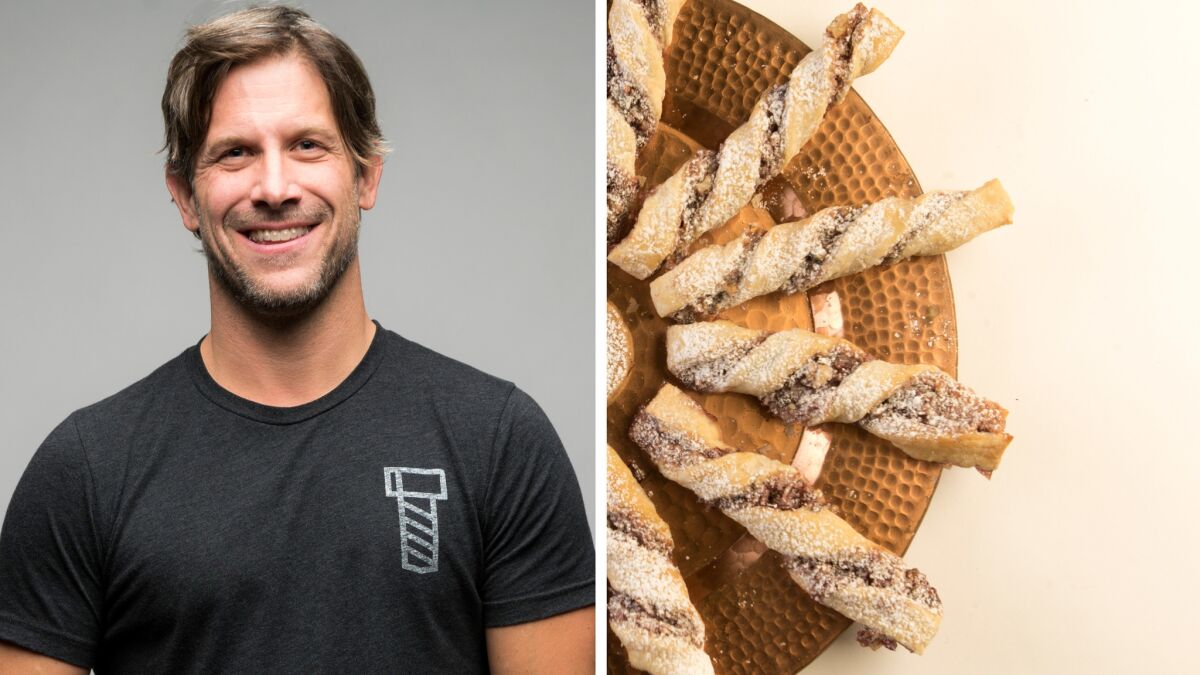 French twists
Like most Italian grandmothers, Dan Guerrera's grandmother, Barbara, enjoyed cooking and baking for the family. Growing up, Guerrera remembers helping out in the kitchen whenever he could, particularly when she was making her French twists, crispy pie-crust-like creations twirled around a chewy filling of jam, coconut, nuts and cinnamon sugar. "This was my grandmother's specialty, and I loved making them with her," says Guerrera.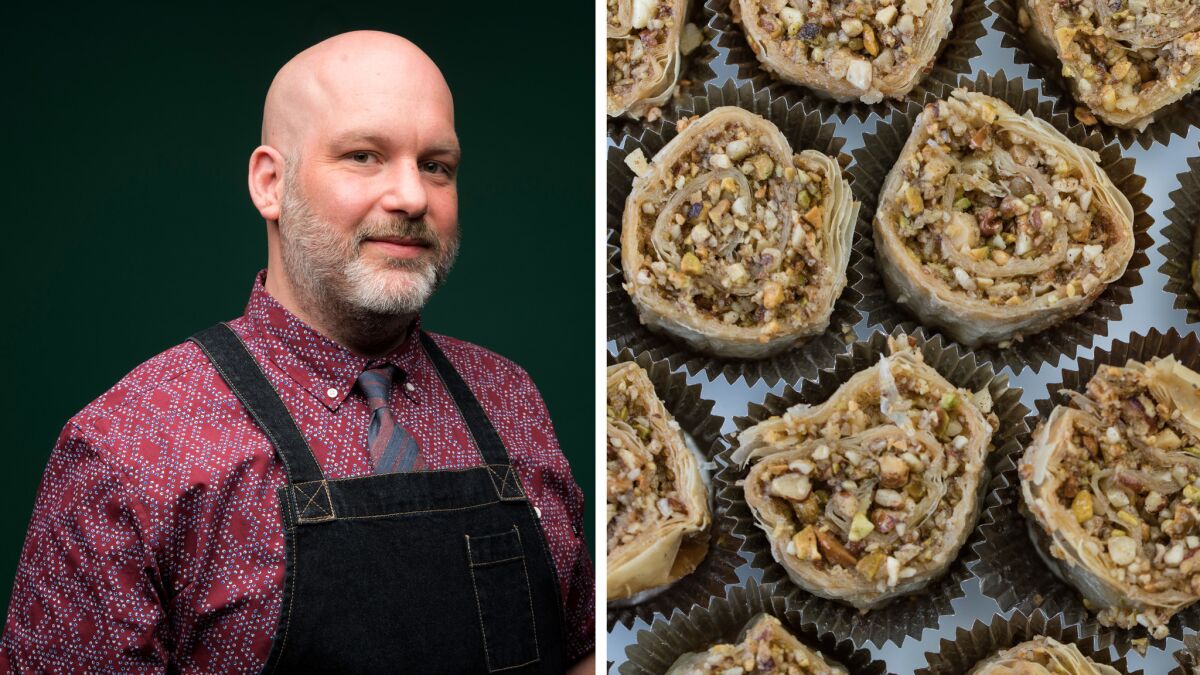 Baklava rouláda cookies
Scott Cronick's Baklava rouláda cookies are a treat that bridges the gap between the backgrounds and ethnicities that make up his family. "My husband's family is Israeli, and my nephew married into a Greek family," he says. Over time, he came up with his own take on a cookie-like baklava. "My Greek family says my version is better than theirs," he notes, laughing.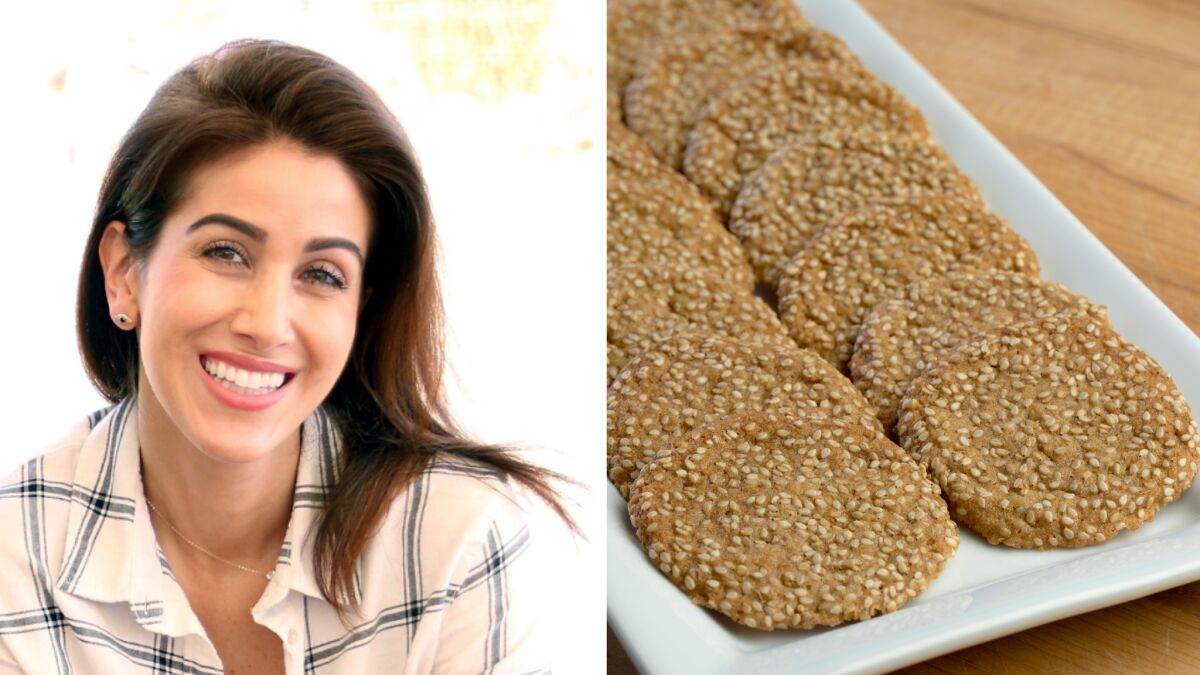 Tahini shortbread cookies
The daughter of Syrian immigrants, Deana Kabakibi grew up around Middle Eastern flavors, and now runs a food blog called Sweet Pillar Food with a friend, sharing Middle Eastern culture and traditions. Having to temporarily evacuate because of the Skirball fire, she was unable to make it to the Test Kitchen but shared her story over the phone and via email "Tahini is a large component of many of the dishes, but rarely used in desserts," she says. Her Tahini shortbread cookies, soft and chewy, with rich nutty flavor and just the right hint of sweetness, "were created as a way of sharing the unique and delicious flavors we may not think of to use in the simplest form, a cookie."
---
Get our L.A. Goes Out newsletter, with the week's best events, to help you explore and experience our city.
You may occasionally receive promotional content from the Los Angeles Times.