Bagel pop-up Maury's finally opens a bricks-and-mortar shop
After more than two years of an itinerant existence between pop-ups at Dinosaur Coffee in Silver Lake and a swarmed stall at the Hollywood farmers market, Jason Maury Kaplan will finally have a bricks-and-mortar bagel shop to call home on Sunday, when Maury's opens its doors.
At his cozy shop, beside the new Psychic Wines in a residential area on the border of Silver Lake and Echo Park, Kaplan hopes to create a little burst of appetizing culture, where you'll find coffee and bagels and their accouterments, such as cream cheese, sustainably sourced smoked fish and in-house cured gravlax, which can be had while watching bakers shove freshly boiled dough on boards into Kaplan's new Fish P-60 oven.
Bagel offerings in the city have expanded over the past few years, but many are tucked away in pastry cases, as they are at Zoe Nathan and Josh Loeb's Milo & Olive and Roxana Jullapat's Friends & Family; or compete on cornucopian menus at restaurants such as Freedman's and Travis Lett's Gjusta.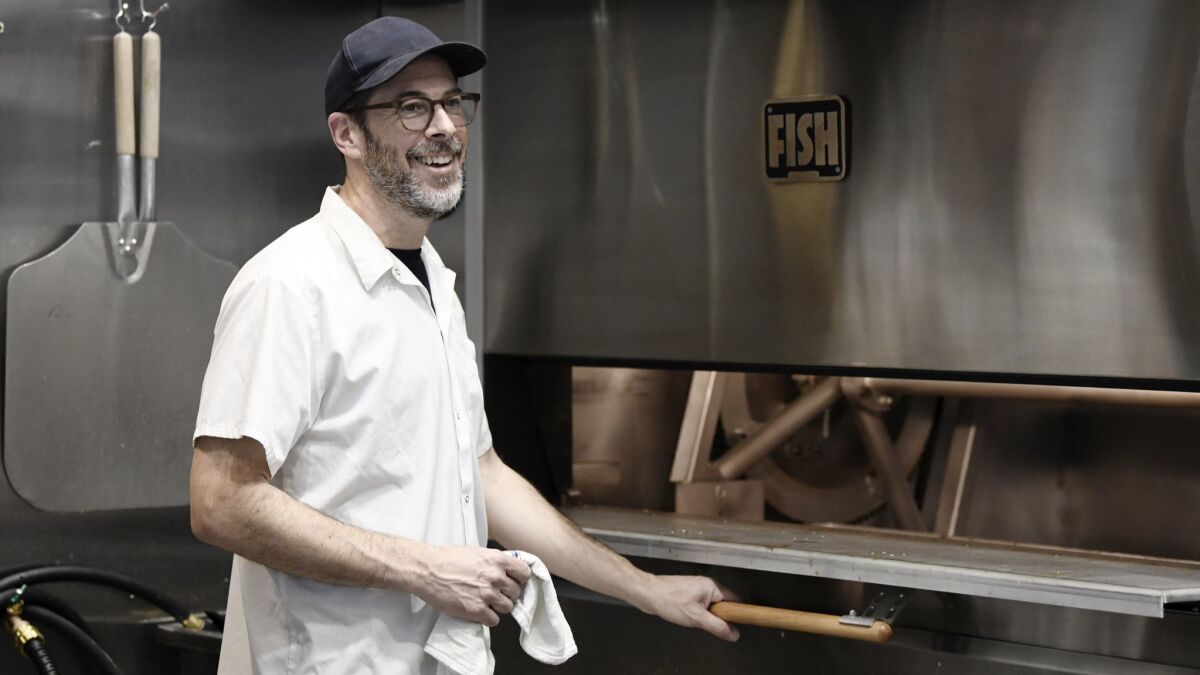 Raised in Washington, D.C., Kaplan moved to Los Angeles in 2004, and worked a variety of jobs before becoming engrossed in bread-making under Lett and Nicole Rucker at Gjelina Take Away. Since his earliest days there, and even before that, he has thought a lot about what makes those hand-shaped bands of yeasted dough so good.
"It's not like I'm trying to reinvent the bagel experience; I actually think it's perfect the way it is," says Kaplan, "but I don't think there's a way for you to really truly experience it out here the way I was able to back East. So I'm just trying to do justice to what I know it can be."
While some bagel makers boil in honey water or add sugar to the dough, Kaplan avoids sweetening, and only his egg bagels have eggs in them, so most of his bagels are naturally vegan.
The transition to a bricks-and-mortar space has required some surprising reconfiguring, Kaplan says. Bagel dough is considered low-hydration, which means that even a small change in the water can affect the baked product. The reverse-osmosis filtration system in his shop lowered the mineral content of his water, which in turn required Kaplan to adjust the amount of yeast in his recipe.
Kaplan's grandparents were Orthodox and his mom's father was "a really good cook," with a repertoire that included cabbage and shells, cholent, and jelly omelets. But the bagel he has spent years perfecting is based on his memory of the one his mother would pack for his lunch at a Jewish day school. It was likely from Lender's, the first brand to offer prepackaged bagels in supermarkets, but he remembers it as "something delicious." When he started working toward the bagel he makes now — on the smaller side, "so you can eat two," he says, perfectly chewy, with a thin, crisp exterior and dusted with za'atar or rolled in his everything-spice mixture — he was nostalgic, he said, "for a bagel that I've never actually had."
Over the years, Kaplan has watched a 1979 documentary short on YouTube called "Hot Bagels," about a Brooklyn bagel operation, more than 20,000 times, he says, scrutinizing every frame.
Toward the end of the film, the narrator "takes a plain bagel and he just rips into it, like a doughnut," Kaplan recalls. "And I said, that's what I want. I want someone to be able to eat my bagel, by itself, with nothing on it." Kaplan spent about a year and a half baking a dozen plain bagels a day before starting Maury's in 2015.
Kaplan's East Coast influences come through, particularly in his bialy, a type of bagel sought out by some, unknown to others — flat, holeless, and topped with a silky puddle of sliced onions — that is rarer to find on the West Coast.
"The problem with bialys," he says, "is that everyone who made bialys is dead. There's no one you can talk to about bialys. All the bialy shops closed or got sold. Even Kossar's in New York is owned by someone new now. And maybe they bought the recipe, but whoever taught them had inherited something; who knows how many things they changed?"
When you bite into a Maury's bagel, whether undressed or besmeared with cream cheese and draped with lox, you understand that Kaplan's bagel is an homage to the archetypes of the past (chewy, dense and consistent) with playful twists of the present (za'atar-spiced or topped with avocado and tomatillo).
"My bagel isn't what I'd call a California bagel," he says, "but I want to make a delicious bread and have it be a delicious bagel."
2829 Bellevue Ave., Silver Lake; (323) 380-9380; maurysbagels.com.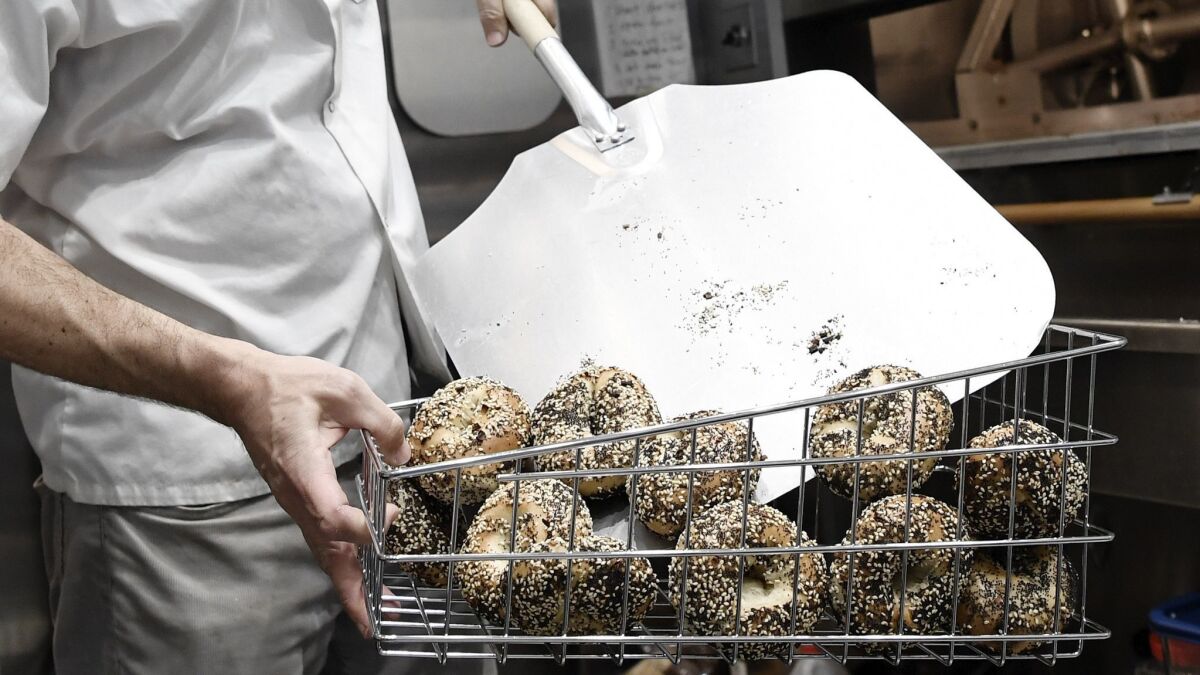 7 local places that make their own bagels:
Bagel Broker: This family-run joint is a neighborhood favorite, and the line often leaks into the strip mall parking lot. Try the wholly comforting cinnamon-raisin, whose caramelized surface evokes cinnamon toast. Prefer your bagel hollow? Available on request. 7825 Beverly Blvd., Los Angeles, (323) 931-1258, bagelbroker.com.
Bagel Nosh: At this deli, which has been on the block for more than 40 years ago, you'll find the rare pumpernickel, cheddar cheese and jalapeno cheese, salt, and even chocolate-chip bagel. There's also a flamboyant menu of spreads, including strawberry, peanut butter and walnut-raisin cream cheeses. 1629 Wilshire Blvd., Santa Monica, (310) 451-8771, bagelnoshdeli.com.
Belle's Bagels: Belle's bagels come untoasted, unless you request otherwise. There's an everything bagel with onion, garlic, sesame, poppy, fennel, and caraway; the fish is smoked in South L.A. and North Hollywood. And there's a sandwich with dill and beet cream cheese and crispy salmon skin for the unorthodox. 5043 York Blvd., Los Angeles, (323) 208-9408, bellesbagels.com.
Freedman's L.A.: The plain and sesame bagels made in-house at this contemporary deli are based on the ones sibling-owners Jonah and Amanda Freedman grew up eating at the century-old Gryfes Bagel Bakery in Ontario, Canada. They are delicious — on the breadier side — especially toasted on the griddle with a hint of chicken fat and oil. 2619 Sunset Blvd., Los Angeles, (213) 568-3754, freedmansla.com.
Friends & Family: Baker Roxana Jullipat's bagels, like all of her baked goods, contain a minimum of 20 percent whole grains, as well as a bit of honey and milk. Try the jalapeno cheddar, cinnamon currant and salty-sweet (a combination of Maldon salt, raw turbinado sugar, cinnamon, and a pinch of cayenne). 5150 Hollywood Blvd., Los Angeles, (323) 668-2000, friendsandfamilyla.com.
Gjusta: Gjusta makes the difficult-to-find bialys, overlaid with poppy seeds and onion slivers. You can get them plain, or with porchetta, arugula, Gruyere and harissa ketchup. 320 Sunset Ave., Venice, (310) 314-0320, gjusta.com.
Milo & Olive: The bagels at Zoe Nathan and Josh Loeb's bakery and pizza joint often sell out, so it's best to call and place an order when it opens if you're buying by the dozen. Otherwise you can enjoy a chewy sesame or poppy seed, everything, onion, or cinnamon and sugar bagel polished with butter or cream cheese, or dressed up with creme fraiche, cucumbers, red onion and tomatoes. 2723 Wilshire Blvd., Santa Monica, (310) 453-6776, miloandolive.com.
---
Get our weekly Tasting Notes newsletter for reviews, news and more.
You may occasionally receive promotional content from the Los Angeles Times.