The story behind the spicy lobster at Newport Seafood
Wendy Lam and her husband Ly Hua are seen at Newport Seafood in San Gabriel.
(Glenn Koenig / Los Angeles Times)
The house special lobster is the restaurant's signature dish. Fair warning: It's spicy.
(Glenn Koenig / Los Angeles Times)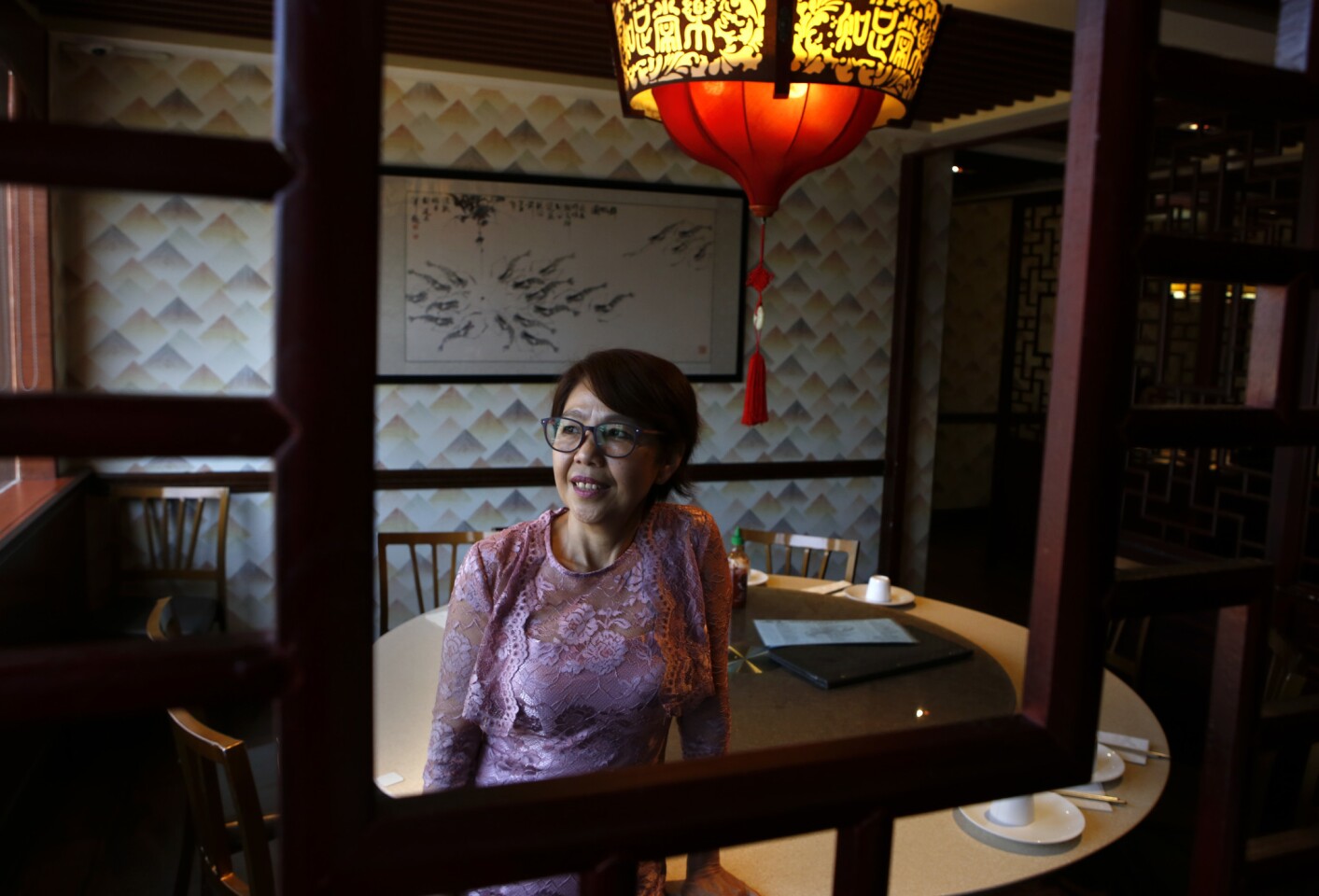 Wendy Lam spent several of her teenage years in a Cambodian work camp under Pol Pot's regime before reaching a refugee camp in Thailand and later the U.S.
(Glenn Koenig / Los Angeles Times)
Wendy Lam talks with customers having a lobster lunch at Newport Seafood in San Gabriel.
(Glenn Koenig / Los Angeles Times)
Ly Hua holds a lobster at Newport Seafood in San Gabriel.
(Glenn Koenig / Los Angeles Times)
Thirty years ago, Wendy Lam's boss told her she would never make it as a waitress. So when she opened her first outpost of Newport Seafood a decade later in the San Gabriel Valley, she called her old boss and invited him to dinner.
"I have to thank you," Lam told him, "you said I couldn't be a waitress, and that's why I work in restaurants."
Lam is perched on the edge of her chair, telling this story from one of the private dining nooks at Newport Seafood on Las Tunas Boulevard in San Gabriel, one of three outposts in a family-run seafood mini-chain. She is 57, but has the energy of a teenager, and you get the sense she might leap into action at any minute, like a coiled spring. Down the hall are floor-to-ceiling tanks swimming with enormous crustaceans — lobsters and king crabs weighing as much as 10 pounds — that star in the restaurant's Chinese-Vietnamese-Thai-Cambodian menu.
Get our weekly Tasting Notes newsletter for reviews, news and more.
You may occasionally receive promotional content from the Los Angeles Times.
In today's chef-driven culture, significant attention and praise are given to the culinary brains behind the stove, and here that credit belongs to Lam's husband, Ly Hua, who developed the restaurant's signature dish, a massive Maine lobster blasted in a wok with green onions, jalapeños, black pepper and clarified butter.
Both Lam and Hua were born in Cambodia to Chiu Chow families with roots in China's Guangdong province. Hua remembers eating prawns prepared similar to the lobsters at Newport as a boy in Phnom Penh, where he lived until 1970, when he and his family fled to Hong Kong to escape an escalating civil war.
"His family was rich," says Lam, "but my family, no." So she and her mother remained in Phnom Penh, where in April 1975 they were among the millions of residents ousted from their homes by the Khmer Rouge and marched at gunpoint into the jungle. It was a 10-day walk that marked the beginning of a brutal genocide, during which nearly a quarter of Cambodia's population would succumb to starvation and violence under Pol Pot's Maoist regime.
Lam was 15 at the time, and she spent what was left of her teenage years in a labor camp in the jungle near Angkor Wat, hauling rocks to build a reservoir and subsisting on two meager cups of watered-down rice per day. "At nighttime, I would dream about eating something," she says. "The people were so hungry."
When Vietnamese soldiers liberated the camps in 1979, a medical unit realized Lam could speak the language and recruited her as a translator. She became the unit's cook too; in exchange, the soldiers helped her find her mother, whom she reconnected with months later in a Vietnamese border town.
Over the next two years, she and her mother would slowly make their way to California, by way of a refugee camp in Thailand, then through the Philippine Refugee Processing Center and later to Dallas before landing in L.A.'s Chinatown, where Lam began looking for work. Like many Cambodian refugees who came to this region before her, she found it in a doughnut shop.
From there, Lam followed food service opportunities from Inglewood and Pasadena to small towns in Nebraska and South Dakota, where she honed her hospitality skills serving chow mein and egg rolls to a mostly white clientele at a Long John Silver's-turned China Palace. It was the only Chinese restaurant in a town of 15,000 where the main attraction was the Corn Palace — a shrine to local agriculture with outsize murals of Elvis Presley and Willie Nelson made entirely of corn husks.
By 1987, Lam was back in Southern California, waiting tables in Santa Ana, when she met Hua.
"He was the big chef there," she recalls, "and anytime he would have a new menu item, I would convince the customers. I would make it happen."
She was so good at selling Hua's recipes that the two opened their own restaurant, borrowing money from friends to start the original Newport Seafood in Santa Ana, not far from the Newport fish market where they shopped for seafood every morning. It was there in Orange County that Hua perfected Newport's signature dishes — the house special lobster, clams with basil and bo luc lac, cubes of filet mignon dredged in enough black pepper to merit a red chile icon next to its name on Newport's menu.
Newport Tan Cang still exists in Orange County, but Lam and Hua sold the restaurant in 1996 and relocated to a strip mall in San Gabriel. When the lines got too long, they expanded, first to Rowland Heights and more recently to Beverly Hills, where they opened a third location on the same block as Lawry's the Prime Rib. The lines never subsided in San Gabriel, so they relocated to an old Marie Callender's down the street, renovating the roomy diner with décor from Guangdong. There are 170 seats now, but the lines remain.
There is a joyous energy to Newport. Tables seat eight, 10 and 12 — it's a place where people gather to celebrate birthdays and anniversaries, but Lam never stops to commemorate the restaurant's own milestones. They are open 365 days a year.
The idea of regulars arriving to a closed restaurant, whether it's Thanksgiving or New Year's Day, is unfathomable to Lam. "I'm just scared that some customers might come in," she says, "and if we're closed, they'd feel so bad."
On a recent Wednesday afternoon, the dining room was nearly full when Lam's daughter, Sophia Lau, arrived with her newborn. As a teenager, Sophia dreamed of being a fashion designer (dreams inspired by watching "Don't Tell Mom the Babysitter's Dead"), but she ultimately attended hospitality management school at Cal Poly Pomona, and has since helped Lam fine-tune the business, doing things like transitioning from handwritten checks to a POS (point of sale) system.
"I don't think my mom will ever retire," she says, but when she does, Lau and her husband, Denby, who trained in the kitchen under Hua, are ready to take over the family business.
"We both say that success doesn't drop from the sky," says Lam. "We have to work harder and harder. I have to pay attention, to see the details and learn more — that's my style. I can work. I have a grandson. I can go on vacation. We're happy."
---
Get our weekly Tasting Notes newsletter for reviews, news and more.
You may occasionally receive promotional content from the Los Angeles Times.