Hip Hot's chef remixes Sichuan and Cantonese cuisines. Her next mission is to open two new restaurants
Tiantian Qiu navigates the narrow passageways of her kitchen at Hip Hot restaurant in Monterey Park, moving between the stove, installed with woks of various sizes, and an island loaded with containers, jars and bottles. She adjusts the temperature of the burners by turning a lever with her knee while she drops ingredients — garlic, ginger, chiles, broth — into one of the woks, stirring and tasting the contents with a huge ladle.
Tall and slight, her dark hair in a pixie cut and dressed in a fitted, short-sleeved chef's jacket decorated with a lobster pin, Qiu is one of the few women to both own and operate Sichuan kitchens in Los Angeles' vibrant San Gabriel Valley restaurant community. As she cooks, making a fish stew with Sichuan pickles that is one of her house specials, she calls out in Mandarin to the cooks, all men, who bring her small plates with more components — glass noodles, Wood Ear mushrooms — to add to the dish.
Qiu, 29, and co-owner Kai Lin opened Hip Hot three-and-a-half years ago, in a lofty space next to the movie theaters and boba joints of the Atlantic Times Square mall. Both her cooking style and the menu that it engendered are a playful mash-up of Sichuan and Cantonese styles, a combination of the chile-focused cooking of the former with the emphasis on seafood of the latter.
"People say they're 'family recipes,' " Qiu says of the classic dishes, such as water-boiled fish and twice-cooked pork slices that many Chinese chefs put on their menus, "because it's easier. But they're everyone's dishes."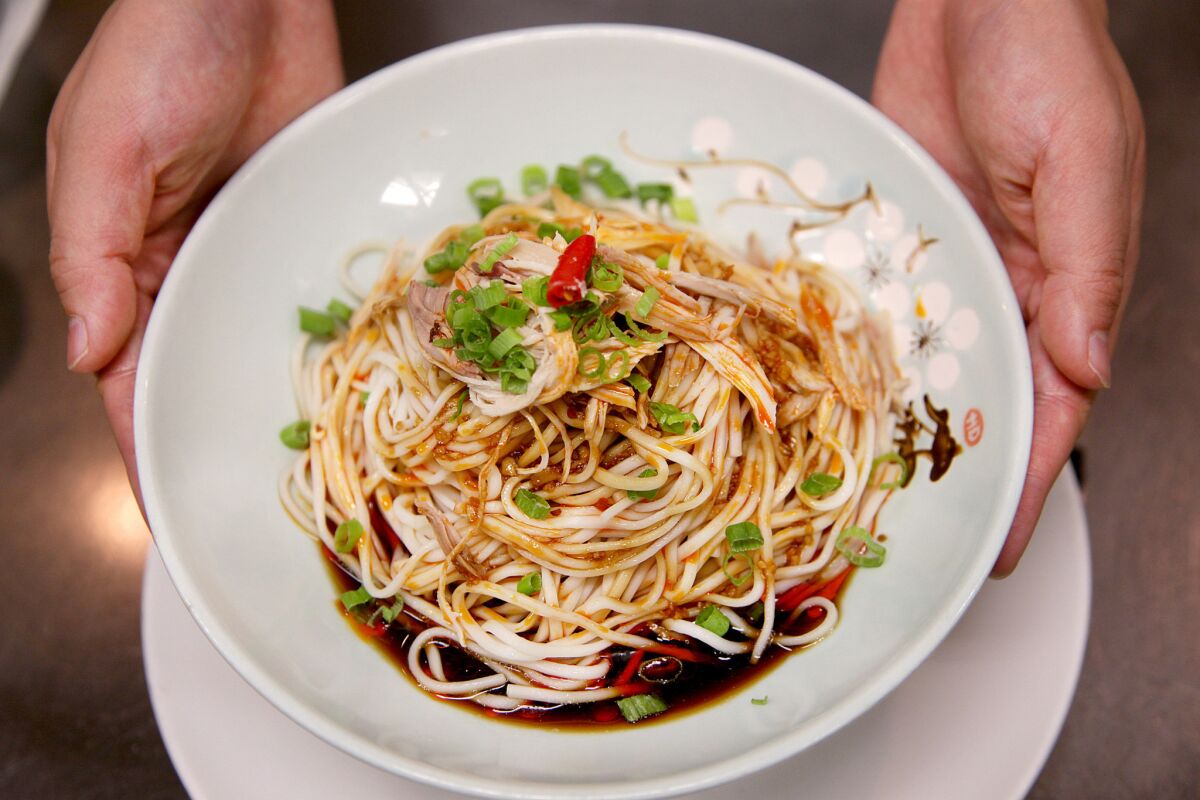 Recipe: Summer Szechuan noodles »
There are plates of la zi ji, fried chicken spiked with an abundance of dried red chiles; and mapo tofu, the homey cubes of silken tofu doused in fiery sauce — dishes that you'll find on most Sichuan restaurant menus. Then there are the dishes that Qiu engineers to fit her particular love of seafood: razor clams with green onion sauce; stir-fried Dungeness crab with chile sauce; and scallop sashimi with Santa Barbara uni. There are also dry pots, or dishes stir-fried in a dry hot pot. For hot pots, another classic preparation in which myriad ingredients are cooked in a simmering, fragrant broth, there is Qiu's upcoming project.
She and Lin are opening a second restaurant later this fall, in the Sawtelle neighborhood of the Westside. Called Mala Town ("mala" is the word for the numb spice engendered by Sichuan peppercorns), it will be a casual restaurant, with a menu of individually sized hot pots in a variety of different styles, not only from Chengdu, but also Cantonese, Mongolian and more.
"It's comfort food," says Qiu. As for why Sawtelle, she says: "I went to Santa Monica College; I know the area."
Also in the works is a third restaurant, with many of the same dishes as Hip Hot, in the Westfield Santa Anita Mall, in Arcadia. The dishes will be smaller, more accessible; the menu an abbreviated version of Hip Hot.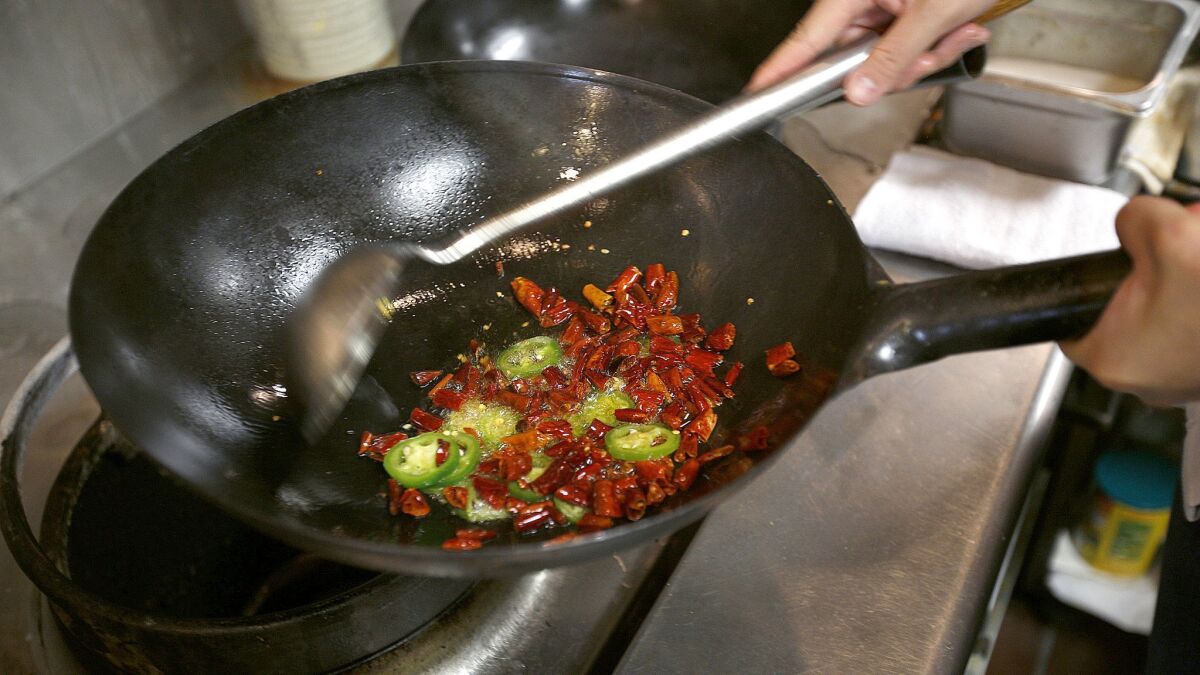 Born and raised in Chengdu, the capital of China's Sichuan province, Qiu moved wto Shenzhen, a major city in Guandong that borders Hong Kong, when she was a teenager. She says she spent a lot of time in Guangzhou, Guandong's capital — mostly eating.
Qiu came to the United States for college, spending a year at Case Western Reserve University in Cleveland ("It was too cold.") before coming to Los Angeles, first to attend Santa Monica College, then USC, where she graduated with a business degree in 2014.
Between Santa Monica College and USC, she went back to China to work in restaurants, moving between five different kitchens in about nine months, each restaurant specializing in a different style of cooking. It was a kind of self-orchestrated boot camp, a way to simultaneously learn various cooking techniques and check out business models. After she graduated from USC, she opened Hip Hot with a start-up investment from her father.
Qiu adds vibrant pink pickles to the fish stew — she makes all her own pickles — as well as a pour of the bright red pickle juice, ladles up another taste, then pours the stew into a bowl to serve. She adds stir-fried jalapeños, cilantro and liberal doses from a bottle of Sichuan peppercorn oil, the heady aroma filling the airspace above the bowl. Next to her on the line, a cook drops skewers threaded with duck tongues into a deep-fryer. Five-pound white plastic pails filled with soy sauce load the shelf under the main kitchen island like paint buckets at a Sherwin-Williams store.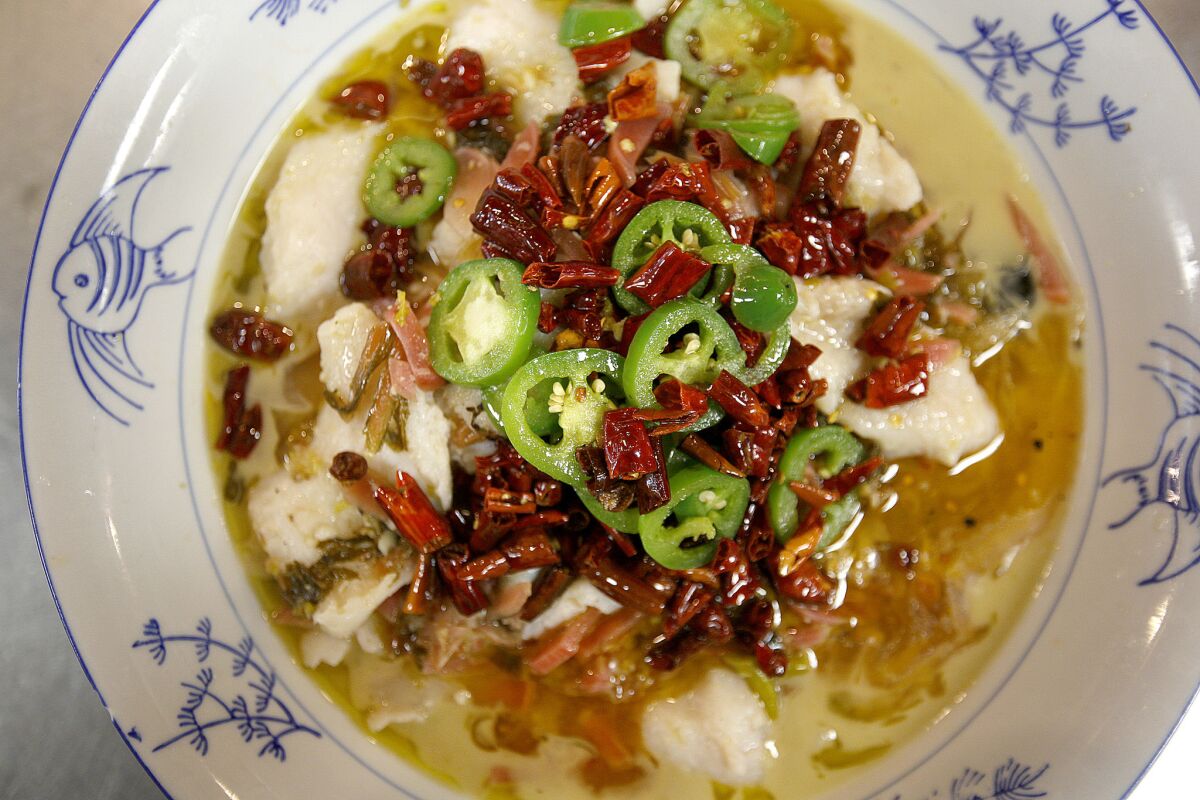 To continue staying in the country, the chef has renewed her student visa by studying interior design at UCLA Extension. This is, she says, a practical matter as well as an aesthetic one, as she can design her own restaurants. (As a general rule, Qiu prefers to do things herself.) She loads another bowl with noodles, dresses them with sweet soy sauce, black vinegar and chile oil and artfully arranges a thatch of chicken and green onions on top. This dish complete, she heads back to her ad hoc office, a table in the corner of the restaurant upon which she has an electric kettle, a teapot, cups and a scale to measure tea. Her commute home isn't much longer: She lives in an apartment above the restaurant.
Running three restaurants instead of one will be a trick, but it's likely one that Qiu will sort out. "If there's no homework," she says, pouring out another cup of tea, "I'm OK."
500 N. Atlantic Blvd., Ste. 149, Monterey Park; (626) 782-7711; hiphotinla.com. Instagram: @hiphot_cookingtata.
---
Get our weekly Tasting Notes newsletter for reviews, news and more.
You may occasionally receive promotional content from the Los Angeles Times.