The return of Night Market at Grand Park, with a map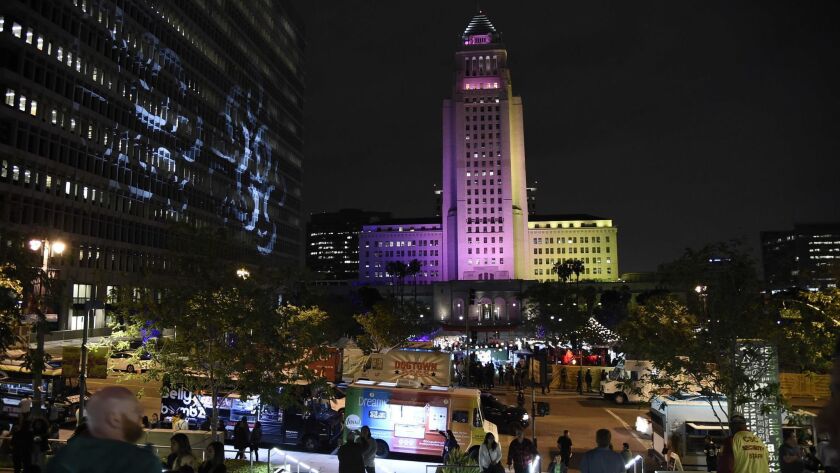 For five days midway through May, downtown's Grand Park will transform into a Night Market as an expansive collection of restaurants, food vendors and trucks fill the three-block area in front of City Hall. Begun last summer as part of the Los Angeles Times Food Bowl, this year's afternoon and evening event is bookended by a Filipino feast on opening night and a bake sale at the end featuring many of this city's finest bakers and pastry chefs. With about 65 vendors coming over the course of the event, Night Market also will have plenty of pop-up bars, as well as music, art and light projections, so that standing in line with your friends will be more like a party than, well, standing in line. So bring your smartphones (#lafoodbowl) and an appetite — and maybe a map to orient you as you wander from taco truck to dumpling stall.
Artisanal L.A. Marketplace
Near the Grand Avenue entrance will be a row of eight booths featuring locally made foods — including chocolates, confections, nuts, salsas, moles and olive oils — curated by Artisanal L.A., the local independent brand incubator, and L.A. Original, a pilot program of the Mayor's Fund for Los Angeles in partnership with the Mayor's Office of Economic Development.
Taco Alley
Between a fountain and a food court we'll assemble a row of temporary taquerias, not trucks but a half-dozen booths turning out craveable tacos. Who's coming: Pez Cantina, Todo Verde, Delmy's Tamales, Esquala Taqueria, Taco Taim and TortaTorta.
L.A. Times Food Court
Surrounded by bar areas, this section of the park will have a collection of stands offering a wide array of foods from Korean food to dumplings, oysters to tricked-up hot dogs, as well as ice cream in unusual flavors. Who's coming: Hanjip, Bling Bling Dumpling, Broad Street Oyster Co., Big Mozz, Fritzi Coop, Lobsterdamus, Asia Dog, Cheezus and Wanderlust Creamery.
Hill Street food trucks
A line of food trucks will be parked along Hill Street, which will not be closed off, so watch for traffic while crossing. Who's coming: Belly Bombz, Phillyfornia, Wing Society, Chef TLC's Sidewalk Cafe.
Lantern garden
In the middle block of Grand Park, the light-strung space will host a series of pop-ups. On the first night, as part of the Outstanding in the Field series, chefs Charles Olalia of RiceBar and Chad Valencia of Lasa will present a Filipino feast and then sit down for a discussion about urban agriculture. On Thursday, look for a celebration of doughnuts, with Blue Star Donuts, DK Donuts, Dreamy Creations, and Glazed Donut Bar. Then there's Fried Chicken Friday, with South City Fried Chicken, Poppy + Rose, and Daddy's Chicken Shack. And on Sunday there's a Charity Bake Sale with baked goods from Huckleberry, Sweet Rose Creamery, Milo & Olive, Valerie Confections, Tuck Room Tavern and more.
Broadway food trucks
A second convoy of trucks will be parked along Broadway, which will be closed to traffic. Who's coming: Kogi BBQ (Wed., Fri., Sat.); Carnitas El Momo (Wed., Thurs.); Banh Mi in L.A. (Wed., Fri., Sat., Sun.); Prince of Venice (Fri., Sat., Sun.); all five nights: Locol, Cousins Maine Lobster, Dang Brother Pizza, Dreamy Creations, 3 Wheel Cafe, Blast Ice Cream.
Super Market
Although admission to the Night Market is free, getting in to this area costs $10. A number of vendors will be setting up shop in the park between Spring Street and Broadway, some for one night only. Who's coming: Jitlada (Wed.), Mayura (Thurs.), Park's BBQ (Fri.); Banh Oui, Flossy (Fri., Sat.); Brothecary (Sat.); Momofuku, (Sat., Sun.); all five nights: Hip Hot, Burritos Las Palmas, Earl's hot dogs, Cassell's Burgers, Delmy's Pupusas, Baohaus, Bludso's Bar & Que, Pizzanista, Secret Lasagna, Fat Dragon, Side Chick, Johnny Lee's new Hong Kong-style meat project Pearl River, Workaholic's dumpling booth, Ensaymada Project, Scott Conant's Ponte, Shirley Chung's dumpling pop-up Ms. Chi Cafe, and a rotating booth from Patina Group restaurants.
FAQs
Night Market: May 16-20. 5 to 10 p.m. Wednesday and Thursday, 5 to 11 p.m. Friday, 3 to 11 p.m. Saturday, 3 to 9 p.m. Sunday. Children are welcome, as are leashed dogs. Lot and metered parking are nearby, and there will be a ride-sharing stand on Spring Street. Visitors are encouraged to ride the Metro Red or Purple lines to Civic Center/Grand Park Station.
---
Get our weekly Tasting Notes newsletter for reviews, news and more from critics Bill Addison and Patricia Escárcega.
You may occasionally receive promotional content from the Los Angeles Times.