Review: In Boyle Heights, Lebanese dishes with a Oaxacan accent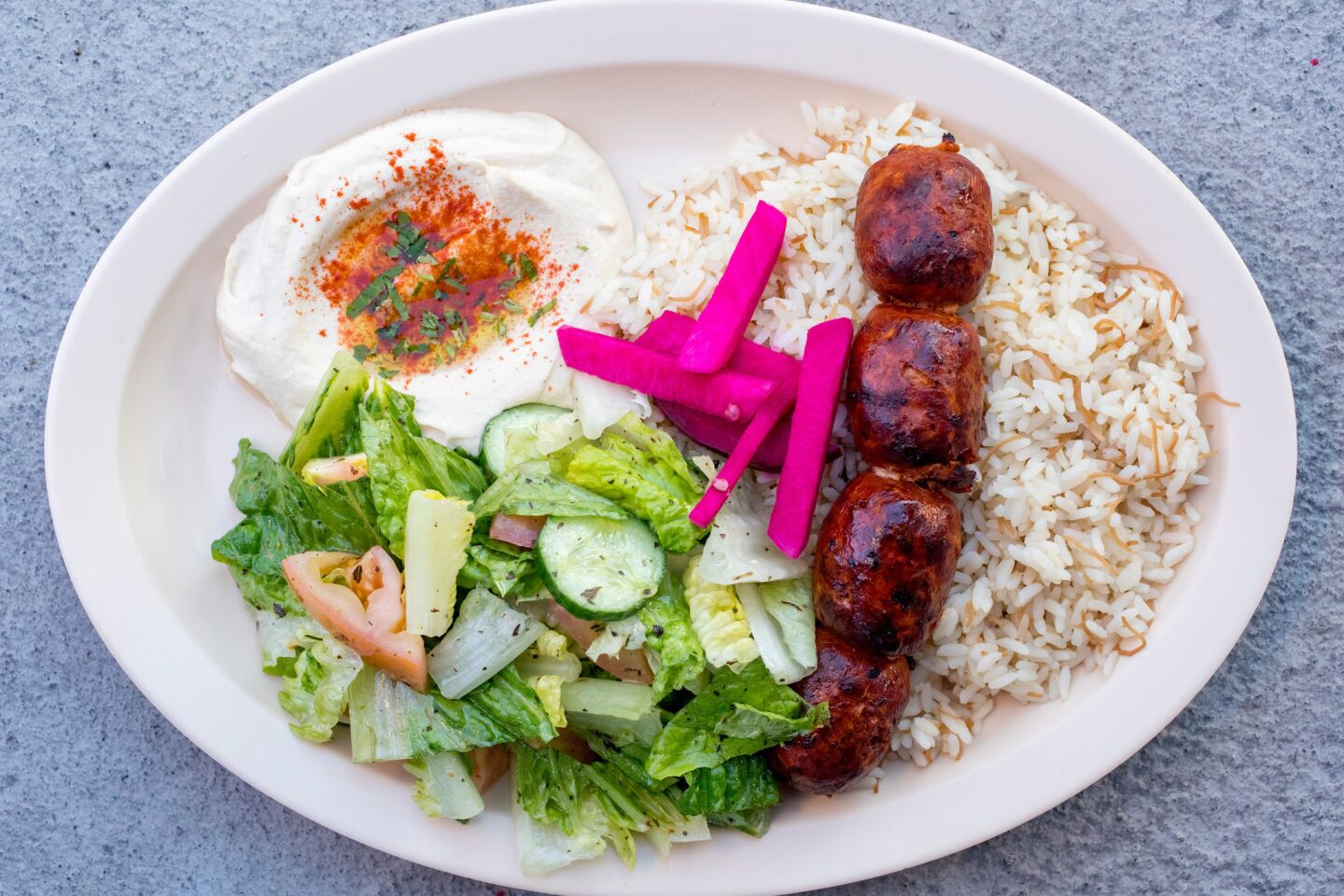 Chorizo kebab served with rice, Lebanese salad and hummus at X'tiosu Kitchen in Boyle Heights.
(Calvin B. Alagot / Los Angeles Times)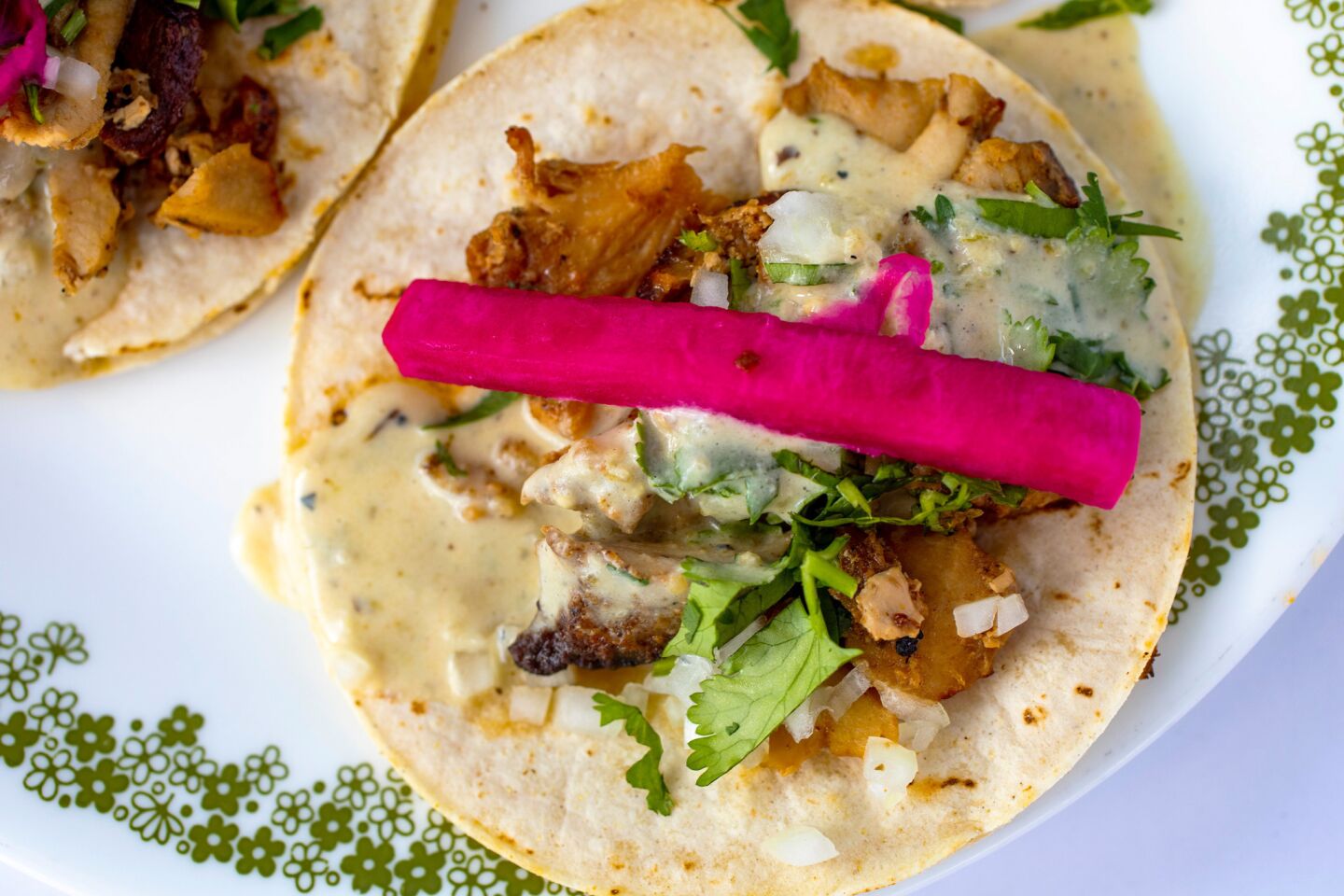 Chicken shawarma tacos made with a corn tortilla, chicken, onion, cilantro and "arabesque salsa."
(Calvin B. Alagot / Los Angeles Times)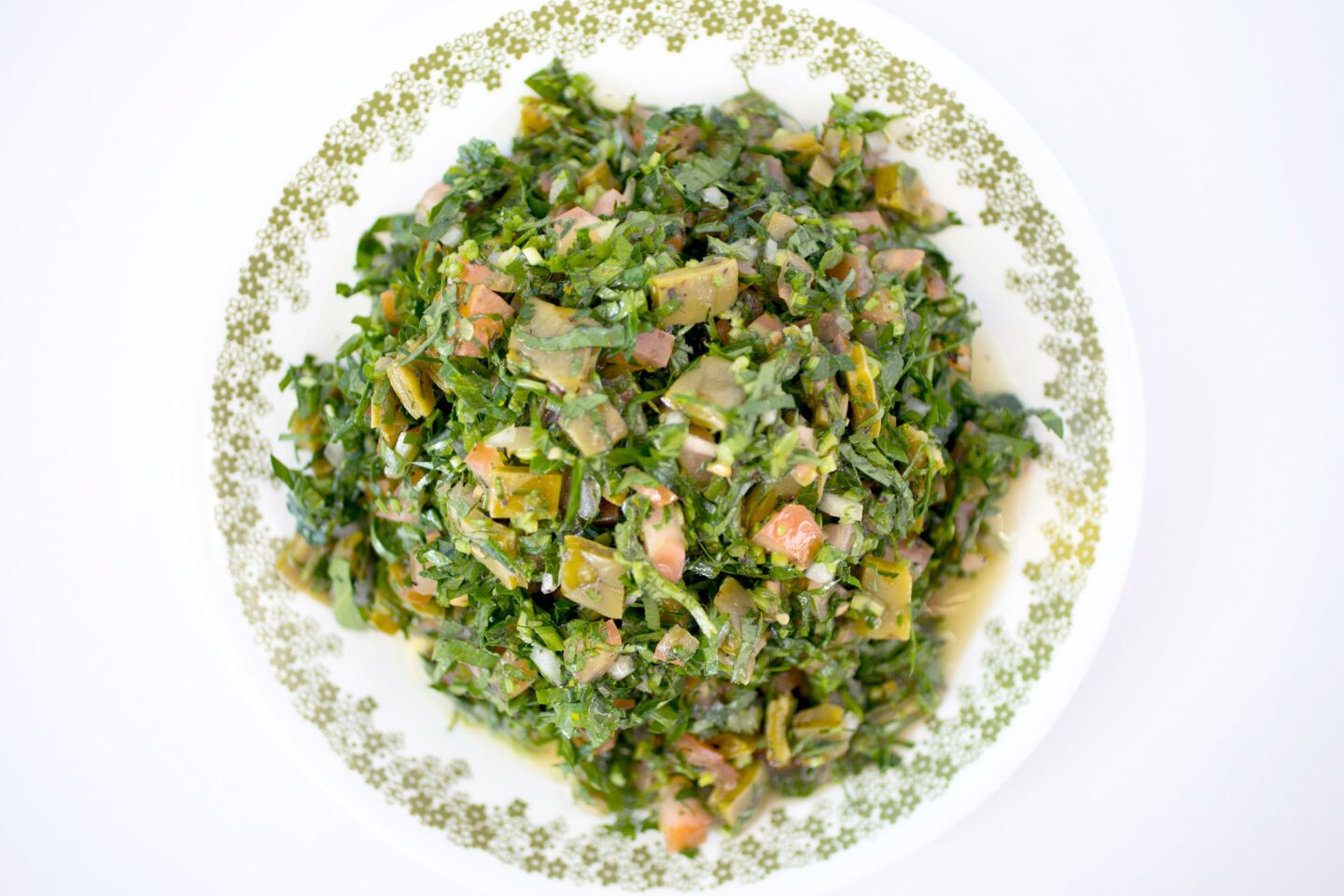 Tabbouleh Oaxaca salad with tomatoes, cilantro, onions and citrus.
(Calvin B. Alagot / Los Angeles Times)
Oaxacan hummus made from whipped black beans and spices, topped with extra virgin olive oil.
(Calvin B. Alagot / Los Angeles Times)
Baklava.
(Calvin B. Alagot / Los Angeles Times)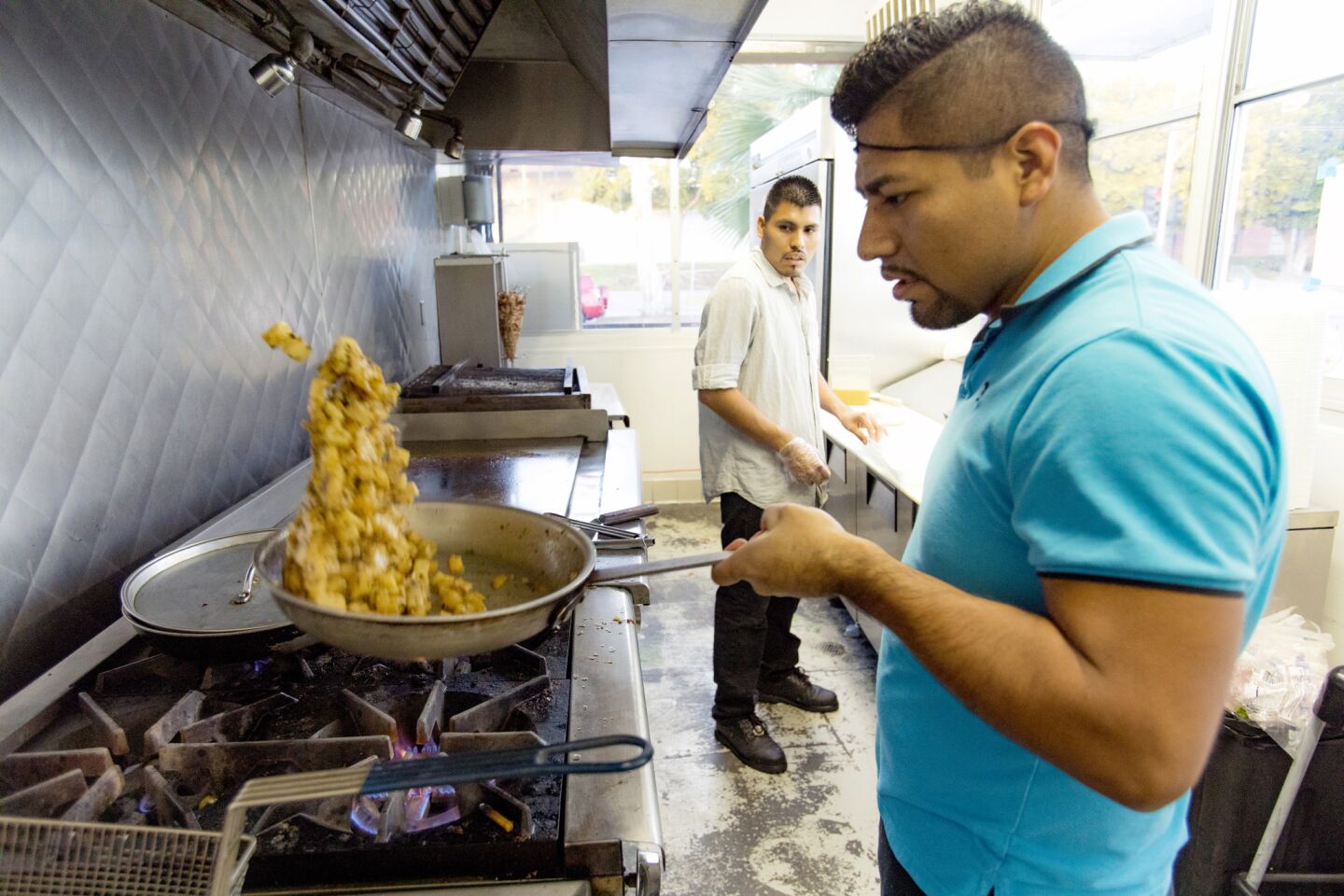 Felipe Ignacio cooks papas preparadas, crispy potatoes with cilantro, garlic, citrus and cayenne pepper, as his brother Ignacio Santiago stands by to plate the dish in their Boyle Heights restaurant, X'tiosu Kitchen.
(Calvin B. Alagot / Los Angeles Times)
Felipe, left, and Ignacio Santiago are the owners-cooks at X'tiosu Kitchen in Boyle Heights.
(Calvin B. Alagot / Los Angeles Times)
The Boyle Heights restaurant, X'tiosu Kitchen, serves Lebanese dishes with a Oaxacan influence.
(Calvin B. Alagot / Los Angeles Times)
Boyle Heights has produced some of L.A.'s most quintessential dishes, old-line classics such as the colossal Hollenbeck burritos at El Tepeyac Cafe, the ethereal seafood tempura plate at Otomisan and newer standard-bearers such as the crisp tacos dorado de camarones at the Mariscos Jalisco food truck, a dish so universally worshiped that it probably deserves its own local holiday.
If there's an emerging classic on the horizon, a newer dish that appears destined to draw both locals and out-of-town Yelpers into Boyle Heights for years to come, I'd wager on the chicken shawarma tacos at X'tiosu Kitchen, a Oaxacan-Mediterranean restaurant that opened just around the corner from El Tepeyac about a year ago.
X'tiosu (pronounced "sh-tee-oh-sue") means "thank you" in Zapotec, the native tongue of Oaxacan-born brothers Felipe and Ignacio Santiago, the co-owners and journeyman cooks ("chef" is too lofty a title for the work they do, Felipe told me) behind the baby-blue brick storefront on Forest Avenue.
The restaurant is unassuming in almost every way: Seating is limited to a scattering of industrial-grade patio tables, and the restaurant is tucked into a sleepy mini-mall where there seem to be more tenants than parking spaces. The general mood is one of extreme informality and friendliness.
The restaurant's menu of Oaxacan-inflected, Lebanese-inspired dishes is at its most compelling when it goes full-bore on its vaguely exotic-sounding premise of "Arabesque Oaxacan" cooking. If parts of the menu feel familiar, like you've wandered into your go-to neighborhood Lebanese spot, it's useful to know that Ignacio Santiago spent years cooking at Sunnin, the well-established Lebanese cafe with two outposts in Santa Monica. His brother Felipe eventually joined him in the kitchen, and together, the brothers were indoctrinated in the ways of mezze, the traditional Lebanese small-plate spreads and salads that animate much of the X'tiosu menu.
Q&A: Get to know Patricia Escárcega, new restaurant critic for the L.A. Times »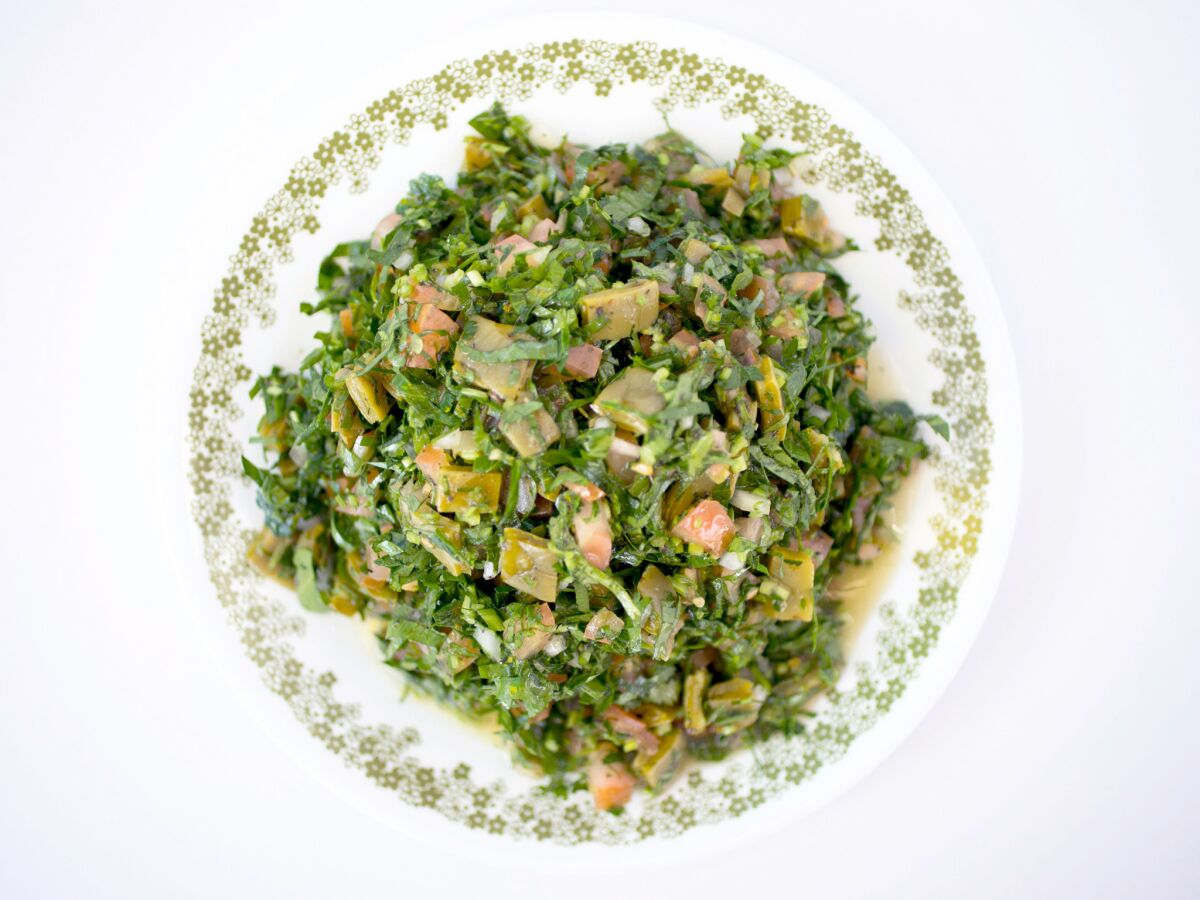 It's worth noting also the well-established Lebanese influence in Mexican cooking, a triumph of acculturation that produced one of Mexico's most exalted culinary offerings: the al pastor taco, a dish that evolved from the shawarma spit-grilled meat brought by Lebanese immigrants to central Mexico.
With history on its side, then, X'tiosu gives us the chicken shawarma taco: spice-rubbed, spit-roasted chicken shaved over a double-stack of corn tortillas, the tender meat buoyed by a rivulet of the house "arabesque salsa," a blend of extra-garlicky tahini sauce and homemade salsa verde. The sauce is good enough to eat by the spoonful, and the taco succeeds by the steady accretion of flavors, in turn creamy and savory. Its meaty and garlicky richness is quickly snapped into balance by the bright, vinegary smack of pickled turnip. The fuschia-pink condiment, a staple of Lebanese tables, garnishes nearly everything on the menu.
The menu is at its most compelling when it goes full-bore on its vaguely exotic-sounding premise of "Arabesque Oaxacan" cooking.

— Patricia Escárcega
X'tiosu, as you soon learn, leans more Mediterranean than Mexican in substance; the chicken shawarma tacos are the only tacos on the premises. The heart of the menu is the first-rate array of cold mezzes, dips and salads that beg to be wrapped up in scraps of the kitchen's hot pita bread.
The house baba ghanouj, pounded to a satiny, garlicky finish, coaxes impressive amounts of creamily bittersweet flavor out of burnt eggplant. Typical Lebanese sides including fried cauliflower and batata hara, herb-spackled crispy potatoes (listed on the menu as papas preparadas), are also very good, both dishes skillfully fried to a crisp, brittle consistency.
Review: Fiona showcases pie queen Nicole Rucker's baking talents, and so much more »
Things get more interesting when the DNA of traditional mezze are spliced with Oaxacan and Mexican ingredients. There's a lovely Oaxacan-style hummus, for instance, a dark, inky thing of whipped black beans touched with a little cayenne pepper. Crisp falafel, meanwhile, eschews chickpeas and fava beans in favor of black beans bolstered with lavish amounts of garlic and cilantro. They are dense and pungent, and considerably earthier than standard-issue falafel.
The high point of the mezze offerings, though, is the tabbouleh Oaxaca salad. According to Felipe, the dish represents a collaboration with chef Minh Phan of Porridge + Puffs, who advised the brothers to add a native Mexican element to the dish. Nopalitos stand in for bulgur, the diced cactus tossed with chopped onions and tomatoes, zapped with fresh citrus and an extravagant quantity of fresh parsley. It's a bright and compelling pastiche, and so simple you wonder why you haven't been eating it all your life.
It's helpful to know that X'tiosu won't replace your favorite kebab house; the chicken and beef kebabs are passable but parched. Hold out for the house-made chorizo kebab, a ruddy sausage that's delicately spiced but packed with just enough vinegar to give it an authoritative zing. Wash all of it down with some watermelon agua fresca, a Mexican refresher that is pure Boyle Heights but somehow goes well with pretty much everything.
X'tiosu Kitchen
Felipe and Ignacio Santiago bring Oaxacan-inflected Lebanese dishes to Boyle Heights.
Sides and salads, $5-$7; falafel plate $9.50; chicken shawarma taco $1.25; kebab plates $11.75-$14.
Credit cards accepted. No alcohol. Lot parking. Outdoor seating only.
Chicken shawarma taco; tabbouleh Oaxaca salad; Oaxacan hummus; falafel plate; chorizo kebab.
Get our L.A. Goes Out newsletter, with the week's best events, to help you explore and experience our city.
You may occasionally receive promotional content from the Los Angeles Times.