You can use that rose geranium plant for cooking too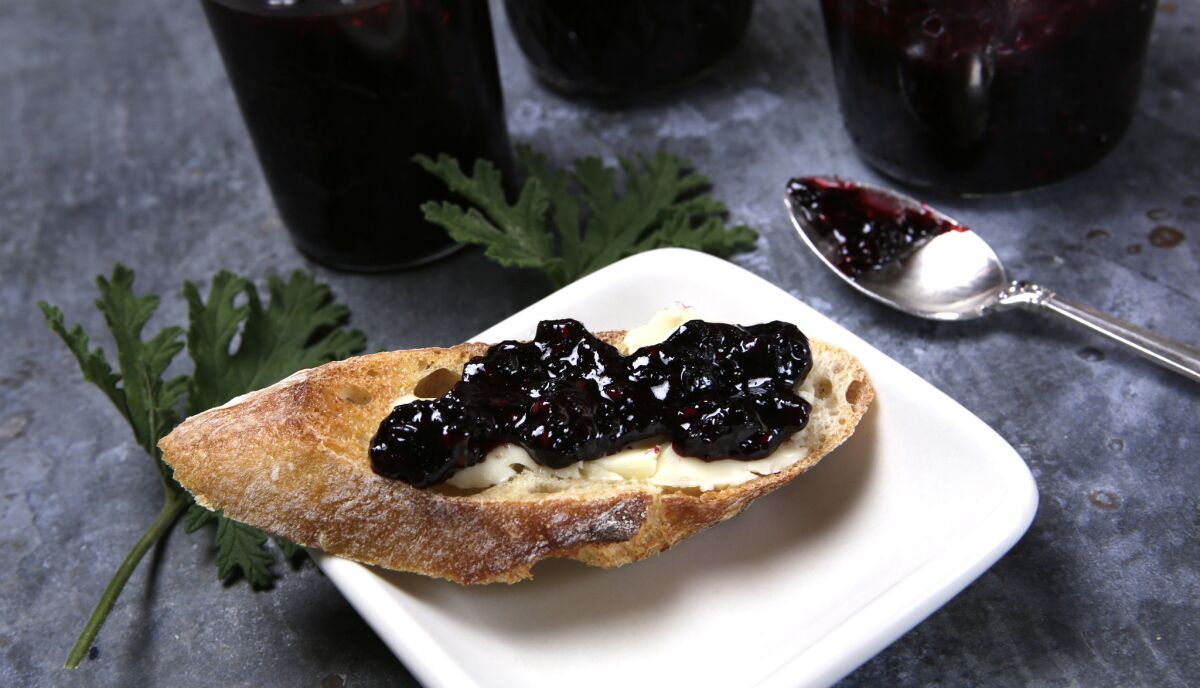 Brighter, lighter, less sweet and a little less "grandma" than true rose, the smell of rose geranium is like old rose blended with a touch of citrus, spice, green herbs and a tiny hint of resin. This heady blend happens to be edible, and can be used in the kitchen to enhance sweets and beverages. The floral bouquet goes especially well with berries and lime, but is lovely on its own, enriched with sugar, butter or cream.
Not to be confused with the brightly blooming plants that fill terra cotta pots and window boxes, rose geranium, often marketed as attar of rose, is part of a group of geraniums that are grown primarily for their scent, and for the shape of their leaves. Technically a pelargonium, the geranium aromas range from nutmeg to lemon, chocolate and peppermint.
And even though the geranium bush blooms with small, sweet-smelling pink flowers every spring, it's not the blossoms that possess the biggest dose of the heavenly rose scent — it's the matte-green leaves, which you can use year-round. Pluck a sturdy leaf to rub between your fingers and the fragrance delights and surprises.
Recipe: Rose geranium-scented berry jam »
I've been tossing rose geranium leaves into bubbling pots of berry jam for years, and the margaritas served at my house are lightly sweetened with a dash of rose geranium syrup instead of the traditional triple sec. But despite my infatuation with the floral essence, I can't claim credit for the inspiration. I discovered recipes using rose geranium in the '80s, in Lindsey Remolif Shere's great cookbook, "Chez Panisse Desserts."
An avid gardener as well as the founding pastry chef at Chez Panisse, Shere's love of herbs and flowers led her to infuse cream with rose petals, lavender into poaching syrups, and jasmine into ice cream.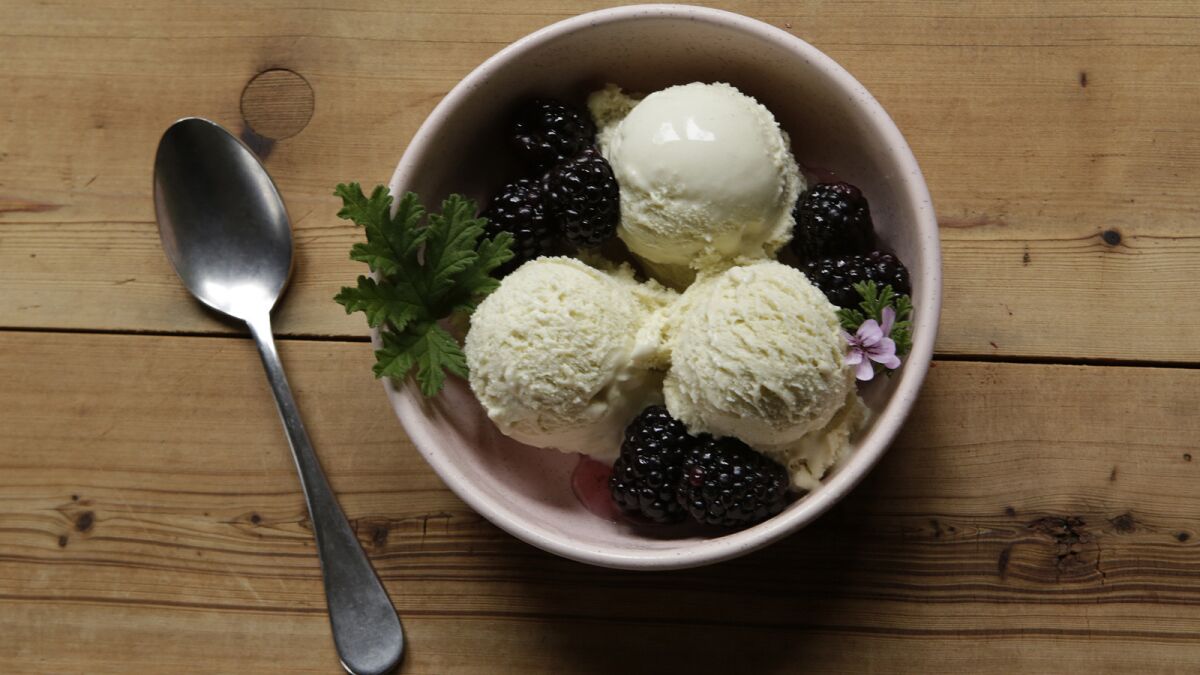 Recipe: Rose geranium ice cream with rose geranium blackberries »
"There was a recipe for a pound cake that was flavored by laying rose geranium leaves on the bottom of the cake pan, and then filling it with the batter," Shere said. "I made one and liked it a lot, and thought probably that the flavor of rose geranium would complement various berries, which are members of the rose family."
And yes, Shere just happened to have rose geranium growing in her garden. In the '80s, growing scented geraniums was popular — the plants propagated easily, had very pretty and unique leaves and smelled wonderful. She included recipes for rose geranium pound cake and rose geranium ice cream in "Chez Panisse Desserts," and describes the rose geranium-sweetened berries and custard that she created for the restaurant.
This recipe for rose geranium-perfumed madeleines is inspired by Shere's pound cake. Rather than baking whole leaves into the little cakes , rub rose geranium leaves and sugar between your fingertips to release the essential oils into the sugar. The butter in the recipe gets infused with the geranium leaves as well. For these tender teacakes, go ahead and splurge on extra-rich European-style butter such as Plugra, as it makes a notable difference in flavor and texture.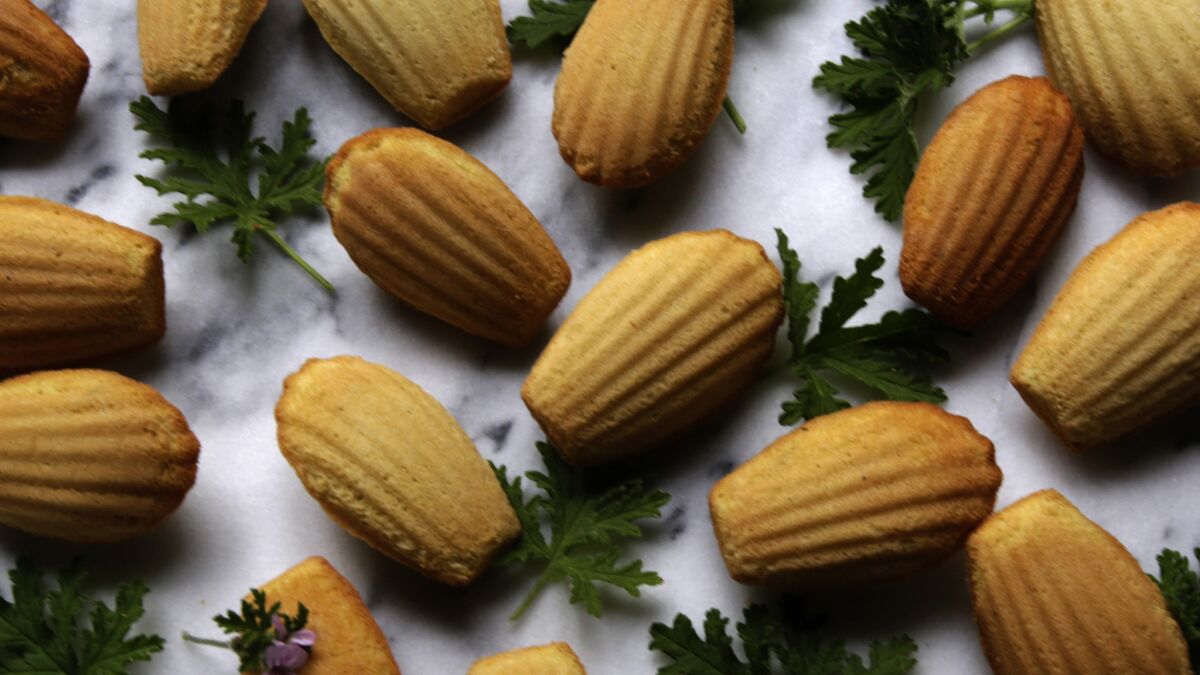 Recipe: Rose geranium-perfumed madeleines »
And in this take on rose geranium ice cream, the sugar and leaf-rubbing technique is used — in addition to steeping the leaves into the cream — to impart as much flavor as possible. Serve the ice cream with blackberries that have been tossed in rose geranium syrup, being sure to save a bit of the syrup for your next tequila cocktail.
As rose geranium goes really well with berries, simmer minced leaves into a blend of sweet blackberries, raspberries, blueberries and strawberries to add just the right bouquet of rose, citrus and herb to a seasonal jam.
If you don't already have rose geranium in your garden, a friend with a bush could break off a branch for you to nurture in a pot of moist soil in full sunlight. Or look for attar of roses geranium at your local nursery. Your garden — and kitchen — will bloom with fragrance and flavor.
Jeanne Kelley is a Los Angeles cook and cookbook author who also writes at www.jeannekelleykitchen.com
ALSO
Blueberry, chocolate and more: 20 of our favorite muffin recipes
Culinary SOS: Laura's winter citrus salad from Lucques Restaurant
---
Get our L.A. Goes Out newsletter, with the week's best events, to help you explore and experience our city.
You may occasionally receive promotional content from the Los Angeles Times.