Two writers consider their favorite savory Indian porridges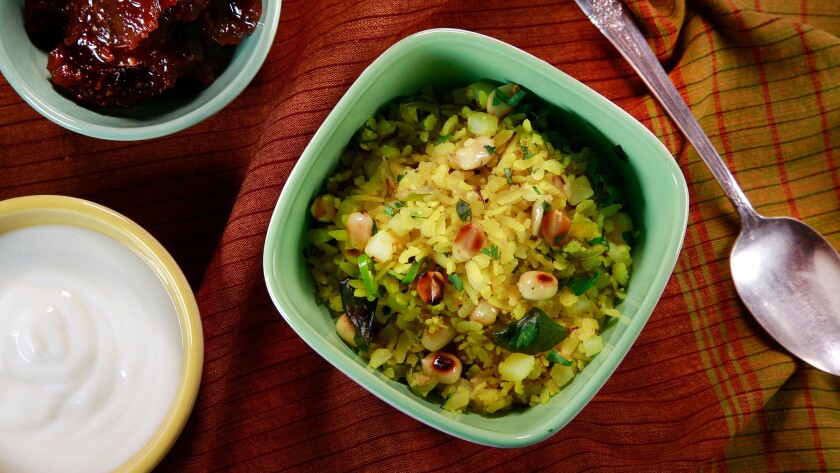 Savory porridges are now trending in urban breakfast spots in America, but they've long been staples in India. Two writers, Michelle Huneven and Kannan Mahadevan, each returned from recent trips to the subcontinent — Huneven to the south; Mahadevan to the west — with a new favorite breakfast dish.
Huneven, a novelist and former L.A. Times restaurant reviewer living in Altadena, fell for upma, a fragrant savory porridge with a semolina base. Mahadevan, currently at work on a novel and based in one of Brooklyn's great food enclaves, Sunset Park, liked a drier, fluffier porridge called poha, made from flaked rice. Eager to share and compare — and possibly to convert the other — the two swapped recipes. So which is more delicious: upma or poha? To decide, you might have to make them both.
Learning to make the Indian porridge upma
Huneven writes:
Last December, my husband and I were at the Bangalore airport between flights, bleary from 17 hours in the air, excited to be in India, and hungry. We chose the food concession with the longest line — but after perusing the glass case of bhaji, idli and other snacks and then the overhead menu, I realized I couldn't match the words to the items below.
"Excuse me," I said to two pilots in front of us. "We need some help ordering. What would you suggest?"
They conferred and turned back to us. "Idli masala," they said. "And upma."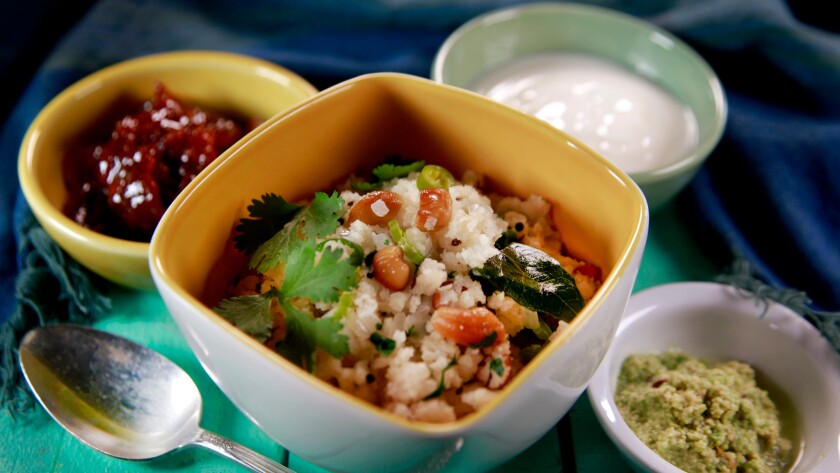 The idli were springy, oval, snow-white rice flour dumplings served with a thick, spicy orange masala sauce for dipping. They had high starch appeal but were quickly, irrevocably upstaged by upma.
A pale, fragrant, savory porridge with an utterly addictive texture, upma is made with coarsely ground toasted wheat called sooji or rava, a few basic Indian spices and herbs, and a scattering of nuts and dried legumes. But upma is greater than the sum of its parts.
As we traveled through Tamil Nadu, Kerala and Karnataka, we encountered upma on breakfast menus and buffets, sometimes beside its sweet cousin, kesari (also called sheera or halwa), a wheat porridge flavored with raisins, nuts, sugar and occasionally pineapple or banana. Kesari was often too sweet for me, but I never met an upma I didn't adore.
Once home, I set to work to recapture that unforgettable first meal. Unlike so many other "firsts," this one was easily replicated — culinarily, at least. I found numerous recipes and variations online, and all the ingredients were easily sourced at Indian grocery stores.
Upma is made from coarsely ground wheat; it can be white if made with farina, which is ground from hard winter heat; or it can be a pale yellow if made from semolina, which is ground from durum wheat, the lower chromosome wheat used for pasta. Recipes often use the terms sooji, rava, cream of wheat, farina and semolina interchangeably, but all suggest a coarse grind. The cereal is first roasted in a dry pan, just to the point where it begins to smell faintly like baking bread, but before it starts to brown.
Later, when boiled, the creamy yet granular texture is most reminiscent of Malt-O-Meal and Cream of Wheat and, to a somewhat lesser degree, polenta and grits.
If farina and semolina bring to mind only dull and dreaded porridges of childhood, here they are only the bland, blank pages for upma's complex pleasures. For starters, there are layers of crunch: the soft cellulose crunch of sautéed onions, ginger, garlic and chile; the knuckly, nutty crunch of cashews or peanuts; and the crisp, more precise crunch of tiny fried daals, both chana (dried yellow peas) and urad (dried black lentils). Dried spices (mustard seeds, ground coriander, cumin, fenugreek, asafetida and turmeric) and fresh herbs (cilantro and curry leaves) add flavor and fragrance. A little sugar (optional) gives depth.
Some cooks add peas and carrots or chopped tomatoes just after the onions are sautéed.
The recipe has a lot of give — you can add or subtract elements; those with wheat allergies can substitute instant grits or cornmeal or even oats for the wheat cereal and produce something delicious.
Upma is traditionally finished with a squeeze of lime and served with yogurt, coconut chutney and/or an Indian pickle on the side. My husband likes hot lime pickle; I prefer tender mango pickle, a Kerala specialty made with small mangoes. Although it's not traditional, you can also top upma with a poached or fried egg.
Upma quickly absorbs its liquids and sets like polenta and grits. Some cooks press it into a large, decorative mold, or several individual molds, for serving. If you prefer it softer, as I do, it can be reconstituted with a little water. Leftovers can be cooled in a loaf shape and sliced to fry in ghee or oil for yet another layer of crunch. (In his cookbook "Plenty More," Yotam Ottolenghi has a recipe for a spicy fried upma with poached eggs.)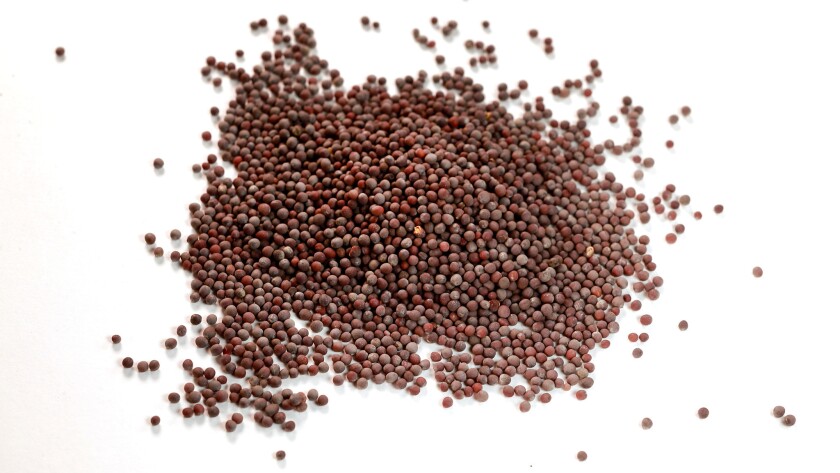 A consideration of the Indian porridge poha
Kannan Mahadevan writes:
Of all the carb-heavy, Indian breakfast foods, I find poha to be the lightest. It is made from (and named for) rice that has been steamed, parched and flattened. These fine flakes need only a quick soaking to soften; the drained poha is mixed into lightly fried seasonings and vegetables, heated through until dry, fluffy and golden from turmeric, then served with any number of toppings and sides.
The rice flakes can also be deep-fried until crisp as potato chips; mixed with other crunchy additions such as peanuts or coconut, they are known as chivda, a popular snack that's homemade, store-bought or served in newspaper cones on the street all over India.
Recipe: Kanda batata poha (pounded rice with onion and potatoes) »
I first ate poha regularly during a long stay with my cousin in Thane, a city in northwestern Maharashtra state that boasts the busiest station in Mumbai's sprawling suburban rail network. (Twenty-five miles north of downtown Mumbai and 2 million strong, Thane expanded my definition of a suburb.)
Unable to lure me from sleep with his steaming idlis and kosu (a Tamil curry of pressure-cooked eggplant and tomato) or his ghee-slathered parathas filled with potato or methi leaves, Laxman, my cousin's young cook, had to settle for breakfast that tasted good cold. Laxman's staple poha additions were onion, cubed potato and peanuts.
Laxman always began by frying mustard seeds in oil; when they crackled and began to jump in the pan, he threw in asafetida powder, curry leaves, green chiles — slit rather than chopped, because my cousin could not abide too much heat — then the onion and peanuts. When the onions softened, in went the pre-cooked potato and the rinsed rice flakes. After a few fast, light stirs and a quick steaming, the poha was topped with cilantro and bustled to the breakfast table, where I would groggily discover it some hours later. The poha pot's inseparable table companion was a little steel bowl of yogurt, fermented overnight from yesterday's milk and already with that sour tang Indians find so refreshing in sultry weather.
When I came home and began to research poha recipes online, I saw that any fast-cooking or pre-cooked vegetable could be used with or in place of the potato. I have heard that at the restaurant Prakash, an institution for Maharashtrian vegetarian food in Dadar, Mumbai, they prepare the dish with cubed eggplant and a special masala. Along with the chopped cilantro suggested here, desiccated coconut and a small mountain of sev (deep-fried, crunchy "noodles" of chickpea flour) are among the more lavish poha toppings in India. A dollop of yogurt is wonderful on the side, along with your favorite Indian pickle or even a poached egg.
All the ingredients for poha are available at an Indian grocery store. If there's an option, buy thick poha rather than thin; it can be soaked and gently stirred without breaking up. Feel free to substitute other grains for poha, but choose ones that cook fast without much water, so that the final dish is dry and not soggy. Cooked, leftover rice, sprinkled with a little water as if for reheating it in the microwave, works well, as does instant oatmeal, rinsed as per the poha recipe. A beautiful marigold yellow, poha is also respectable at the dinner table, where it can take the place of mashed potatoes, pilaf or polenta.
---
Get our weekly Tasting Notes newsletter for reviews, news and more.
You may occasionally receive promotional content from the Los Angeles Times.