5 wines to pair with your Thanksgiving feast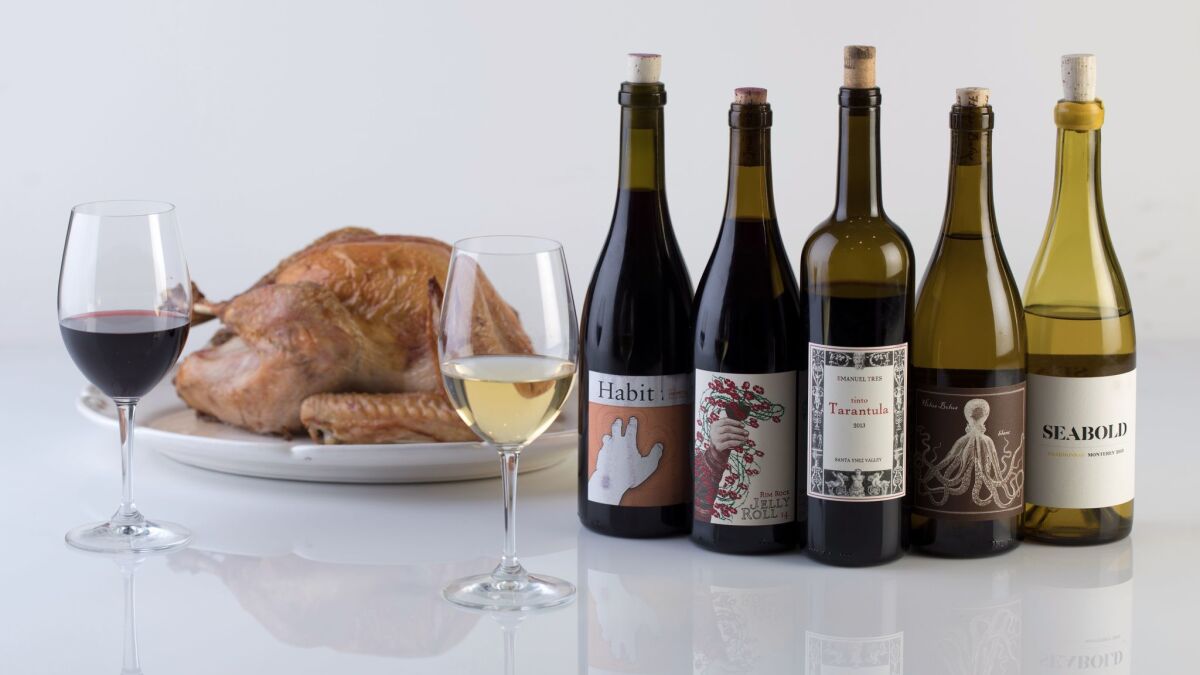 Of all the advice you'll get this year about what wines to bring to Thanksgiving, none are more pertinent or relevant than these two rules: 1. Keep it simple and 2. Make people happy (including yourself).
Don't bother parsing out the particulars of pairing this with that, or worrying how the wines will fare with the holiday feast. I've yet to hear of a Thanksgiving feast that was ruined because the Zinfandel was too tannic for the green beans.
So this year all of the wines on my table will be from winemakers who make their home in Los Angeles: Amy Christine and Peter Hunken of Holus Bolus, Jeff Fischer of Habit Wines, Jim Knight of Jelly Roll, Chris Keller of Emanuel Tres, and Chris Miller of Seabold Cellars. All of these wines are generous, versatile and, best of all, made by locals, making them almost as local as your Menifee turkey or your Carpinteria chicories. Throw in a Malibu wine or two and you've gone full locovore for Thanksgiving.
The short list consists of two whites — a Roussanne and a Chardonnay — and three reds — a Syrah, a Cabernet Franc and a blend. All of these wines happen to come from the Central Coast. If somehow five wines aren't enough, consider throwing in a Malibu wine or two.
The two whites are relatively well-built and emollient; they have some body and some length, the stuffing to pair with stuffing. (Lesser whites — whites with less body — are like using a bucket in a flood, not always the right tool to face the onslaught of this particular meal.)
The reds, by contrast, are not bruisers; they're relatively light in body and tannin. You can go with something big and tannic if you like, but it's generally better to pair this meal with more dexterous wines, wines with good acid structure, wines that will be buoyant and not bulky on the palate — and that even can take a chill.
Holus Bolus 2015 Santa Maria Valley Blanc (Roussanne)
The husband-and-wife team of Peter Hunken and Amy Christine make this, their only white, from the Rhône variety Roussanne. The fruit comes from Bien Nacido Vineyards, a cool site that leads to a very detailed, finesseful wine, with a bit of breadth. Leading with scents of golden apple and quince, the wine feels broad at first but has remarkable persistence and length to go up against those fat- and butter-rich dishes. Available at DomaineLA, Woodland Hills Wine Company and the Wine House, about $30, www.blacksheepfinds.com.
Seabold 2015 Monterey Chardonnay
Master sommelier Chris Miller is one of a handful of younger winemakers who are exploring the potential of Monterey County as a place for something more than commercial, industrial wines. This Chardonnay is deep, with a complex mélange of scents, crème caramel, crisp apple, pear and nougat. The wine is ample but light on its feet, without an ounce of flab. About $37 at Wally's, K&L, Wine House, Mission Wine, and Larchmont Village, www.seaboldcellars.com.
Habit 2016 Santa Ynez Valley Cabernet Franc
Jeff Fischer lives a double or triple life, as winemaker, actor and voice-over specialist and, for the last 12 seasons, as the character Jeff Fischer on "American Dad!" He's got equivalent talent in his winemaking; this Loire Valley-inspired Cabernet Franc has pretty floral scents of lavender and Earl Grey tea, with juicy fruit flavors of raspberry and red cherry, and a driving, mouthwatering acidity. About $30 at Venice Beach Wines, Spin the Bottle in Toluca Lake, Silverlake Wine and Everson Royce, habitwine.com.
Emanuel Tres 2013 Tarantula Red Blend
Longtime sommelier and Tar & Roses wine director Chris Keller makes this blend of 40% Syrah, 40% Grenache and 20% Carignane, in homage to the red wines of Spain's Montsant and Priorat regions. It's sunny and earthbound at once, with scents of wild raspberries and tanbark, with an earthy bottom note — that's the Carignane, announcing itself. The flavors are pure red fruits, but a foresty blend of wild herbs ground the palate; an honest, authentic, low-tannin blend that goes with anything. About $25 at the Wine House and Venice Beach Wines, www.emanueltres.com.
Jelly Roll 2014 Rim Rock Vineyard San Luis Obispo County Syrah
This is a lean, smoky Syrah from Jim Knight, whose day job is as one of the family team that owns and runs the Wine House in West L.A. Early in his winemaking career, Knight's Syrahs were full bore — but he's eased away from that style. This 2014 is lissome and crunchy, with peppery scents and floral accents of lavender and lilac. The fruit is the dark blue caste of cassis and mulberry, with a firm texture and mouthwatering, palate-cleansing acidity. An exclusive at the Wine House, $35.
Get our L.A. Goes Out newsletter, with the week's best events, to help you explore and experience our city.
You may occasionally receive promotional content from the Los Angeles Times.