Jonathan Gold's six favorite dumplings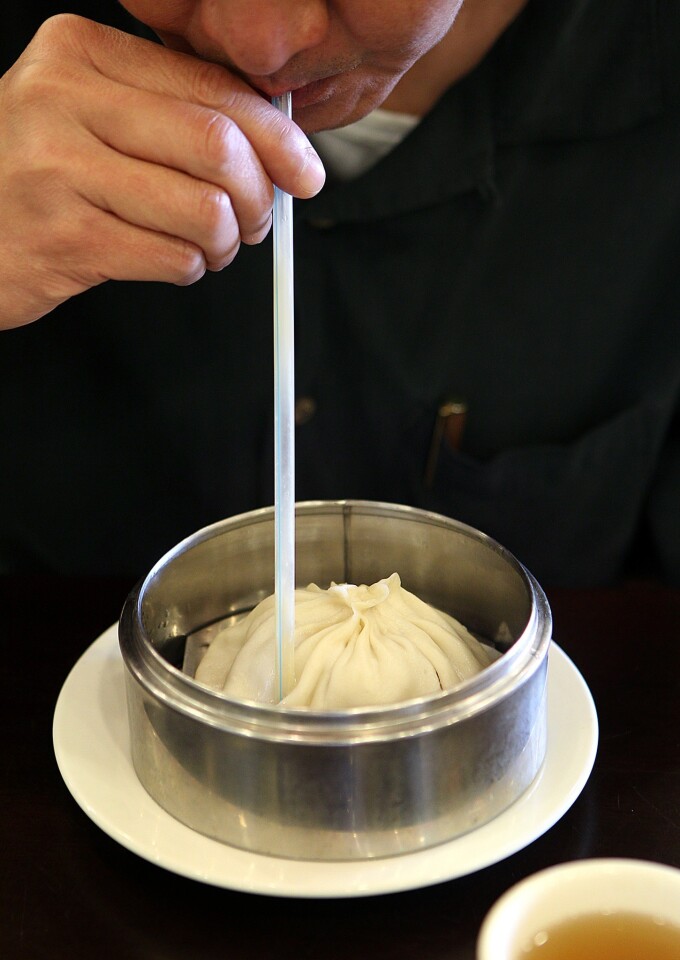 A soup dumpling the size of a softball requires a straw at Wang Xing Ji.
(Christina House / For the Times)
Architecture students Hao Wei, left, Pohsien Hou and Juihung Weng share dishes at lunch at Chengdu Taste in Alhambra. Chengdu Taste specializes in the Sichuan cooking of Chengdu.
(Gary Friedman / Los Angeles Times)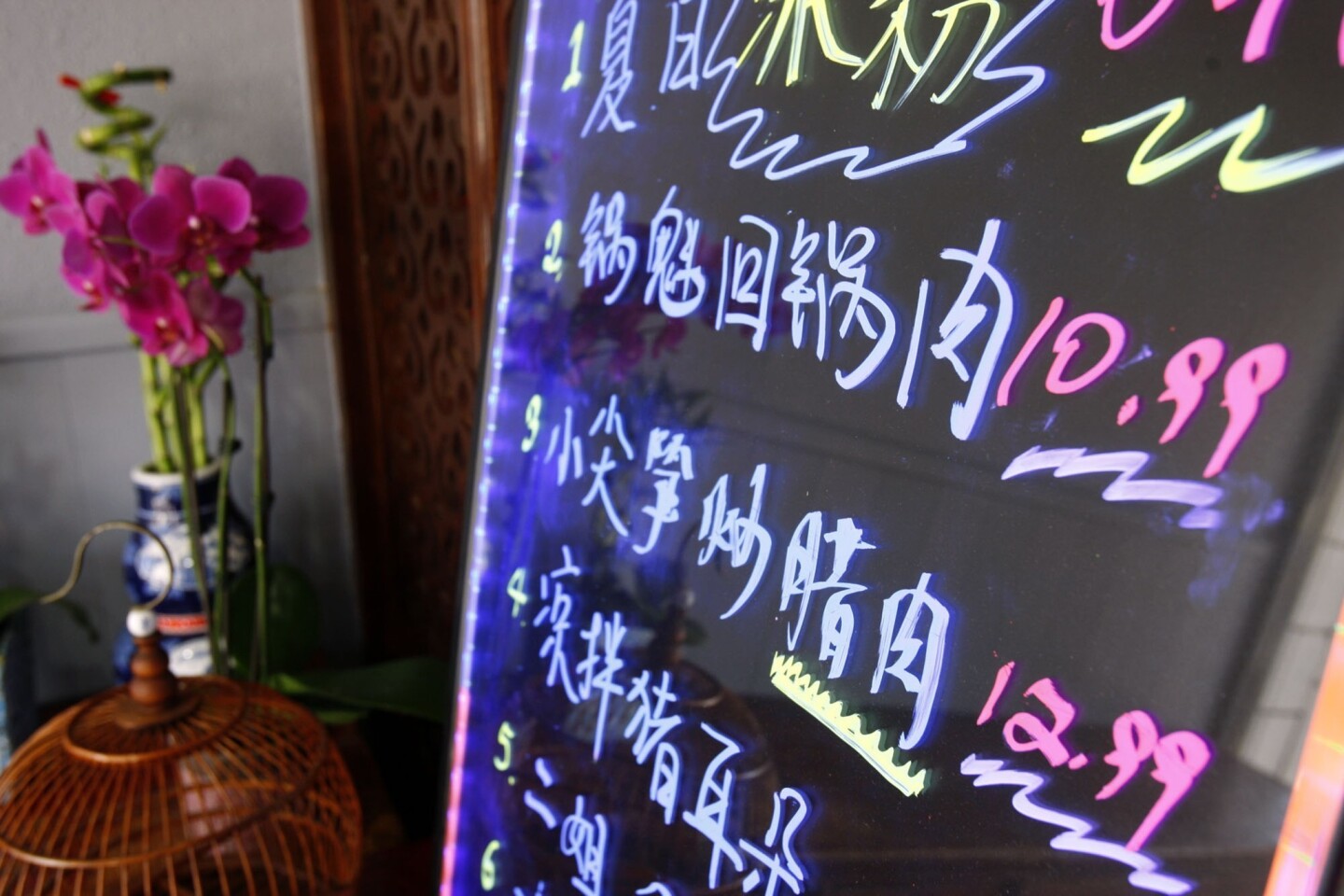 Daily delicacies are listed on a board at the entrance to Chengdu Taste in Alhambra.
(Gary Friedman / Los Angeles Times)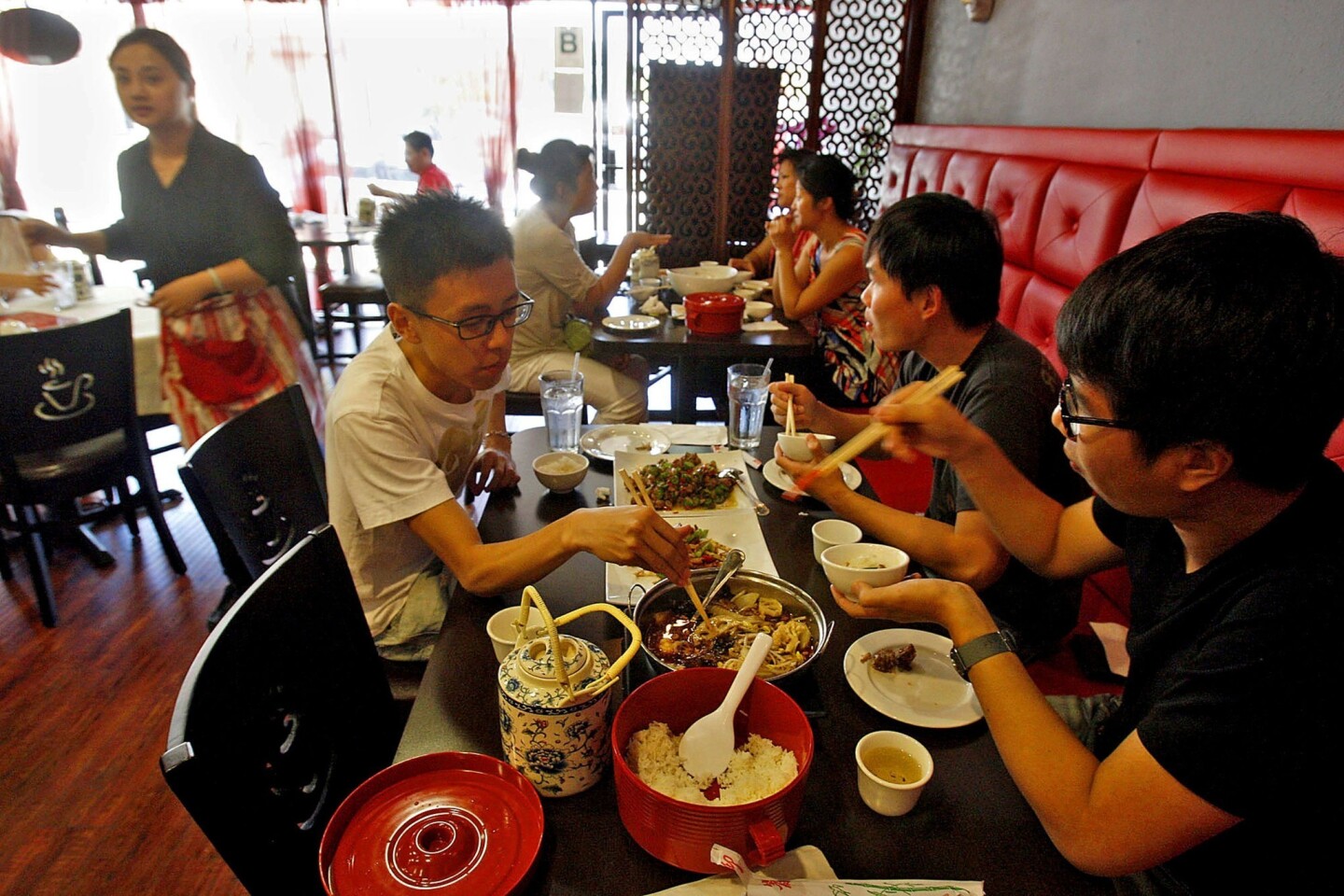 The dining room at Chengdu Taste has been streamlined and lightened, made brighter with red paint and track lighting. You can get numb-taste dumplings at the Alhambra eatery.
(Gary Friedman / Los Angeles Times)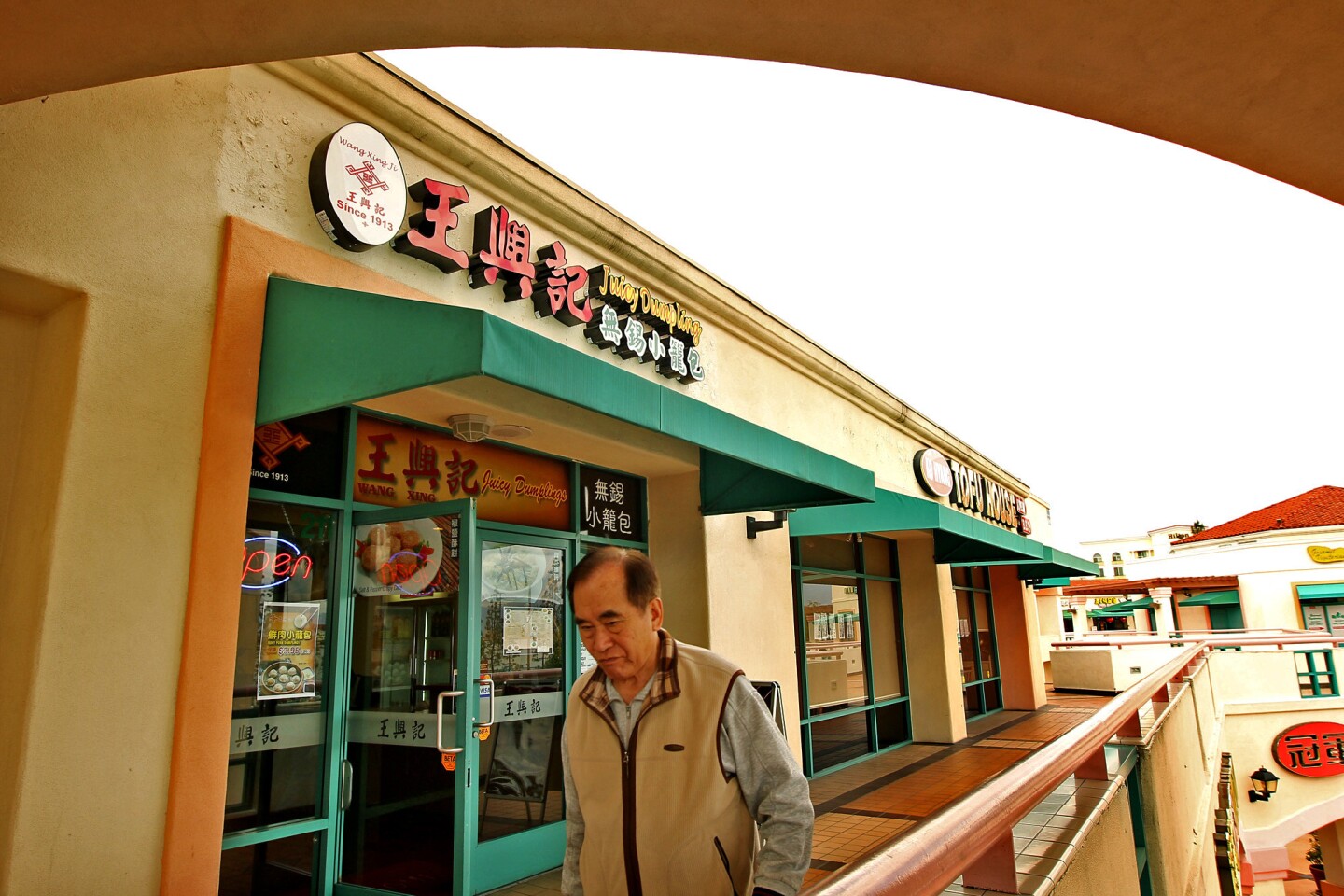 Wang Xing Ji, an import from Wuxi, China, is on Valley Boulevard in San Gabriel.
(Christina House / For the Los Angeles Times)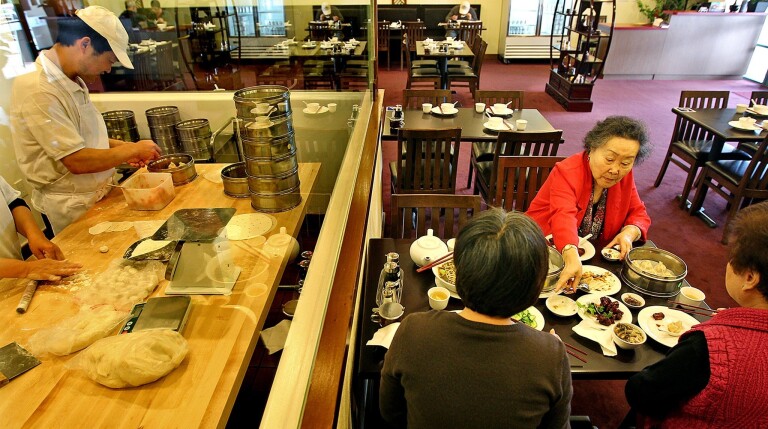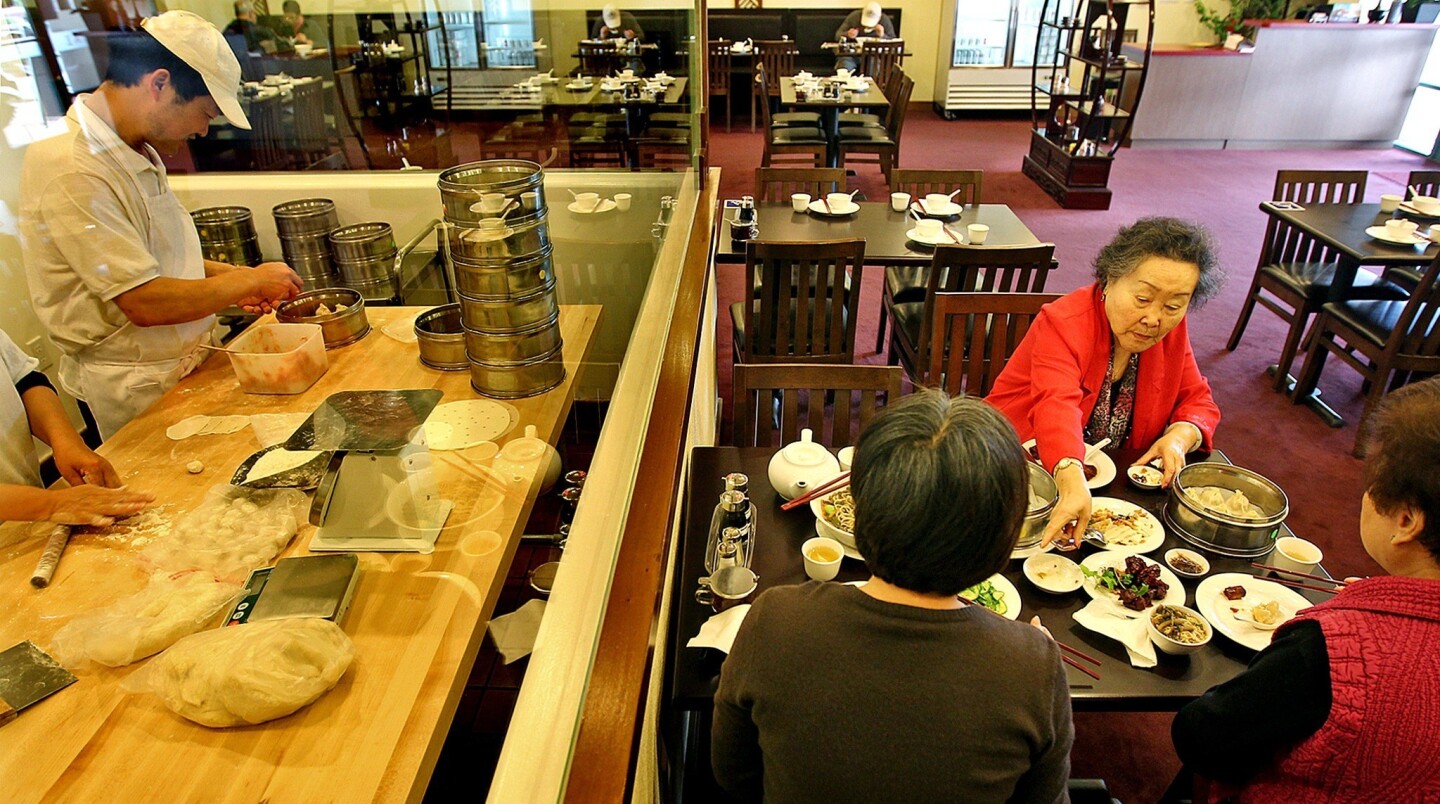 The dumplings at Wang Xing Ji are memorable.
(Christina House / For the Los Angeles Times)
Today marks the opening of the Glendale branch of Din Tai Fung, the famous Taiwan-based soup-dumpling chain, which will finally give Glendale something in common with Shanghai, Tokyo, Hong Kong -- and Arcadia, where two restaurants, one next door to the other, have drawn hordes of xiao long bao fans since the first one opened a decade or so ago. Some people think Din Tai Fung makes the best soup dumplings in California, if not in the observable universe. Others are more muted in their reactions.
Still, I think it is safe to say that L.A.'s XLB buffs have been eagerly waiting for today's opening, if only to taste the truffled soup dumpling, previously available only to VIP customers in Taipei. If you can't make it to the new Din Tai Fung today, we hope that a few of our other favorite Chinese dumplings might suffice.
Juicy crab and pork bun: These dumplings at Wang Xing Ji could probably be weaponized; smoking-hot dumplings the size of water balloons, sneakily full of boiling soup. The first time you run across one of these things, a swelling xiao long bao big enough to fill an entire steamer, you may try to lift it with a soup spoon, the way you would an ordinary soup dumpling, and it will tear itself apart with its own floppy weight. You will feel slightly foolish, slightly vampiric, but you will sip hot, slightly sweetened crab juice through a straw, as if it is a cup of boba tea and you are a teenager at the local tea shop. It is the only way. 140 Valley Blvd., No. 211, San Gabriel, (626) 307-1188.
PHOTOS: Six great dumpling spots

Xian bing: This heavy shuffleboard puck stuffed with ground lamb and served four to a plate is the specialty of Beijing Pie House, a cramped restaurant in the usual sort of Monterey Park mini-mall. Are they technically dumplings? Perhaps not. But the pies are hot when you pick them up, finger-scorchingly hot, like a potato snatched straight from the embers, and there is probably nothing that can prepare you for the act of biting into a too-hot xian bing, and the jet of pressurized soup that may arc over your shoulder. Fancy a duel? Let's specify xian bing at dawn. 846 E. Garvey Ave., Monterey Park, (626) 288-3818.
Hui tou: The titular hui tou at the dumpling house Hui Tou Xiang turn out to be Chinese blintzes, more or less -- dumpling skins rolled around thumb-sized lozenges of pork minced with onions, then flattened into oblongs and pan-fried to a pleasant tawny brown. This is another case of extreme meat-juice pressurization. Expect a gusher of broth when you breach the crisp skin with your teeth. 704 W. Las Tunas Drive, San Gabriel; (626) 281-9888.
Numb-taste wonton. If you have ever experienced the gustatory marvel that is the Sichuan peppercorn, you may remember its effects: a slight tingling, followed by a rather stronger sensation of shock, which eases into a sort of pleasant vibrating numbness that transforms everything you eat or drink for a minute or so. If you have ingested enough of it, the glass of ice water to which you inevitably turn will taste a bit like prunes. At Chengdu Taste, the popular Sichuan restaurant in Alhambra, the floppy delicate numb-taste dumplings come with an electric charge that obliterates everything in its path, like a mysteriously pleasurable punch in the mouth -- but this will not stop you from going for a second and third round. 828 W. Valley Blvd., Alhambra, (626) 588-2284.
PHOTOS: Six great dumpling spots

Sheng jian bao: The famous Shanghai specialty sheng jian bao is a dumpling of lightly yeasted dough wrapped around a filling of pork and jellied broth, sprinkled with sesame seeds, then pan-fried. The bottom develops an irresistible crunch where it hits the hot pan, the jelly turns into hot soup. The result is a little like a combination of a soup dumpling, a potsticker, and a dim-sum-cart bao, and the idea is to eat the thing before the lump of pork congeals and the broth soaks into the semi-fluffy crust. You'll find really good ones as part of elaborate dinners at Shanghai No. 1 Seafood and Shanghailandia, but for a quick hit, nothing beats Emperor Noodle. 800 W. Las Tunas Drive, San Gabriel, (626) 281-2777.
Potstickers: I have friends who re-route their trips back from Palm Springs to accommodate a trip to the noodle house Earthen, whose sturdy shrimp dumplings, garlicky chicken and ethereal scallion pancakes are the stuff of Chinese food lovers' dreams. But the best reason to hop on the Pomona Freeway may be Earthen's pot stickers, eight to an order, served nestled like baby dachshunds. Flat and slightly charred, soft and rounded, wrapped around a juicy, ginger-fragrant mince of pork and scallion, they are the quintessence of fried food. 1639 S. Azusa Ave., Hacienda Heights, (626) 964-1570.
ALSO:
Jonathan Gold's favorite sushi restaurants
---
Get our weekly Tasting Notes newsletter for reviews, news and more.
You may occasionally receive promotional content from the Los Angeles Times.