Review: Jonathan Gold considers his favorite dishes from Food Bowl 2017
Restaurant Critic
I'm not sure what you've been doing this month. I've been spending most of my evenings at the first edition of Food Bowl, The Times' month of food events that's been a welter of special dinners, film screenings, art displays, farmers market events, visiting chefs from some of the best restaurants in the world, panel discussions on everything from Filipino cooking to sustainable seafood to the problem of food waste, and a vast night market in the glow of City Hall. I've mourned dozens of dinners and events I was unable to attend. And I've eaten really well.
Suckling pig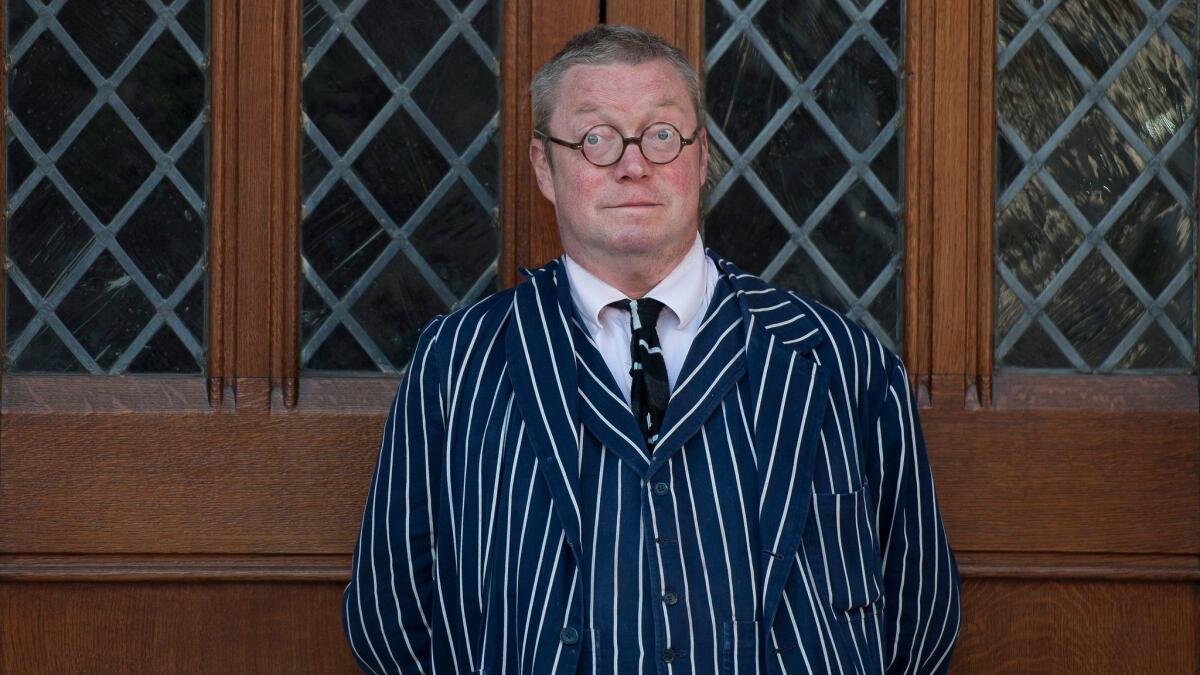 Fergus Henderson, chef of St. John's restaurant in London, has probably been, at least on the food end of things, the star of the month's festivities, a smiling, bespectacled presence responsible for astounding feats of carnivorousness. He persuaded hundreds of people seated around the long tables at Beast Feast, one of the events, to gobble sliders stuffed with thin, chewy slices of grilled ox heart when they were expecting beef. At Animal, a meal featuring grilled quail with favas and a lovely version of his iconic roasted marrowbone with parsley salad was accompanied by a suave, creamy gratin of tripe and onions almost good enough to reverse every grisly thought you may ever have had about that particular part of the bovine anatomy.
But the highlight of Henderson's visit came near the end of a long, lovely evening at Redbird, in an upstairs dining room carved out of a former cardinal's quarters in the deconsecrated cathedral. Beautifully roasted suckling pigs were carried to a stout side table. Chefs ceremoniously sliced them open, and an impossible number of quails tumbled out of the animals' cavities: seasoned with grainy mustard, fragrant with garlic and wet with piggy juices, like something from a Roman feast. (I was thinking of the orgy scene from Fellini's "Satyricon"; others contemplated the notorious medieval feasts featuring pigs stuffed with live birds.) The surprise was that the sharp, gamy pungency of the quails flavored the pork as much as the pork flavored them, an ancient taste that I had never suspected existed.
Beautiful, psychedelic, spin-painted 'veal,' not flame-grilled
Beef, transformed into "veal" by a soak in smoked milk, is rolled in vegetable ash poached in a plastic bag with charcoal oil, and sliced. It is black-edged but not grilled, red-rare but not, and arranged on a plate splashed with colorful sauces in a manner inspired by the spin paintings of British painter Damien Hirst, although the version I saw looked closer to 1960s paintings of abstract expressionist Joan Mitchell. You swirl the "veal" through the sauces, flavored with various herbs and aromatics, and the flavors come together in new and startling ways. Massimo Bottura, whose Osteria Francescana in Modena, Italy, was named the world's best restaurant in 2016, spent much of his time at the festival addressing the subject of food waste in fairly packed auditoriums, but the "veal," prepared at a joint dinner with Michael Cimarusti at Providence, demonstrated one of the tastier uses to which carrot peelings, blemished celery and ragged parsley might be applied.
Smoked marlin tacos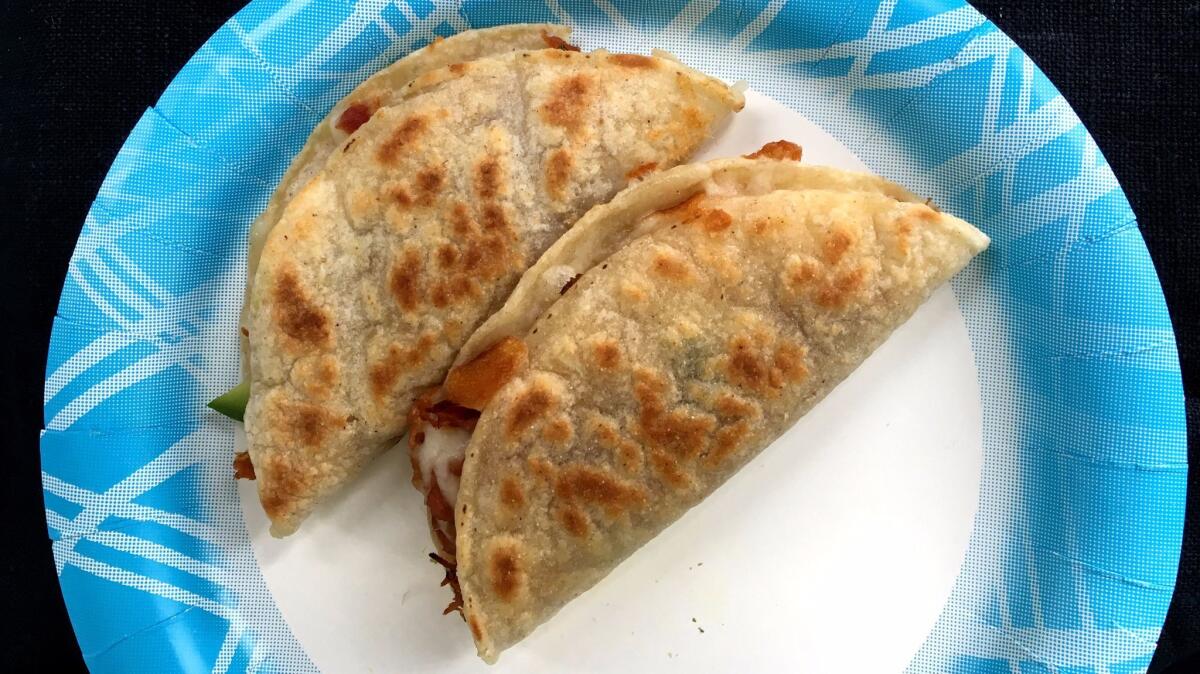 If you were of a particular persuasion, there may have been no pleasanter way to spend a warm evening than at the Night Market wandering among the barbecued brisket at the Bludso's booth, the cold Sichuan noodles at Mian and the Hainan chicken rice at Side Chick, all splayed across the length of Grand Park by City Hall. You could stroll uphill for lobster nachos at Lobsterdamus or delicious, eco-friendly ice cream made from blemished strawberries at Salt and Straw. Jitlada served its vaguely larb-like Jazzburgers for the first time outside the restaurant. But the place I couldn't stay away from was the Coni'Seafood concession for the shrimp ceviche called aguachile, for the delicate ceviche tostaditas, but mostly for the crisp little tacos stuffed with a spoonful of smoked marlin. A splash of tart habanero salsa didn't hurt the marlin at all.
Mouth-watering chicken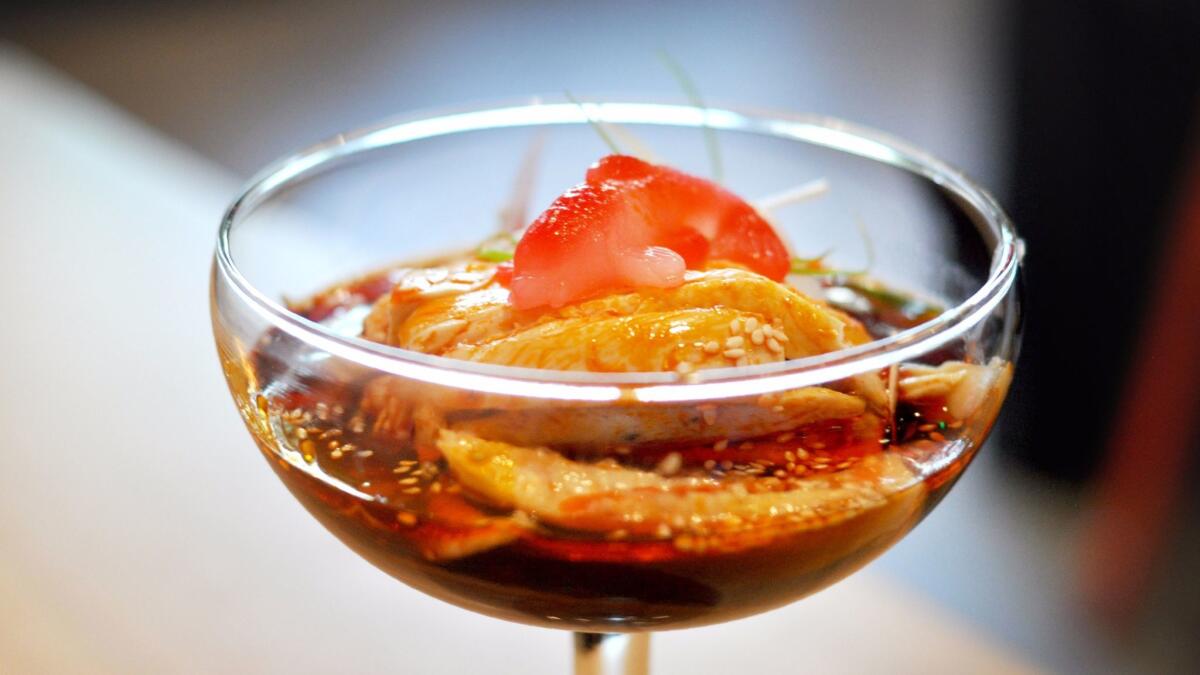 It is occasionally difficult to imagine visiting a Sichuan restaurant without ordering at least one portion of this dish, which is not uncommonly translated as "saliva chicken.'' The cold, sliced poultry, served in a broth of oil, vegetable broth and a few different kinds of chiles and tingly Sichuan peppercorns, is almost impossible to resist. But I'm not sure I've ever had a better version than the one cooked by Szechuan Impression chefs Kelly Xiao and Lynn Liu at the One Night in Sichuan dinner at Daw Yee in Silver Lake. The chicken was just slightly rare, with the floppy, juicy texture of the best Chinese poached chicken; the presentation in an oversized martini glass was unusual; and the oil-free poaching broth, spicier and a bit saltier than usual, was light enough to enjoy as a soup.
Taco salad bowl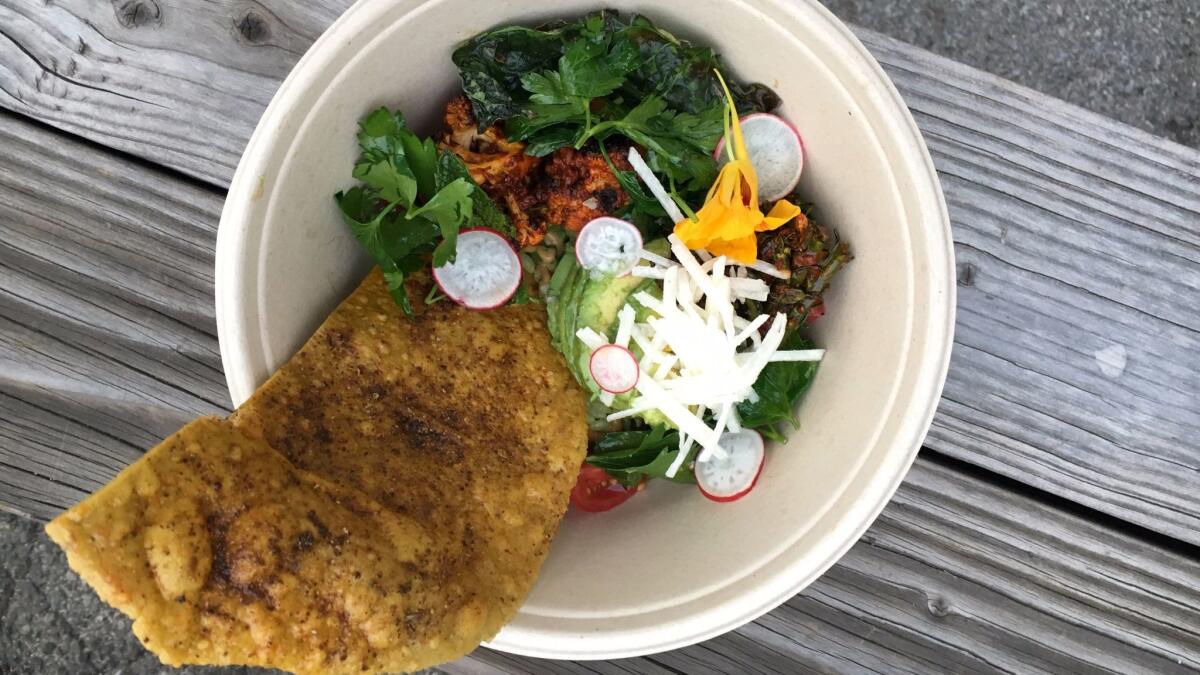 Rosio Sanchez is a Chicago-raised Noma veteran, owner of what I am confident in saying is the best taqueria in Copenhagen and just off of a run at Noma Mexico. Jessica Koslow of Sqirl is a master of jam, grain bowls and toast. In their collaboration in the parking lot of an art gallery deep downtown, they made ... a grain bowl, kind of, with fermented things, spicy things, grilled vegetables, some greens and a crunchy tortilla that rode above everything like a sail. Did it resemble what you might get at a place like Sweetgreens? Superficially. But also, kind of not.
Lamb à la ficelle
Beast Feast was like a big, meaty garden party in the Coral Tree Plaza, a pocket park hidden above the Border Grill downtown, and the long tables seemed to stretch into infinity. Kevin Bludso barbecued brisket and rib tips crusted with a thick, pebbly layer of peppercorns, and if you were lucky enough to snag a plate of the oxtails — they were even better. Mary Sue Milliken and Susan Feniger of Border Grill served beautiful grilled quail with bread salad; Dario Cecchini, the Dante of Tuscan butchery, made a beef salad; Michael Puglisi of Electric City Butcher dismantled a pig; and Fergus Henderson provided the heart sliders. Was everyone still happy to see the herby, dripping-pink roast lamb from April Bloomfield of New York's Spotted Pig? Indeed they were.
Green salad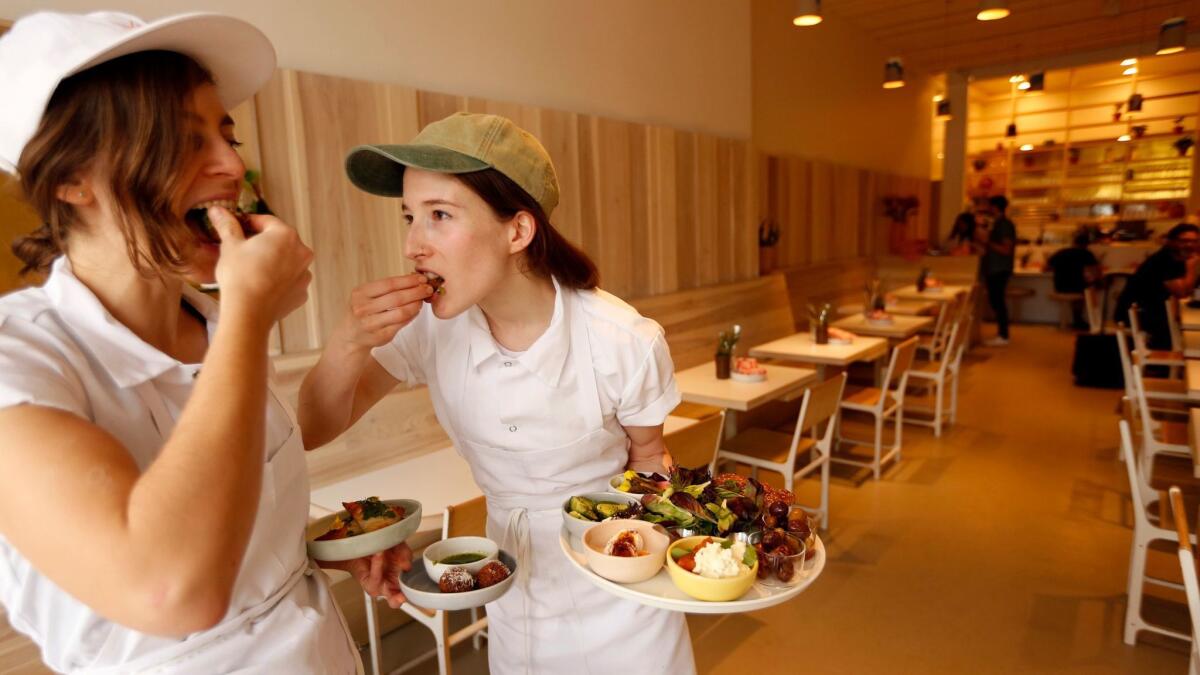 Imagine yourself still at the Beast Feast. Imagine that you have eaten 3½ pounds of meat. Imagine how good a perfectly made green salad might taste at that point, shiny with a tart vinaigrette, whispering of citrus and Middle Eastern herbs, alongside a bit of soft grilled eggplant. Kismet's Sara Kramer and Sarah Hymanson, whose vegetable-intensive Levantine cooking neatly splits the difference between Alice Waters and your favorite street-corner joint in beachside Tel Aviv, tend to be good like that.
Tacos dorados de camaron
Wherever Raul Ortega and the Mariscos Jalisco truck happen to land, their crunchy shrimp taco, moistened with fresh tomato salsa, is likely to be the best thing you will eat that day. At the food-on-film event at the Wiltern, a thoughtful panel discussion with Bottura, Milliken, Magnus Nilsson from Sweden's Faviken, Roy Choi, Niki Nakayama, Dominique Crenn and directors Jon Favreau and David Gelb, the Mariscos Jalisco taco was the exclamation point to a splendid evening.
Hush puppies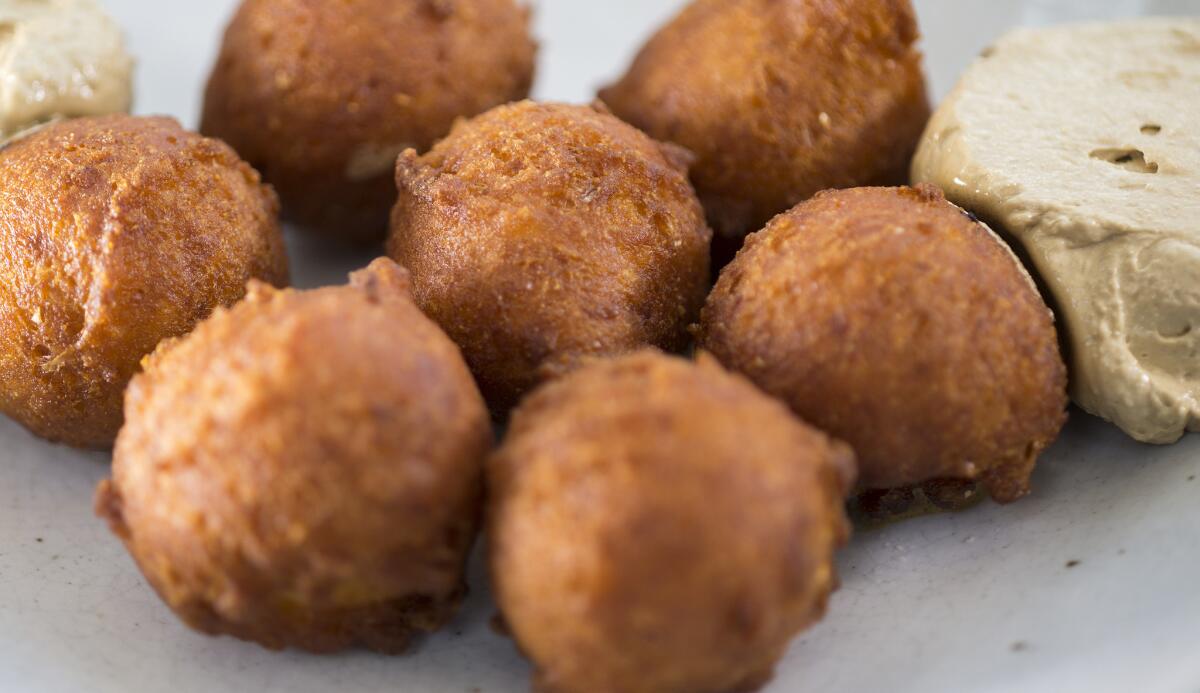 At Food Bowl's opening night party at Manuela. In proximity to good bourbon.
Get our L.A. Goes Out newsletter, with the week's best events, to help you explore and experience our city.
You may occasionally receive promotional content from the Los Angeles Times.