Review: In Old Pasadena, Jonathan Gold finds a third-date place with plenty of bone broth to take home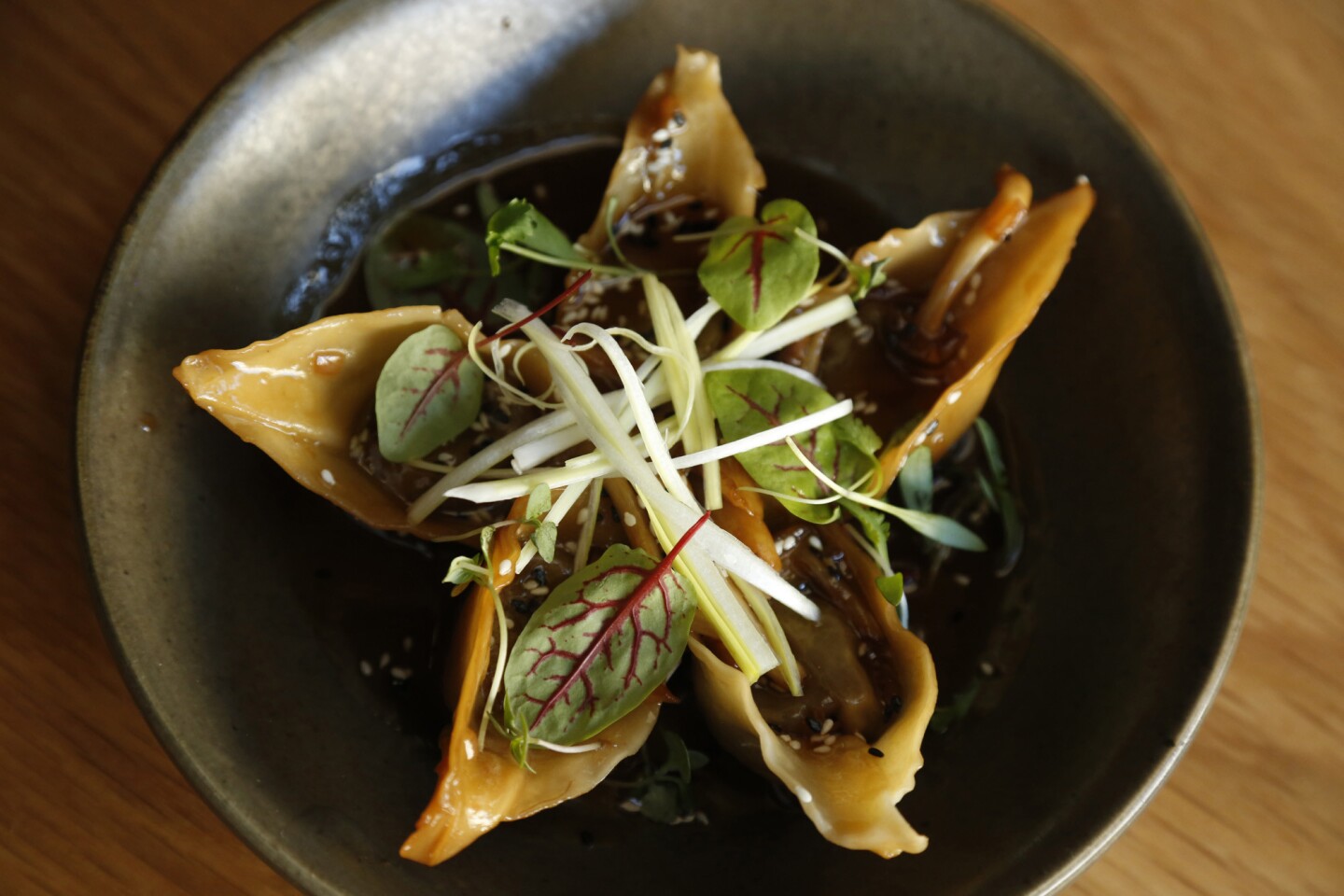 Steamed oxtail dumplings at Bone Kettle in Pasadena.
(Genaro Molina / Los Angeles Times)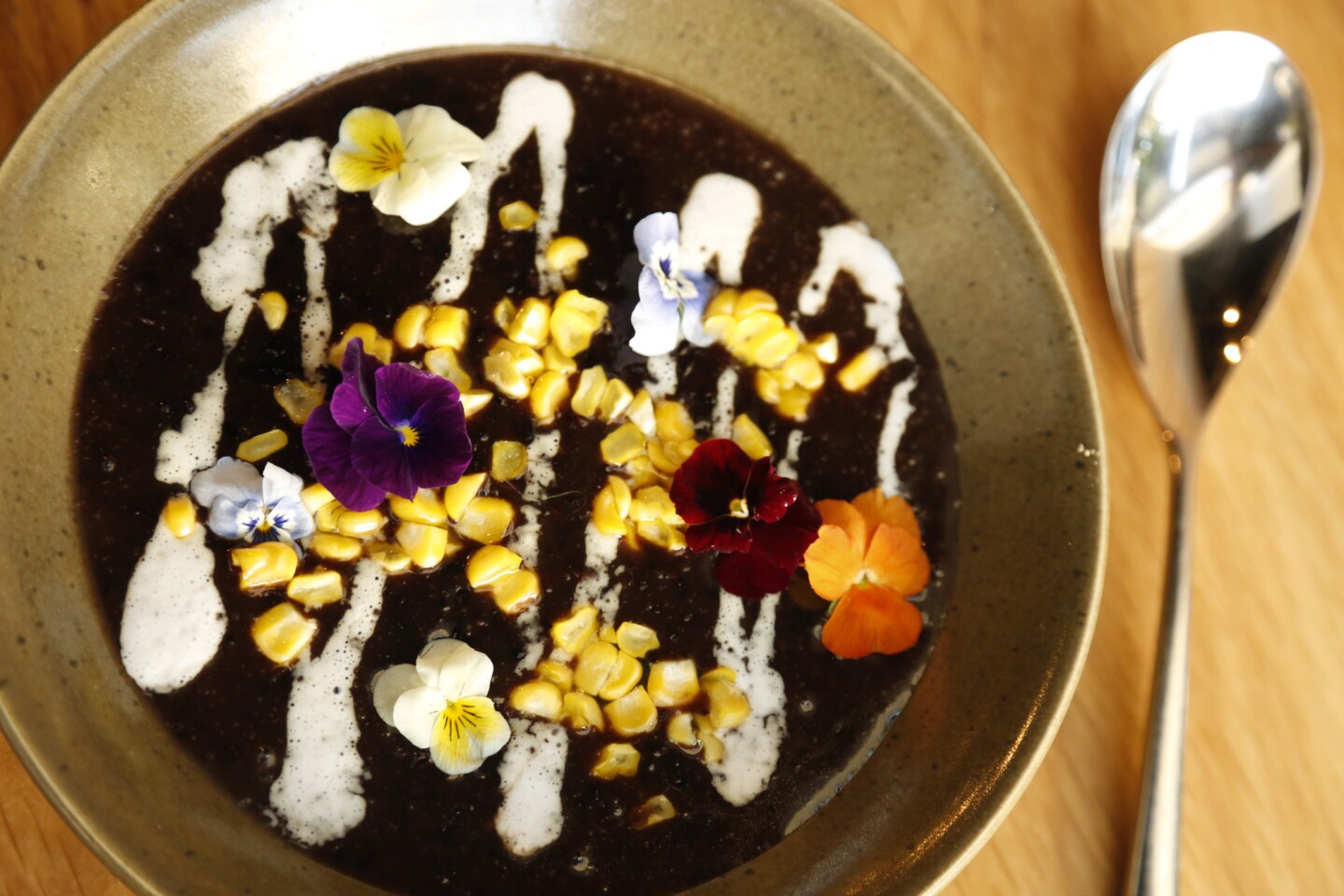 Black rice pudding with flowers is on the dessert menu at Bone Kettle.
(Genaro Molina / Los Angeles Times)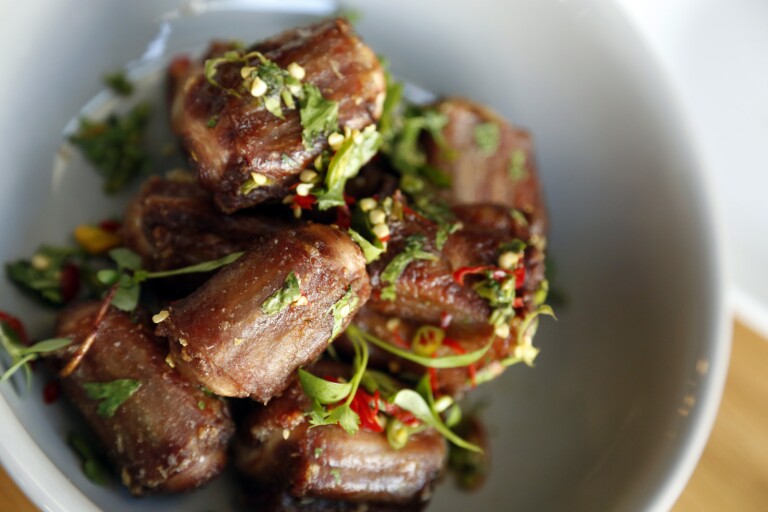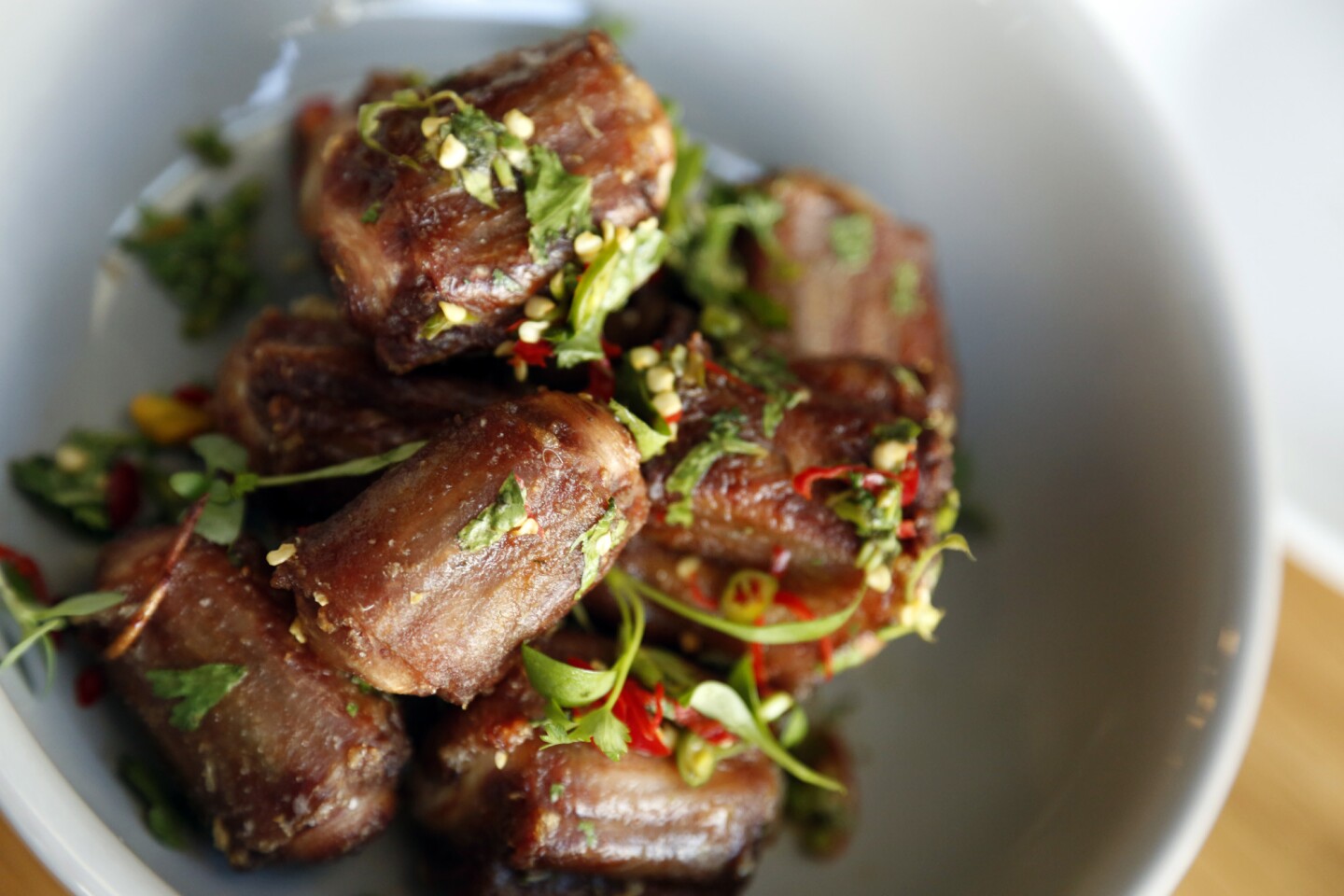 Fried oxtail tips at Bone Kettle.
(Genaro Molina / Los Angeles Times)
Citrus brine chicken wings.
(Genaro Molina / Los Angeles Times)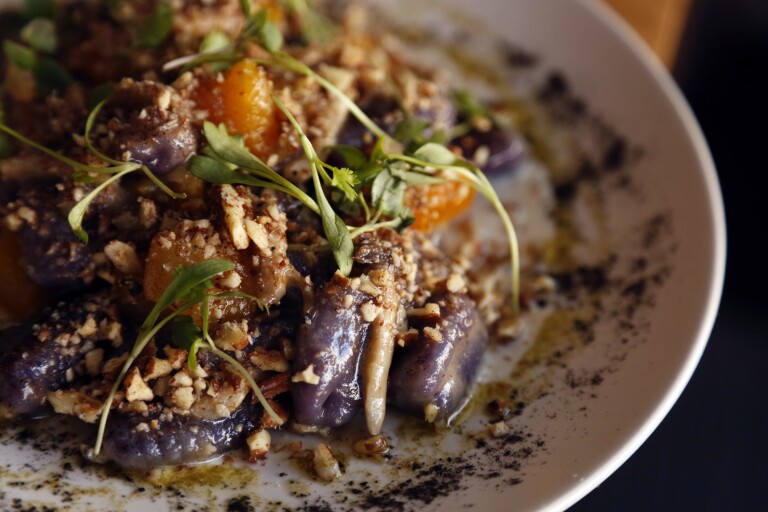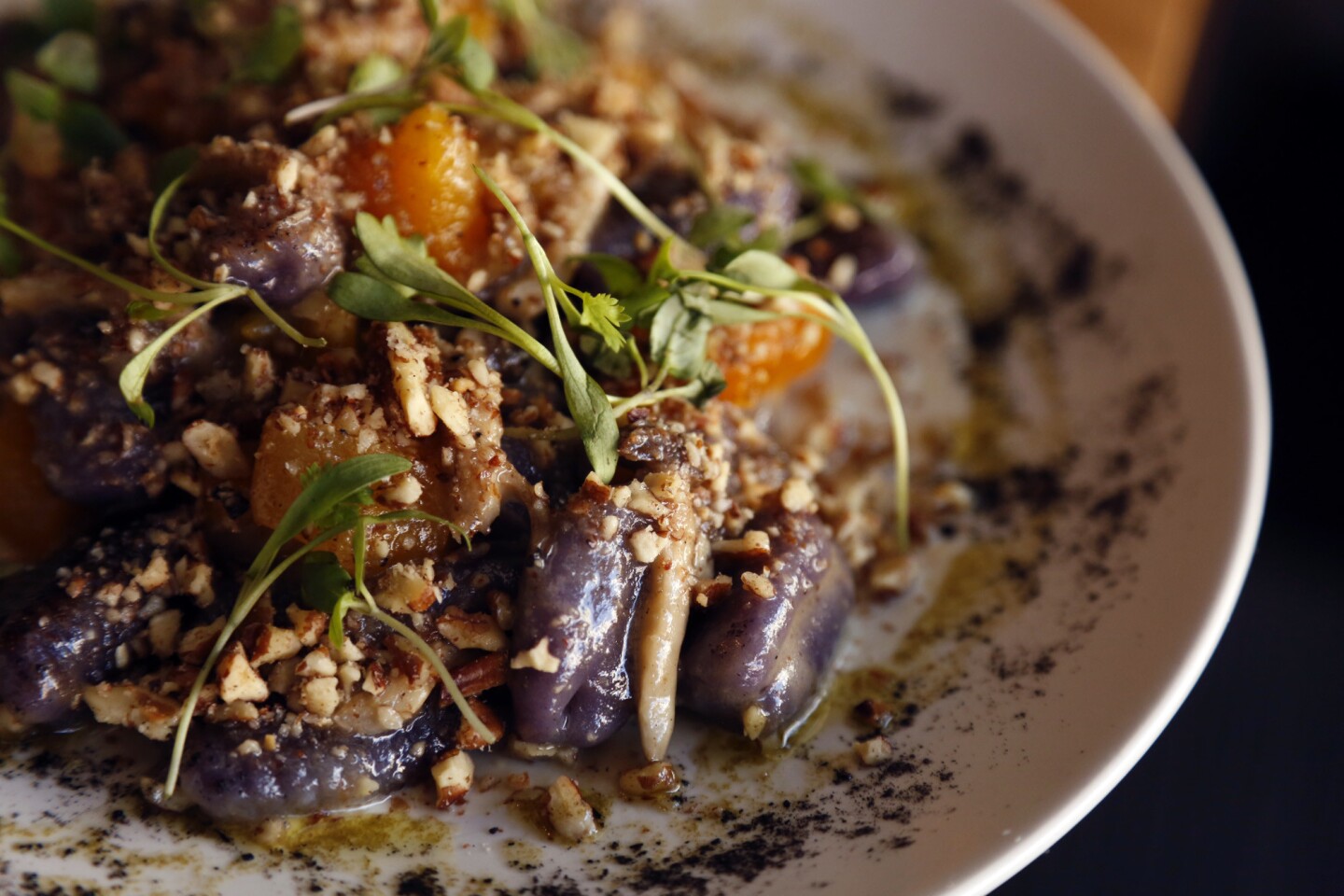 Ube gnocchi is on the menu at Bone Kettle in Pasadena.
(Genaro Molina / Los Angeles Times)
Bone Kettle noodles and broth with beef ribs.
(Genaro Molina / Los Angeles Times)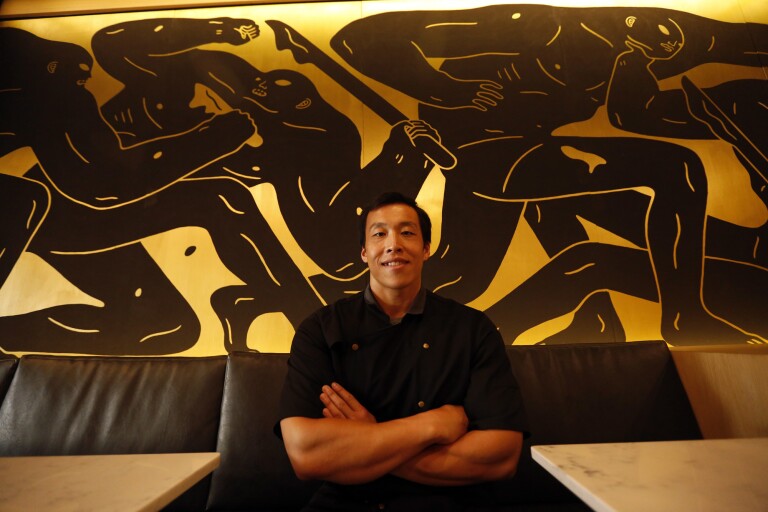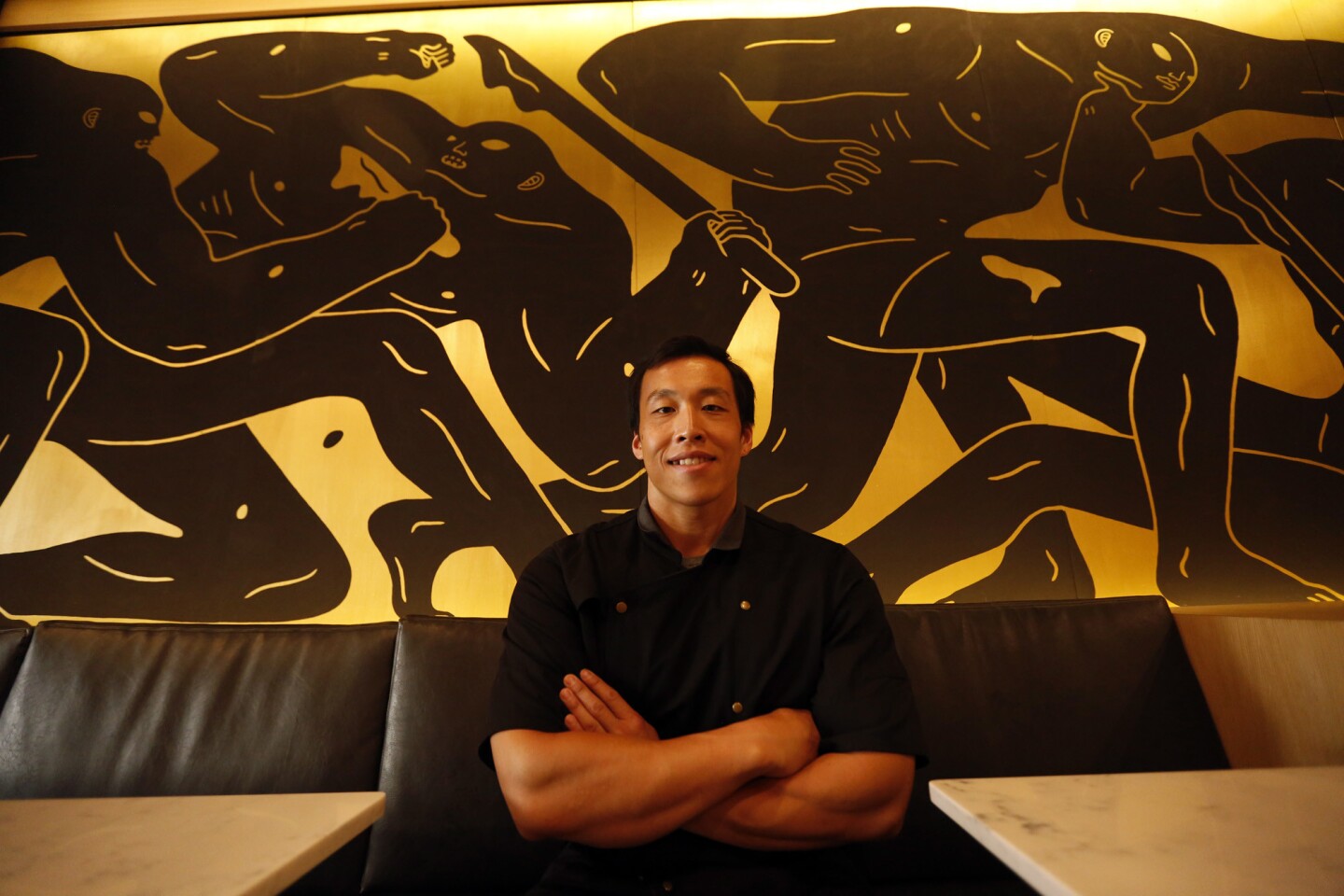 Chef Erwin Tjahyadi sits in front of a mural by artist Cleon Peterson that anchors the main dining room at Bone Kettle restaurant in Pasadena.
(Genaro Molina / Los Angeles Times)
The exterior of Bone Kettle restaurant in Old Town Pasadena.
(Genaro Molina / Los Angeles Times)
Staff prepare Bone Kettle restaurant for evening customers in Pasadena.
(Genaro Molina / Los Angeles Times)
Black pepper clams are on the menu at Bone Kettle restaurant in Pasadena.
(Genaro Molina / Los Angeles Times)
Restaurant Critic
The first time you try Bone Kettle, Erwin Tjahyadi's new proto-Indonesian restaurant in Pasadena, you may spend a certain amount of time figuring out what to do with the leftovers, which will be substantial.
Crunchy wisps of meat from fried oxtail tips would probably be nice with fried noodles, or even stirred cold the next morning into Bone Kettle's gently flavored crab fried rice. The bouncy gnocchi made from purple yams, tossed with duck meat and dried apricot, are a little bland at the restaurant but might improve with a bit of chile sauce and a quick run under a broiler. The quart of organic, grass-fed bone broth left over from a few orders of the main course? It's meant for congee, obviously, simmered with a handful or two of cooked rice the next morning until it coalesces into porridge.
We are here, I think, to talk about that broth. Well-made bone broth tends to be milky instead of pale, thick instead of limpid, and slightly touched with the sharp, calciferous reek of the abattoir. Bone broths of different sorts are at the base of tonkotsu ramen and Korean seolleongtang, Malaysian bak kut teh and Vietnamese pho. Clarified bone broth forms the backbone of most of the French mother sauces.
RELATED: Why all the fuss over bone broth? It's just a fancy name for stock »
When "bone broth" became insanely popular a few years ago at the New York restaurant Hearth, the gatekeepers of the food world rolled their eyes. Bone broth, they sighed, is just another word for stock. Intuitively, we knew this was so, but it didn't stop us from gulping mugs of the stuff at Belcampo, Honey Hi and Electric City Butcher. Even if you weren't a paleo/Crossfit guy, you could still occasionally eat like one.
Bone Kettle is a long, narrow restaurant on Raymond Avenue's restaurant row, paneled in blond wood, decorated by a dark Cleon Peterson mural of bulky, blade-swinging warriors done in the style of an old tapa painting. A chunky marble bar dominates the entrance — it's not a bad place to drop by for a glass of rosé or a local craft beer. Lights are low. The restaurant seems custom-designed for third dates.
Tjahyadi, a veteran of Wolfgang Puck's restaurant at the Hotel Bel-Air, is probably best-known for his Komodo truck, a prominent force dating from the first days of the local food truck movement. (I waited nearly an hour for what I remember as rendang tacos at the first Food Truck Fest half a dozen years ago.) He came up with the notorious "phorrito." He opened a couple of cafes. It may be reductive to imply that he was working in the mode of an Indonesian Roy Choi, mixing Asian and Mexican flavors for a stunningly diverse clientele, but the idea is close enough.
At Bone Kettle, Tjahyadi is following a different groove, influenced but not limited by the Indonesian flavors he grew up with, more restaurant than street food, with an emphasis on communal dining and shared dishes that feels surprisingly natural. So his rendang, the long-braised beef dish that is an Indonesian standard, is dense, salty and umami-rich instead of spoonably soft and smelling of sweet spice, and his citrus-brined chicken wings are heartier, stickier than the traditional double-cooked Indonesian bird. The oxtail dumplings — they go through a lot of oxtail here — are thick-skinned and clumpy, although I liked the demiglace-rich filling. There may be nothing wrong with the tangy, too-sweet papaya salad or the lemongrass-scented steak tartare, although both dishes verge on blandness. The kitchen has made a big deal of chile lobster lately, a take on Singaporean chile crab, but the fried, shell-free chunks of lobster meat don't have the succulence of crab, and ironically, the sauce, smeared with a musky, fermented-seafood-intensive sambal, may be the most Indonesian thing here — the dish screams for a messy jolt of acidity.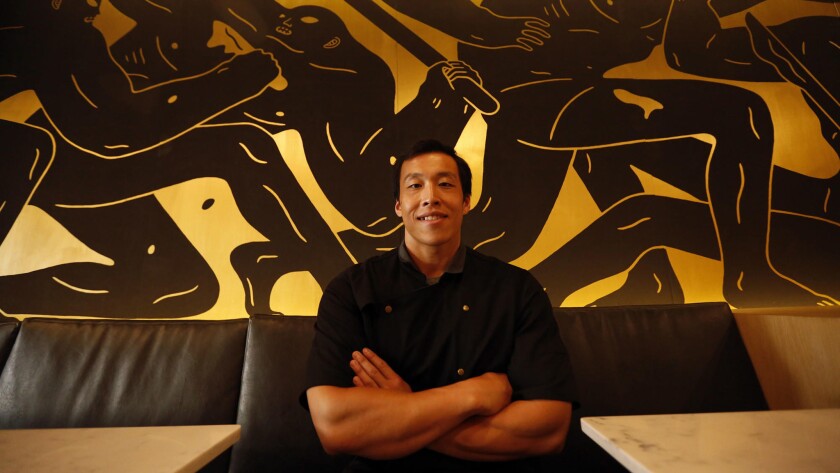 You can make a meal out of small plates here — I've done it. But you are clearly here for the bone broth — poured out of stainless steel pitchers over an arrangement of noodles and herbs stained with a dark, salty oxtail reduction. The broth is murky, pale and bone-fragrant, closer to a seolleongtang than to anything I've ever tasted in a Southeast Asian restaurant, complex and yet simple as milk. You can flavor your broth with fried shallots, chile sambal or a few drops of what smells like but probably isn't fino sherry. The noodles are essentially curly, chewy ramen noodles.
As a side dish, you tuck into slabs of pure meat, big enough for the table to share: skirt steak; a blackened, wrist-size chunk of fatty brisket; or a lovely pot of braised oxtail, making its way to your table once again. There will be leftovers here too.
The next day, you could also make risotto with the leftover broth instead; minced shallot, Arborio rice and a lump of good butter, finishing it at the end with grated Parmesan and some shredded oxtail meat. The risotto will be as Italian as the original dish is Indonesian. There is little that a decent broth can't improve.
::
Bone Kettle
In Old Pasadena, an Indonesian spin on bone broth
LOCATION
67 N. Raymond Ave., Pasadena, (626) 795-5702, bonekettle.com.
PRICES
Starters $10-$19, broth with noodles $11 per person, large-format "proteins" $21-$30 and up; desserts $8-$9.
DETAILS
Open 5 to 10 p.m. Tuesday through Thursday, 4 to 10 p.m. Friday through Sunday. Credit cards accepted. Beer and wine. Valet and nearby city lot parking.
RECOMMENDED DISHES
Crab fried rice; citrus brined chicken wings; noodles and broth; fatty brisket.
MORE FROM JONATHAN GOLD
On an Echo Park corner, Jonathan Gold finds the neighborhood pizzeria reinvented
Taco Tuesday: Kosher birria tacos
At Hip Hot in Monterey Park, the crab is stir-fried with ungodly amounts of chiles
---