Review: Jonathan Gold finds delight in the secretive Santa Monica restaurant Dialogue
Pressed duck
(Christina House / Los Angeles Times)
Malted carrot
(Christina House / Los Angeles Times)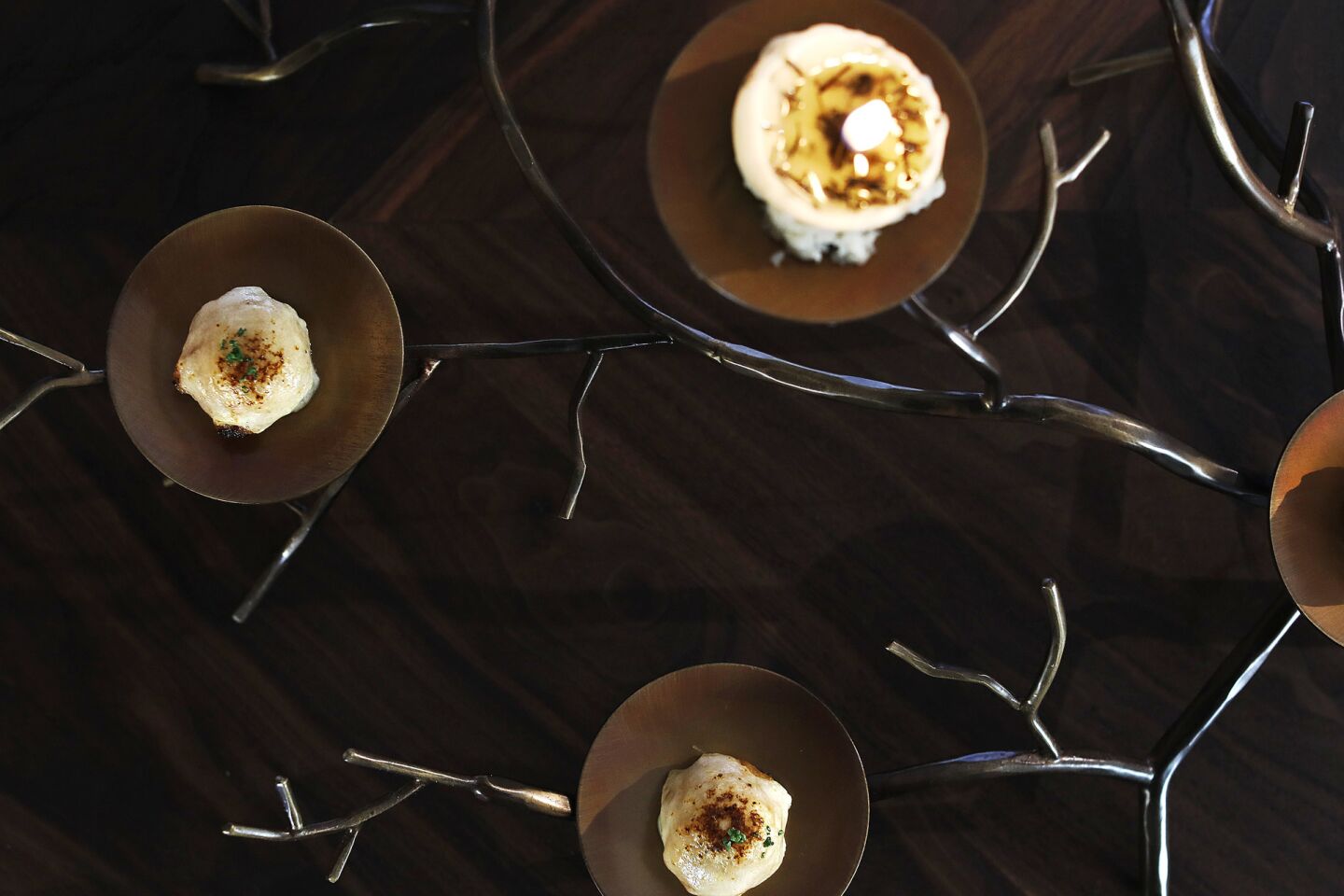 Expect 20 courses at chef Dave Beran's 18-seat tasting-menu restaurant in Santa Monica.
(Christina House / Los Angeles Times)
Flavors for chamomile
(Christina House / Los Angeles Times )
Canard a' la presse, pineapple, and hato mug.
(Christina House / Los Angeles Times)
Fermentation bottles at Dialogue
(Christina House / Los Angeles Times)
Chef Dave Beran spent a year exploring Los Angeles' culinary cityscape before opening Dialogue.
(Christina House / Los Angeles Times)
A look inside Dialogue, which hides behind a scratched gray door on the second floor of a Santa Monica food court.
(Christina House / Los Angeles Times)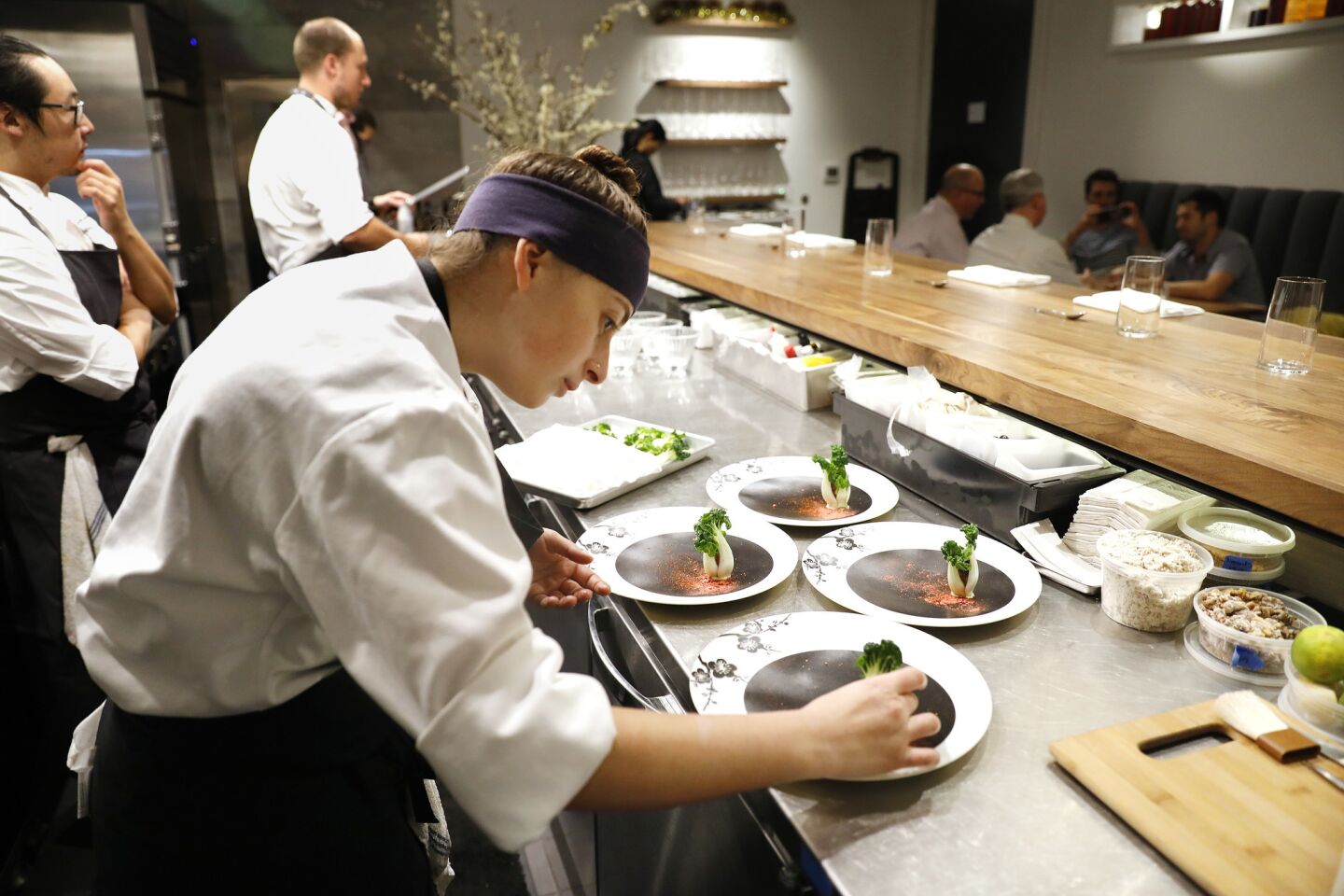 Chef de partie McKenna Lelah prepares dishes at Dialogue.
(Christina House / Los Angeles Times)
Guests enter through a door in an alley to take the service elevator up to dine at Dialogue.
(Christina House / Los Angeles Times)
Restaurant Critic
One of the best things I've ever eaten was a pressed squab that was part of the Hunt menu at Chicago's restaurant Next, a bloody, barely roasted bird whose breasts and legs were ceremoniously carved off by a chef at a tableside cart, and its carcass was put into a huge, hand-cranked press to be squeezed like an orange. Ten minutes later, the finished dish and its dense sauce, famously one of the most glamorous preparations of Escoffier, were brought out from the kitchen.
I bring this up because Dialogue, a new tasting-menu restaurant in Santa Monica, is the current project of Dave Beran, who was then the chef at Next, and right in the middle of the intimate open kitchen is exactly the gleaming duck press you may have hoped you would see, possibly the only one in the city at the moment. There are no carts — Dialogue, which sits just 18 people, is about the size of a two-car garage. Beran presses his ducks behind the counter, capturing the juices that flow from the silvery spout and reducing them with aromatics until they thicken into a suave gravy, less inflected by booze and innards than the version you may have tasted at Tour d'Argent the first time you went to Paris with a credit card, but perfectly autumnal.
Los Angeles, we have noted, has lately become one of the best food cities in the world, at the heart of a great agricultural region, with an astonishingly diverse population, and with an openness to new ideas that you might expect in an entertainment capital. But until lately, there were few non-Asian restaurants that aspired to the highest level of international cooking, the rarefied realm of the World's Top 50 list, multiple Michelin stars, and reservation lists backed up for three months; of $800 dinner tabs; of 20-course tasting menus that read like symbolist poetry; of sommeliers cross-cutting between elegant Burgundies and stank pét-nats with the fluency of an old-school hip-hop DJ.
But Beran is nothing if not hyperambitious. He earned awards from the James Beard Foundation and Food & Wine in the same year. He cooked for years at Alinea with Grant Achatz, and was the executive chef at Achatz's Next, a dream restaurant whose theme changed completely every few months, from Paris 1906 to El Bulli to South America; he oversaw 15 menus in all.
He spent a year in Los Angeles before he opened Dialogue, getting to know the culinary landscape, working his way through the farmers markets, putting up the array of pickles and fermentations that line one of the restaurant's walls, including an exquisite syrup made from the wild roses that California Family Farms or the guy at Lily's Eggs sell sometimes, which Beran used to marinate a cube of fresh dragon fruit; a rhubarb chip, aged for nine months, which he served impaled on a bristly metal sphere; and barrel-aged burnt onion juice, which turns into a dense, black liquid that could pass for an exotic take on Worcestershire sauce.
He burns stuff. He makes powders. He will serve you a glass of pink, strawberry-flavored bubbles, not a sturdy foam but the kind you used to make in chocolate milk with a straw, and hide caviar and a bit of pork belly underneath. The sommelier will spike your glass of bubbly with blackberry vinegar if he thinks it will go better with a tiny bowl of blackberry Thermidor with demi-glace and a scrap of braised short rib. The licoricey scent from the giant bouquet of wild fennel fronds inside the doorway subtly flavors your food all night.
If you have the patience for 20 small courses, roughly structured like a kaiseki meal, and the resources to pay for the not-inexpensive meal online in advance, Beran will take you places you have never been.
To get to Dialogue, you walk out of a city parking structure, across an alleyway, and into an ice cream shop whose sticky perfume may remind you of the Santa Monica Pier on a hot July afternoon. You take an escalator to the second level. And you will miss the restaurant the first two or three times you walk by it — the scratched gray door looks like the entrance to a utility closet, and you manage to get into the place only if you remember to pull up the code that will have been emailed to you that morning and punch the numbers into the door. You are greeted with the relieved joviality usually accorded to the last guest to arrive at a dinner party. You settle into a booth or at a stool at the counter. You have made it into the club.
Like Next, Dialogue changes its menu every few months, although the kaiseki-esque organization of the meal means that the changes tend to be seasonal rather than thematic. A Dialogue meal tends to be closer to a conversation between chef and patron than to a culinary tour de force; not quite tracking the meditational groove of a place like Shibumi or n/naka, but not that far from it either.
The first menu, served when the restaurant opened in September, started with a dish of pea tendrils, green peanuts and caviar; went through the blackberry Thermidor, the rose-scented dragon fruit; and tofu skin with fermented plum and Thai basil before resting on an inch or two of Alaskan crab leg dusted with finger lime and powdered popcorn, which lent a rogue butteriness that I was nostalgic for about a half-second after I scooped it from the plate. There was a Thai papaya salad tricked out with burnt lettuce, and rare squab with pink blossoms.
The second menu went from the strawberry bubbles through baby choy sum stuffed with the spicy Thai dip nam prik, a bite of cheerfully Middle Eastern-spiced lobster concealed under nasturtium leaves, and a concoction of olive oil custard, whipped honey and honeycomb served on a massive plate that resembled a ghostly lily pad.
ALSO: Jonathan Gold's 10 best dishes of 2017
There are a couple of sweet courses after the first rush of savories (white chocolate is odd at that part of the meal), and then the season changes — shot glasses of salty mushroom consommé with thyme foam tucked into a garden of dried mosses for fall, frizzled koji fermented mushrooms with that barrel-aged burnt onion juice, and fried, cheese-topped cubes served on an abstract twig sculpture that burst in your mouth, releasing the best onion soup you've ever had.
Fried sweetbreads in a kidney-scented sauce are served on a slice of (not edible) birch bark, a crisp sheet of fried parsnip and scattered with autumn leaves. Pink-skinned trout is smeared with fermented persimmon sambal and layered with precisely trimmed red reef lettuce leaves — it looks like something out of an H.R. Giger science-fiction painting. Short ribs are buried under sea urchin roe and sprinkled with whole and fermented shiso leaves and ogo seaweed. And then there's the pressed duck.
You get a little puddle of the sauce, a matchbox-size sliver of crisp-skinned breast and a chunk of braised fresh pineapple crowned with a crisped sage leaf. The duck's leg and thigh have been made into a ragout, which you spoon out of a lidded bowl. You mix them together or don't; experience them as the flavors of a glamorous al pastor taco or not; resist the temptation to lick the plate or decide that at $220 prix fixe you just don't care. You are experiencing one of the grandest dishes of French cuisine lovingly prepared on the second level of a mall food court. And it is magnificent.
::
Dialogue
Chef Dave Beran's 18-seat, tasting menu restaurant in a Santa Monica food hall
LOCATION
1315 Third Street Promenade, Santa Monica, www.dialoguerestaurant.com.
PRICES
Dinner for two, prepaid on Resy, $350-$420; optional beverage pairings $125 and $175 per person, not including tax. No tip.
DETAILS
Dinner seatings 5:30 to 9:30 p.m. Tuesdays to Saturdays. Beer, wine and sake. Nearby city lot parking.
RECOMMENDED DISHES
From current menu: choy sum with roasted strawberry nam prik, fried onion soup, pressed duck.
ALSO
Jonathan Gold's picks for where to get holiday tamales this year
How Thomas Ortega is redefining what Mexican food looks like at Playa Amor and Amor y Tacos
Uovo is a fast-pasta concept that Jonathan Gold admits actually works
Get our L.A. Goes Out newsletter, with the week's best events, to help you explore and experience our city.
You may occasionally receive promotional content from the Los Angeles Times.