Review: Jonathan Gold is intrigued by the Israeli-inspired flavors at the Exchange
Grilled O'Henry sweet potato, creamy almond, Chile morita and cilantro at the Exchange, the Israeli-leaning restaurant from chef Alex Chang in DTLA's Freehand Hotel.
(Kirk McKoy / Los Angeles Times)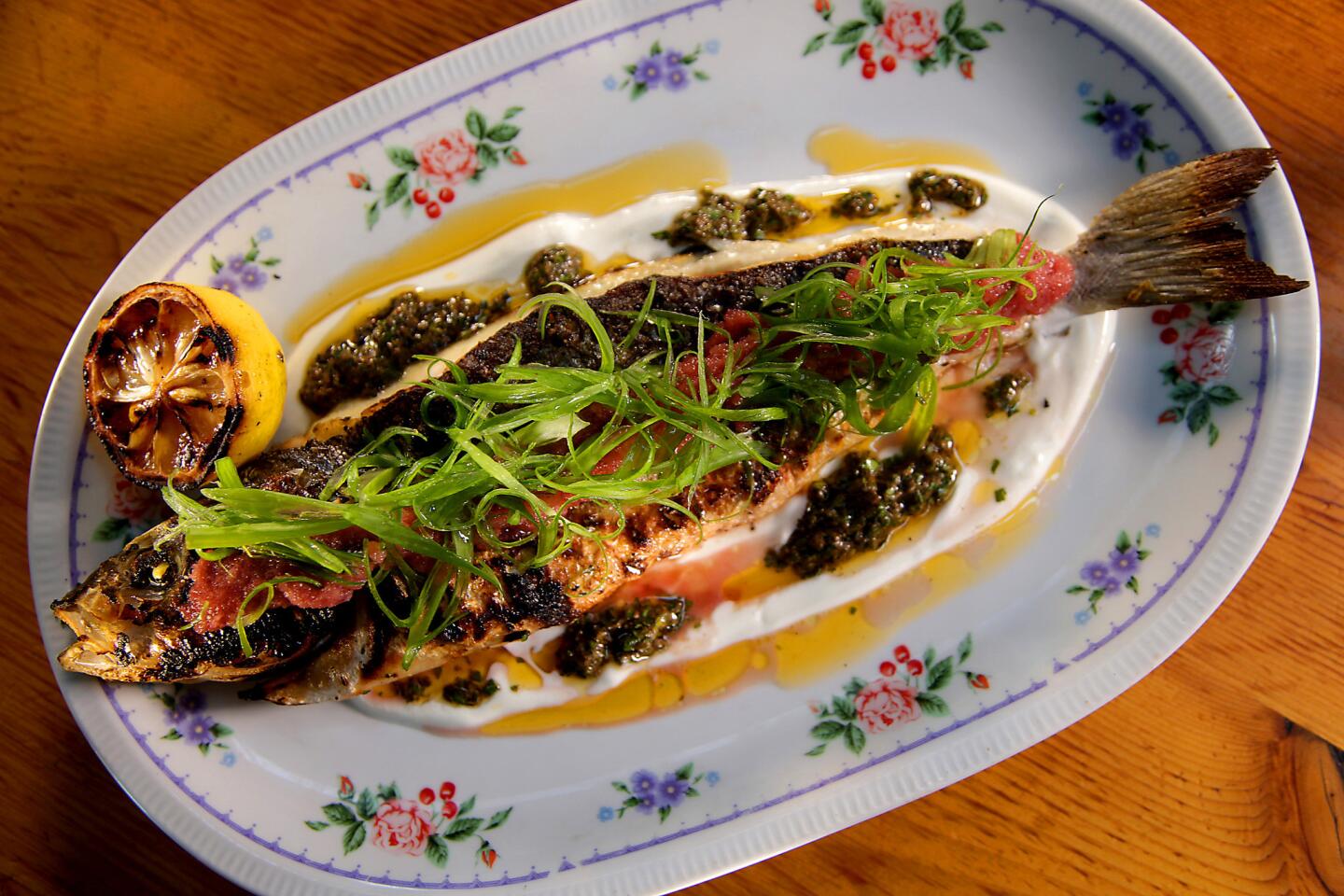 Grilled fish with black olive and seaweed chermoula, fennel pollen and citrus at the Exchange.
(Kirk McKoy / Los Angeles Times)
Grilled fish with black olive and seaweed chermoula, fennel pollen and citrus at Exchange.
(Kirk McKoy / Los Angeles Times)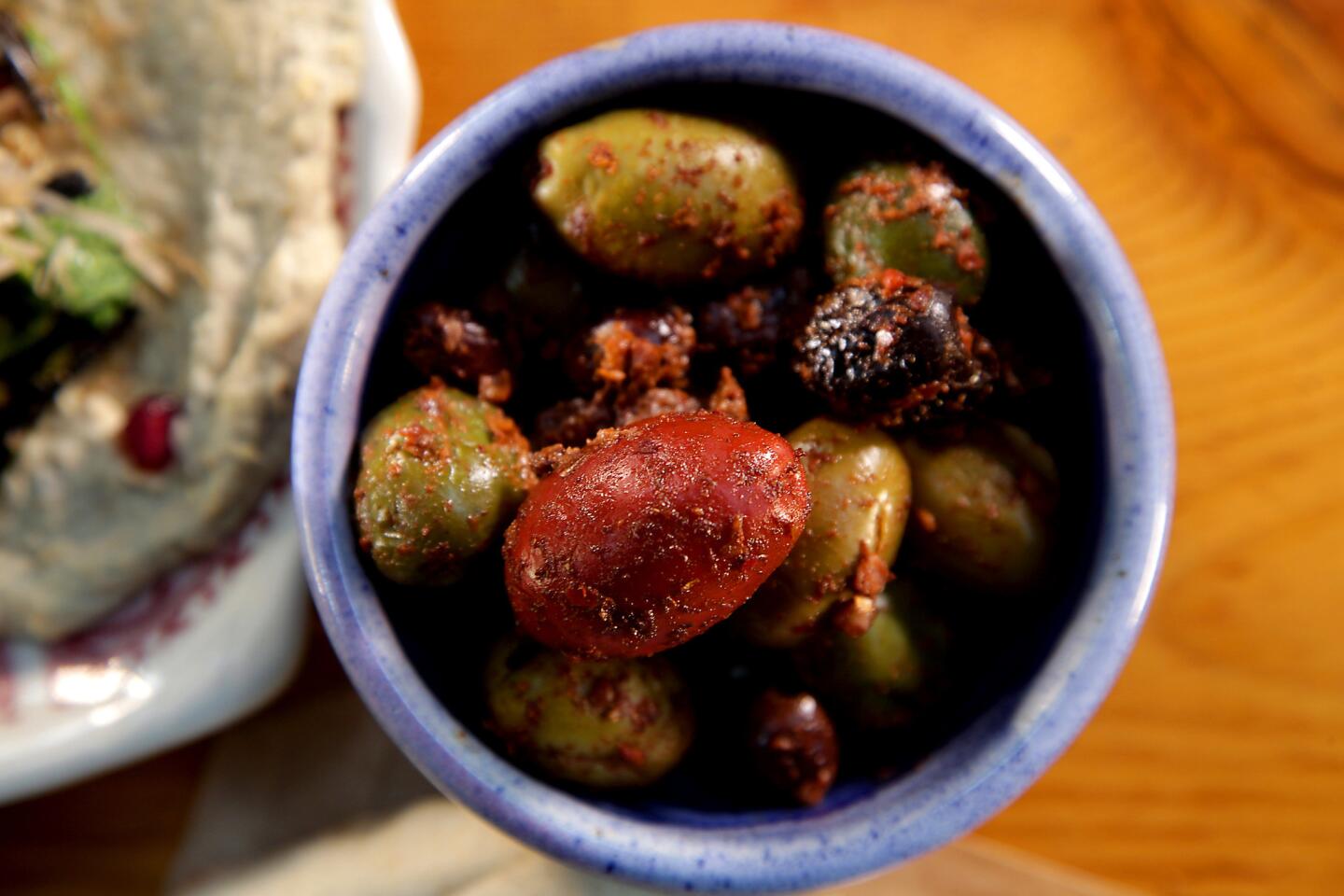 The salatim platter includes olives.
(Kirk McKoy / Los Angeles Times)
A seasonal plate of pickled and fermented vegetables, plus olives, Arabic salad, burnt eggplant and pita bread.
(Kirk McKoy / Los Angeles Times )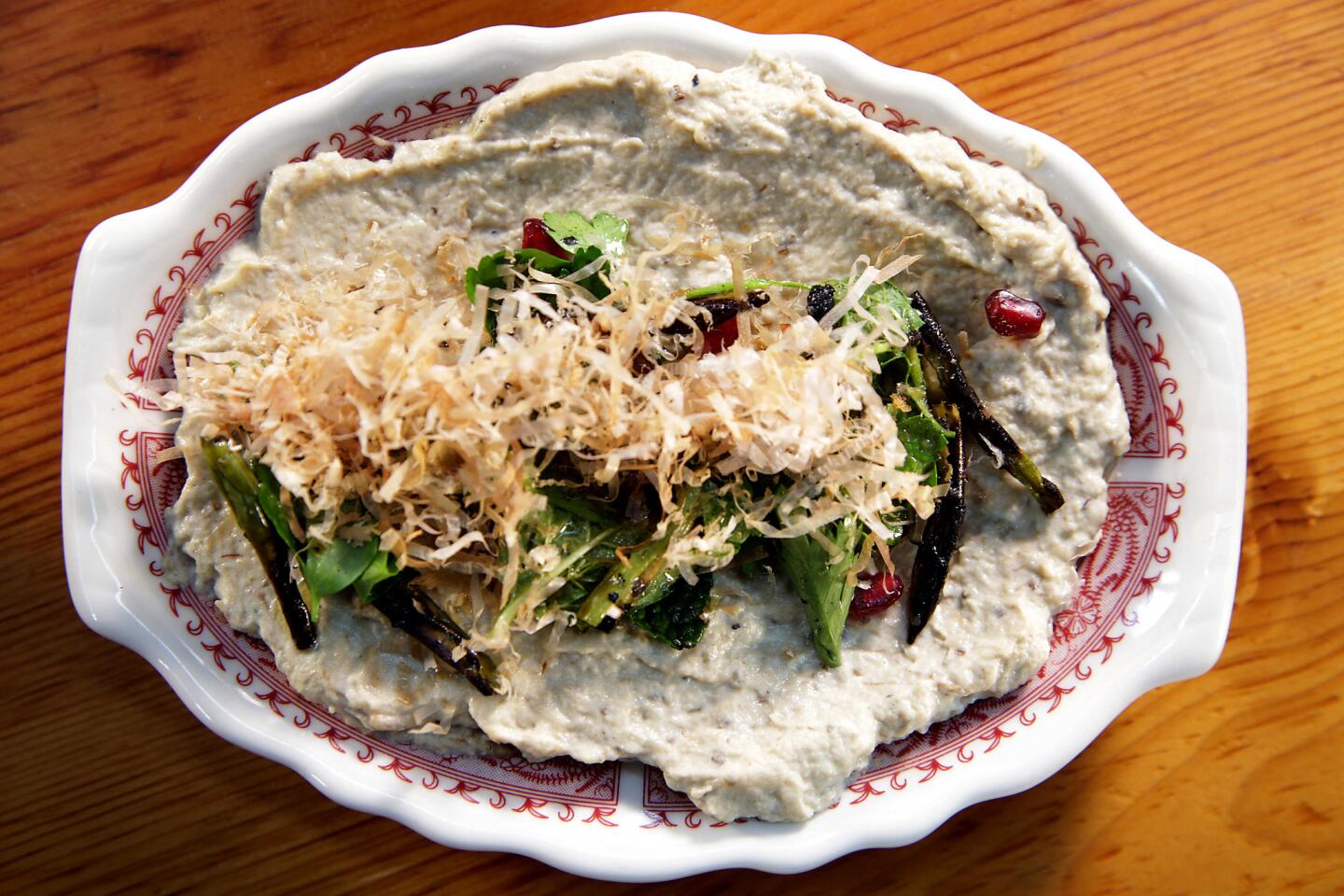 Burnt eggplant mixed with Blue Lake beans, bonito flakes and seasonal fruit.
(Kirk McKoy / Los Angeles Times)
Arabic salad with cucumber, tomato, sumac, onion, Palestinian olive oil and citrus.
(Kirk McKoy / Los Angeles Times)
Rancho Gordo chickpea hummus with Syrian pepper.
(Kirk McKoy / Los Angeles Times)
Alex Chang from the Exchange Restaurant.
(Kirk McKoy / Los Angeles Times)
Interior of the Exchange restaurant.
(Kirk McKoy / Los Angeles Times)
Restaurant Critic
Amba is a fermented mango condiment associated with the Iraqi Jewish community, a Middle Eastern chutney with a pleasant muskiness and a pronounced chile bite. Amba used to be pretty rare in the U.S. — an acquaintance once picked a fight with me when I mentioned tasting it in a part of Brooklyn where he'd thought it couldn't possibly exist — although its use picked up a bit when the second-wave Israeli restaurants started opening a decade ago.
Amba has its origins in southern India, shows up in Yemenite cooking, and it is apparently popular in Saudi Arabia. It shows up sometimes in sabich, the hard-boiled egg sandwich that is one of the signature dishes in Israeli cooking. At the proto-Israeli restaurant the Exchange, amba is mixed into the mayonnaise served with shoestring fries. Is amba aioli the new Thousand Island dressing? We should only be so lucky.
The Exchange is wedged into a corner of the newish Freehand L.A hotel, under a 12-story vertical sign that is said to be the biggest downtown. It is part of a complex that includes the Broken Shaker, an offshoot of the popular bar in Miami's Freehand hotel. At times the crowd in the two-story space looks as if everyone's just escaped a particularly boring gallery party at Art Basel. The tattoos on the waitstaff, ubiquitous enough to seem like part of the uniform, are as crisp and understated as book illustrations.
The music is loud enough to be present but not overbearing and leans toward '70s soul deep cuts better known as hip-hop samples than in their original form. The mismatched patterned plates look like the ones your Aunt Miriam might have used when you were a child — not the ones she used for company, the ones she'd put her tuna salad on. The coasters under the water glasses have the lumpy, crocheted look of summer-camp projects. This is contemporary Tel Aviv as it rhymes with the San Fernando Valley circa 1973.
So there are salatim, more or less the small plates that Lebanese restaurants call mezze, of unusually silken hummus made with heritage-seed chickpeas from the cult grower Rancho Gordo; fluffy baba ghanouj that leans into the bittersweetness of burnt eggplant; sesame-fragrant tahini glazed with grated tomato and fruity olive oil; and a tiny plate of diced avocado with herbs and toasted seeds that you'll probably end up reordering before dinner is through.
But the chef at the Exchange is Alex Chang, a Californian with a Mexican mother and a Chinese dad, who spent formative years in Tokyo and became notorious for an Italian pop-up he started in his apartment when he was still a student at USC. In Miami he was considered, to his annoyance, an Asian fusion chef. So if the Israeli thing is basically a conceit (one of the proprietors, Elad Zvi, who runs it with Gabe Orta, is from Israel) — it kind of works. Tel Aviv, like Los Angeles, is a place where cultures smash together: European, African, every conceivable flavor of Middle Eastern, and more than a splash of East Asian technique.
The smashed cucumbers at the Exchange, which are not far off from what you might find on a Shandong appetizer platter, do not seem out of place. Neither does the sludgily addictive mejadara texture of the crab fried rice, the appearance of dashi almost everywhere, and a version of the Tunisian/Sephardic fish stew chraime, made one evening with enormous grilled prawns, that more resembles a spicy, tomato-thick cioppino than anything you might taste in the eastern Mediterranean.
I am pretty sure no Middle Eastern chef has ever described the sweet mash he serves with his roast chicken as "carrot mole," although the mortar and pestle figure as prominently in Yemenite cuisine as in Oaxacan cooking. Mexican chiles taste rather good in a dense, oily harissa. A red cabbage salad is snapped from Eastern Europe to the Middle East with a lashing of cumin and a sprinkle of the crushed-nut condiment dukkah, and in all, I'm rather glad that it was.
If you are so inclined, you can pile up almost as many salatim as you can at a mainstream Israeli grill like Itzik Hagadol, but the tiny plates add up fast: char-flecked grilled beets with berries and goat cheese; a surprisingly savory fruit salad with herbs; a smear of labneh, sour cream, with what tastes like Japanese-style pickled turnips; a standard Arab cucumber salad — they're like the swarm of banchan, tiny side dishes, at a Korean meal.
Then come the lamb kebabs, spice-crusted chicken kebabs and whole grilled fish that you expect. Is it a surprise that the best of the main courses is a grilled sweet potato with almonds, cilantro and chile morita? The dish erases the boundaries between Japanese street food and Middle Eastern cuisine; between the food of the Holy Land and the flavors of the Mexican table at Lent. You could have a nice Côtes du Rhône with it — the short wine list has some good natural wines by the glass — but I'm guessing that a mezcal Old Fashioned might be the ticket here.
After dinner, and maybe a delicate almond-bit custard with strawberry ice, there is a comprehensive list of arak, the powerful Middle Eastern spirit, to explore.
The Exchange
Alex Chang's proto-Israeli hotel restaurant.
Location: In the Freehand L.A. hotel, 416 W. 8th St., Los Angeles, (213) 395-9531, freehandhotels.com/los-angeles/the-exchange
Prices: Salatim $8-$12; larger plates $16-$46; desserts $8-$12
Details: Breakfast Mon.-Fri., 7 a.m. to 10:30 a.m.; lunch Mon.-Fri., 11:30 a.m. to 2:30 p.m.; brunch Sat.-Sun., 10 a.m. to 2:30 p.m.; dinner Sun.-Thurs., 5 p.m. to 10:30 p.m., Fri.-Sat., 5 p.m. to 11 p.m. Credit cards accepted. Full bar. Valet parking.
Recommended dishes: Hummus; avocado; sweet potato; yellowtail collar.
Get our L.A. Goes Out newsletter, with the week's best events, to help you explore and experience our city.
You may occasionally receive promotional content from the Los Angeles Times.