Review: Jonathan Gold enters Nothingness and finds somethingness — namely, Thunderbolt frog and BBQ potato
Action inside the kitchen at the Sichuan restaurant Nothingness.
(Patrick T. Fallon / For The Times)
Crawfish are cooked at the Sichuan restaurant Nothingness.
(Patrick T. Fallon / For The Times)
The exterior of Nothingness in San Gabriel.
(Patrick T. Fallon / For The Times)
A crawfish dish at Nothingness.
(Patrick T. Fallon / For The Times)
Chicken and chile is served at the Sichuan restaurant Nothingness.
(Patrick T. Fallon / For The Times)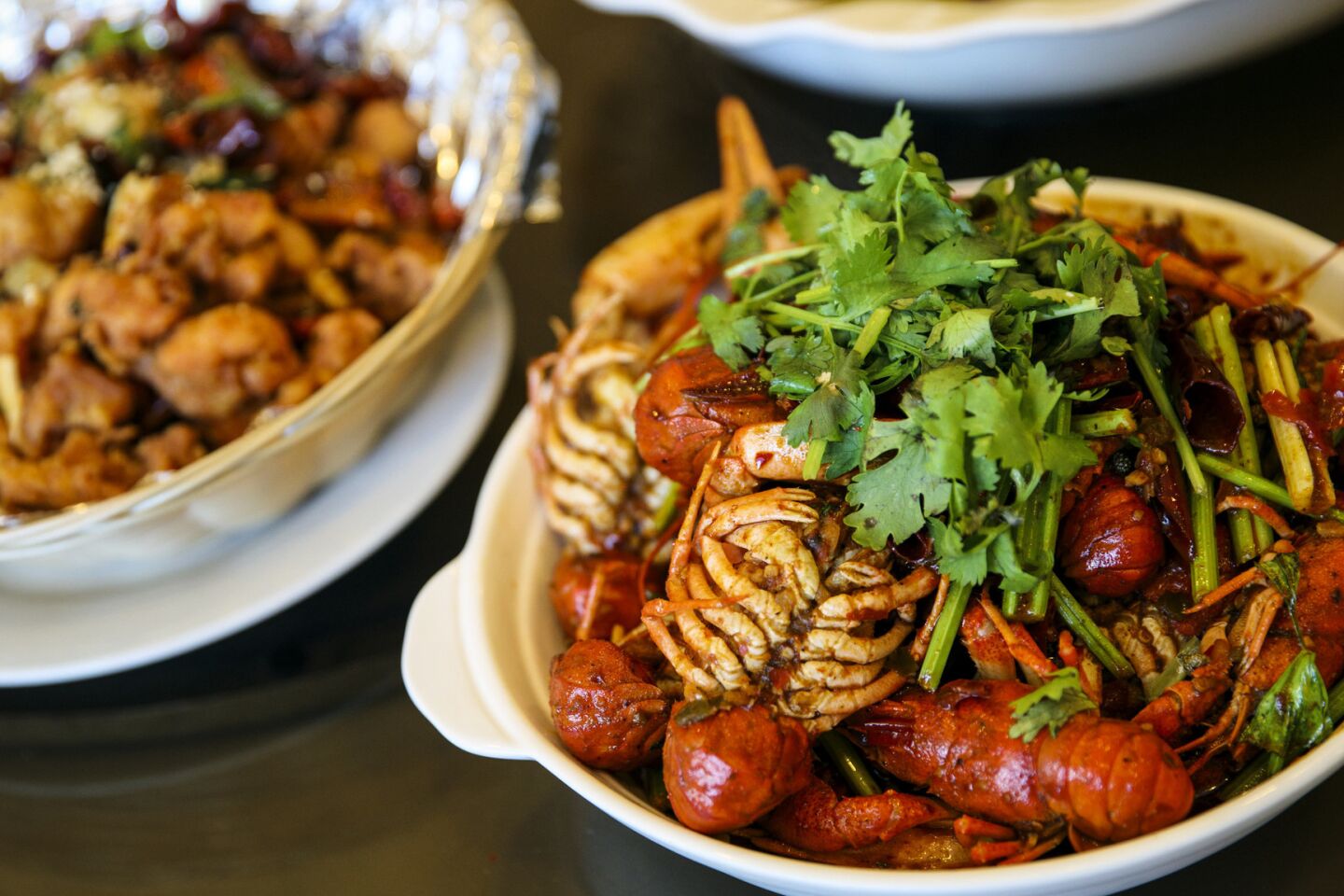 Crawfish and chicken dishes served at Nothingness.
(Patrick T. Fallon / For The Times)
No. 1 fish in chili oil at the Sichuan restaurant Nothingness.
(Patrick T. Fallon / For The Times)
"Ice Jello" dish, at Nothingness.
(Patrick T. Fallon / For The Times)
Restaurant Critic
"If you gaze long into an abyss," Nietzsche wrote, "the abyss also gazes into you."
If you gaze long into Nothingness, or at least into the San Gabriel Sichuan restaurant of that name, the Nothingness that stares back at you is likely to include steamed whole fish, braised lamb with jelly noodle, and pig feet with hot pepper. The steam rising from hot pots may suggest an infinite void, but only for that moment before the vivid red of the roiling broth becomes visible through the mist. Also, I imagine the empty world does not smell quite so strongly of garlic and toasted chiles.
Why is there something rather than nothingness? Because the presumption of nonexistence does not allow for the possibility of live crawfish steamed in chile sauce, while Nothingness the restaurant does. Does existence precede essence? I haven't read a lot of philosophy since college, but I maintain that the snap of the shell, the softness of the flesh, indicate that it probably does.
Nothingness began its life as Huo La La, the restaurant that took over the original Chung King site in Monterey Park. Huo La La sold that restaurant several months ago and assumed it could take the name to its new San Gabriel location, where it has replaced the so-so Beijing duck specialist Hong Yei. (If the two restaurants had combined forces, might it have been called "Beijing and Nothingness"? A boy can dream.)
The new owners of the Monterey Park Huo La La apparently wanted to keep the name, which translates as "burning," referring to spiciness. At the moment, the street entrance of the San Gabriel restaurant is still marked by a Huo La La sign, as well as a makeshift sign indicating the new name. I had assumed that "Nothingness" was a mistranslation of the Chinese characters — it's not — or else a statement of rebellion, a way of identifying itself as The Artist Formerly Known as Huo La La. The people at the restaurant suggest that the name refers to a positive Chongqing attitude toward life. A friend thinks that it may be something like the "no worries" you hear from Australians. I'm still going with Sartre.
It is with this level of chile-scented vagueness you discover that Thunderbolt Frog is frog sautéed with peppers, onions and other vegetables, served in a big casserole bubbling over a small flame, and luhe fish involves delicious cubed fillets in a green chile sauce with pickled mustard greens, and huolala green chile beef is zapped with an electric exuberance of green Sichuan peppercorns among other things. The immediate identity of Brainstorming (BBQ Flavor) becomes apparent enough when you notice whole pig's brains on half the tables in the restaurant (I passed; please forgive me).
When you are at a Chongqing-style restaurant, it is generally good custom to order la zi ji, crisp, Sichuan-pepper-dusted chicken toss-fried with garlic and double handfuls of dried Sichuan chiles. The variant at Nothingness — on the menu it's chicken with hot pepper — is splendid, plump bits still on the bone, and supplemented with fried rice cakes that are twice as crunchy as you'd expect.
I'm guessing the fish you want is the one identified as No. 1 Chili Oil Fish Fillet, which isn't fillets at all but a whole tilapia submerged with bean sprouts, tofu and the usual vegetables in a broth topped with the usual inch of scarlet chile oil. Eggplant in garlic sauce tends to be oily and luscious beneath its crisp violet skin. There are huge, lovely broad beans, like oversize limas, whose fried crunch yields to an oozingly soft interior. "BBQ'' potato cubes are crusted with cumin, spicy and singing with garlic — maybe everything I've ever wanted in diner breakfast potatoes.
Nothingness may not, perhaps, rank among the very best San Gabriel Valley Sichuan restaurants. Top-rate mapo tofu or that huolala green chile beef are too often followed by leaden fried duck in garlic sauce; bland, gooey eight-treasure duck; or overcooked spicy fried steamed pork.
"The best of all things is something entirely outside your grasp,'' asserts Nietzsche. "Not to be born, not to be, to be nothing."
But at Nothingness, not only is pork cooked, it is twice-cooked, the second time with chile and bean paste and leeks so that the sliced pork belly explodes with fragrance. String beans are tossed with chile and ground pork. Sliced squid, finely crosshatched as a Dürer etching, struggles with and is joyfully subsumed by the aromatics with which it is sautéed. And then there is ice powder, the closest we can come in cuisine to nothingness suddenly given substance, which is to say lightly gelled water with a bit of brown sugar: not there, there, and then not there once more.
::
Nothingness Restaurant
Sichuan and Chongqing-style cooking in San Gabriel.
LOCATION
288 S. San Gabriel Blvd., Suite 103/104, San Gabriel, (626) 782-7660, www.nothingnessrestaurant.askforspecial.com.
PRICES
Noodles $5.99-$8.99; other dishes $8.99-$26.99.
DETAILS
11 a.m. to 10 p.m. Mon.-Tues. and Thurs.-Sat., 11 a.m. to 9:30 p.m. Sun. Credit cards accepted. No alcohol. Entrance to parking lot around the corner on E. Broadway.
RECOMMENDED DISHES
Thunderbolt frog; luhe fish; chicken with hot pepper; salt & pepper beans; BBQ potato; twice-cooked pork.
MORE FROM JONATHAN GOLD
Ricardo Zarate's Rosaliné is a Peruvian party. Jonathan Gold orders a pisco sour and has some fun
At Vespertine, Jonathan Gold makes contact with otherworldly cooking. Is dinner for two worth $1,000?
At Venice Beach's new pasta palace Felix, Jonathan Gold admires noodly views and Italian cooking
Get our L.A. Goes Out newsletter, with the week's best events, to help you explore and experience our city.
You may occasionally receive promotional content from the Los Angeles Times.