Review: Jonathan Gold thinks of Osawa as an izakaya-plus
Chef Yutaka Kudo prepares the chef's special sushi plate at Osawa in Pasadena.
(Gina Ferazzi / Los Angeles Times)
Sashimi is served with the Shokado bento box at Osawa, a Japanese restaurant that incorporates sushi and shabu shabu.
(Gina Ferazzi / Los Angeles Times )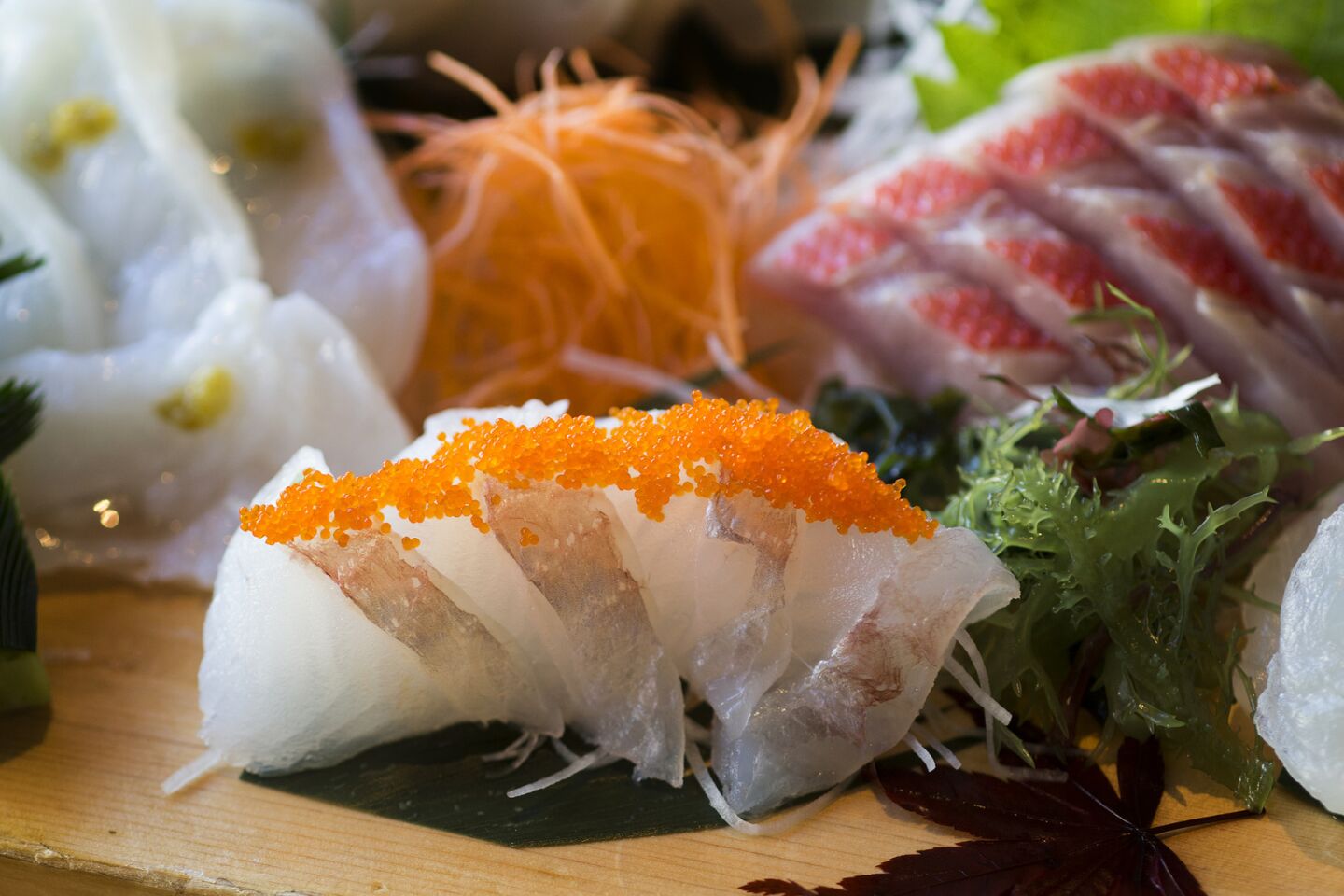 Akayagara is part of the sashimi plate at Osawa.
(Gina Ferazzi / Los Angeles Times)
Osawa in Old Pasadena features a wide variety of Japanese food.
(Gina Ferazzi / Los Angeles Times)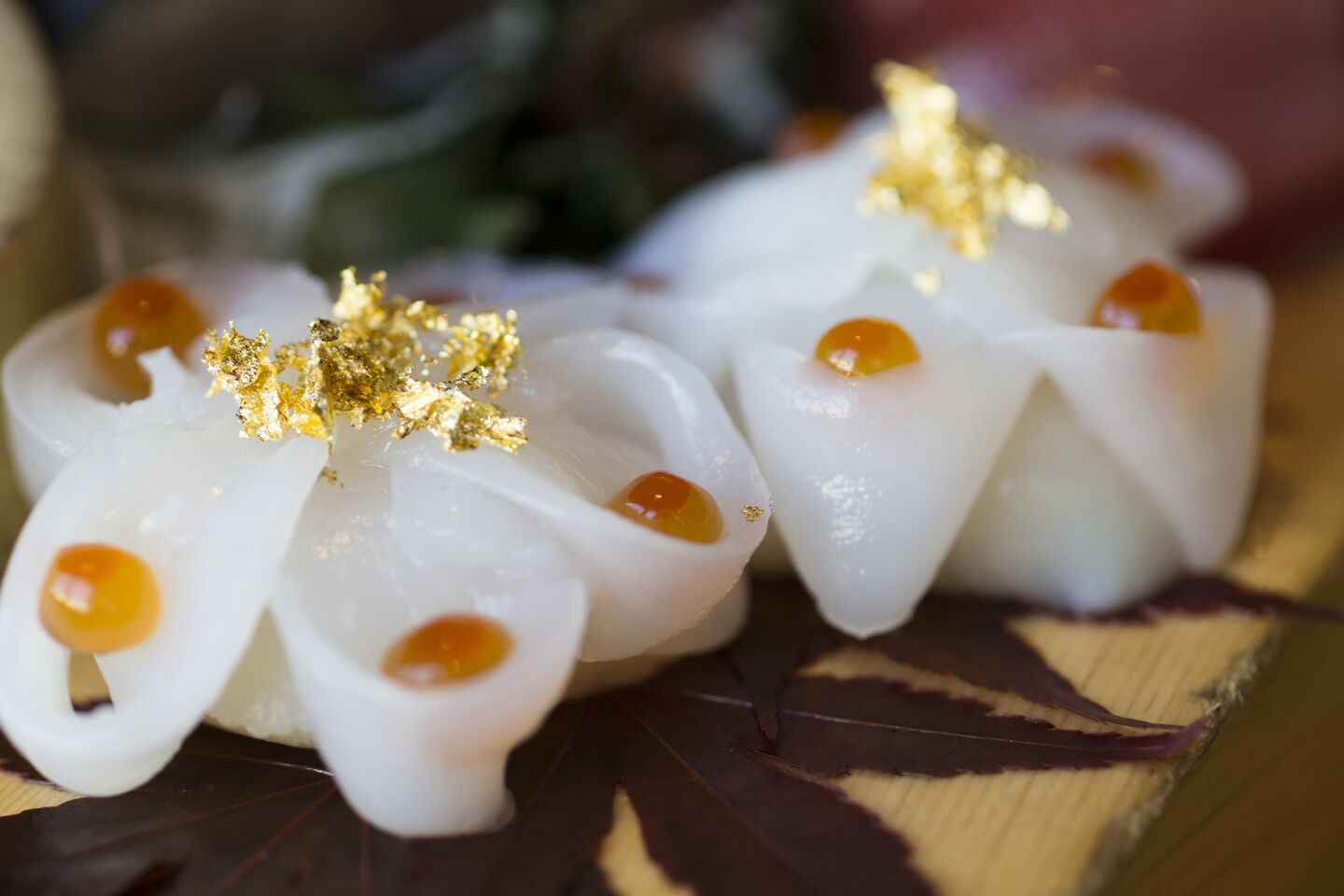 Ika is featured in the sashimi plate at Osawa.
(Gina Ferazzi / Los Angeles Times)
Osawa Chef Yutaka Kudo sears a dish while preparing the chef's special sushi.
(Gina Ferazzi / Los Angeles Times)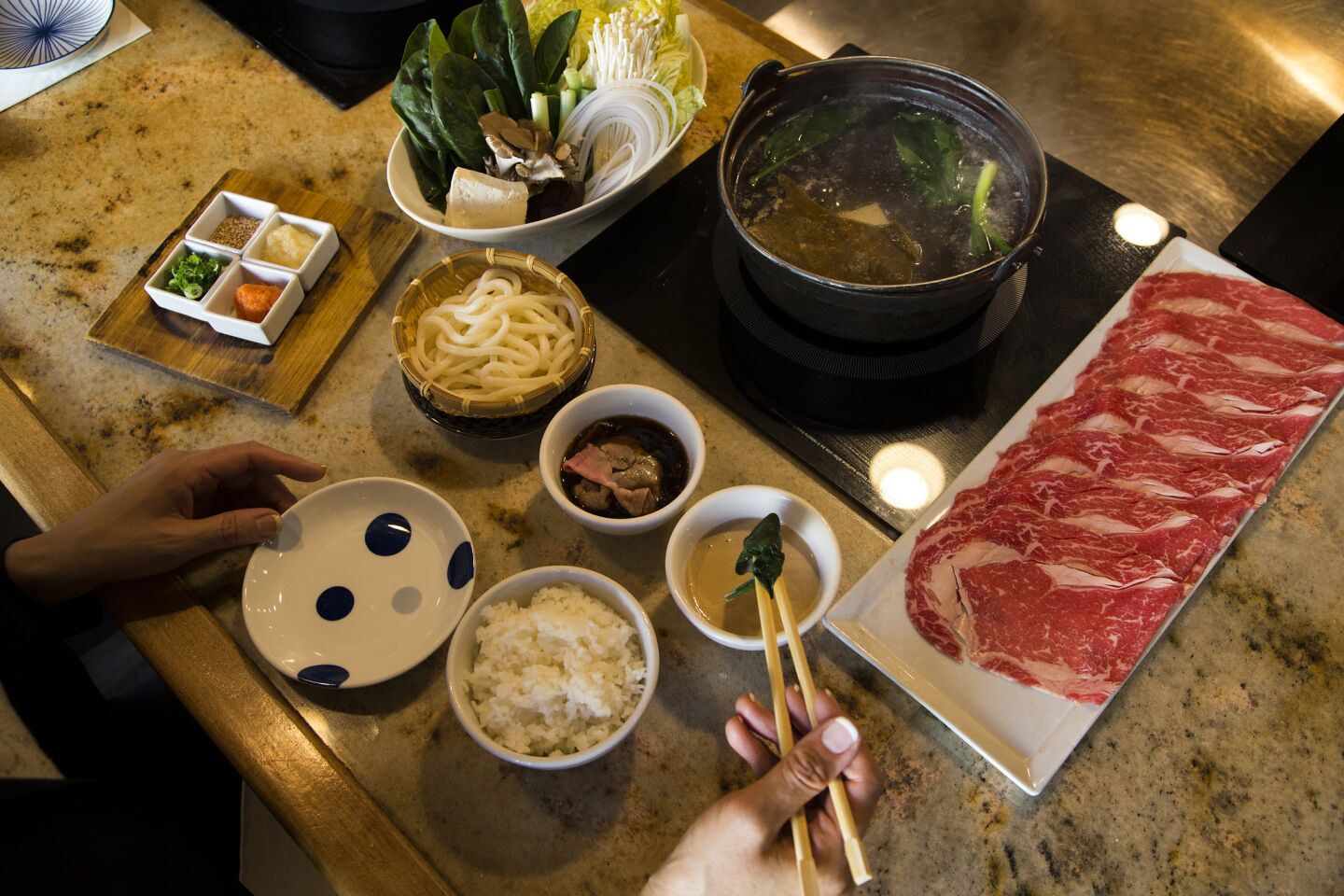 Apart from sushi and bento boxes, Osawa also features shabu shabu.
(Gina Ferazzi / Los Angeles Times)
The sashimi plate at Osawa is a bounty of fish.
(Gina Ferazzi / Los Angeles Times)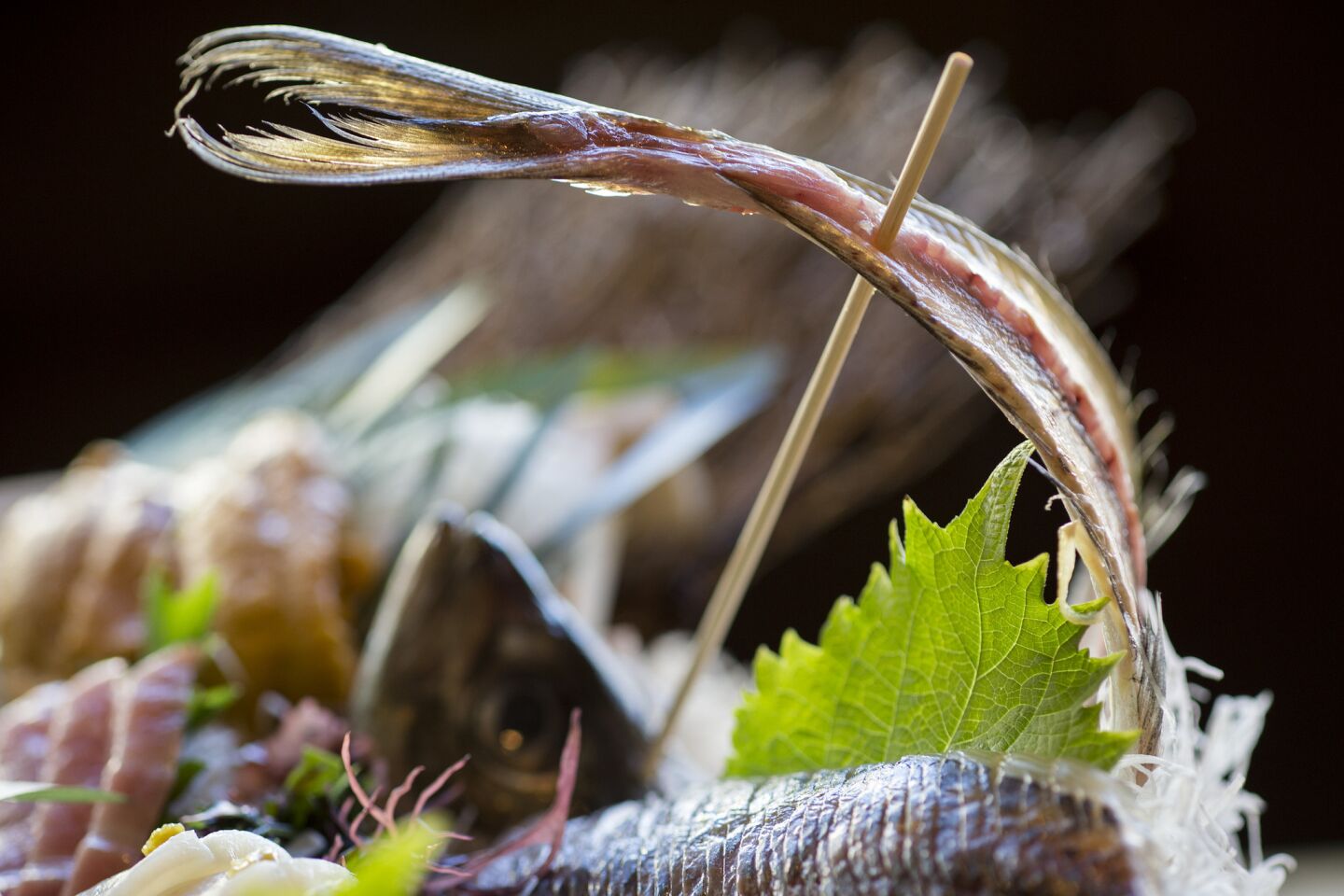 The sashimi plate includes aji.
(Gina Ferazzi / Los Angeles Times)
Lightly pickled mackerel is the star of battera sushi, a flavor bomb of fish.
(Gina Ferazzi / Los Angeles Times)
The chef's special sushi plate at Osawa, where the assortment of fish is amazingly diverse.
(Gina Ferazzi / Los Angeles Times)
Restaurant Critic
Have you tried battera sushi? You really should. It's a brick-shaped thing, vinegared sushi rice pressed into a mold over lightly pickled mackerel and a transparent slip of seaweed, and it's usually served sliced like bread. The oil of the saba, the tartness of the rice and the silent umami boost of the kelp melt into a fourth taste that is at once profoundly fishy yet a throbbing viola note of its own, touched with a bit of salty soy if you lean that way — the sensation of the last piece of sushi you may have eaten but multiplied by 10.
If your favorite part of a sushi meal tends to be halibut and shrimp instead of kohada and uni, battera sushi may not be your thing, but for anyone who enjoys getting whomped over the head with flavor, it's a pleasurable way to go.
Battera sushi, it should be noted, is not considered to be among the more luxurious ways to eat raw fish. The method arose in Osaka a century or two ago more as a way to preserve perishable oily fish than as a statement of pleasure. It's train-station sushi, the filling stuff you take to snack on during a long ride. It's what a workingman might eat standing up while his daintier compatriots nibble on nigiri at a proper sushi bar; sushi that occasionally improves in a 7-Eleven refrigerator case. It won't show up in your next $300 omakase meal.
Get our weekly Tasting Notes newsletter for reviews, news and more.
You may occasionally receive promotional content from the Los Angeles Times.
Battera sushi is not quite the specialty of Osawa, the cramped Japanese restaurant in Old Pasadena. It's not even on the menu anymore, although you can always get it if you ask. But I think it says something about the restaurant, which is probably best known for shabu shabu and elaborate bento boxes, that its version is so consistently first-rate, firm yet melting, singing with complex aroma, and formed with a fragrant shiso leaf or two at its core.
The best Japanese restaurants traditionally define themselves by specializing in a particular food — udon, tempura, tofu, tonkatsu — or by a specific style of presentation. Osawa, a project of Sayuri Tachibe and her husband, Shigefumi Tachibe, corporate chef for all the U.S. Chaya restaurants for 31 years, may be as close to a one-stop shop as I've ever seen.
At Osawa, the people at one table are eating classic otsumami with their sake and the couple at the next is sharing a bowl of udon; you can get both sukiyaki and foie gras with daikon; and nobody will give you side-eye if you order an albacore volcano roll or a bowl of pork chop rice — they're great! — but you can also get sushi of delicately seared nodoguro, a black-throated perch famous for its oil-free flash and robust, meaty taste, that is hard to find even in Tokyo. Call the place izakaya-plus.
I have to admit I've been as reluctant to write about Osawa as almost any restaurant I've ever visited. It was good but ordinary when it opened four years ago, although I enjoyed the crisp duck breast with miso and the lightly fried tofu in gingered broth, and right after I realized how masterful sushi chef Norio Yoshikawa could be, he was replaced by the slightly less venerable Yutaka Kudo less than a week before I was slated to review it. I still visited every couple of months, but more for quick Tuesday suppers than for serious meals.
But the restaurant recently opened a casual spinoff over on Cordova Street, Delicatessen by Osawa, that sells Japanese salads, premade rice bowls and even battera sushi from a cold case — a perfect quick lunch. And a few weeks ago at the mother ship I realized that the chilled monkfish liver, the toasted salmon-skin hand roll and the phallic, brittle-skinned chicken meatballs called tsukune were among the best I'd ever had. Clearly the restaurant had gotten a lot better since Tachibe left the Chaya group to oversee Osawa full-time. I'm not sure I've been as fond of his cooking since his days at the early Le Petit Chaya in Los Feliz in the 1980s, from the creamy, exquisite spaghetti tossed with uni to the oddly compelling fluffiness of his Japanese yam brûlée.
If you've been to Osawa, you've probably tried the bagna cauda, raw farmers market fennel and purple carrots and such served with a miso-laced version of the Piemontese anchovy dip; the crunchy marinated cucumbers; and the hot wings fried in the karaage style. The oyakodon, a rice bowl with chicken and scrambled eggs, is the stuff of any Japanese childhood. The sushi of shrimp, king salmon and yellowtail are solid. The sake selection isn't long, but it's dependable and not especially expensive.
But when you glance at the specials menu, which changes quite a bit daily, you start to realize what a difference the upgrades can make in your meal: the stark deliciousness of pulpy chunks of raw octopus marinated with yuzu and fresh wasabi or the more delicate slivers of octopus "carpaccio" drizzled with shiso pesto; the unaju — gently seared sea eel over rice; or the dainty house-cured pickles. There's as beautifully diverse an assortment of fish as you'll see outside of Japan: sanma, saury pike, served as sushi at the height of its season; the sea robin called hobo, cooked in a spicy Italian-style broth; and lovely sardines from Hokkaido, filefish (served with a bit of its liver) from Kagoshima, beltfish from Okinawa, alfonsino from Chiba and a dozen other things that don't make it onto the menus of strip-mall sushi-ya. Osawa is an easy place to be a secret connoisseur.
But I'm a peasant. And I always order the battera too — sometimes an extra order for dessert.
Osawa
Location: Osawa, 77 N. Raymond Ave., Pasadena, (626) 683-1150, theosawa.com
Prices: Snacks $4-$16; rice bowls $11-$24; udon $11-$13 bento $26; shabu shabu $25-$36; specials $6-$48; sushi $6-$14, occasionally more for seasonal fish.
Details: Lunch 11:30 a.m. to 2:30 p.m. Tues.-Sun.; dinner 5 p.m. to 9:30 p.m. Sun. and Tues.-Thurs.; 5 p.m. to 10 p.m. Fri.-Sat. Beer, wine and sake.
Recommended dishes: Battera sushi; chicken tsukune; uni pasta; unaju bowl; yam brulee
Get our L.A. Goes Out newsletter, with the week's best events, to help you explore and experience our city.
You may occasionally receive promotional content from the Los Angeles Times.