Review: Eat the best beans you ever tasted in California at Verlaine, Jonathan Gold writes
Diego Hernandez's upscale Mexican restaurant Verlaine includes a cactus salad with lime, queso fresco, chicharron and corn tostadas.
(Jay L. Clendenin / Los Angeles Times)
Scallop aguachile at West Hollywood's Verlaine comes with avocado, red onion, cucumber and chile serrano.
(Jay L. Clendenin / Los Angeles Times )
The smoked-chicken enchilada features escabeche, black chichilo, queso fresco and chicharron.
(Jay L. Clendenin / Los Angeles Times)
Whole baby beetroots with garlic puree, hibiscus powder and dried cheese at Verlaine.
(Jay L. Clendenin / Los Angeles Times)
Verlaine's corn cake includes corn anglaise, butter crumble and fennel meringue.
(Jay L. Clendenin / Los Angeles Times)
The half chicken at Verlaine includes burnt eggplant, grilled carrot, pickled radish, salsa madre and kale.
(Jay L. Clendenin / Los Angeles Times)
Homemade flour and corn tortillas at Verlaine.
(Jay L. Clendenin / Los Angeles Times)
Verlaine sous chef Esteban Lluis.
(Jay L. Clendenin / Los Angeles Times)
Verlaine takes the place of the former Rat Pack hangout Dominick's in West Hollywood.
(Jay L. Clendenin / Los Angeles Times)
Cocktails at Verlaine include the Golden Boy, with tequila, honey, lemon, pomegranate and Indian-spiced tonic.
(Jay L. Clendenin / Los Angeles Times)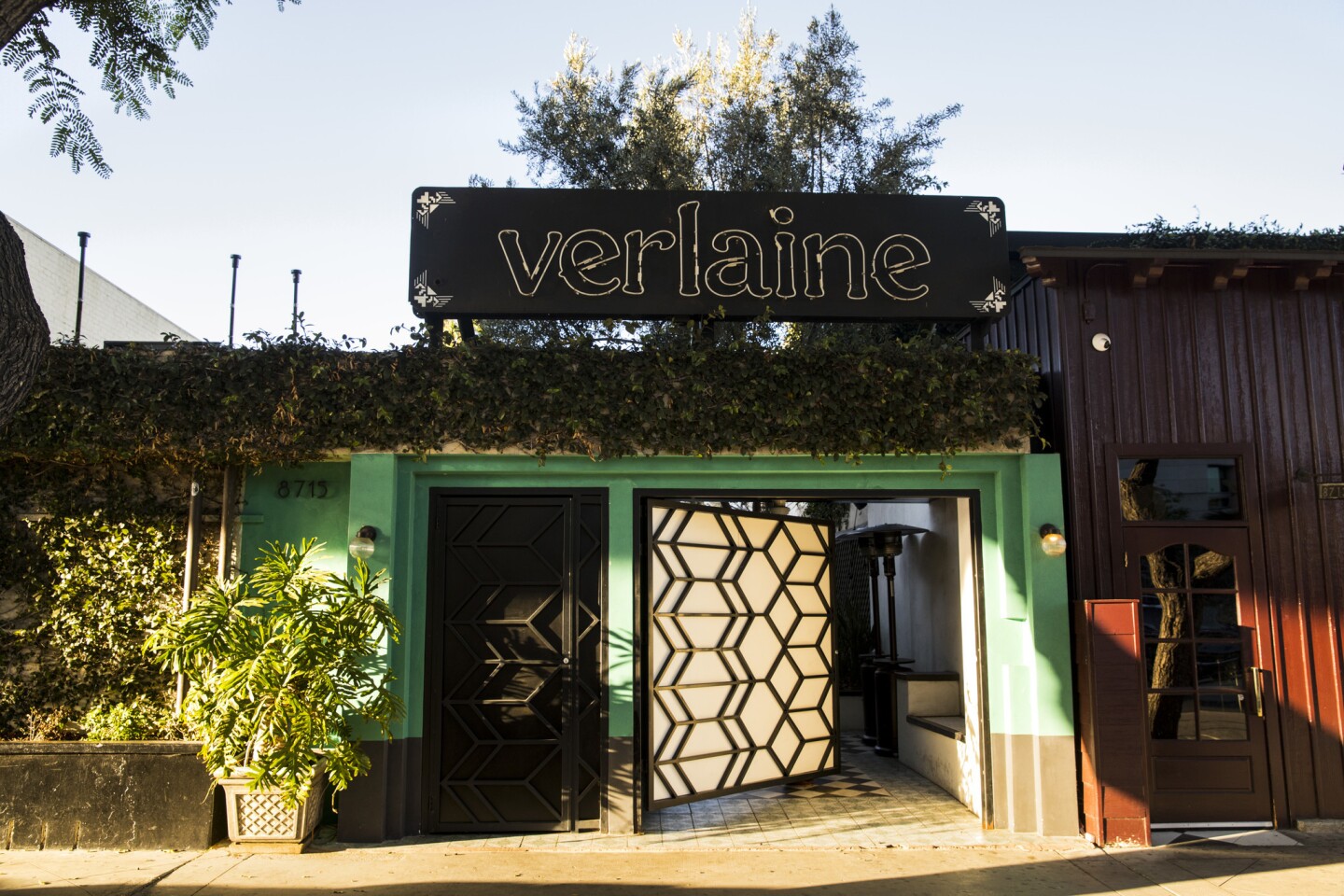 Verlaine in West Hollywood takes its name from the French symbolist poet.
(Jay L. Clendenin / Los Angeles Times)
Restaurant Critic
Many things can be said about the soft-fried black beans at the West Hollywood restaurant Verlaine. They are creamy. They sing with herbs. The slightly high fragrance but not the presence of dried beef lies just underneath. The tiny, white cubes of fresh cheese may tilt the beans slightly toward Bengali dal paneer, although the finely minced aromatics push it back to northern Mexico. They are likely to be among the best beans you have ever tasted in California.
Nonetheless, what your table is likely to be discussing is not the exquisite fragrance of the beans but their cost. The not-large dish, about half the size of what may have been slopped onto your last enchilada plate, costs $11. The beans are served with tiny, just-made flour tortillas served scorching-hot from the griddle. If you are calculating pennies per unit of pleasure, I think the dish may be among the greatest bargains available at a restaurant in Los Angeles.
Verlaine, it must be said, is among the last places you would expect to experience the particular kind of bliss that beans and tortillas can provide. It is built into the former Rat Pack hangout Dominick's, an Italian restaurant since the dawn of time. It has a Java-intensive website, a leafy facade that has been transformed into something you might mistake for the high-end furniture showrooms up the street, and a fancy chillwave playlist. It is presumably named for the French symbolist poet whose love affair with Rimbaud may have made you swoon sophomore year; the stuffed peacock mounted on a wall of the restaurant's modernist patio points to that era.
And while Diego Hernández is truly one of the greatest chefs in Mexico — his Corazón de Tierra, in Baja's Valle de Guadalupe, is the 34th best restaurant (eighth best in Mexico) in the current Latin America's 50 Best list — his mix of minimalist cooking and bar snacks was not universally adored in the restaurant's first months.
"A would-be Noma with tacos," a correspondent said last spring.
Baja Med cuisine, with which Hernández is associated, tends to be the furthest thing from what a lot of Angelenos imagine when they think of Mexican cooking — it refracts the chiles and smoke, sweet and salt, seafood and fresh vegetables of the pre-Colombian kitchen through the lens of European and occasionally Asian technique. The obsession with local ingredients is as intense as any French chef's.
The results are often pretty subtle — Hernández's scallop aguachile, spicy green ceviche, depends as much on the deep, marine funkiness of recently plucked raw scallops as it does on the sharp, fresh bite of puréed Serrano chiles, and his lovely cactus salad is given surprising life by the tiny bits of jellied pigskin slipped into it with the crumbles of fresh cheese. The crunchy dried tortillas served with the octopus ceviche are given a quick pass over a wood fire before they are served — the hint of smokiness in the tostada you assemble with the cubed avocado and soft slices of tentacle is elusive, and it may take you a few bites before you discover its source. The carrots with carrot tops and a pumpkinseed sauce may remind you of the kinds of things Jeremy Fox puts together at Rustic Canyon, but with a hit of Mexican soul.
Hernández's menu is short — a few vegetables, a few snacks, a few main courses. I suspect he may have put it together as much to flatter the slushy Palomas and the towering Singapore Slings issuing from the bar as he did with an eye toward assembling a meal.
But when you pay attention, you start to figure at least some things out. The tacos, stuffed with octopus or grilled fish, are pretty large for tacos, but not really designed to be shared. What the restaurant calls a smoked-chicken enchilada actually looks like a taco, and you're going to want one of those for yourself too — not because it's small, but because you are not going to want to give any of it away. You are going to want as many tortillas as they will allow you (which won't be many), and you need to hoard the salsa macha, a Baja-style oil made with guajillo and burnt nuts, because it goes with pretty much everything.
You will be sad to forgo the pleasure of the big, slowly grilled pork chop, but you are probably better off getting a chicken. It is apparently brined and air-dried before roasting. The skin is lovely and crisp. The meat is seasoned to the bone. A small, profoundly rich puddle of "salsa madre" — a red-wine sauce that has been kept going for many months on the stove-top — laps at the bird's flank, not far from the burnt, collapsed hulk of half a Japanese eggplant and a vivid handful of pickles. You carve the chicken as if it were Thanksgiving turkey and you make yourself little tacos. You no longer doubt the virtues of Baja Med.
::
Verlaine
Baja Med cooking in West Hollywood, from chef Diego Hernández.
LOCATION
8715 Beverly Blvd., West Hollywood, (424) 288-4621, Verlaine.la.
PRICES
Ceviches $14-$17; antojitos $9-$12; vegetables $10-$11; main courses $27-$39.
DETAILS
6 to 11 p.m. nightly; 11 a.m. to midnight Saturday-Sunday, Credit cards accepted. Full bar. Valet and street parking.
RECOMMENDED DISHES
Octopus ceviche; cactus salad; soft-fried black beans; smoked-chicken enchiladas; half chicken.
---