Chef Chris Cormier finds life-changing work at L.A. Mission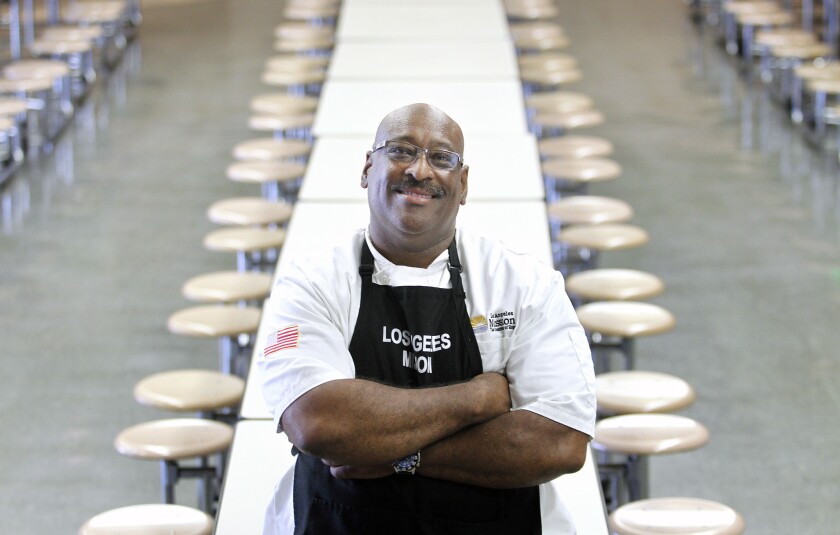 Chef Chris Cormier has overseen countless meals served during his 16 years with the Los Angeles Mission, located in the heart of downtown. Perhaps best known for its annual Thanksgiving event, a star-studded affair with well-known chefs and a flood of volunteers, the food service at the mission is also a day-to-day operation, serving two breakfasts, three lunches and three dinners each day. As director of food services, Cormier supervises an operation that serves 1,200 to 1,800 meals daily.
What inspired you to get into cooking? Well, my last name is Cormier. It's Creole. So my family knew how to cook, and I love cooking. My family would tell me, "Do this. Do this." And so I'd learn. Growing up, with my friends, we'd have little cooking competitions.
How did you end up cooking at the L.A. Mission? Unfortunately, many, many years ago I was down here [during hard times] — I was stuck. And you know, I didn't even want to go in the kitchen. I was skilled in a couple of other areas. But then you get to a certain age where you have to decide what you want to do. I had to go, "All right. All right, God. Do I want to work in a kitchen? Do I want to do this?" [He sighs.] Unfortunately, I know people, and it can be — you have to have a heart, and a passion to work down here. Because it can be depressing. But it's wonderful to put a smile on somebody's face.
You mention vendors and donations. How is the mission supported? Where do you get your food? The mission is mainly supported by private donations, whether somebody gives us a grant or somebody mails us $5 — we put it all together. We also utilize our networking using food banks, people who donate food or who we partner with, like UCLA. Once a year, UCLA will finish its semester and donate everything in its kitchen to us. And, it's like, fantastic stuff. Then we have a variety of vendors we utilize to purchase some stuff because we can't just sit and wait. And so we get our staples. Some vendors also donate. Just the other day, one vendor said, "Hey, I've got a pallet of turkey pastrami. It's perfectly good. You want it?" It'll help to feed so many people.
You train students who come through the mission. I imagine the mentoring goes beyond just cooking skills. Yeah. And you know, when they come here they touch upon each area around the mission. If somebody says, "I want to learn in the kitchen," then we'll accommodate them. It's me and another part-timer, and pretty much the rest are all students. And some come in with minimal skills. And some come in with no skills. I was taught the same way. I would say, "What can I do? How can I repay you?" And [my mentors] would say, "Pass it on to the next person. Keep it going and going." Some of these students also go out into the field to intern. Roy Choi has taken on a few. Ben Ford has taken on a few. And I tell the students this is an apprenticeship. If you think I'm tough, I don't care if you go to the Hilton or the Hyatt, the chef is not playing.
What goes into planning the daily meals? That's the fun part of the job! This month I'm on a Thai kick. Next month, I'm on my Italian kick. I like to go around and try new things. The majority are hits, but sometimes it's hit or miss. We do, you know, Thai chicken salad, red curry, panang, stir-fry, Sichuan, Italian meals. You name it, we do it. Years and years ago, when I started doing this, I worked under another guy. He says, "We are who we are. I don't care if you give them a hot dog or oatmeal. Pretend your grandmother's coming, or your mother's coming to dinner, and this is all you have. But you're going to make it good." And so if you treat people, you know, it starts with a meal, and it touches somebody's heart. It changes them. It changed my life.
Los Angeles Mission, 303 E. 5th St., Los Angeles, (213) 629-1227, losangelesmission.org
---
Get our weekly Tasting Notes newsletter for reviews, news and more.
You may occasionally receive promotional content from the Los Angeles Times.