Going full curry cray at E.P. & L.P. with Aussie chef Louis Tikaram
Some of the ingredients needed for the turmeric and coconut curry including (from left) lemongrass, shrimp paste, turmeric, galangal, shallots, garlic, Thai green chiles and Puya chiles.
(Christina House / For The Times )
Chef Louis Tikaram chops turmeric for the curry at E.P. & L.P.
(Christina House / For The Times)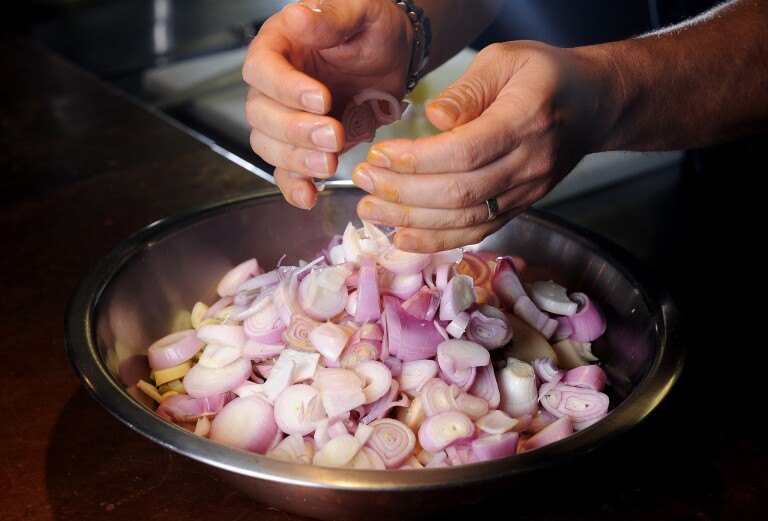 Chef Louis Tikaram adds chopped shallots to a bowl of the curry ingredients at E.P. & L.P.
(Christina House / For The Times)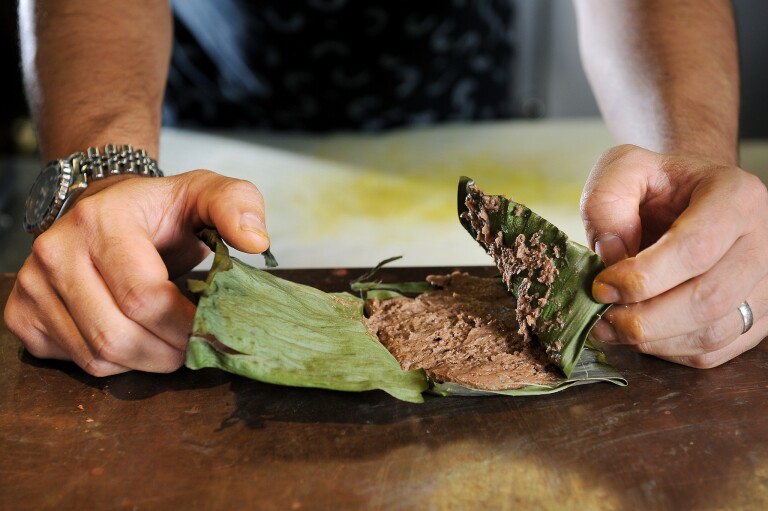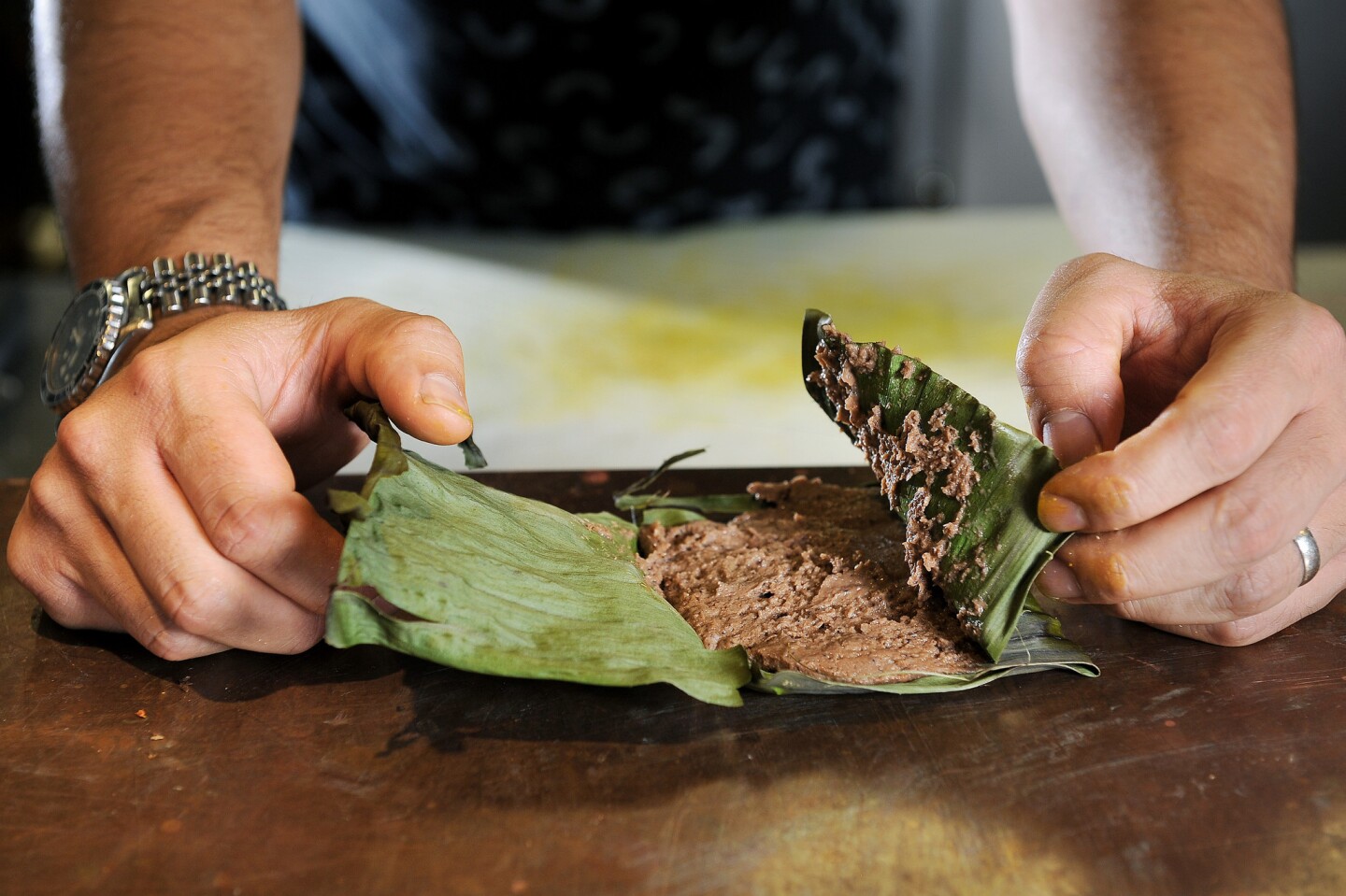 Chef Louis Tikaram unwraps a banana leaf of roasted shrimp paste.
(Christina House / For The Times)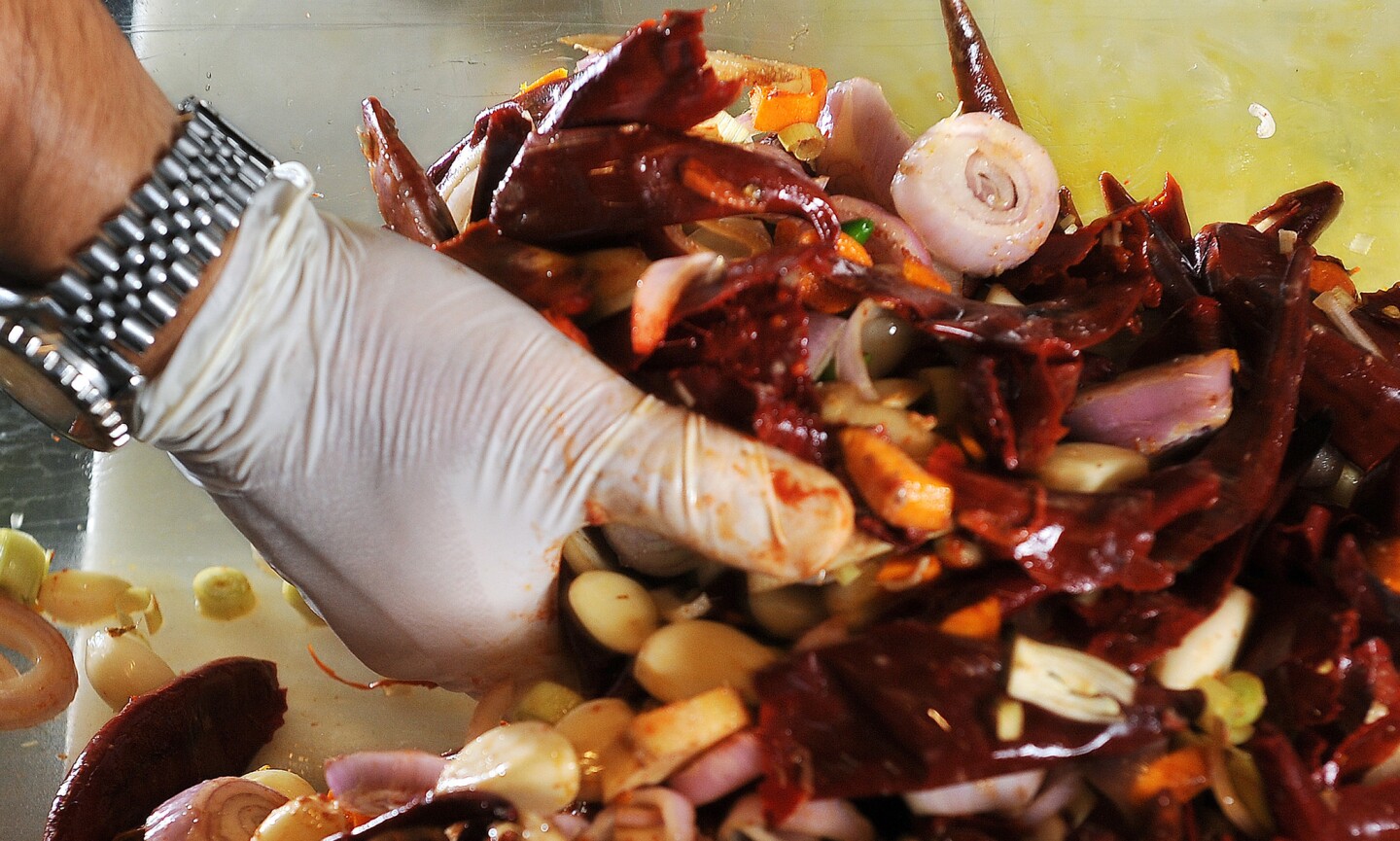 Chef Louis Tikaram mixes all the ingredients for the curry together before putting them in the food processor at E.P & L.P.
(Christina House / For The Times )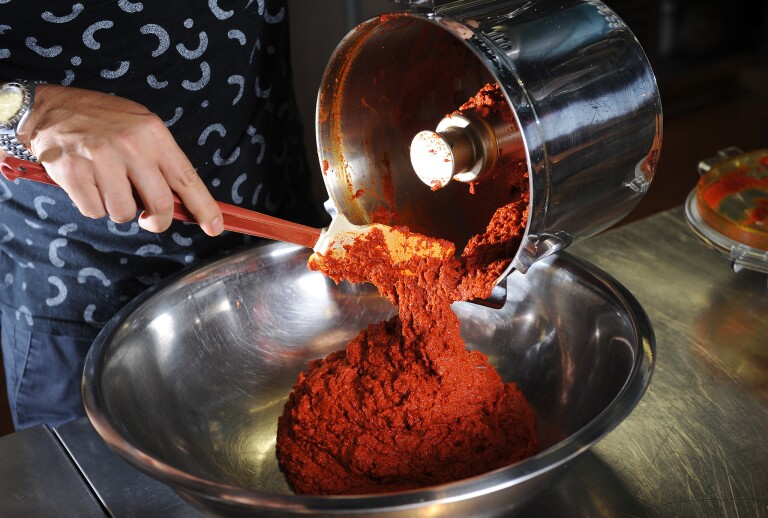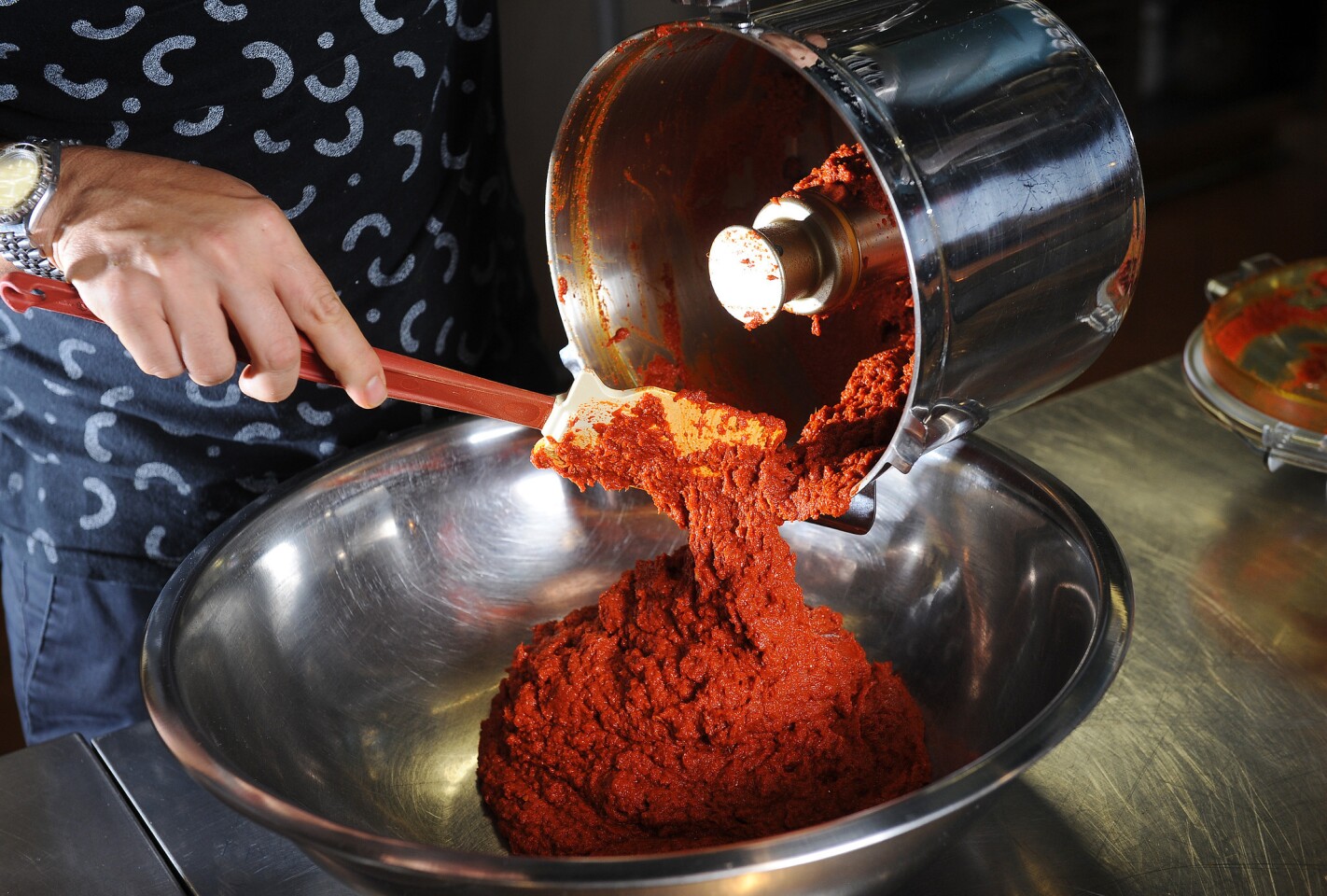 Chef Louis Tikaram removes the curry paste from the food processor after all the ingredients have been blended at E.P. & L.P.
(Christina House / For The Times )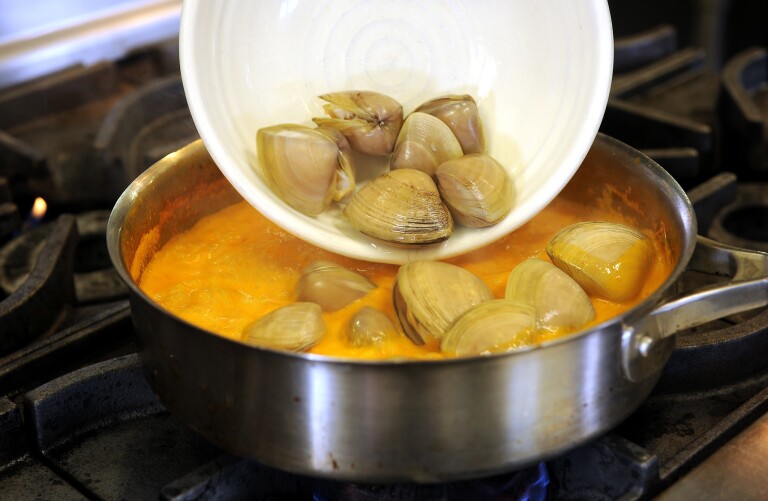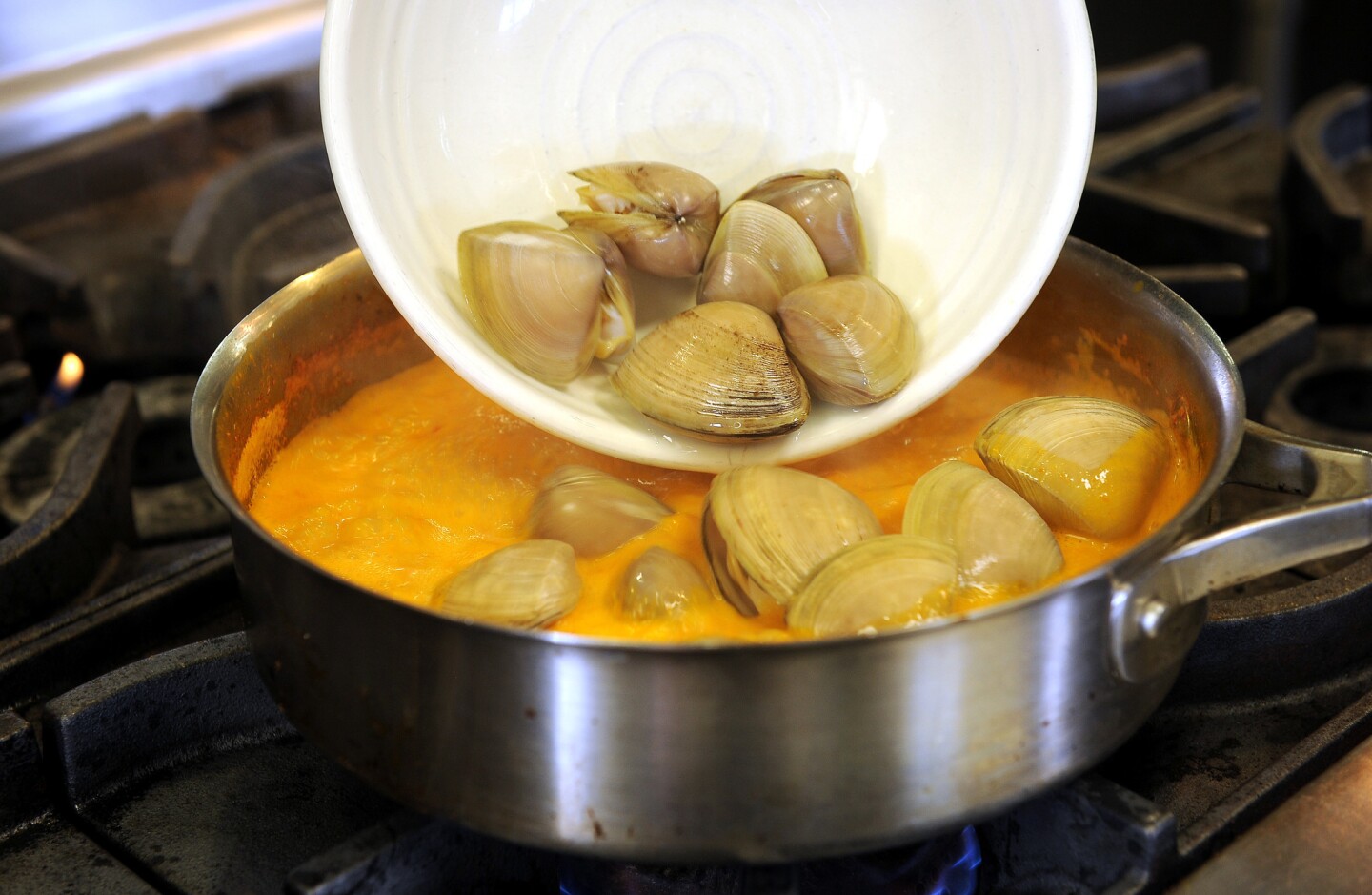 Chef Louis Tikaram adds a handful of clams to the curry. As he stirs, the sauce turns the color of a deep orange sherbet.
(Christina House / For The Times )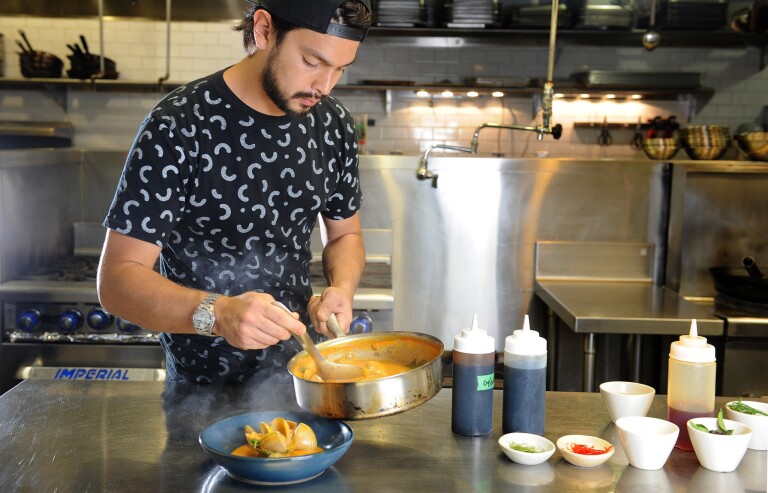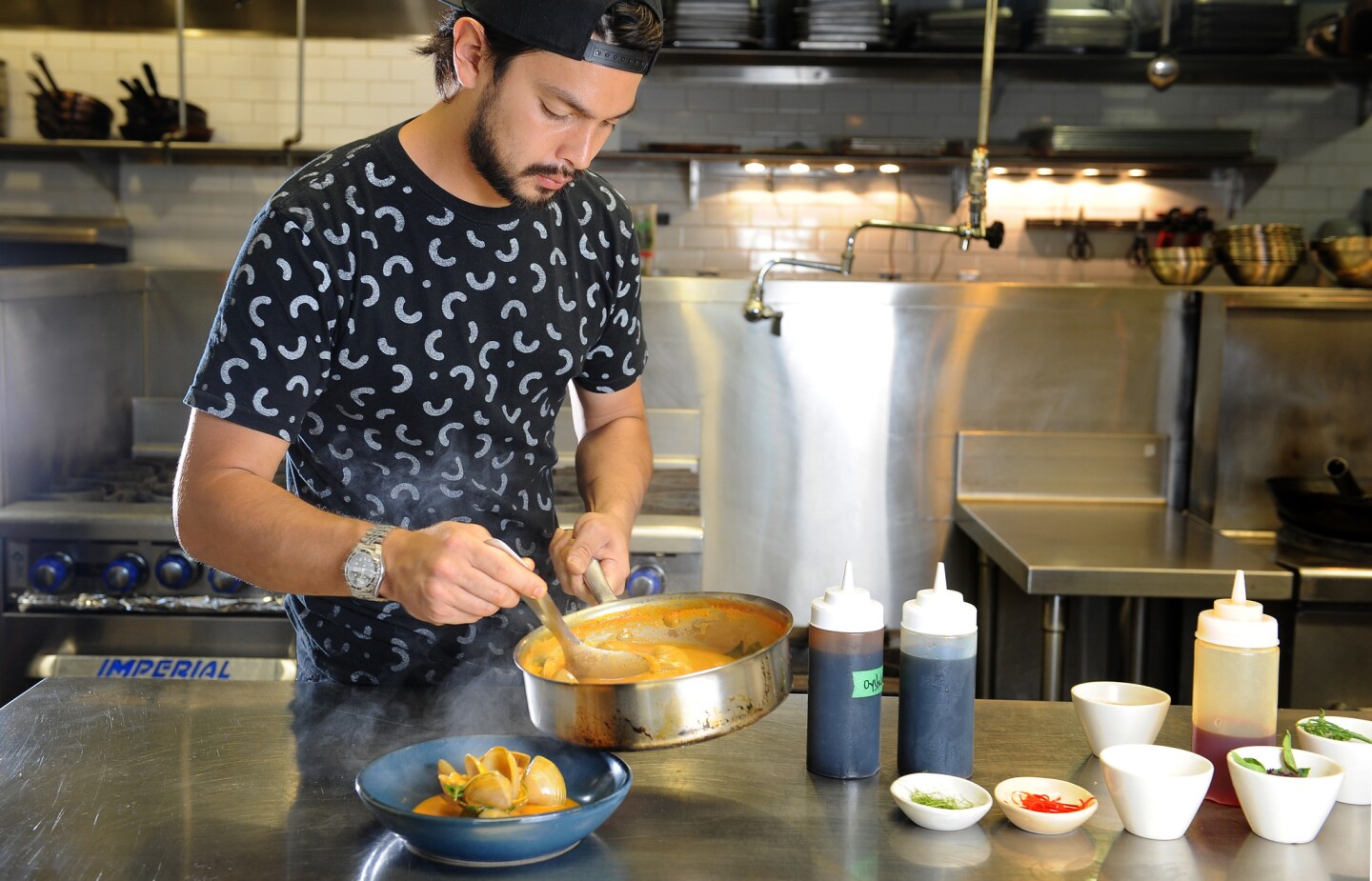 Louis Tikaram, the young Australian chef at E.P. & L.P., makes turmeric and coconut curry with clams and sea beans.
(Christina House / For The Times)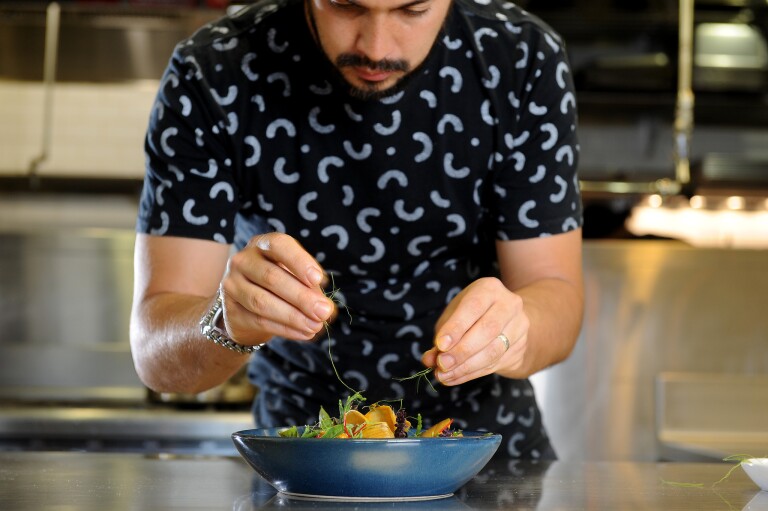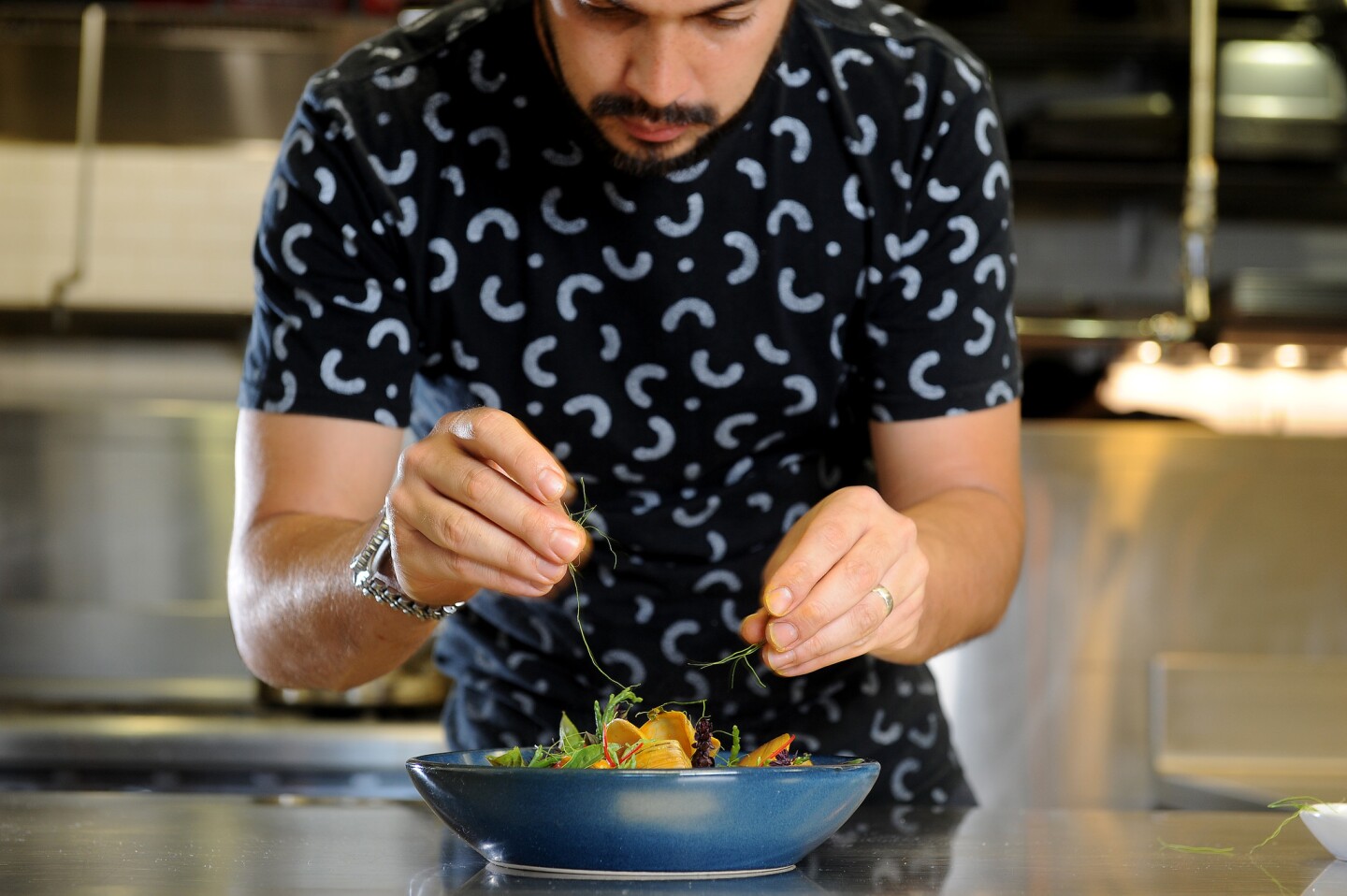 Louis Tikaram, the young Australian chef at E.P. & L.P. makes turmeric and coconut curry with clams and sea beans.
(Christina House / For The Times)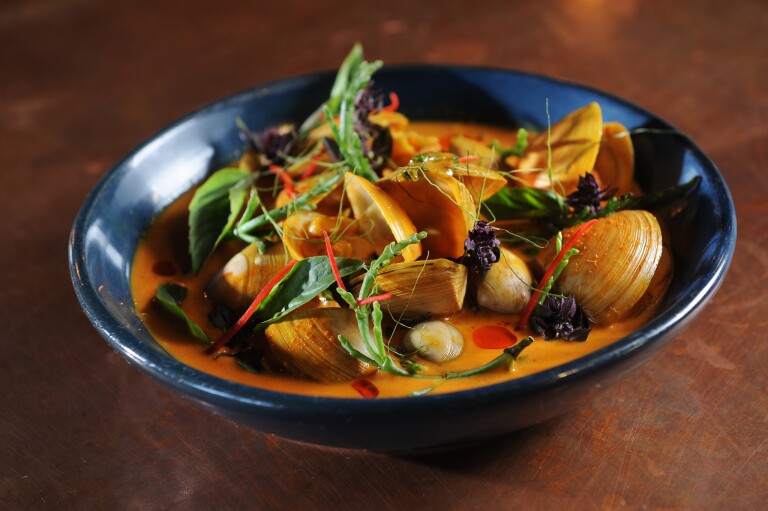 Turmeric and coconut curry with clams and sea beans, a creation of chef Louis Tikaram, from E.P. & L.P.
(Christina House / For The Times )
Louis Tikaram, the 31-year-old executive chef at E.P. & L.P. (the name stands for the musical terms "extended play and long play"), a Thai-Fijian-Indian-Chinese restaurant in West Hollywood, is at a prep station in his open kitchen, behind a long, shiny metal chef's counter, putting on latex gloves. He's preparing to peel and chop a pound of turmeric for a large batch of his turmeric and coconut curry with clams, and he doesn't want to stain his hands.
On a Friday night, E.P. & L.P., at the corner of La Cienega Boulevard and Melrose Avenue, is a nightlife destination. Split into three parts, the downstairs area is where you'll find a notoriously picky door staff, which controls the guests allowed onto the rooftop and private bar upstairs, where attractive people sip boba cocktails. But the real prize at E.P. & L.P. is the restaurant on the second floor, where most of the partygoers upstairs are surprised to find a swanky, dimly lit dining room below them. This is where Tikaram arrives every morning, shuts out the Los Angeles scene unfolding around him and just cooks.
On a recent morning, Tikaram is wearing a black baseball cap, his long, dark hair peeking out beneath the rim. He's dressed casually in a black T-shirt covered in what looks like a pattern of repeating Cheetos puffs — the restaurant's signature graphic — and a pair of plain black pants. (For the record, Tikaram insists he's never actually eaten a Cheetos puff.)
The chef is focused on the prep work in front of him, only slightly bobbing his head to Lauryn Hill and Nas' "If I ruled the world," playing on the kitchen soundtrack he's put together.
"You need to cover your hands unless you want to look like an Oompa Loompa," he says. Beneath its skin, turmeric is the color of Mario Batali's orange Crocs.
So, when handling turmeric, use gloves. This is one of the many lessons Tikaram has learned after making curry paste from scratch for more than a decade.
There is one dish that every chef remembers making as an ambitious cook at a first job somewhere, while still the lowest of the low on the kitchen totem pole. For Tikaram, it's curry, a humble but labor-intensive dish made with a mixture of toasted herbs, spices and chiles, or fresh ingredients ground into a paste, typically mixed with coconut milk. Ingredients and styles will vary based on where you are in the world, but it's a dish that transcends cuisines and cultures on every continent. Tikaram also spent the first half of his life eating and cooking Fijian-Indian-style curries at his grandmother's home in Fiji.
When he was 19, Tikaram left Fiji — and Byron Bay, Australia, where he spent half his time growing up — and moved to Sydney, specifically to work at Longrain, a lauded Thai restaurant run at the time by Martin Boetz. He asked for a job but was turned down repeatedly. He returned every day until Boetz finally gave him an apron and told him to go into the kitchen and make curry paste. He spent every day of that year, from 8 a.m. to 9 p.m., making curry.
"I had never really cooked before, so after a year of slicing, chopping and peeling, my knife skills were great," says Tikaram, as he breaks down the turmeric at his own restaurant, which opened last summer. "It was the hardest year of my life, but so beneficial."
Making curry paste from scratch takes a lot of hard work. But Tikaram still does it, slicing, chopping, roasting or soaking each of the ingredients (for this particular curry, it's shallots, galangal, garlic, Thai green chiles, turmeric, shrimp paste, lemon grass and dried Puya chiles) for each of the three curries on his menu. Right now, in addition to the turmeric and coconut curry, you'll find a red peanut curry with coconut cream and Thai basil, a yellow curry with roasted cauliflower and a fresh green curry paste for his baby Green Lip abalone.
He says the yellow curry is the second most popular dish on the menu. The first? Lou Dogg's crispy skin chicken (Tikaram's friends refer to him as Lou Dogg), or the "check yo neck," a platter of wood-grilled lamb neck with lettuce, herbs and chile jam.
"At Longrain, I learned to never cut corners," Tikaram says. "You have to take the time to really chop things properly. The way you handle your ingredients, it's the reason why people's faces light up when they eat your food. It's these techniques you use that separate you from the pack."
Sometimes he has three curries on the menu, sometimes it's four, depending on the weather and what's inspiring Tikaram at the moment.
As for the turmeric and coconut curry: "I first ate a turmeric curry with crab in an old part of Phuket [Thailand] at Raya restaurant [a famous Thai restaurant set in an old mansion], and it was absolutely amazing," says Tikaram, who spent six months developing his own version. "The trick is to get it very flavorful but light."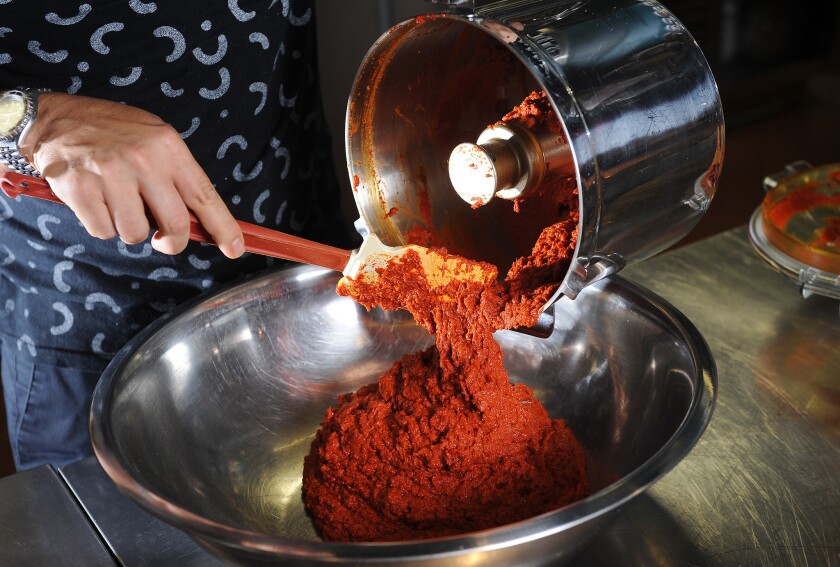 As he talks, he runs his hands through a container of Puya chiles that have been soaking in water for the past half-hour. When he first arrived in the U.S., he had trouble finding just the right chiles for his curries.
"The biggest challenge is all the chiles are different," Tikaram says. "I'm used to Australian and Indonesian chiles, and here, the markets have all Mexican chiles. It took awhile to find the right ones for the dish, but I found these Puya chiles from Grand Central Market."
He drains the chiles, then places them, along with the rest of his chopped ingredients into a giant metal bowl, then into his shiny $5,000 Robot Coupe food processor.
This monster of a machine starts up, and minutes later, Tikaram is scooping out a couple pounds of smooth paste into that same metal bowl — now a mound of fiery red that fills the entire kitchen with the smell of chiles, ginger and lemongrass.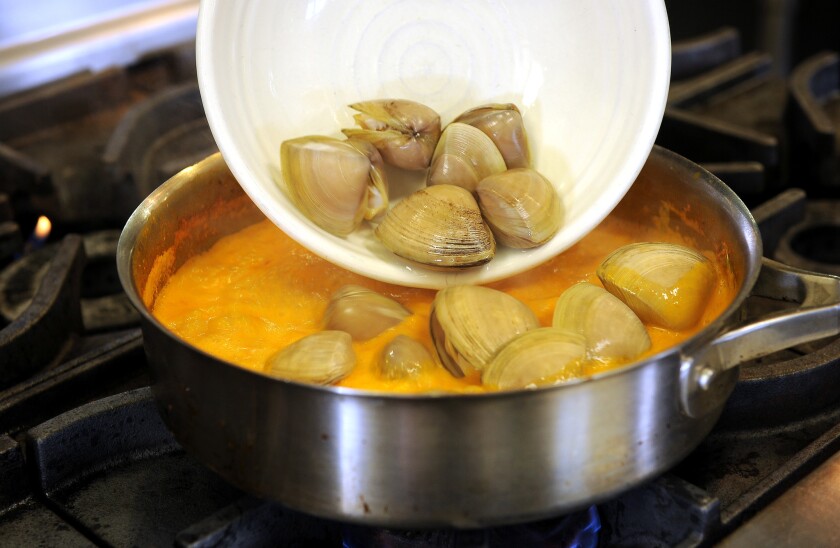 Making his way to the kitchen stoves, Tikaram takes a stock pot and ladles in some coconut milk (his favorite brand is Kara) and vegetable stock. As the mixture bubbles, he adds a couple heaping tablespoons of the fresh curry paste, some tamarind pulp, fish sauce, oyster sauce, palm sugar and a handful of clams. As he stirs, the sauce turns the color of a deep orange sherbet.
Tikaram plates the curry over jasmine rice, then adds sea beans, chiles and Thai basil leaves. Depending on what he can find at the market, those sea beans may be Chinese long beans one day, or any other vegetable that inspires him. He sticks the chiles and beans straight up so that they look like they're sprouting out of the bowl.
"Beautiful," he says as he pushes the plate forward.
"I eat tons of turmeric. It's so good for you," Tikaram says of the spice, which often is used as an anti-inflammatory agent. "I eat a lot because I play a lot of basketball, and I have bad knees and ankles."
Tikaram steps away from the bowl and walks over to a stack of red and yellow Sapporo and Kirin beer crates off to the right of the kitchen, filled with bottles of black vinegar, sweet soy sauce, distilled vinegar, soybean paste, fish sauce, salted soybeans and Tapatio.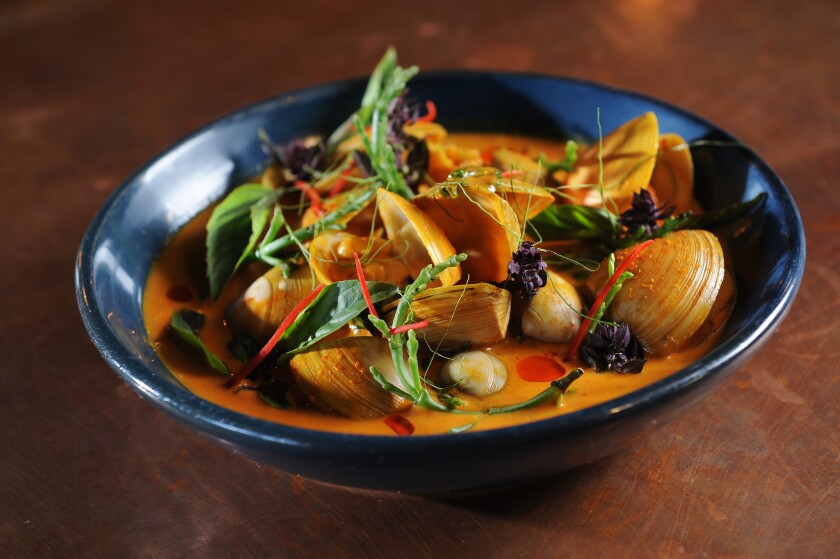 Recipe: Turmeric and coconut clam curry
He reaches over, as if to grab some final ingredient for his curry, but emerges with a bright orange plastic ball instead.
"My staff asked me what I wanted for my birthday, and I told them a basketball hoop," Tikaram says. "They listened."
He bounces the ball a couple of times, passes it to himself just a few feet ahead, then leaps into the air and dunks the ball into a hoop he's fastened to one of the crates.
Tikaram says he usually allows himself to dunk only a couple of baskets after midnight, once he's finished a full day in the kitchen, over a couple of bubbling pots of curry.
E.P. & L.P., 603 N. La Cienega Blvd., West Hollywood, (310) 855-9955, eplosangeles.com
»
---
Get our weekly Tasting Notes newsletter for reviews, news and more.
You may occasionally receive promotional content from the Los Angeles Times.