The Artisan: Yvan Valentin is exacting with his chocolate truffles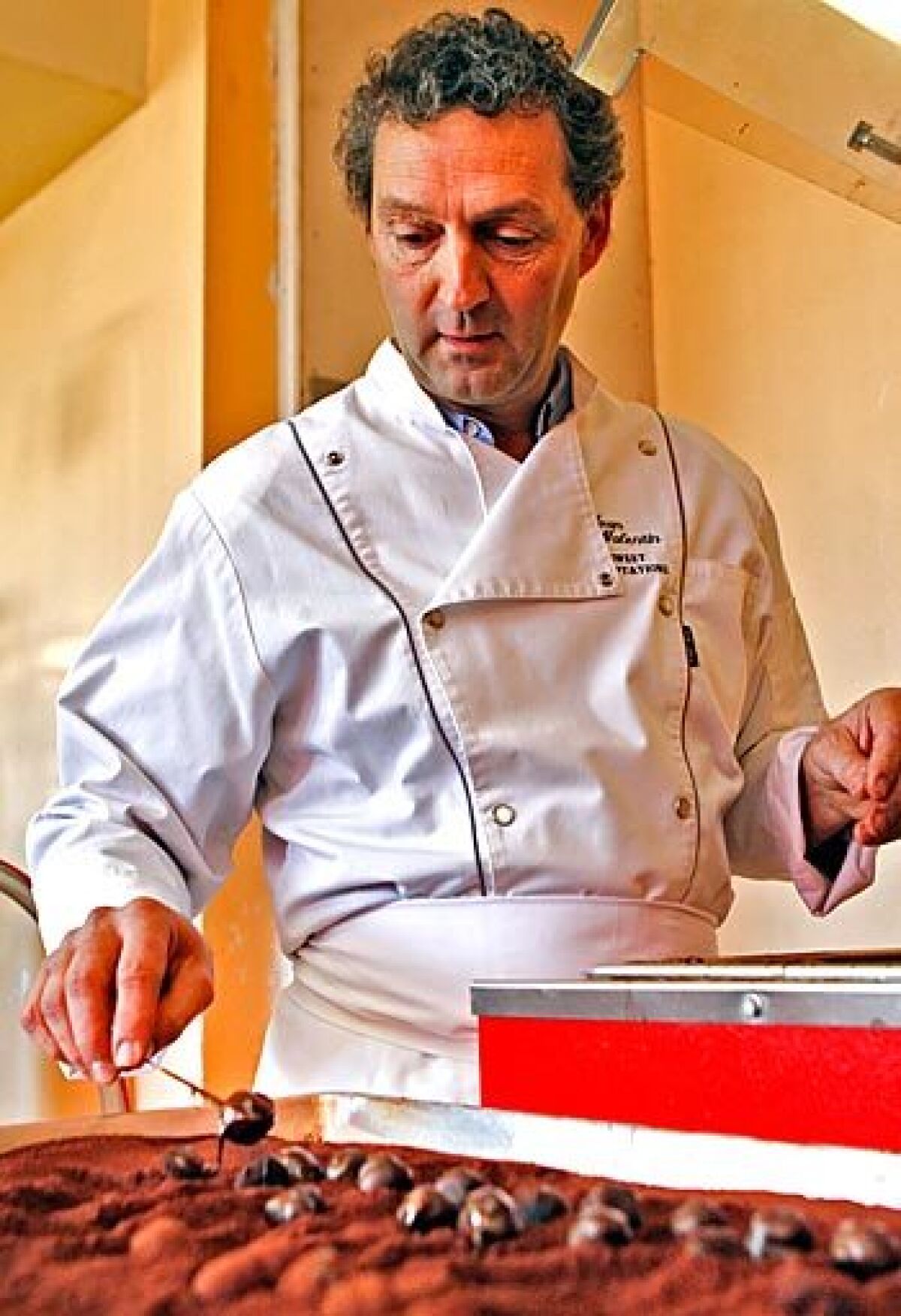 In years past, Yvan Valentin crafted elaborate mousse-filled meringue cakes for Frank Sinatra, built a towering croquembouche (a cream puff pyramid decorated with pulled sugar) for Jane Fonda and Ted Turner's wedding and constructed a chocolate replica of downtown's Union Station for President Clinton.
But these days, the well-pedigreed French pastry chef is more interested in the rough-hewn chocolate truffles that are the heart of his Leimert Park chocolate factory and wholesale bakery. "What is most important to me now is not how beautiful is the chocolate, but how is the taste," explains the 49-year-old chocolatier in his persistent French accent.
These may not be the jewel box-worthy, cocoa butter-painted chocolates one might expect from the former pastry chef at L'Orangerie, the late, legendary white-glove French restaurant. But to Valentin — a handy last name this time of year — the nooks and crannies on each classic French truffette are pretty perfect just the way they are. Though he has experimented over the years by adding caramel to one ganache filling and dusting another with matcha tea powder, for the most part, Valentin has let that craggy dark chocolate coating tell its own flavor story.
"Chocolate is such a noble ingredient, it doesn't need so much to be good," he says, standing in the former retail shop for the long-shuttered Grace Bakery on Jefferson Boulevard that now serves as his truffle production facility. He opened Yvan Valentin Chocolate Truffles when he stepped down as L'Orangerie's pastry chef 18 years ago.
"There is not one chocolate that is ever the same — ever," he says, cradling two of the three-quarter-inch cocoa powder-dusted nuggets in the palm of his hand.
Valentin says inherent variety in hand-dipped truffles is why he is content to still make just six flavors. He started the business with his signature dark chocolate bonbons, a delicate dark chocolate shell filled with a creamy ganache made from three types of dark chocolate. Over the years, Valentin has added a chocolate caramel-filled "cappuccino" filling, a praline truffle (chocolate hazelnut cream) and a white chocolate version with white chocolate orange-liqueur cream. More recently, the matcha-tea-dusted dark chocolate truffle and a tart yuzu-dark chocolate ganache have passed his rigorous chocolate taste tests.
Behind the small chocolate room, Valentin's two dozen employees work to fulfill daily bakery orders 24 hours a day, seven days a week. (The truffles are made only on weekdays, when Valentin is on site.) He also opened a wholesale bakery, Sweet Temptations, at the same time he started the truffle company. Thousands of croissants, the bakery's most popular item, make daily treks around the globe, being served on several airlines. Valentin's breakfast pastries (including the croissants), pies and elaborate French cakes are delivered daily to Southern California specialty retail shops, corporations and high-end hotels such as Santa Monica's Shutters on the Beach and L'Ermitage in Beverly Hills.
Aside from a few chocolate-induced smile lines and gray curls, Valentin almost could pass as the enthusiastic teenager who had his first dark chocolate love affair more than 30 years ago.
After he graduated from pastry school, the Roanne native spent several years honing his soufflé technique at Maison Troisgros, a long-revered Michelin three-star restaurant in his hometown. When he turned 21, Valentin says, he decided to continue his education abroad. "Travel is how you become more creative."
His two-year tour du monde included pastry stints in Israel, Italy, Malaysia, Spain and Tahiti. Valentin settled in L.A. in 1984 when the Troisgros family recommended him for the L'Orangerie position. "That is how it worked then at the French restaurants, by recommendation," he says.
For the next eight years, Valentin soaked up life in the limelight as a young Los Angeles pastry chef. He fondly recalls the virtually limitless budget he had for quality ingredients and the high-end clientele that was always eager for his next creation, no matter how elaborate. But at some point, the croquembouche party had to end.
"I was in my early 30s, a time when you need to move, to do things, or you will be stuck," he says, brushing cocoa powder off the white apron tied snugly around his pristine chef's jacket.
Nearby, 29-year-old Samuel Gobet is piping chubby coins of dark chocolate ganache onto a parchment-paper-lined baking sheet. (Valentin's brother, Frank, a restaurateur in Saint Jean La Bussière, France, recommended the aspiring chocolatier for the job.)
To make the dark chocolate truffles, Valentin's favorites, the piped chocolate filling is chilled until firm and then dipped one by one into melted dark chocolate. Like most chocolatiers, Valentin uses a small tabletop tempering machine to keep the coating chocolate at a constant temperature (even the slightest change in temperature can cause streaking and a gray, chalky texture).
Rolling the finished truffles in cocoa powder intensifies the chocolate flavor. "You must treat the chocolate very carefully, it is always changing," says Valentin, pouring a little cocoa butter into the tempered chocolate to keep it from becoming too thick. "It is why I prefer to make the chocolates than the same croissants, over and over."
Valentin's penchant for perfection made the transition from pastry chef to wholesale baker a bit tricky.
"The hotels, they come and tell you what they want, not the other way around," he says, tasting the crust of a lemon bar that an employee has just pulled out of an oven.
"My problem was the first 10 years in this business, I was trying to be too French, no wavering," he says. He still wears a formal double-breasted chef's jacket to work every day.
Eventually, at the request of clients, Valentin agreed to add American-style pies, bar cookies and breakfast muffins to his menu. "These, they are a bit sweeter pastries, for the Americans," he says while a bakery assistant cuts up lemon and pecan bars for a 1,400-person catering order. "You have to cooperate with your customer, but I cannot ever produce something I cannot eat myself."
When it comes to his beloved truffles, Valentin is not as generous with his customers. "People must respect chocolate," he says, adding that several new Asian clients have been particularly receptive to his style of lightly sweetened chocolates. "The Japanese like things not too sweet, like the French."
For Valentine's Day, he shipped 1,200 pounds of chocolate to Japan for several new high-end department store clients in Ginza, Kobe and Tokyo. The matcha-tea-dusted truffle and a yuzu-spiked ganache version were recently added to the truffle lineup with that growing Asian market in mind.
Valentin says he also hopes to one day grind his own cocoa beans for the ganache. A lofty goal, as a bean-to-bar operation would require a substantial investment, not to mention several extra hours in the workday that are already in short supply.
"I should be more in the office now, I know," he says, grinning, as he stands beside a baker's cart filled with truffles. "But I love being out here, with my beautiful chocolate."
Yvan Valentin Chocolate Truffles, https://www.yvanvalentin.com, are available at Andrew's Cheese Shop in Santa Monica, Larchmont Village Wine & Spirits and Joan's on Third in Los Angeles, and Nicole's Gourmet Foods in South Pasadena. They will be available for mail order in March.
Get our L.A. Goes Out newsletter, with the week's best events, to help you explore and experience our city.
You may occasionally receive promotional content from the Los Angeles Times.