Recipe: Basic yeast dough (Famian)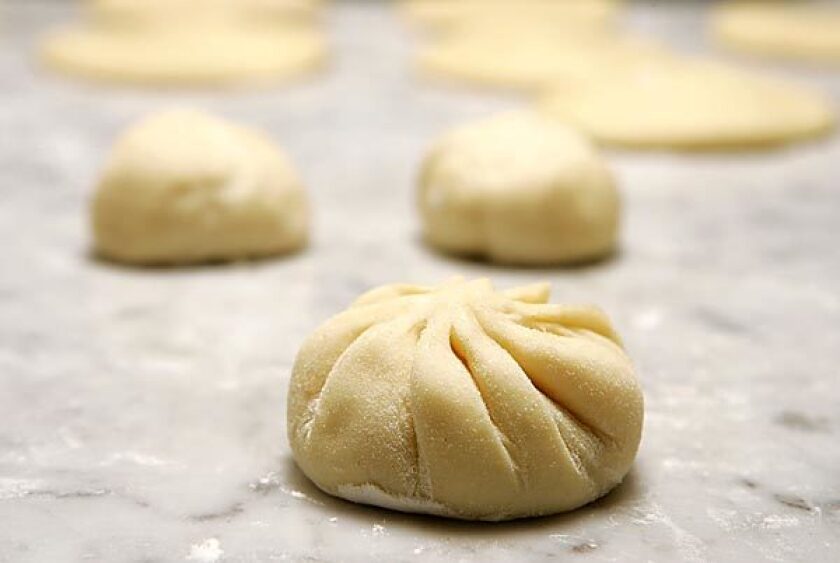 Total time: 50 minutes
Servings: Makes enough for 32 small or 16 medium buns
Note: All-purpose flour with a moderate amount of gluten, such as widely available Gold Medal, works best to yield tender, yet slightly chewy dough. Unbleached flour produces terrific flavor, but bleached flour imparts a brighter finish that some Asian cooks like.
1 1/2 teaspoons instant dry yeast
3/4 cup lukewarm water
2 tablespoons canola oil
2 tablespoons sugar
2 teaspoons baking powder
Scant 3 cups (12 1/2 ounces) flour
1. Put the yeast in a small bowl, add the water and set aside for 1 minute to soften. Whisk in the oil to blend and dissolve the yeast. Set aside.
2. To make the dough in a food processor: Combine the sugar, baking powder and flour in the bowl of the food processor. Pulse two or three times to combine. With the motor on, pour the yeast mixture through the feed tube in a steady stream and allow the machine to continue running until the dough starts coming together into a ball, about 20 seconds. (If this doesn't happen, add lukewarm water by the teaspoon.) Let the machine continue for 45 to 60 seconds to knead most of the dough into a large ball that cleans the sides of the bowl; expect some dangling bits. Press on the finished dough; it should feel medium-soft and tacky but should not stick to your finger.
3. Alternatively, to make the dough by hand: Combine the sugar, baking powder and flour in a large bowl. Make a well in the center and pour in the yeast mixture. Slowly stir with a wooden spoon, moving from the center toward the rim, to work in all the flour. (Add lukewarm water by the teaspoon if this doesn't happen with relative ease.) Keep stirring as a ragged, soft mass forms. Then use your fingers to gather and pat the dough together into a ball. Transfer to a work surface and knead for about 5 minutes, until smooth, fingertip-soft and slightly elastic. (You shouldn't need any additional flour on the work surface if the dough was properly made. Keep kneading, and after the first minute or two, the dough shouldn't stick to your fingers. If it does, work in a sprinkling of flour.) Press your finger into the dough; the dough should spring back, with a faint indentation remaining.
4. Lightly oil a clean bowl and add the dough. Cover with plastic wrap and put in a warm, draft-free place to rise until nearly doubled, 30 to 45 minutes (timing will vary depending on the temperature of the room). The dough is now ready to use.
5. If not using immediately, cover and refrigerate the dough until needed.
Each of 16 servings: 104 calories; 2 grams protein; 19 grams carbohydrates; 1 gram fiber; 2 grams fat; 0 saturated fat; 0 cholesterol; 62 mg. sodium.
---
Get our weekly Tasting Notes newsletter for reviews, news and more.
You may occasionally receive promotional content from the Los Angeles Times.