Recipe: Curried chicken bun filling (Gali ji bao)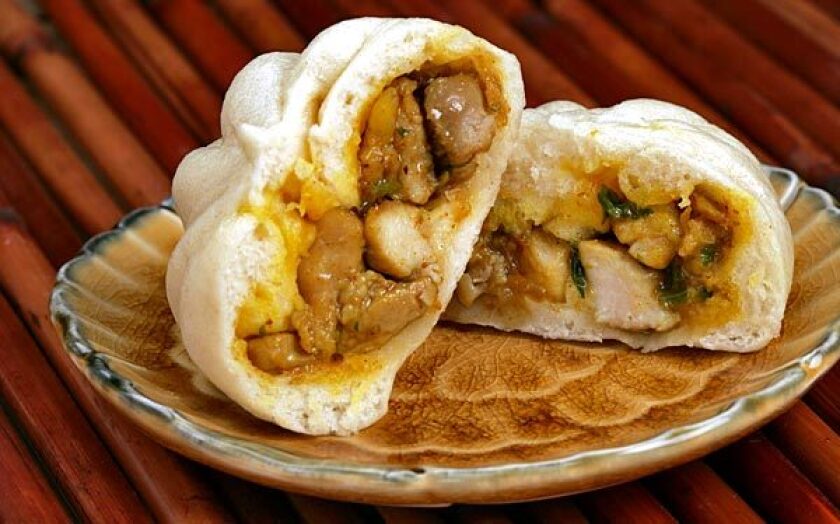 Total time: About 25 minutes, plus cooling time
Servings: Makes about 1 1/3 cups filling
Note: If you have a good curry powder, like Sun Brand, feel free to substitute 1 tablespoon for the spices below; decrease the amount of salt if the curry powder contains salt already. Or skip the toasting and grinding by substituting equal amounts of ground spices for the whole ones, using two pinches of black pepper for the peppercorns. The flavors will still be good.
1 1/2 teaspoons coriander seed
1/4 teaspoon cumin seed
1/8 teaspoon fennel seed
3 black peppercorns
1/4 teaspoon ground cayenne
1/4 teaspoon ground turmeric
1 pinch of ground cloves
1 pinch of ground cinnamon
1 large shallot, chopped ( 1/4 cup)
1 tablespoon chopped fresh ginger
1 clove garlic, chopped
1 1/2 teaspoons water
1 tablespoon canola oil
2/3 pound boneless skinless chicken thighs, diced into 1/4 - to 1/2 -inch pieces
1/2 teaspoon salt
3/4 teaspoon sugar
3 tablespoons coconut milk
2 1/2 teaspoons cornstarch mixed with 1 tablespoon water
2 tablespoons coarsely chopped fresh cilantro
1. In a small, dry skillet over medium heat, toast the coriander seed, cumin seed, fennel seed and peppercorns until fragrant, 1 to 2 minutes. Grind the spices using a clean coffee grinder or mortar and pestle.
2. Transfer the spices to a food processor or an electric mini-chopper and add the cayenne, turmeric, cloves, cinnamon, shallot, ginger, garlic and water. Process to a paste, scraping down the sides occasionally. Alternatively, pound the ingredients, omitting the water, using a mortar and pestle; add the water to the pulverized aromatics to make a paste. Transfer the spice paste to a small bowl and set aside near the stove.
3. In a medium skillet, heat the oil over medium heat. Add the spice paste and gently cook, stirring frequently, until it has darkened and become richly fragrant, about 5 minutes. Add the chicken, salt and sugar, stirring to combine well. Cook for 2 to 3 minutes, stirring, until the chicken is cooked halfway through. Add the coconut milk, and cook for another 2 to 3 minutes, until the chicken is done and has released some of its juices. Cook for 1 minute more to intensify the flavors. Give the cornstarch mixture a stir and add it to the skillet. Stir to distribute well and cook for about 30 seconds, until the filling has thickened.
4. Remove from the heat and stir in the cilantro. Transfer to a bowl and set aside to cool completely before using. The filling can be prepared up to 2 days in advance, covered with plastic wrap, and refrigerated. Return to room temperature before using.
Each tablespoon of filling: 35 calories; 3 grams protein; 1 gram carbohydrates; 0 fiber; 2 grams fat; 1 gram saturated fat; 9 mg. cholesterol; 65 mg. sodium.
---
Get our weekly Tasting Notes newsletter for reviews, news and more.
You may occasionally receive promotional content from the Los Angeles Times.