Review: At Alta Adams, Keith Corbin's 'California soul food' bridges tradition and innovation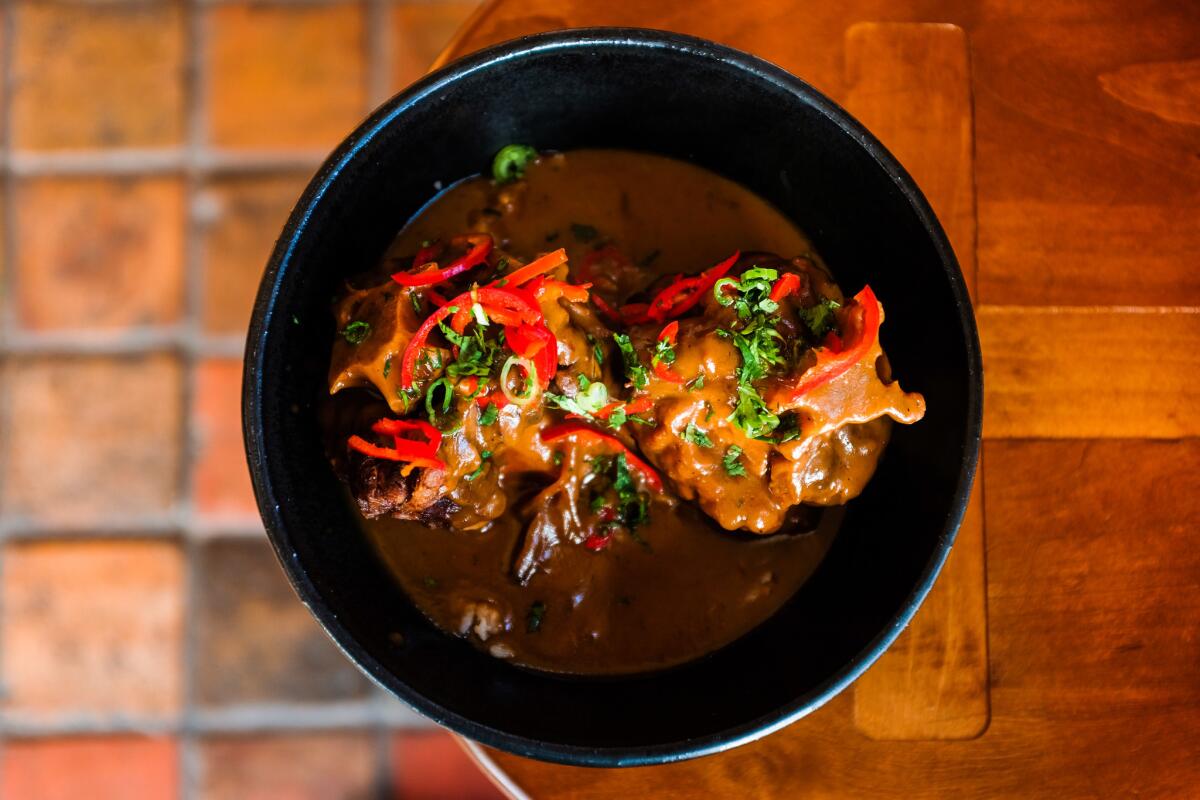 Restaurant Critic
To understand Keith Corbin as a chef, and the cooking at Alta Adams he calls "California soul food," order his oxtails over rice. They arrive wholly undisguised: blocks of butchered appendage, the tailbones in jutting shapes of jigsaw puzzle pieces surrounded by supple meat. Corbin sears the oxtails and then braises them in a liquid infused with miso and soy. Like exceptionally tight background vocals, the flavorings add harmonic shimmer without pulling focus from the lead melody.
The rice soaks up the juices and catches the gravy poured over top; slivers of pickled Fresno chile zap with gentle acid and fire. Corbin prefers the meat slightly taut, adhering to the bone still rather than collapsing at the touch of a fork, or your teeth.
As a native of the South, I like them cooked this way too. Corbin makes oxtails and rice his own, but it has a through line to other versions around the country — at the Busy Bee Cafe in Atlanta, at Bully's in Jackson, Miss., and, closer to home, at Dulan's Soul Food Kitchen in Inglewood.
Alta Adams enters this lineage as a synergist for conversation around the evolving definition and direction of soul food in America. Adrian Miller, author of "Soul Food: The Surprising Story of an American Cuisine, One Plate at a Time," characterizes soul food as an immigrant cuisine: the African American cooking of the interior South that traveled to other regions of the country, most notably during the Great Migration of the mid-20th century. On restaurant menus, the repertoire largely mirrors Southern celebration foods: meats smothered in gravy, fried chicken, rich sides like candied yams and macaroni and cheese, dairy-laden desserts.
Corbin was raised on these foods: He grew up in Watts, where his family has lived for generations. His great-grandmother arrived in California from Mobile, Ala., in search of work at the cusp of World War II. He fondly remembers the sanctuary of his grandmother's kitchen in particular, but he didn't set out at Alta to exactly replicate how she'd done things behind the stove.
His intent is to lighten and refresh a lexicon that, as he sees it, moved away from its agrarian roots and suffers from a stigma of being unhealthy. He shaves yams into delicate layers for a gratin he sweetens with almond milk and a gloss of brown butter. The nutty earthiness of West African red palm oil enriches squash and peanut soup. There's no traditional ham hock deepening his long-simmered collard greens: He instead seasons them with vinegar, chile flakes and smoked oil and bundles them in a pliable steamed collard leaf creased like an envelope.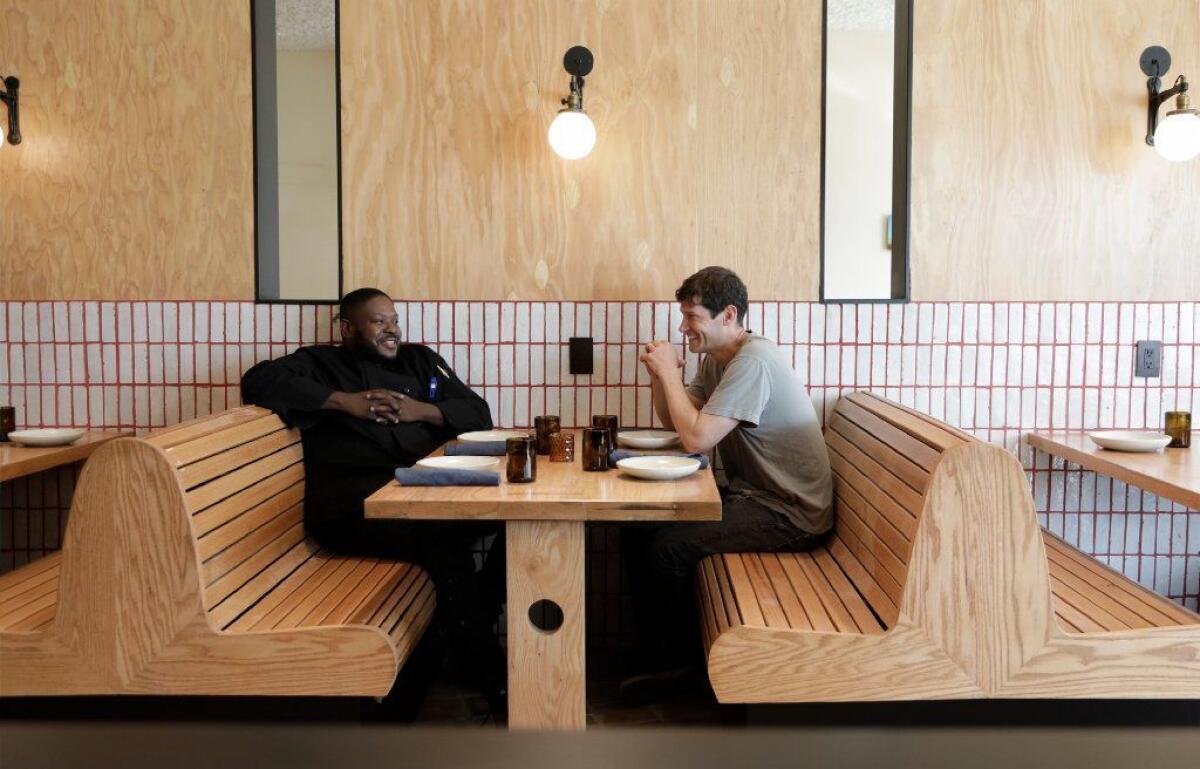 The presentation of the collards is in part homage to "foldies," a riff on tacos that was served at Locol in Watts, where Corbin began cooking professionally. Daniel Patterson, the chef and restaurateur whose Alta Group runs San Francisco's modernist temple Coi and several other Bay Area notables, partnered with Kogi's Roy Choi on Locol, the fast-food concept they started to provide affordable restaurant options to underserved communities. Locol closed last summer; Patterson opened Alta Adams in the West Adams neighborhood in October as a platform for Corbin, who was Locol's kitchen manager.
The restaurant and its adjoining Adams Coffee Shop sit on a sunny corner along a stretch of blocks with few other full-service dinner options. Word, happily, is out: Its two butterscotch-toned dining rooms are always full; I've not witnessed more racially diverse crowds in a Los Angeles restaurant. When I mentioned it to Corbin on the phone, he said, "I'm proud this has become a place where black folks are celebrating."
Corbin keeps the menu succinct. A few salads, including an excellent Cobb for lunch at the coffee shop, address his intentions for healthier options. But it is also very gratifying when he delves into some straightforward caloric pleasures. He smothers hanger steak, cooked to a meticulous medium-rare, in a lush mushroom gravy spiked with Hennessy, his Cognac of choice. I thought living in the South I'd encountered nearly every technique a chef could muster for fried chicken, but Corbin's is an original: He deep-fries the bird first, then par-bakes it, and right before serving finishes it in a skillet. The method achieves the kind of sheer, crackling crust that's all but disappeared in restaurant fried chicken. I'm obsessed.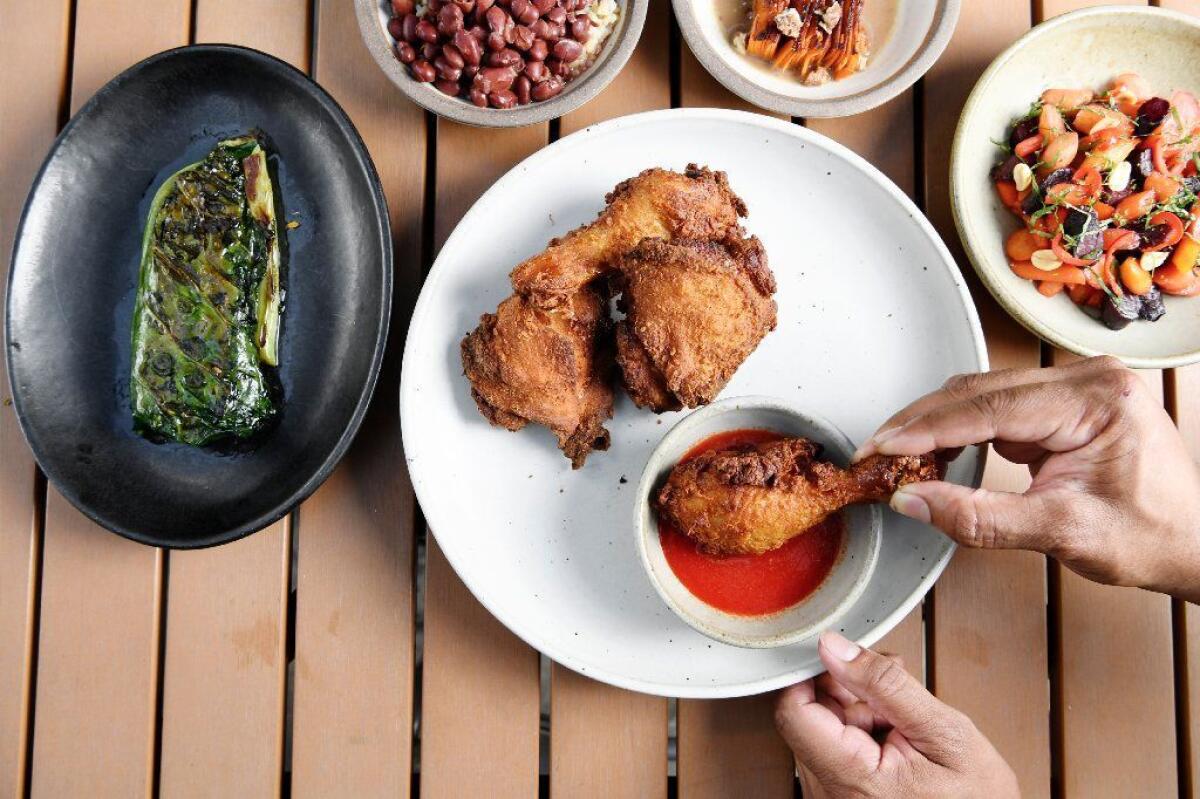 Like the other meats, the fried chicken comes family style without sides: Order collards and yam gratin and glazed carrots and beans and rice to complete the meal. Alta recently began serving weekend brunch, a natural progression for this kind of communal cooking (and a prime occasion to hang out on the restaurant's gorgeous patio). I did not expect to be so taken with the cornmeal pancakes: lacy around the edges, tall and fluffy in the center, gilded with a brown butter-maple caramel sauce. The fried chicken comes as a side at brunch; paired with the pancakes, it's pretty much what I want to eat every Sunday right now.
Not every dish at Alta transcends. I've had the black-eyed pea fritters undercooked and damp in the center and overcooked to dryness; I'm still waiting for my Goldilocks just-right moment with them. Same with the coconut cake. A hunk of cauliflower with barbecue sauce leans to the cloying edge of sweetness. As for the macaroni and cheese, I'll admit personal preferences: I like mine baked and custardy; this one is loose and creamy with an aerated sauce of aged Gouda whizzed on top.
What transcends hits-and-misses quibbles is the restaurant's generous spirit of hospitality, the fun cocktails like the Lunchbox (a liquid take on peanut butter and jelly), and especially the lucidity of Corbin's approach. It's so tempting to muddle Southern and soul food, to haphazardly fuse it with global flavors (some, admittedly, innate; the cuisine has many root systems) or to take it toward make-it-fresh extremes. The critic in me might ask: Could he weave in more overt West African flavors? Should he further push boundaries on vegan and vegetarian interpretations?
The Southerner in me says only: Thank you. Pass the oxtails again, please?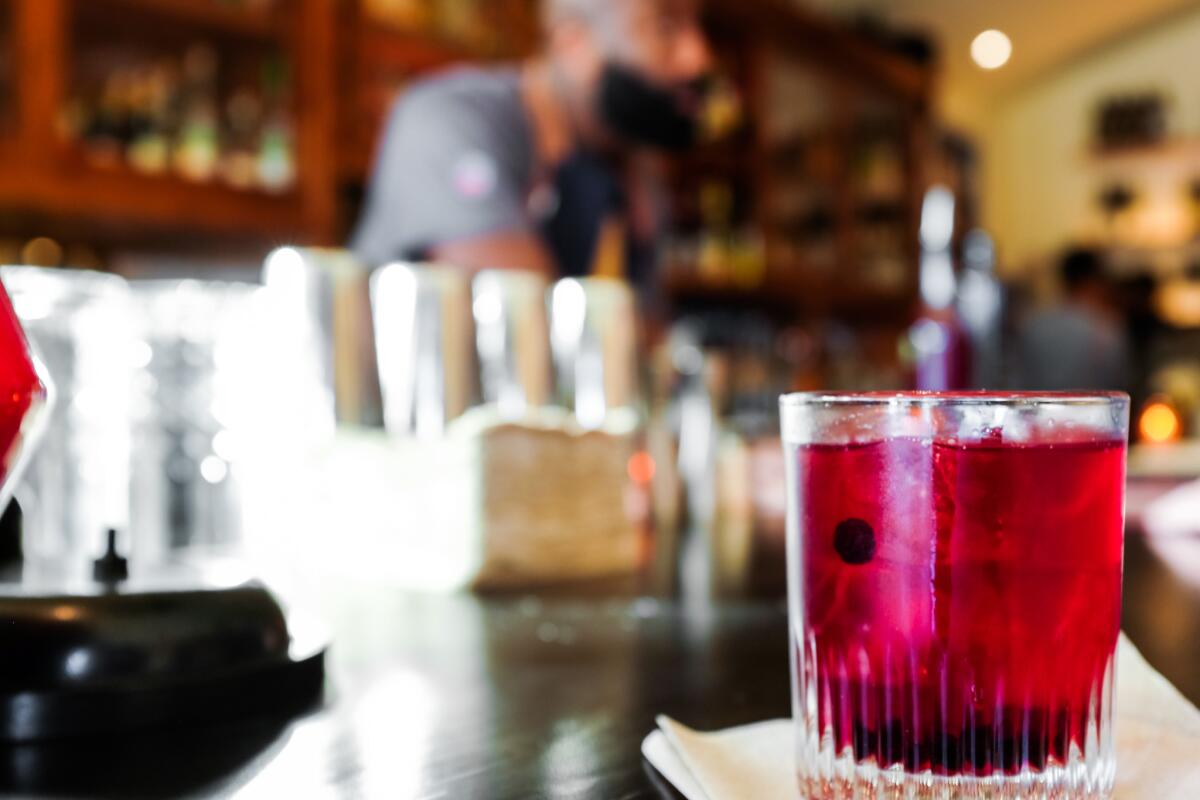 If You Go
Alta Adams
Keith Corbin mines fresh territory with his California soul food, rebooting traditional Southern dishes with lighter ingredients and umami-rich variations.
Location: 5359 West Adams Blvd., Los Angeles, (323) 571-4999, altaadams.com

Prices: Snacks $4-$8; starters $10-$18; entrees $18-$31; brunch mains $13-$24.

Details: Credit cards accepted. Full bar. Valet parking. Wheelchair-accessible.

Recommended dishes: Squash and peanut soup; hanger steak; oxtails and rice; fried chicken; collard greens; cornmeal pancakes at brunch.
Get our L.A. Goes Out newsletter, with the week's best events, to help you explore and experience our city.
You may occasionally receive promotional content from the Los Angeles Times.