Review: Madre in Torrance goes deep on mezcal and wide on Oaxacan classics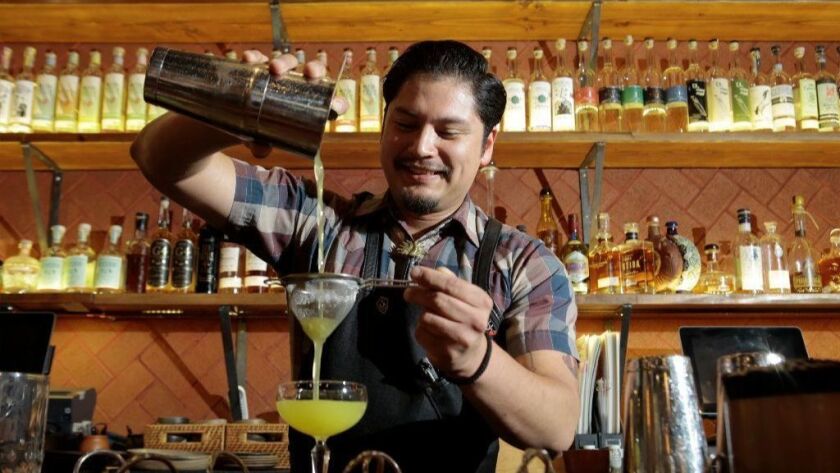 Restaurant Critic
At Madre in Torrance, Bryant Orozco hoists himself up on a stepladder to reach the top of four shelves lined with nearly 400 bottles of mezcal. Then he grabs a stack of the shallow clay Oaxacan cups called copitas for sipping mezcal, along with slices of orange and small piles of crisp, fried chapulines, and lines up a few bottles on the bar. He details their provenance while I start savoring.
We dive in with Nacional 1938, the marriage of two agave strains roasted and distilled together; the flavor is immediate and intense, like inhaling the fragrance of dusky dry herbs as you crush them in your hands. Lalocura San Martinero swings wildly: glints of strawberry and flashes of peanut emerge through a smooth, slow-burning smokiness. Tosba Pechuga riffs on a traditional celebration mezcal, combining turkey breast, pineapple, bananas, rice and apple in the still when the spirit is made. It's boozy hot and somehow meaty, with a finish like a chocolate-covered caramel.
I'm glad when memelas — thick Oaxacan tortillas spread with pureed black beans and asiento (the browned drippings from rendered pork) and freckled with queso fresco and crumbled chorizo — arrive to provide ballast.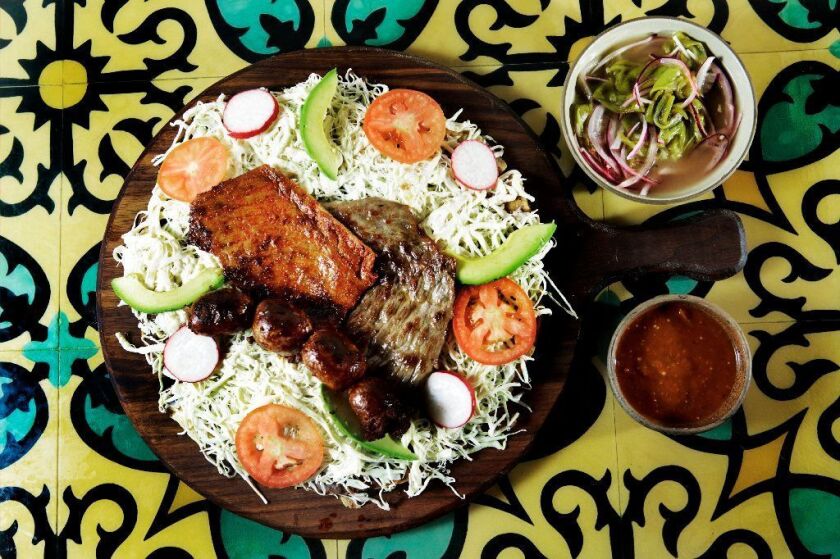 We aren't the only ones on a guided mezcal tour with Orozco; he races up and down the long bar, talking with intrigued couples and larger groups of regulars about the producers and styles that most excite him. The spirits are served in restrained 1- or 2-ounce pours; a pink neon sign in the bar reads "besos de mezcal," a nod to an expression in Oaxaca that mezcal should be "kissed" rather than guzzled in shots.
Orozco manages the bar program at Madre, where he's absorbing the gospel of mezcal from the restaurant's owner, Ivan Vasquez, a native of Oaxaca.
Vasquez purchased his first restaurant, the 48-seat El Nopal in Palms, in 2013, eventually phasing out its longstanding menu of Tex-Mex burritos and combo plates for the moles and tlayudas of his childhood. Two years ago he opened Madre, a multi-room, 7,000-square-foot space in an Old Town Torrance complex, digging deeper into Oaxaca's culinary repertoire and pushing his mezcal inventory to arguably the largest selection in metro Los Angeles.
Last year Vasquez rechristened El Nopal as a second Madre, and he plans to open a third location in Mid-City. The Palms outpost has a near-equal mezcal assortment, so by all means go imbibe, but I found the cooking there uneven and far prefer the Torrance flagship. In the synergy of honed dishes and superior drinking, it's a restaurant that earns its place among L.A.'s extraordinary and well-established Oaxacan dining scene.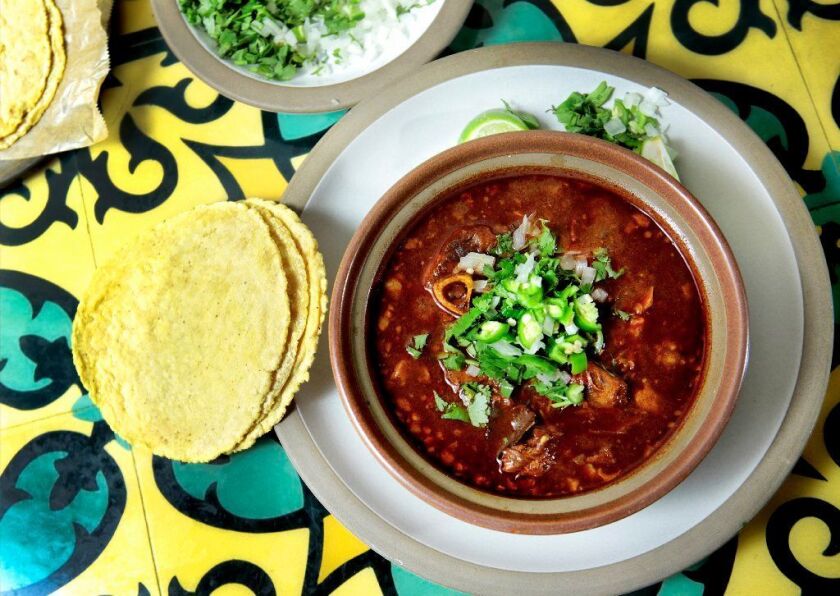 The Torrance Madre's two main rooms are vast to the point of impersonal, and too dim at night. In the same way that everyone at a house party gravitates toward the kitchen, many customers drift to the bar area. Tiles in swirling colors boost the mood; the space between the tables feels generous but not alienating.
If, like me, you're there to eat but also to geek out on mezcal, it's best to find a stool in front of Orozco. Staffers hand out a truncated list of mezcals and tequilas when you're seated; they looked at me quizzically every time I asked for what Vasquez calls the "mezcal bible," even though a stack of the tomes sits by the host stand. No one asks for them, apparently. The curious simply plonk themselves down at the bar and start asking for recommendations.
The bible, organized by agave type rather than by producer, is certainly a daunting read. So is the food menu: a tabloid-size document of more than 50 dishes that swerves through enchiladas, chiles rellenos, moles, salads, tacos, tamales and stews.
Vasquez and Marcelo Garcia, the chef, show their best side when they home in on Oaxacan classics. Start with the memelas, satisfying with their soft crunch and layered richness, and with the staggering tlayuda: The crackly corn tortilla, about the size of a vinyl record, shoulders cecina (which in Oaxacan cooking is grilled slices of chile-rubbed pork), tasajo (an even sheerer swath of grilled beef) and eyeball-shaped links of chorizo atop sliced vegetables and strands of Oaxacan quesillo.
Bypass the chicken and beef versions of Oaxacan-style barbacoa, opting for the barbacoa de chivo. The goat's subtle gaminess makes an ideal foil for a seamless stitching of flavors: nutty-minty avocado leaf, cinnamon added only when the stew comes to a boil, the campfire heat of tiny pequin chiles.
The same careful embroidering is evident in the restaurant's five moles. The mole negro and Coloradito explore two distinct themes on earthy, nutty, fruity and chocolaty. Vasquez favors estofado, with its sharp turns of tomatillo, raisin, almonds and green olives; his mother (after whom the restaurant is named and whose recipes serve as inspiration) made it twice a week for her family. I'm haunted by Madre's take on mole verde, whose herbal duet of epazote and hoja santa resounds like two sopranos competing to hold the high note longest.
Make decisions easier: Order the pecado de mole that lets you choose three moles to sample over chicken or pork.
There's a menu section devoted to family-style platters that includes Oaxacan signatures centered around meats or masa-based snacks. I like the strategy of sharing platters of quesadillas and empanada-like molotes and mini-memelas and chicken taquitos, or stacks of pork and steak and tongue cut into bite-size morsels with salsas and guacamole and tortillas. Wherever you're given the option, it's worth the $3 upcharge for handmade corn tortillas.
Leftovers will be likely, but I'd go heavier on savory than sweet: desserts (churros with rigor mortis, tres leches cake that wasn't milky enough) underwhelmed. That's fine, honestly. I'd rather kiss one more mezcal good night.
Madre
Ivan Vasquez creates a tribute to his native Oaxaca with dishes based on family recipes and a righteous, 400-bottle selection of agave spirits.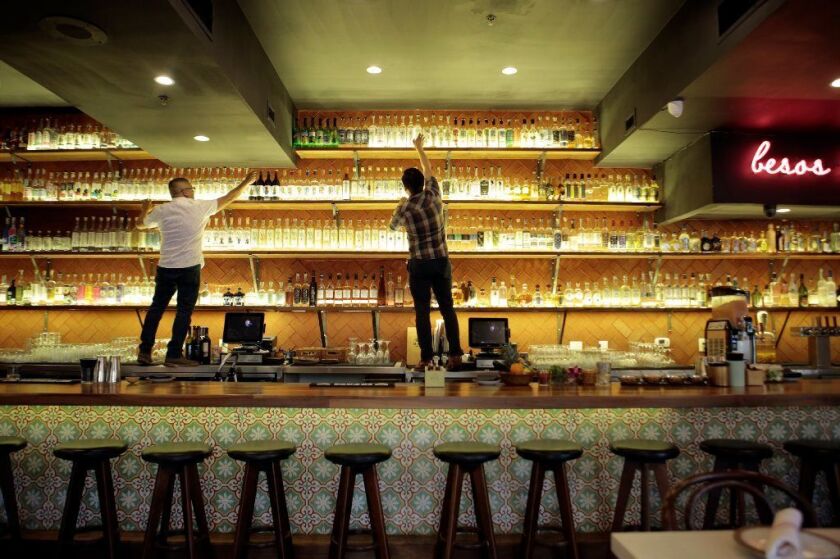 Location: 1261 Cabrillo Ave., Torrance, (310) 974-8005; also at 10426 National Blvd., (310) 559-4732, madrerestaurants.com
Prices: Starters and antojitos $9-$22; larger plates $14-$21; moles $16-$24; ensaladas $14-$16; family-style dishes and platters $17-$50.
Details: Credit cards accepted. Full bar. Onsite parking. Wheelchair accessible.
Recommended dishes: Memelas; tlayuda; moles (particularly coloradito, estofado and verde); barbacoa de chivo; and mezcal to imbibe alongside.
---
Get our weekly Tasting Notes newsletter for reviews, news and more.
You may occasionally receive promotional content from the Los Angeles Times.