Hungry for biryani? Here are 7 places in the L.A. area to get your fill
Toss curry and rice together and you have biryani, right? Well, not exactly. This is what often passes for the beloved Indian rice dish at restaurants too pressed for time to make the real thing.
A sumptuous dish once feasted on by Mogul rulers, biryani consists of ornately seasoned meat (chicken, lamb or goat) or vegetables layered with rice. For a lamb or goat biryani, the meat is marinated for hours with spices, then cooked with still more seasonings, such as ground cumin and coriander and perhaps mint and cilantro. The rice, most often basmati, is as important as the meat; long, slender grains are prized, and broken grains indicate careless stirring. The final touch is a decorative sprinkle of saffron over the top.
The Indian city most known for biryani is Hyderabad, in the south. There, in the palace of the ruling elite, cooks perfected what is known as the "dum" style of cooking, steaming the layers of meat and rice in a pot sealed with dough so no vapors could escape. Northern India and Pakistan have their own styles of biryani. In Chennai in the south, meat and rice may be cooked separately, then combined. The favored rice is short-grain jeera samba, named for its resemblance to cumin seeds (jeera).
Genuine biryani may be rare in Los Angeles, but it does exist, mostly in Artesia's Little India — where it's fun to seek out the dish on the weekends, when large amounts are prepared for the crowds of shoppers who flock to the local markets, sweet shops and sari boutiques — but also at a few places on the Westside and in the San Fernando Valley. Here are seven places to try it.
Annapurna Cuisine
Vegetable biryani may sound dull, but at this South Indian vegetarian restaurant, where chef Bala Murugan is from Chennai, it's both spicy and rich. A dozen or so spices plus fresh mint, cilantro and green chiles enhance the mix of carrots, cauliflower, potato, green beans, peas, basmati rice and fried onions. When the biryani is ready, butter is placed on top to seep through the layers. If this were India, the biryani would cook with heat underneath and coals on top of the pot. That's not allowed here, so Murugan makes do with a container of hot water on the lid. For relief from the spicy flavors, Annapurna provides raitas made with cucumbers, pomegranate arils, pineapple and boondi, which are tiny, crisp chickpea flour balls that soften as they soak in the yogurt. 10200 Venice Blvd., No. 101, Culver City, (310) 204-5500, www.annapurnacuisine.com
Biriyani Factory Indian Restaurant
This small restaurant hardly looks like a factory, but it offers plenty of South Indian biryanis, including three Hyderabadi dum biryanis and a nizam biryani, named for the former rulers of the Indian state. Bezawada biryani — named for a city in the state of Andhra Pradesh — incorporates fiery, fried red chicken. Some of the rice grains are broken, but the biryani is charmingly presented in a lined copper pot. The accompaniments are raita and coconut-flavored gravy. On Saturdays and Sundays, the restaurant offers avakai biryani, based on an Andhra-style mango pickle. The other is ulavacharu biryani, made with horse gram; both are vegetarian. 18521 Pioneer Blvd., Artesia, (562) 860-6322, and 21510 Victory Blvd., Woodland Hills, (818) 883-2345. Also in San Diego.
India's Oven
Of the four biryanis at this Westside restaurant, the must-try is the Muradabadi from Uttar Pradesh in northern India, made by executive chef Dewan Bisht, who is from Muradabadi. He makes it with lamb marinated for many hours with yogurt, red chiles, garlic, ginger and turmeric. As the meat cooks, he adds more spices, along with cilantro, mint and fresh green chiles. Then he layers the meat with partly cooked rice and places the sealed pot in the oven. The outcome is buttery, tender lamb. The other three biryanis are prawn, vegetable and Hyderabadi chicken. All the meats are halal, and Bisht, who has more than 40 years of experience, prepares a different spice masala for each dish. 11645 Wilshire Blvd., second floor, Los Angeles, (310) 207-5522, www.indiasovenwilshire.com
Kabob Corner
This South Indian restaurant is the place for classic Hyderabadi biryani made dum style — and the rice is flawless. Tender, impressively long grains are piled high, concealing the goat or chicken beneath. The rice at the top is white, some of it golden with saffron. Below, the color deepens because the rice has absorbed the rich masalas. The garnishes are traditional: a hard-boiled egg, a red onion slice and a lemon wedge. The accompaniments are yogurt-cucumber raita and a chile sauce thick with ground peanuts, sesame seeds and coconut. On weekends, it's sometimes possible to try Chettinad chicken biryani, named for a part of the state of Tamil Nadu known for spicy food. Ranjit Muthu, the chef, is from Chennai, the state capital, and knows this style of biryani well. The biryanis are available only in the evening or on the weekend. 18728 Pioneer Blvd., Artesia, (562) 809-4455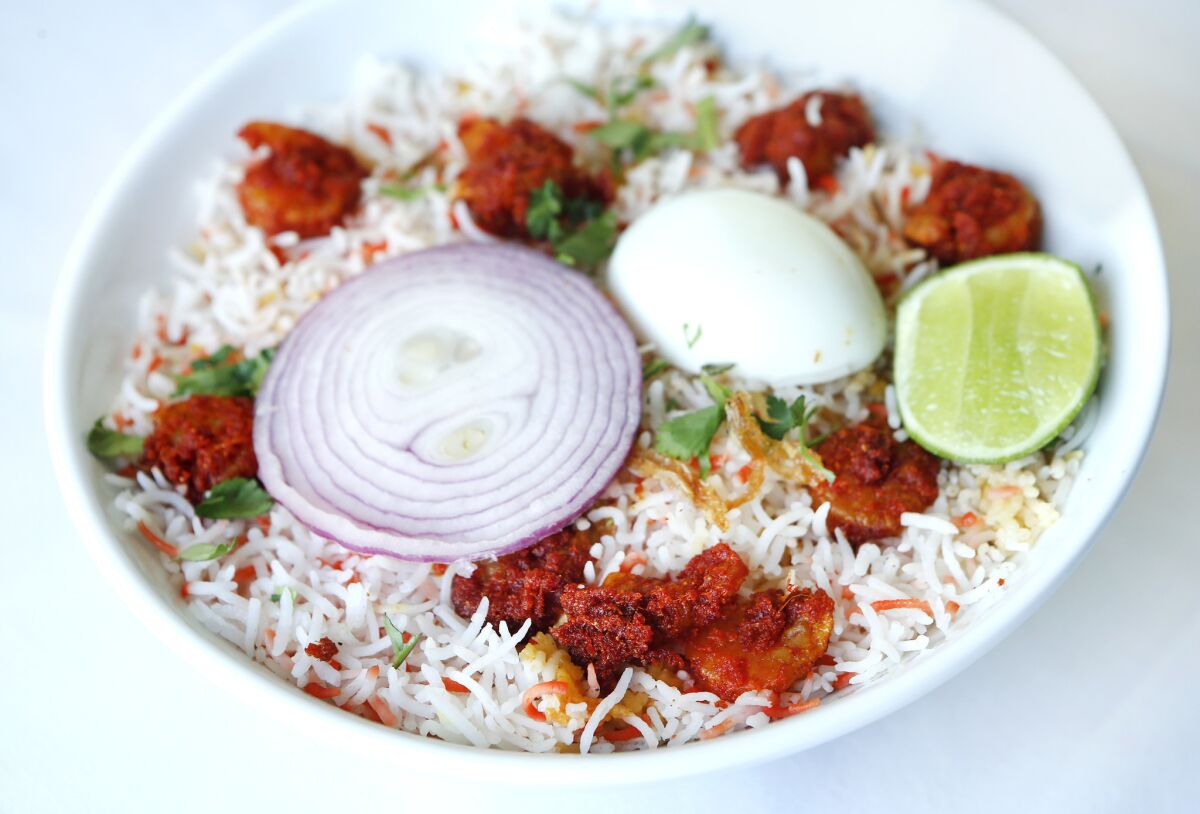 Paradise Biryani Pointe
This chain, with locations across the U.S., claims to have the best biryani in the country. That's a big boast, but the rice at the branch in Artesia is first-rate, with long, unbroken grains. Although chicken dum-style biryani with meat on the bone looked magnificent, only a few pieces were tucked under the rice. Other Hyderabadi-style biryanis at Paradise come with boneless chicken, goat, egg or vegetables, and a branch in Canoga Park has shrimp biryani. The accompaniments are cumin-scented raita and a golden gravy (made with peanuts) with a sourish tang. The chain specializes in northern Indian Moghlai and tandoor food, so if the biryani seems on the smaller side, you can always fill up with a side order of chicken tikka masala. 18158 Pioneer Blvd., Artesia, (562) 666-2334. Also 7231 Topanga Canyon Blvd., Canoga Park, (818) 348-4454, laparadisebiryani.com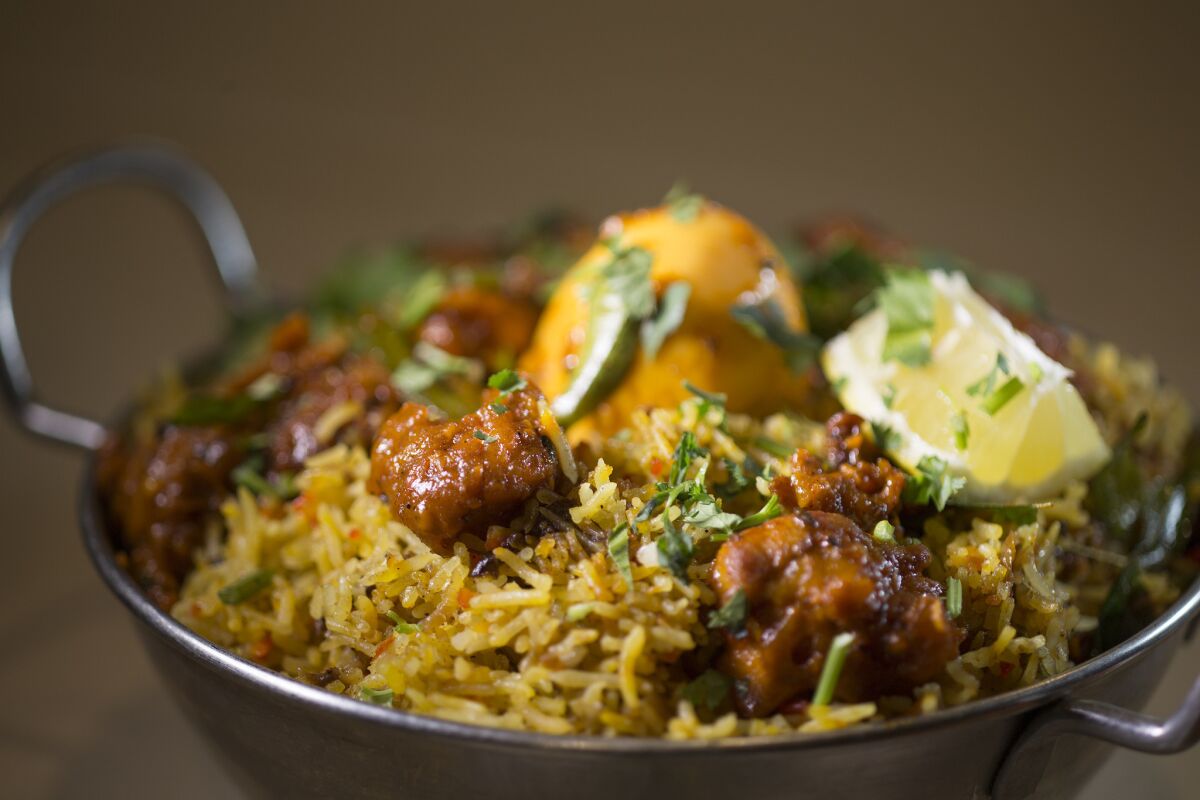 Pickles Indian Cuisine
There are 18 variations of biryani to choose from here. Owner Kavita Potla is from Amaravati, the new capital of the state of Andhra Pradesh, replacing Hyderabad. Thus, Amaravati chicken biryani is on the menu, as well as Hyderabadi dum biryanis made with lamb, goat or shrimp. One of the restaurant's specialties is chicken 65 biryani, a spicy mix of rice and intensely red chicken. (If you're worried about spice, it's wise to state the desired heat level.) An interesting regional specialty is thalappakatti biryani from Chennai made with short-grained jeera samba rice, goat or chicken, mint and curry leaves. The biryanis come with raita, not pickles, despite the restaurant's name. 11688 South St., Suite 107, Artesia, (562) 860-3999, www.picklesindiancuisine.com
Zam-Zam Market
Westsiders were bereft when the Pakistani restaurant Zam-Zam disappeared from Culver City at the end of 2014. A year later, it reopened in Hawthorne, serving its legendary Karachi-style biryani. Zam-Zam makes two batches a day, sometimes three, to satisfy the demand. Each batch of 50 servings contains 20 pounds of chicken and 10 to 12 pounds of rice, except on Saturdays, when the biryani is made with lamb. Marinated with ginger, garlic, garam masala and other spices, the chicken is layered with parboiled basmati rice, which, according to Fozia Siddiqui, who runs the front of the house, holds up better than ordinary basmati in large batches. Her husband, Fahim Siddiqui, is the chef. Instead instead of the usual raita, he makes a tangy, lemony, pale green puree of mint, cilantro, jalapeños, green tomatoes and lemon juice. Zam-Zam also has a shop stocked with Indian and Pakistani basics. The restaurant has just four tables and no printed menu, so customers can order what's available that day. Or, to be safe, place orders in advance. 13649 Inglewood Ave, Hawthorne, (310) 978-1927
ALSO
Taste a sunny spring day in Italy's white wines
There's finally a Nashville hot chicken restaurant in Los Angeles
Kagura does a crisp business in the pork cutlet known as tonkatsu
---
Get our L.A. Goes Out newsletter, with the week's best events, to help you explore and experience our city.
You may occasionally receive promotional content from the Los Angeles Times.