Recipe: Wild mushroom sauce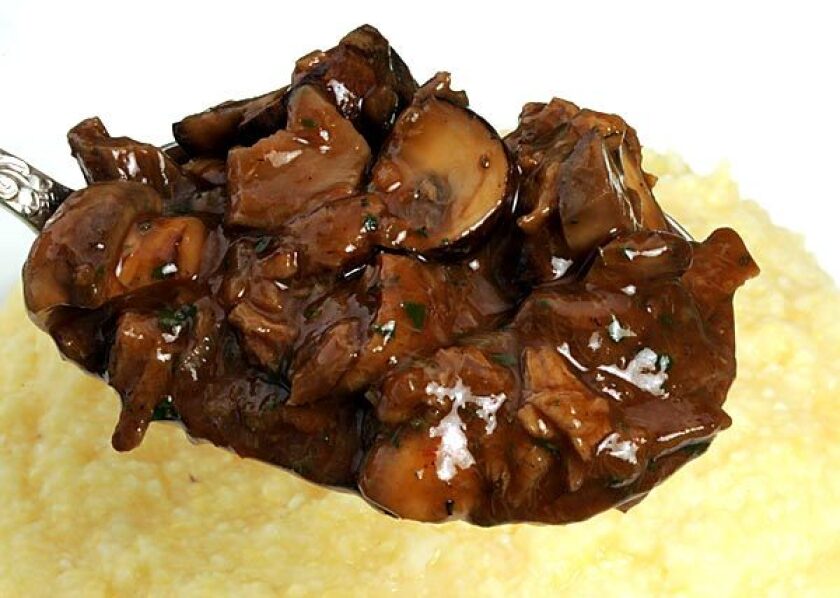 Wild mushroom sauceTotal time: 1 hour, plus soaking time for the dried mushroomsServings: 6 1/2 to 1 1/2 ounces dried porcini mushrooms2 cups hot water2 tablespoons olive oil2 garlic cloves, peeled and cut in half1 pound fresh mushrooms (cremini, portobello, white button or any mix), quartered1 teaspoon salt2 tablespoons minced onion or shallot 1/2 cup dry white wine1 tablespoon tomato paste1 teaspoon minced rosemary1 tablespoon chopped parsley 1/2 teaspoon red wine vinegar, or to taste Grated Parmigiano-Reggiano1. In a medium bowl, cover the dried mushrooms with hot water and set aside to soak until rehydrated, at least 30 minutes.2. In a large skillet, heat the olive oil with the split cloves of garlic and cook over medium-high heat until the garlic begins to brown on all sides, 4 to 5 minutes. Add the fresh mushrooms and the salt and cook, stirring until the mushrooms give off their liquid, about 10 minutes. If the garlic begins to scorch, remove and discard it.3. While the fresh mushrooms are cooking, lift the dried mushrooms from the soaking liquid with your hand, reserving the soaking liquid. Squeeze the mushrooms dry, draining the liquid back into the bowl and reserving it. Chop the dried mushrooms coarsely. Add to the cooked fresh mushrooms. Decant the soaking liquid through a strainer into a measuring cup, tilting it and pouring slowly to leave behind any grit in the bottom of the bowl. You should have 1 1/2 to 2 cups.4. Add the minced onion and increase the heat to high, until the mushrooms are nearly dry, 3 to 5 minutes. Add the white wine and cook until that evaporates, another 5 minutes.5. Reduce the temperature to medium and stir in the tomato paste. Cook, stirring, until the paste is mixed in and has begun to toast, darkening and losing its raw smell, about 3 minutes. Add 1 1/2 cups of the strained soaking liquid and gently simmer over medium-low heat until the mushrooms are silky and the juices are thickened and creamy, stirring occasionally, about 20 minutes. Any extra mushroom broth can be refrigerated, tightly covered, and added to soup.6. Stir in the rosemary and parsley. Taste and add just enough red wine vinegar to give the sauce depth. Add more salt if necessary. Keep warm until ready to serve.7. To serve with polenta, spoon over about one-third cup of mushrooms per serving and sprinkle grated Parmigiano-Reggiano over top.Each serving, without polenta: 95 calories; 4 grams protein; 7 grams carbohydrates; 2 grams fiber; 5 grams fat; 1 gram saturated fat; 0 cholesterol; 2 grams sugar; 416 mg. sodium.
---
Get our weekly Tasting Notes newsletter for reviews, news and more.
You may occasionally receive promotional content from the Los Angeles Times.