Recipe: Baked <i>gigantes</i> (oven-baked white beans)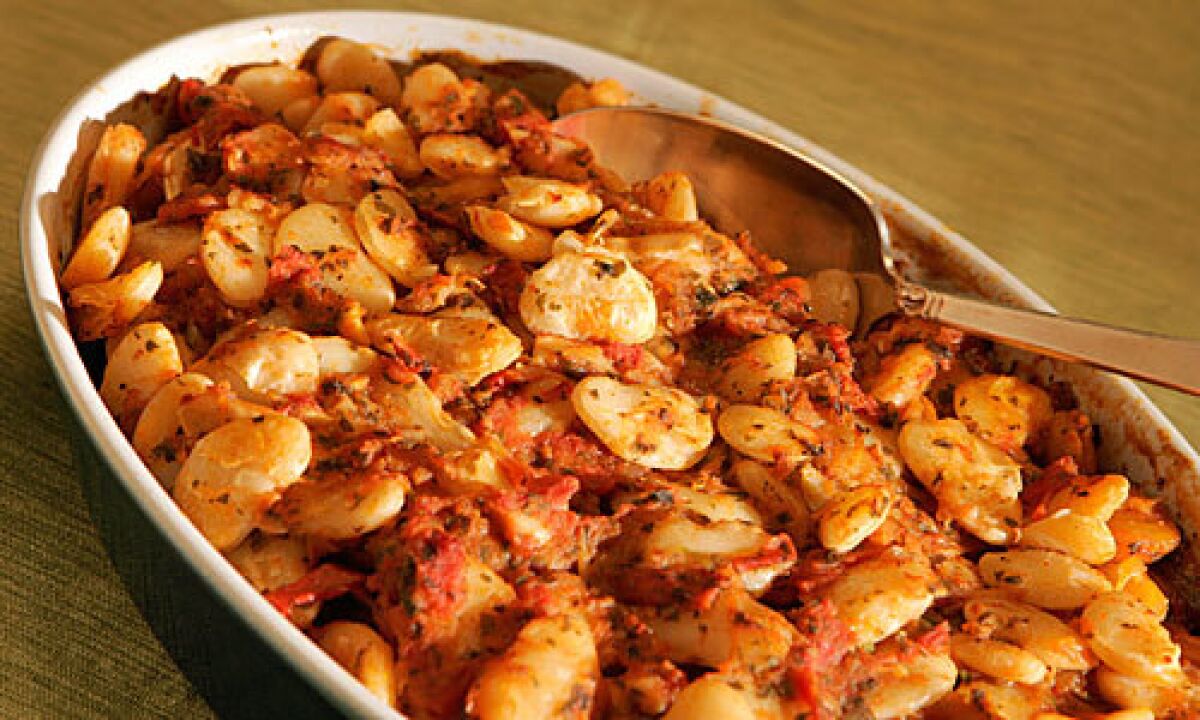 Total time: 1 hour, 45 minutes plus soaking time for the beans
Servings: 6 to 8
Note: This recipe is based on one by Alexia Haidos. Gigantes beans can be found at Greek markets and select cooking supply stores. You can substitute 1 (14-ounce) can of tomato sauce or stewed tomatoes for the fresh tomatoes.
1 pound dried gigantes or large lima beans
Salt
1/4 cup olive oil
6 cloves garlic, crushed
1 onion, grated
1 1/4 cups hot vegetable broth, plus more as needed
1/2 cup chopped Italian parsley
Pinch dried red pepper flakes
2 large tomatoes, peeled, seeded and chopped
2 tablespoons tomato paste
Pepper
1 lemon
1. Soak the beans. To cold-soak them, cover with plenty of cold water and let them stand overnight. To hot-soak them, cover them with plenty of boiling water and let stand 1 hour.
2. Drain the beans and place them in a large saucepan. Add cold water to cover, season with 1 teaspoon salt and bring to a simmer. Continue to simmer until crisp-tender, 30 minutes to 1 hour (the timing can vary widely and will depend on the type and age of the beans), then drain the beans.
3. Heat the oven to 350 degrees. Combine the olive oil, garlic and the onions in a baking dish and bake until the onions soften and turn golden, about 15 minutes. Add the beans to the onion mixture, stirring to coat, and return to the oven for 15 more minutes.
4. Gently stir in the hot broth, parsley, dried red pepper flakes, chopped tomatoes, tomato paste, 1 teaspoon salt and one-eighth teaspoon pepper, or to taste, and bake until the beans are tender and buttery, 20 minutes to 1 hour, stirring every 20 minutes. If the mixture begins to dry out before the beans are tender, add a little more broth.
5. Before serving, season to taste and add a squeeze of lemon juice.
Each of 8 servings: 249 calories; 12 grams protein; 35 grams carbohydrates; 11 grams fiber; 7 grams fat; 1 gram saturated fat; 0 cholesterol; 790 mg. sodium.
---
Get our L.A. Goes Out newsletter, with the week's best events, to help you explore and experience our city.
You may occasionally receive promotional content from the Los Angeles Times.