Recipe: Celery salad with pig ear, bacon and walnuts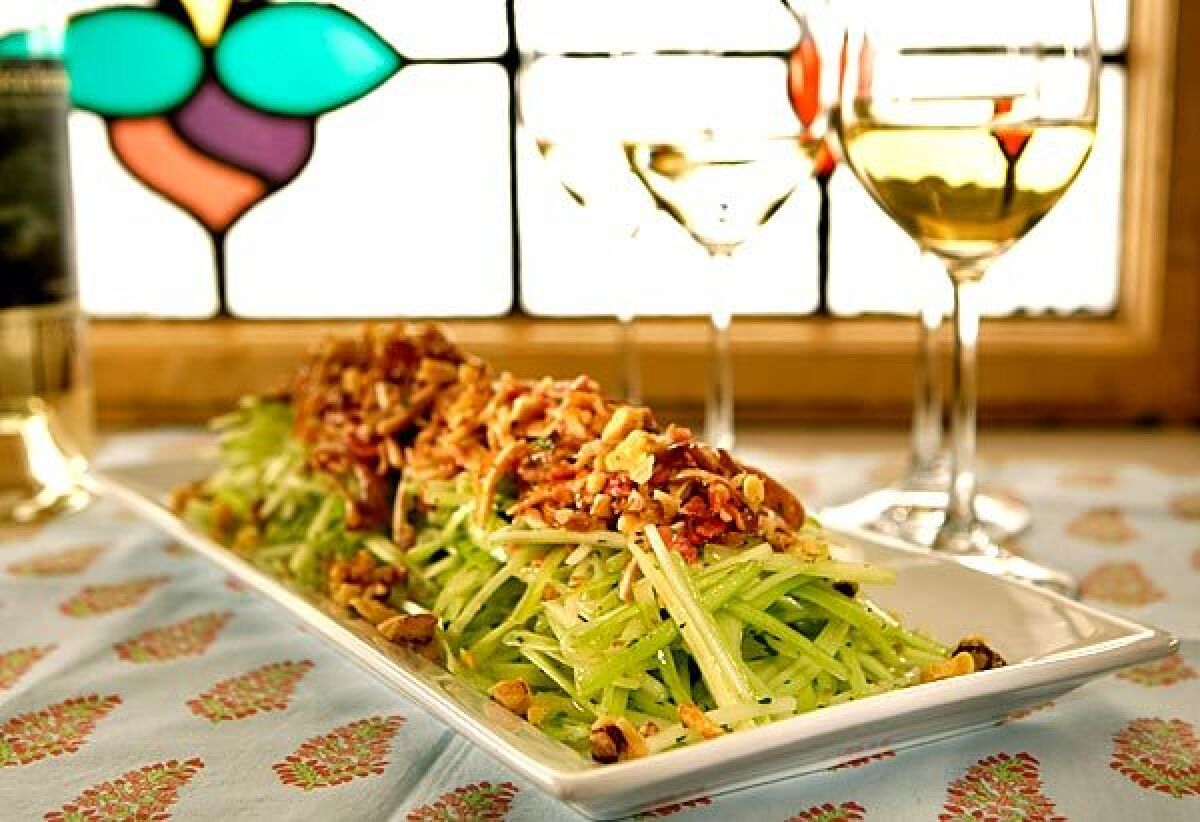 Celery salad with pig ear, bacon and walnuts
Total time: 1 hour, plus braising and chilling times
Servings: 6
Note: Pig ears can be found at Chinese and select general Asian markets. This recipe makes more pig ears than is needed for the salad; they store well covered tightly and frozen.
BRAISED PIG EARS
2 tablespoons olive oil
1 cup diced carrots
1 cup diced celery
2 cups diced onion
3 cloves garlic, chopped
2 pounds pig ears (about 4)
Salt
3 cups water
1 cup dry white wine
1. Warm the olive oil in a large skillet over medium heat and cook the carrots, celery and onion until soft, 8 to 10 minutes. Add the garlic and cook until fragrant, about 3 minutes.
2. While the vegetables are cooking, scrub the pig ears clean and cut away any knobby bits of cartilage so they will lay flat.
3. Place the pig ears in a single layer on top of the vegetables (they may overlap). Season with salt and add the water and dry white wine. Bring to a simmer, reduce the heat to low, cover and cook until the ears are very tender, about 3 1/2 hours.
4. Carefully remove the ears from the broth, place them on a parchment paper-lined plate, cover tightly with plastic wrap and refrigerate until firm, at least 2 hours. Save the flavorful broth for cooking beans. Once braised pig ears have been chilled, they can be tightly wrapped in plastic and frozen until ready to use.
CELERY SALAD ASSEMBLY
3 strips thick-sliced bacon
1 braised pig ear
Vegetable oil
1 bunch celery
1 shallot, minced
1/4 cup sherry vinegar
1/2 teaspoon salt
3 tablespoons chopped parsley
1/4 cup chopped toasted walnuts
1. Cut the bacon crosswise into thin strips and cook in a skillet over medium heat. Cut the pig ear into similarly sized strips (cut the ear lengthwise into halves or thirds, then slice crosswise into thin strips). When the bacon is almost done, about 10 minutes, add the pig ear and cook, stirring frequently, until the bacon has finished browning, about 3 more minutes. Use a slotted spoon to remove the bacon and pig ear slices to a medium bowl, draining well and reserving the fat.
2. Carefully decant the fat from the skillet into a measuring cup, leaving the solids behind. Add enough oil to make one-half cup. Add the shallot, sherry vinegar, salt and parsley and whisk to combine.
3. Cut the celery into 1 1/2- to 2-inch matchsticks and place them in a large mixing bowl. Whisk the vinaigrette again to mix well and pour about 3 tablespoons of it over the celery — just enough to moisten the celery without drowning it. Arrange the celery in a low mound on a serving platter.
4. Add the bacon and pig ear to the mixing bowl and add an additional 2 to 3 teaspoons of dressing, again, just enough to moisten. Scatter the bacon and pig ear over the celery. Scatter chopped walnuts over top and serve. This salad will hold at room temperature for about an hour without wilting.
Each serving: 214 calories; 12 grams protein; 3 grams carbohydrates; 1 gram fiber; 18 grams fat; 4 grams saturated fat; 36 mg. cholesterol; 1 gram sugar; 338 mg. sodium.
---
Get our L.A. Goes Out newsletter, with the week's best events, to help you explore and experience our city.
You may occasionally receive promotional content from the Los Angeles Times.