Candied kumquats moonlight as a cocktail's best new garnish
Kumquats are an outlier in the citrus family. First off, they're the smallest, beating out even the walnut-size key lime. Second, they consist of more rind than flesh, and what little flesh they do have is tart like a lemon, while the rind is crunchy and sweet like navel orange flesh. And last, you eat the whole darn thing — no peeling required.
It's this ability to eat them like popcorn that makes them so popular when they're in season, from mid-December through April here in southern California. They're often the first thing I buy in the mornings at the farmers market, serving as my breakfast as I snack on them straight from their green-plastic basket while I shop for everything else I need. And, of course, they're just perfect this way. Similarly to melons, persimmons and an honest-to-goodness summer peach, they're at their best when eaten uncooked and at the height of their season. If you cook them, they often lose what already delicate flavor they had, which defeats the whole point of eating them.
However, with kumquats I was inspired to fuss with them just a little. In my home, we keep a robust liquor bar. To add to it, I always keep orange simple syrup on hand, a byproduct of candying so many varieties of oranges — clementines, mandarins, Cara Caras — through the holidays and winter months. We stir the syrup into whiskey drinks and mezcal tipples alike, because it goes so well with everything. So do good maraschino cherries. And then it hit me: maraschino kumquats!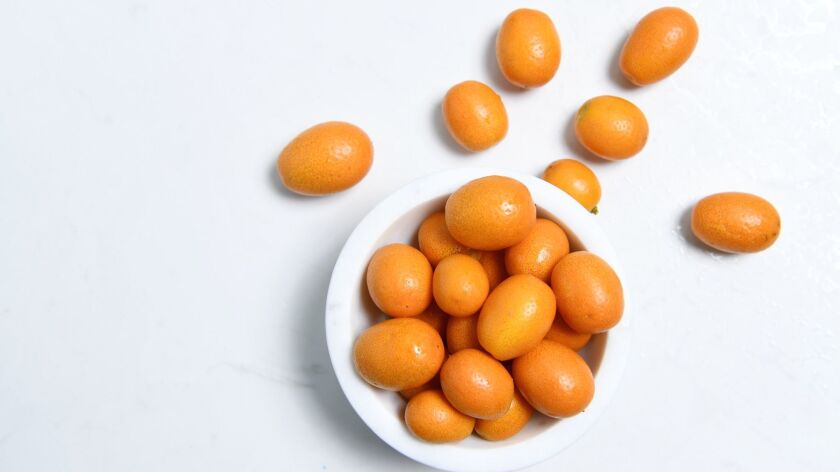 As it turns out, candied kumquats perform double duty: their size is ideal for dropping into cocktails like those red cherries, and their flavor and syrup add to the liquors in the glass. For example, when we make whiskey Old Fashioneds or Manhattans or, my favorite, Mezcal Sidecars, we use the fragrant syrup in place of plain simple syrup and the kumquats in place of cherries. For those who abstain from alcohol, the syrup is great stirred into seltzer for a DIY kumquat soda.
I had previously made maraschino cherries — a process that involves soaking the cherries in saltwater, which helps kill off any surface bacteria and hold their shape, before submerging them in a thick syrup made with cherry liqueur and sugar. I applied the same process to blueberries, swapping out the cherry liqueur for Chambord, a blackberry-flavored liqueur. So I tried the process on kumquats, using Cointreau as my complimentary liqueur.
A saltwater soak didn't do much to the kumquats' rinds (much thicker than the skins of cherries and blueberries). So I tried again and halved the kumquats, which produced better results, letting the brine work its magic on the sour flesh inside as well as the rind. Still, the flavor of the Cointreau — I played with amounts ranging from 1 cup to 1 tablespoon — always masked the flavor of the kumquat, so I decided to go in a simpler direction.
First, I skipped the saltwater brine; I found it unnecessary. Then I stuck with a simple sugar-and-water syrup but stirred in a few tablespoons of white wine vinegar. The vinegar balances out the syrup so it doesn't taste as cloying but also echoes the sour freshness of the kumquat's flesh, all while letting the unique flavor of the kumquat shine.
Plopped into your favorite cocktail, it makes a great garnish that, just like the maraschino cherry, gets better as it soaks up the booze. Or you can eat them straight from the jar, as I do the raw ones. But in place of the uncooked fruit's daytime appeal, these little candied gems are all dressed for a night out at the bar.
Candied Cocktail Kumquats
15 minutes. Makes about 2 cups of candied kumquats, plus 2 cups simple syrup. But be sure to plan ahead. You can enjoy these after they've been refrigerated for several hours, but they're best after they've had a week to sit.
The recipe below offers you the simplest way to candy the kumquats, but if you're feeling adventurous or want to flavor the second and third batches you make, try out some of the variations. Be aware of the single soft seed in each kumquat as you bite into them: If you choose to make them maraschino-style, you can remove the seed after you halve each kumquat.
2 cups kumquats (about 1 farmers market pint)
2 cups granulated sugar
Pinch kosher salt
2 tablespoons white wine vinegar
1 Place the kumquats in a medium saucepan, then pour over the sugar, salt and 2 cups water. Bring to a boil over high heat, then reduce heat to maintain a simmer and cook, stirring occasionally, until the kumquats swell slightly and look glossy, about 5 minutes.
2 Remove the pan from the heat and stir in the vinegar. Using a slotted spoon, transfer the kumquats to a quart-size glass jar, then pour in the syrup. Close the jar and let cool to room temperature. Transfer to the refrigerator and store for at least 1 week before using. The kumquats will keep for about 3 weeks once they're ready.
Variations
Boozy Orange
Replace the vinegar with orange liqueur, such as Grand Marnier, Cointreau or Curaçao.
Orange Blossom
Replace the vinegar with 1 to 2 tablespoons orange blossom water. These are particularly good when dropped in seltzer or tonic water.
Maraschino-Style
Halve each kumquat and place in a large bowl. Dissolve 1 cup kosher salt in 2 cups room temperature water, then pour it over the kumquats. Refrigerate for 24 hours, then drain and rinse the kumquats; place them in the glass jar. Prepare the syrup as instructed in Step 1, omitting the kumquats, and when it's ready, pour the hot syrup over the brined kumquats. Seal the jar and let cool to room temperature. Let chill for 1 week before using.
---
Get our weekly Tasting Notes newsletter for reviews, news and more.
You may occasionally receive promotional content from the Los Angeles Times.