How Casa Vega is making it, 60 years after opening in the San Fernando Valley
Casa Vega founder Rafael "Ray" Vega recently celebrated 60 years of his restaurant. His daughter Christy Vega Fowler has been running the restaurant for the last five years.
(Mel Melcon / Los Angeles Times)
Chicken enchiladas with sauce from Casa Vega.
(Mel Melcon / Los Angeles Times )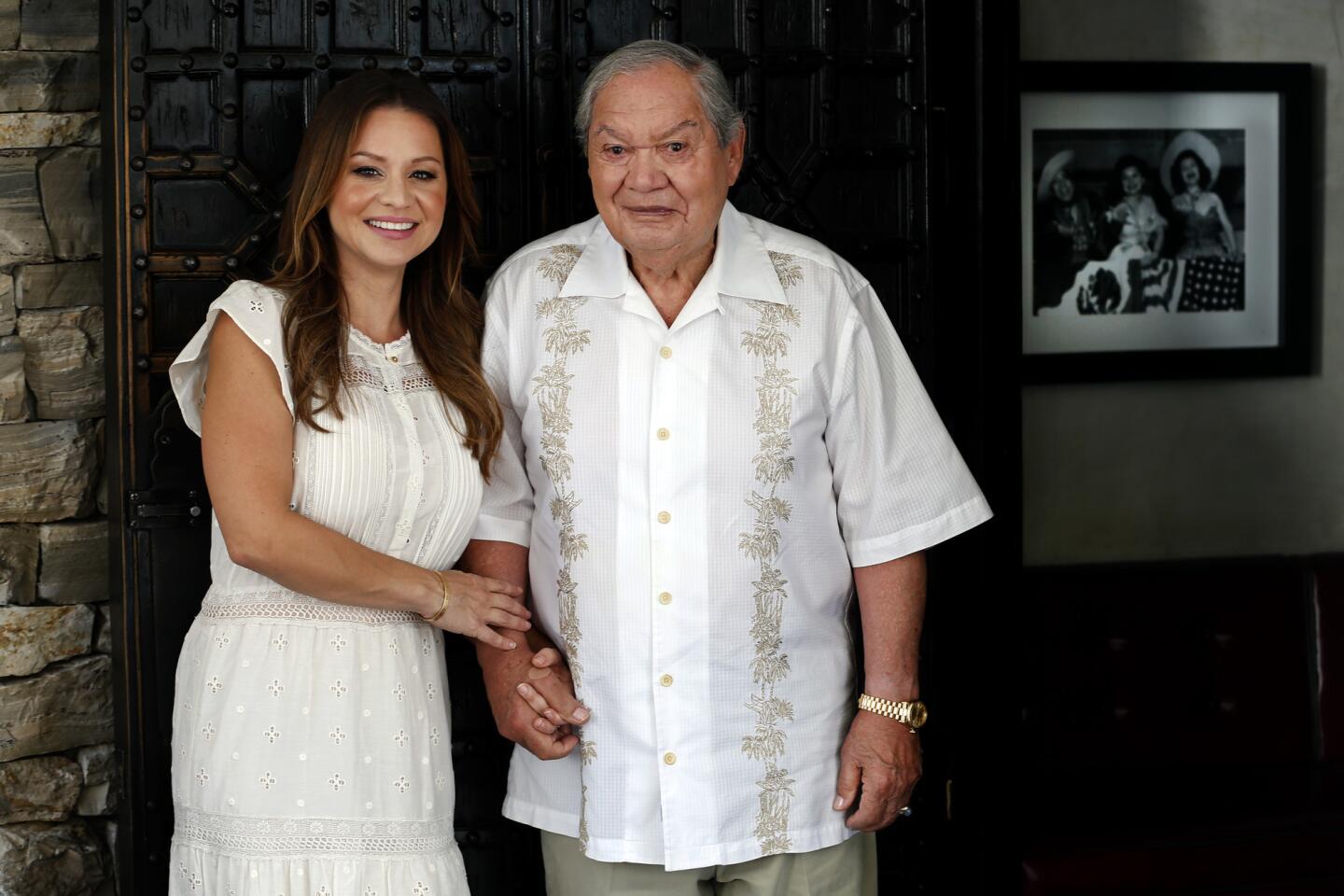 Second-generation Casa Vega owner Christy Vega Fowler holds hands with her father, Rafael "Ray" Vega, the founder of the 60-year-old restaurant in Sherman Oaks.
(Mel Melcon / Los Angeles Times)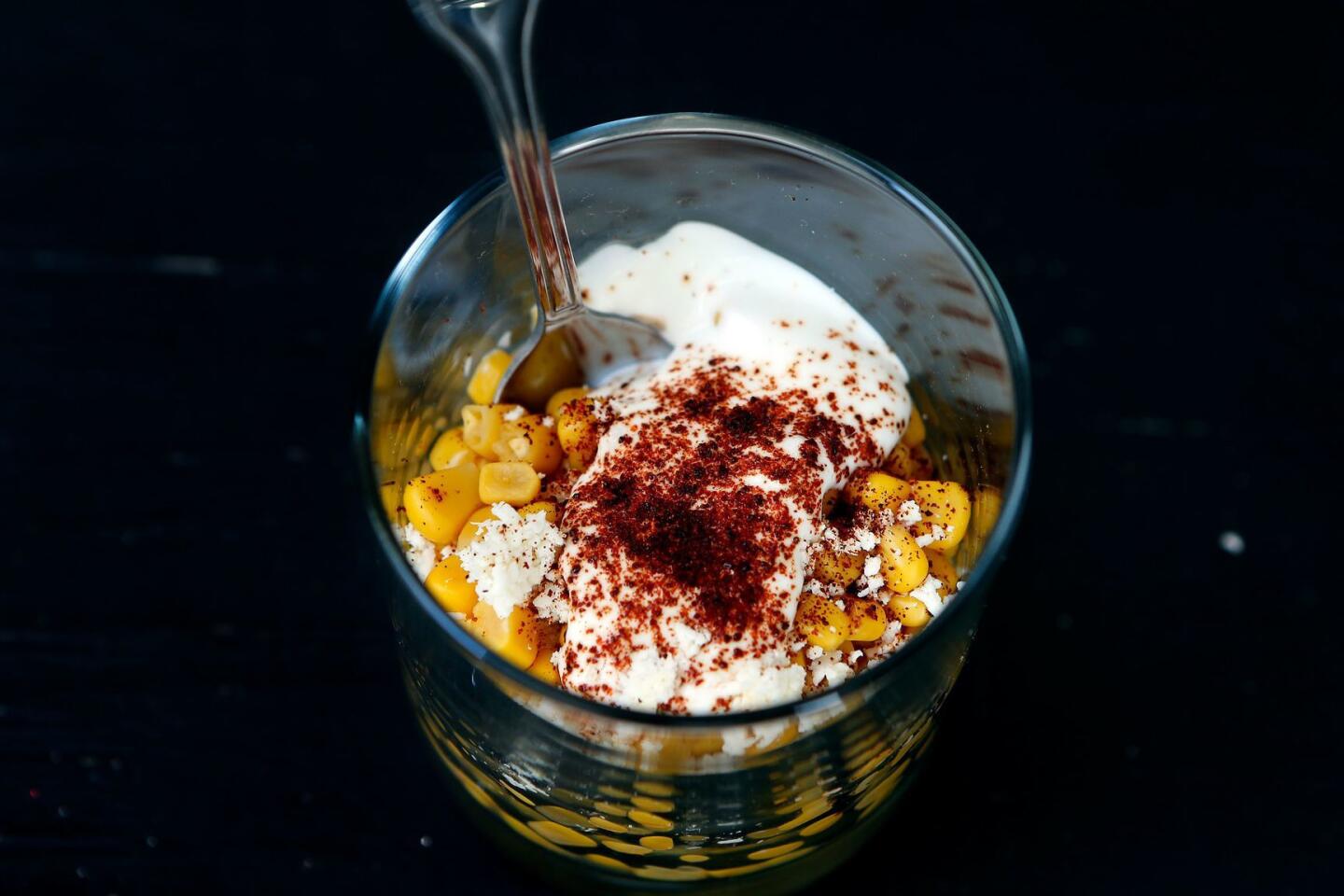 Elotes cup from Casa Vega restaurant in Sherman Oaks.
(Mel Melcon / Los Angeles Times )
A server checks on a customer at Casa Vega restaurant in Sherman Oaks.
(Mel Melcon / Los Angeles Times)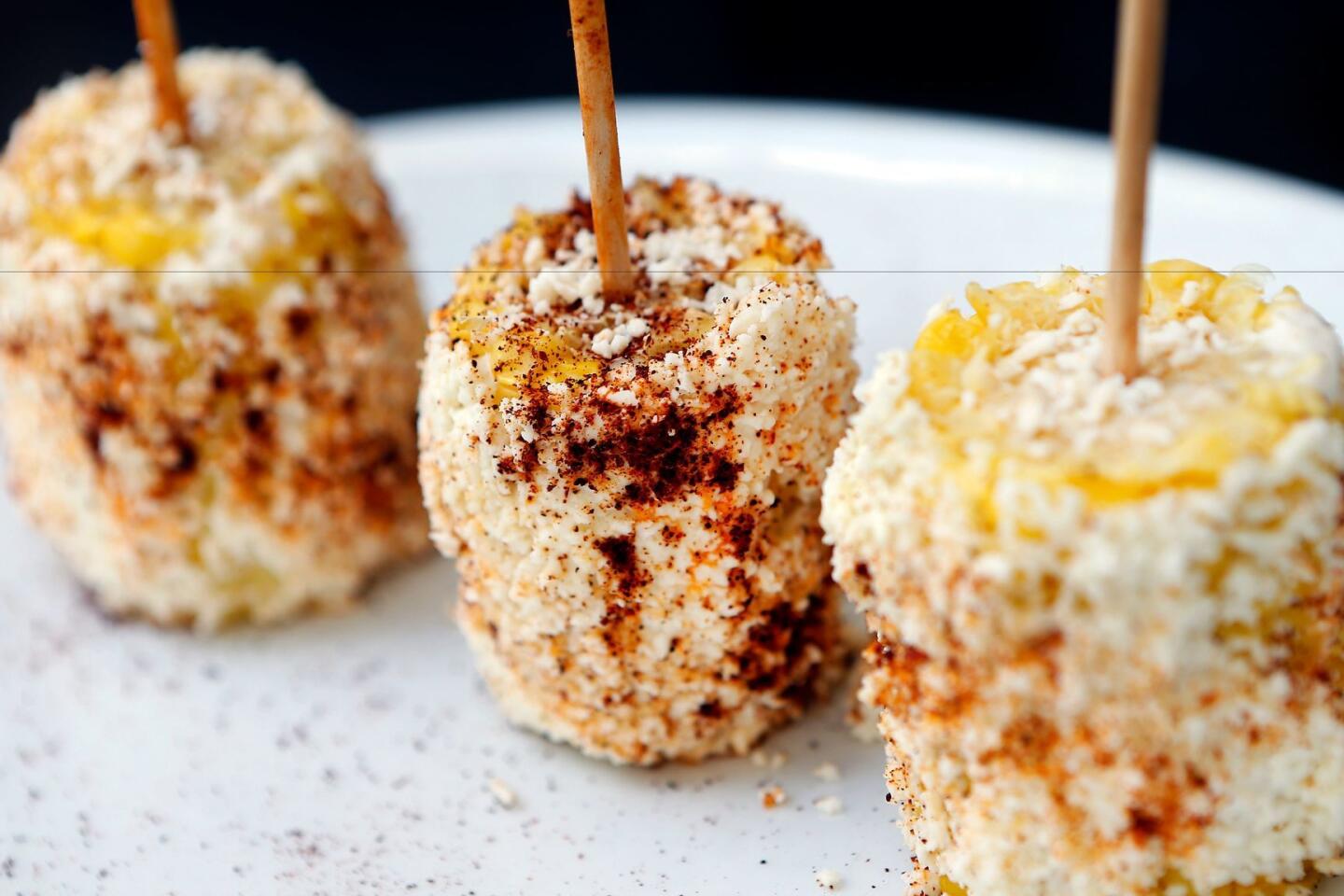 Classic elote from Casa Vega restaurant in Sherman Oaks.
(Mel Melcon / Los Angeles Times )
If the Casa Vega dining room feels classic, that's because it is.
(Mel Melcon / Los Angeles Times)
Casa Vega has been a Ventura Boulevard staple for decades.
(Mel Melcon / Los Angeles Times)
The bar is festively (but not brightly) lighted at Casa Vega.
(Mel Melcon / Los Angeles Times)
Warm chips and salsa. A double margarita on the rocks, with salt. Classic chicken enchiladas with rice and beans. How many carbs is that in one sitting? How many calories in that drink? Remember when we didn't care about these things? Can we please go back in time? Of course, we can.
On a warm Sherman Oaks evening in July, a lot behind Casa Vega restaurant was transformed into an elegant garden party. With twinkling lights and live mariachi music in the background, 82-year-old Rafael "Ray" Vega greeted his family and longtime customers, just as he'd done for decades.
Vega opened the legendary Casa Vega in 1956, and this 60th anniversary party was part celebration, part fund-raiser — with proceeds going to the L.A. Food Bank — and part thank-you to generations of faithful patrons.
In 1956, after studying hospitality at San Francisco State University, Vega returned to Southern California and opened his restaurant on Ventura Boulevard. Experienced restaurateurs in their own right, his father, (also named Rafael), worked as bartender and his mother, Maria, took on the role of hostess.
Casa Vega opened just two blocks east of where it stands today in Sherman Oaks. The original location was short-lived (two years), because it wasn't large enough to accommodate the growing clientele. Back then, studio regulars included Marlon Brando, Jane Fonda, Cary Grant and Dyan Cannon.
Michael Jackson was also a regular in his heyday. He would enter through a side door and slip into a corner red leather banquette.
The cozy ambience and authentic Mexican food continue to entice the famous. Al Pacino and George Clooney are regulars – as are the Spielbergs, Hankses and Kardashians. Singer Gwen Stefani recently named "Vega" (as regulars call it) one of her "favorite spots in L.A."
Christy Vega Fowler officially took over the restaurant from her father five years ago. After 16 years working every aspect of the business, she has made Casa Vega more popular than ever.
"The success has really given my dad confidence to let me work so he can enjoy his retirement. But of course, I still brief him on any changes," Fowler says.
Over the years, Fowler has been gently upgrading Casa Vega, which hasn't always been an easy task. Many of the employees have been there for years, and the servers were (and are still) career waiters.
Revamping the bar menu was a priority. Fowler wanted crafted cocktails using fresh-squeezed juices.
The newer cocktails are crisper and lighter, including a cucumber drink she had to fight to get on the menu. It's made with fresh lime juice, muddled cucumber, Don Julio tequila, agave nectar and club soda. It's also the No. 3 selling cocktail at Casa Vega. No. 1, of course, is Ray Vega's original Casa Vega margarita. It remains unchanged.
The food was also upgraded when Fowler took over. "It's still the comfy Mexican food everyone loves, but I've just elevated the ingredients. I couldn't change the menu too much, but I could change the quality of ingredients," she says.
One of the menu changes was the addition of a vegetarian section, including a creamy, spinach enchilada that's made without cream. The sauce is made with vegetables and the creamy texture comes from avocado.
Next year, Fowler is planning to physically upgrade the bar — the same bar where her dad met her mom in 1975.
Recipe: Chicken enchiladas with homemade enchilada sauce »
"The bar is our mainstay," she says. "Unlike many eateries, it's front and center. It's the first area people walk into, which sets us apart from other restaurants. It will have to look the same of course, but it needs to operate better for both staff and customers."
For regulars in the San Fernando Valley, the bar has also functioned as a haven of sorts. After the devastating 1994 earthquake, Casa Vega was one of the only restaurants open the next day.
Nelson Coates, a production designer, recalls heading there after watching Sept. 11 footage on the news. "In the aftermath of 9/11, my friends and I found ourselves drawn to the comfort of the wrap-around banquettes, low ceilings and familiar faces and food of Casa Vega," Coates says.
Casa Vega, like every restaurant, has its critics. Some even claim it's not authentic Mexican food. Fowler begs to differ.
"All Casa Vega's recipes come directly from my father's mother in Tijuana — every head chef we've ever had was Mexican, including our current one — it's as simple as that," she says. The Vega family's ties to Tijuana are strong, indeed. Acclaimed Baja California chef Javier Plascencia of Misión 19 in Tijuana is a cousin of Fowler's and was on hand to help cook the 60th anniversary dinner.
"My dad is 82 and slowing down," says Fowler. "So it was important to celebrate Casa Vega's 60th while he could enjoy it."
What's next for the house of Vega? A cookbook is in the works. (Fowler tests recipes and posts them on her blog at ChristyVega.com.) One of her most popular is an updated version of grilled Mexican corn, or elotes, which she serves in cups instead of on the cob.
Casa Vega expansion is on the horizon as well. Perhaps another location (LAX is on the wish list) or something scaled down, maybe a bar with small bites and street food.
"What makes America great in my opinion is the blending of cultures," Fowler says. "You get access to other people's food and cuisines. You get restaurants like Casa Vega."
Another margarita, please.
Casa Vega, 13301 Ventura Blvd., Sherman Oaks, (818) 788-4868, CasaVega.com
Get our L.A. Goes Out newsletter, with the week's best events, to help you explore and experience our city.
You may occasionally receive promotional content from the Los Angeles Times.