Recipe: Chipotle ribs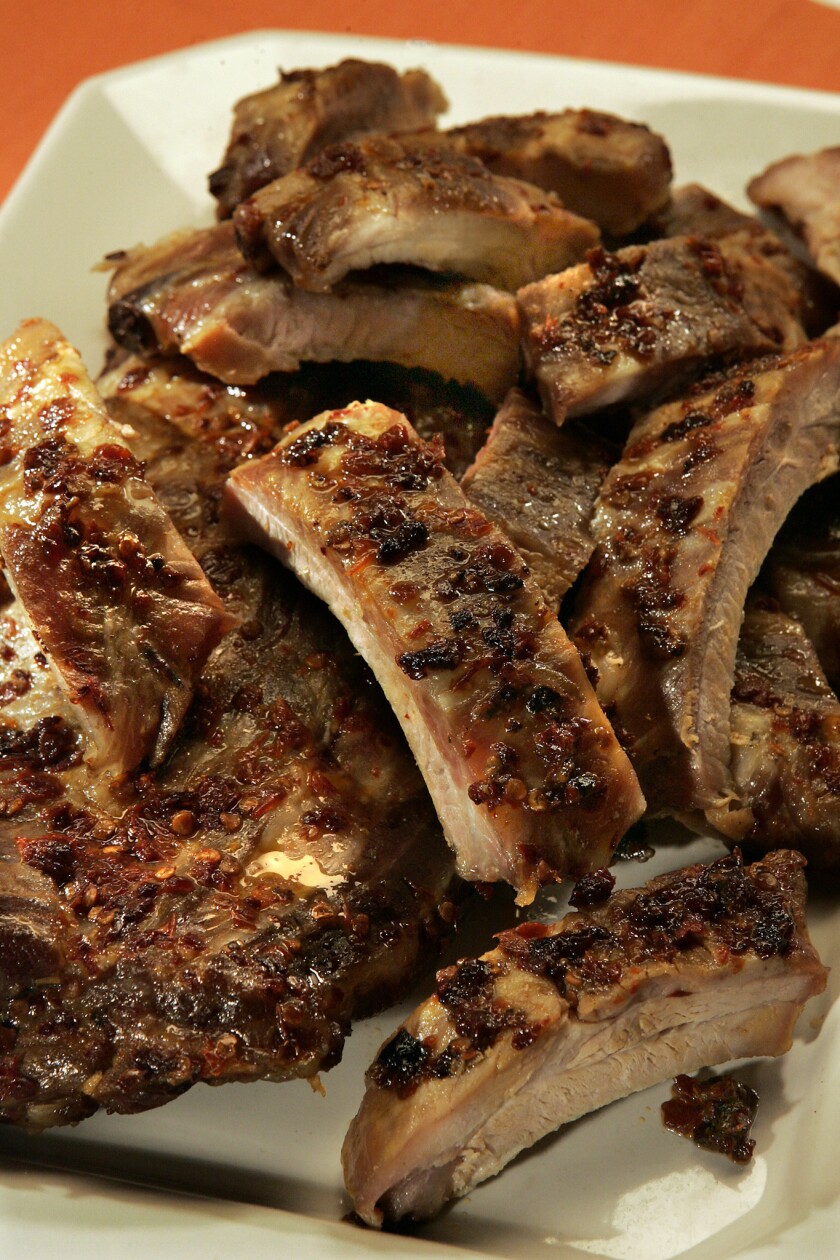 Total time: 3 to 4 hours, plus overnight marination
Servings: 6 to 8
2 racks (5 to 6 pounds total) baby back or spare ribs
2 tablespoons kosher salt
1/2 cup sugar
2 teaspoons dried Mexican oregano, crumbled
2 teaspoons ground cumin
Juice of 2 large limes
4 to 6 chipotles in adobo sauce, minced
1/2 cup peanut oil
1. Wash and pat the ribs dry. Remove the silver skin (the membrane on the underside of the ribs): Nudge a blunt knife or the back end of a spoon between the ribs and membrane. When enough membrane is loosened to get a good finger hold, simply pull the membrane off the rack -- it should come off fairly easily.
2. Lay the ribs in a glass or ceramic dish. Combine the salt, sugar, oregano and cumin and mix well, then sprinkle evenly over both sides of the ribs. Cover and refrigerate overnight.
2. Remove the ribs from the refrigerator, uncover them and let them come to room temperature over 2 hours.
3. Heat the oven to 200 degrees. In a small bowl, combine the lime juice, chipotles and oil. Wipe or rinse the ribs to remove the excess salt and sugar, and dry the meat well. Lay them on a baking sheet and spoon the mixture evenly over the ribs.
4. Bake the ribs until they are tender (a knife inserted between the ribs will slide in with no resistance), 3 to 4 1/2 hours. Slice the ribs to separate them and serve.
Each of 8 servings: 667 calories; 35 grams protein; 5 grams carbohydrates; 0 fiber; 56 grams fat; 18 grams saturated fat; 168 mg. cholesterol; 368 mg. sodium.
---
Get our weekly Tasting Notes newsletter for reviews, news and more.
You may occasionally receive promotional content from the Los Angeles Times.