Roasted tomato confit with bacon fat recipe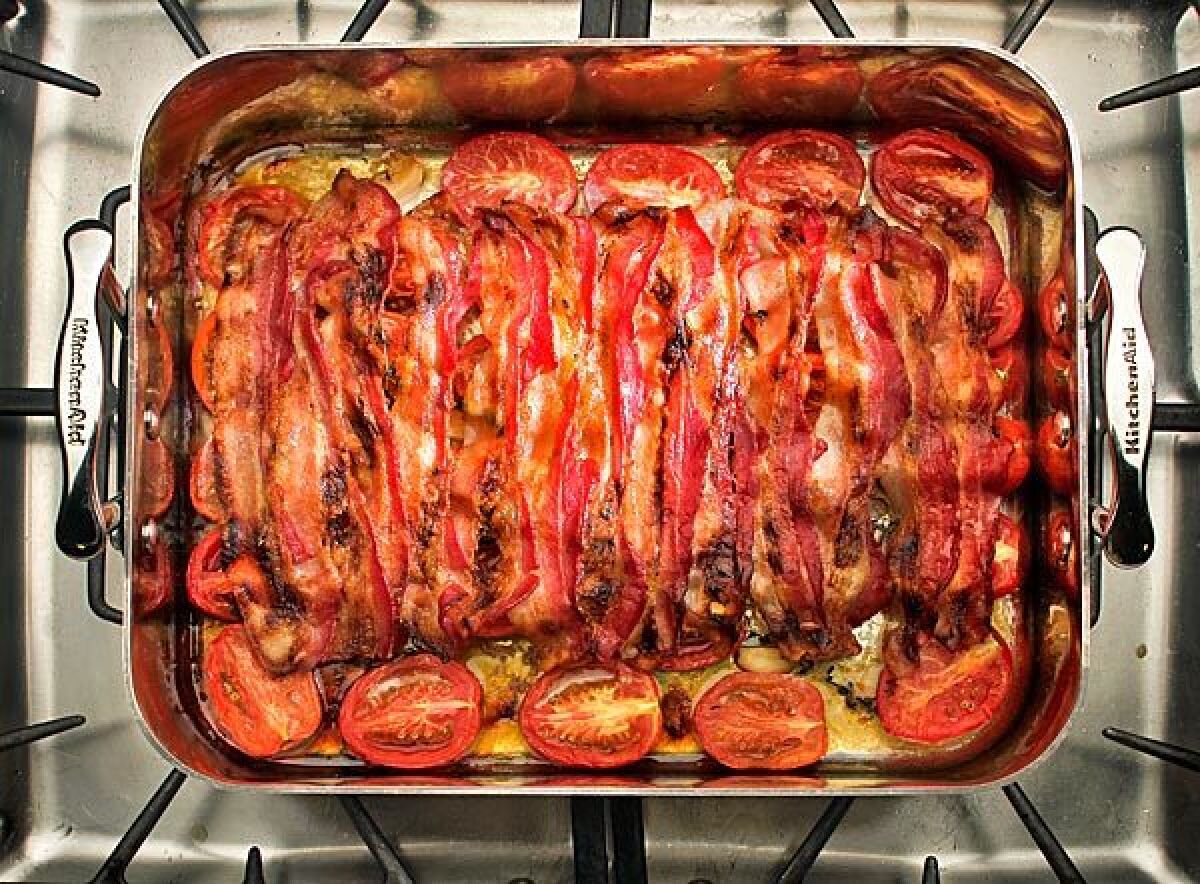 Roasted tomato confit with bacon fat
Total time: 30 minutes, plus roasting time
Servings: Makes about 5 cups confit
Note: Serve the confit over pasta, or chopped and on top of crostini
3 pounds tomatoes
6 large cloves garlic
12 sprigs thyme
Freshly ground black pepper
1 pound sliced bacon
Salt
1. Heat the oven to 350 degrees.
2. Halve the tomatoes lengthwise, and place them, skin-side-down in a roasting pan. Scatter the garlic and thyme sprigs over the tomatoes, and season with several grinds of black pepper, or to taste.
3. Layer the bacon over the tomatoes, placing the strips, one at a time, over the tomatoes, slightly overlapping them if necessary.
4. Place the roasting pan in the oven and roast for 1 hour.
5. Increase the heat to 400 degrees and continue to roast until the bacon crisps and browns on top, an additional 10 to 15 minutes. Remove the pan from heat.
6. Carefully remove the layer of bacon (save the bacon for snacks or set aside for another use). Taste a bite of tomato and check for seasoning. Sprinkle over 1 teaspoon salt, or as needed (saltiness will vary by brand of bacon, and more or less salt may be needed for the tomatoes). Gently turn the tomatoes over in the pan (cut-side down), and place the pan on the stove. Bring the liquid around the tomatoes to a gentle simmer over medium-low heat and simmer for 3 to 5 minutes to distribute the seasoning and flavors. Remove from heat.
7. Place the tomatoes in a glass jar or bowl. Cover with the remaining liquid, gently pressing the tomatoes down so they are submerged. Set aside until cool.
8. Cover and refrigerate the tomatoes until ready to use, and then warm on the stovetop before using. The confit will keep for up to 10 days, covered and refrigerated.
Each 1/4 cup confit: 151 calories; 1 gram protein; 3 grams carbohydrates; 1 gram fiber; 15 grams fat; 6 grams saturated fat; 14 mg cholesterol; 2 grams sugar; 143 mg sodium.
---
Get our L.A. Goes Out newsletter, with the week's best events, to help you explore and experience our city.
You may occasionally receive promotional content from the Los Angeles Times.